LP: Argo 718
CD: Lonehill Jazz LHJ10137 (Spain)
The Lonehill Jazz CD was released in Hutcherson's name as The Al Grey & Dave Burns Sessions. It includes three complete original Al Grey albums: Snap Your Fingers, Night Song, and Having a Ball (less two songs without Hutcherson).
Tracks & Composers (Original LP)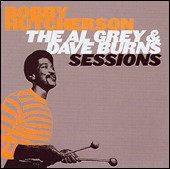 1 Deep Fried (Grey)
2 One Day I'll Show You (McAlister)
3 Something's Got A Hold On Me (Woods, Kirkland, James)
4 I Don't Want To Cry (Jackson, Dixon)
5 Stand By Me (King, Glick)
6 Boss Tina (Grey)
7 Rinky Dink (Clowney)
8 Stone Crazy (Grey)
Hutcherson on all tracks except 2 and 7; these tracks are no included on the Lonehill Jazz CD

Personnel
Dave Burns (tp); Al Grey (tb); Bobby Hutcherson (vib); Hugh Lawson (p); Calvin Newborn (g); Herman Wright (b); Otis "Candy" Finch (d)
Recording Date & Location
29 Jan 1963, New York, NY
Commentary
Having a Ball is the weakest of the three albums Hutcherson made with Al Grey. The tunes are more simplistic, with one foot typically planted in pop and/or Rhythm & Blues. Admittedly, that's not always a bad thing. But here they just seem to be aiming much lower than they're capable of. The net effect is cheesy music.
Two of the tunes on the original album are not included on Lonehill Jazz CD release. Apparently, these tracks didn't include Hutcherson.