LP: Argo LP 700
CD: Verve 000060302 and Lonehill Jazz LHJ10137 (Spain)

The Lonehill Jazz CD was released in Hutcherson's name as The Al Grey & Dave Burns Sessions. It includes three complete original Al Grey albums: Snap Your Fingers, Night Song, and Having a Ball (less two songs without Hutcherson).

Tracks & Composers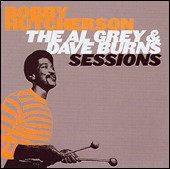 1 Nothing But the Truth (Bowen)
2 Three-Fourth Blues (Kee)
3 Just Waiting (Liston)
4 R.B.Q. (Kee)
5 Green Dolphin Street (Kaper, Washington)

Bonus Tracks (Verve CD only)
6 Minor on Top (Jones)
7 African Lady (Liston)
8 Hi Fly (Weston)


Personnel (Tracks 1-5)
Dave Burns (tp); Al Grey (tb); Billy Mitchell (ts); Bobby Hutcherson (vib); Floyd Morris (p); Herman Wright (b); Eddie Williams (d)

Personnel (Tracks 6-8)
Donald Byrd (tp); Al Grey (tb); Billy Mitchell (ts); Bobby Hutcherson (vib); Herbie Hancock (p); Herman Wright (b); Eddie Williams (d)

Recording Date & Location
Tracks 1-5: 19 Feb 1962, Chicago, IL
Tracks 6-8: 31 Jan 1962, New York, NY

Commentary
Snap Your Fingers is another solid outing for Al Grey and crew. My favorite cuts on the album are "Three-Fourths Blues" and "Green Dolphin Street." On the latter tune, Bobby is the featured soloist, and he lets loose a long, swinging solo.

Even so, the very best tracks are the three live cuts that Verve includes on their recent reissue. Hutcherson's solo work on "Minor on Top" is looser-limbed and swings harder than any of his studio recordings with Grey. In fact, the whole band seems looser. The CD closes with two tracks by Randy Weston, the tremendous jazz pianist and composer. (I wonder if there's any more music available from this date?) If these three tracks are any indication, the Al Grey-Billy Mitchell group must have been fun to see live, even better than their studio albums would indicate.

As noted above, the live cuts are not included on the Lonehill Jazz CD.