A Biography of Gustav Holst
Part 2: 1903-1914
by David Trippett
The Teacher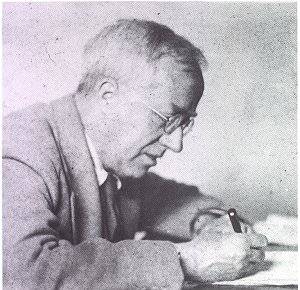 Holst was an informal teacher for the time, dispensing with the antiquated practice of having a female teacher present in his classroom to oversee the pupils' behaviour. His duties were to teach singing and arrange for and direct the school orchestra, both of which greatly suited his enthusiastic and proactive personality. Though music was regarded as something of a peripheral subject by the Head Mistress, Holst had a way with the children as Dorothy Callard remembered: 'I first came to his notice when he turned me out of class for misbehaving. I had a stormy interview with the Head Mistress who said that in future I should do maths during the music period. He [Holst] sent for me afterwards, and said that he was sorry that she had interfered with a purely private row and would I do something for him. He had been told that I had a marvellous memory, so would I come to him after school every Friday afternoon and make him turn out his pockets to see what letters he ought to have posted, and write a card to remind him of what he ought to be doing. I did this for the rest of my school life, and he often gave me music to copy or transpose.'

His teaching work allowed him to devote time to composition resulting in a work entitled The Mystic Trumpeter for soprano and orchestra, a setting of Walt Whitman's poem 'From noon to Starry Night' from 'Leaves of Grass'. The final words of this poem are 'Joy! Joy! all over joy!' which Holst sets against a pppp orchestra rather than a more obvious ff showing his originality and willingness to attempt and achieve greater expression through a transcendence of tradition. Though still steeped in chromaticism, there are glimpses of Holst's later use of polytonality in the horn and trumpet calls with which the work opens.

The premiere of the Suite de Ballet, and the songs Calm is the Morn, My True Love Hath My Heart, Weep You No More, Sad Fountains, and Kindly Loving took place in 1904, along with the publication of several short pieces, including Maya, and Valse Etude for violin and piano and a part-song setting of Robert Bridges words for mixed voices Thou Didst Delight My Eyes.

VW frequently helped his friend by paying for concerts of Holst's music and enlisted him in 1905 as a contributor (composer and co-editor) to the new hymnbook - 'The English Hymnal'. Holst's imagination was fired when a competition organised by the Italian music publisher Ricordi for an opera by an English composer with a prize of £500 and a 40% share of the performing fees was announced (11). Sita was entered after friends had rallied round him (VW putting up £20 to pay for a scribe to write out the full score) to ensure the copying of parts was completed by the deadline of 31 December 1906.

In autumn 1905 Holst took on an additional teaching post which he was to cherish, making perhaps his most important contribution to music education in England. He was to hold it for the rest of his life. St Paul's Girls' school was founded in 1903 as a counterpart of St. Paul's School (for boys) founded in 1509. With 157 girls, Holst was to take over the responsibility for teaching singing in the school, allowing Adine O'Neill (the other music teacher) to teach other areas. Fortunately, the Head Mistress believed strongly in the therapeutic practice of singing and the common requests by parents for their children to be exempt from such mundane classes were almost always denied. Wary of imposing his views on students he said 'I have three feelings about works of art, interest, romance, and love. I'd never say that the works I love most are necessarily the best.'

He used the line 'My Jane hath a lame, tame, crane' and such like to teach clear diction, often composing works for his choirs so that they were not stuck with the popular tunes of the day which Holst felt were not good for their education (12). He encouraged the singing of rounds and an attitude of constant self-improvement, his infectious enthusiasm soon ensured that he was extremely popular and that the music-making in St. Paul's was taken seriously by students, teachers, and parents - a phenomenon sadly lacking today in many schools. Holst wrote that it was 'one of the great moments of my career when I came in early one morning on a dark winter's day, to fetch my letters before school hours. I found several of the girls had come earlier still, without saying a word to me, and were sitting round the class room fire singing Palestrina for sheer love of the music.'

Around this time, folksong was beginning to exert an influence over Holst's composition. VW, Cecil Sharp, and Percy Grainger were touring the country trying to save the traditional music of England from extinction. Speaking of outside influences, he explained 'I believe very strongly that we are largely the result of our surroundings and that we never do anything alone. Everything that is worth doing is the result of several minds playing on each other.' which approaches the essence of folk music itself. A Somerset Rhapsody contains tunes from rural England and was one of his first big successes being widely performed throughout the country. The simple and often modal melodies found in folk tunes served as an antidote to his predilection for Wagnerian chromaticism and this trait begins to disappear at this point.

In spring 1907 Holst took on more teaching, this time at Morley College for Working Men and Women. Again, this was an appointment occasioned by VW. It may have been Isobel's pregnancy that prompted Holst to seek further work to remain as financially secure as possible. On 12 April that year, a baby daughter, baptised Imogen, was born. Her cries as a baby reduced Holst to a nervous state, 'Imogen is practising coloratura - the sort that foghorns usually perform - and my brain feels pulpy whenever she lets fly.'

His strong disapproval of the criticism of amateurs stirred some people at his various institutions though he was eventually accepted and began to expound the virtues of amateur music in some of his later lectures. With growing success as a composer (writing during his spare time), he found the workload inevitably too great and sought refuge from his hectic schedule in a holiday in Algeria - paid for by VW who sympathised with his plight. Although he attempted no composition during this holiday, he did note down tunes that he heard as he wandered through the sights sounds, and smells of the Arab quarter to which he was particularly attracted.

Teacher and composer
After Algeria (1908), Holst began what was to be his first characteristically mature work, the chamber opera Savitri. The libretto (written by Holst) comes from Sanskrit literature, specifically the Mahabharata, which is reckoned to be eight times the length of the Odyssey and the Iliad, combined. The incident selected from this gargantuan text is the story of Savitri, wife of Satyavan, who is visited by Death, who tells her that he has come to take away her husband. Instead of reviling Death, she praises him, and then passionately implored him to grant her one wish for herself - her own life in all its fullness. She then claims that Satyavan's life is essential to the fulfilment of her own, and thus outwits Death, who is forced to retire defeated. The subtlety of the music (13) contrasts with the some of the more bombastic works of the late nineteenth century and anticipates the smaller works with were to come into fashion during the war.

Other works of this period include a set of Choral Hymns from the Rig Veda. These were to occupy him for the next couple of years as he sought to explore this more versatile medium of expression. In both this and Savitri pseudo-oriental effects are avoided so that they do not degenerate into a pastiche with The Musical Times writing that the Hymns were 'Sound, firm impressions of the East from a sane Western perspective.' It was here that Holst was able to develop his interest in asymmetrical metres (five or seven beats in the bar), which he considered, more suited to settings of the English language. He had to publish these works himself as no publisher was prepared to take them on.

Many works were being published commercially though, for example the songs Awake, My Heart and She Who is Dear to Me, the Four Old English Carols, and an arrangement of Seven Scottish Airs for strings and piano - most of which won favourable reviews. As well as continuing, with much enthusiasm, in his teaching at Morley and St. Paul's, in 1909 he began work on a masque for the four-hundredth anniversary of the foundation of St. Paul's - The Vision of 'Dame Christian'. He also produced a piece for military band (Suite no. 1) which was well received by bandsmen who spoke of their excitement at being confronted by such an interesting and challenging work.

Holst, in addition to his normal lessons in 1909, put on a production of Purcell's King Arthur in Morley College. This was only the second performance of the work since the seventeenth century. Later still, he set out on a production of The Fairy Queen which had had no performance at all since 1697. His health, however, was constantly under strain and, after a cycling trip in the sun to see Norman O'Neill about a possible collaboration, he collapsed from heat exhaustion.

1910-12 saw a host of conducting engagements and further composition for Holst was becoming a very well known member of the London musical establishment.

Advancing to the Queen's Hall
The period of work in 1911 had such an adverse affect on Holst's health that he was forced to take a short holiday. He set off with the young composer Cecil Coles on a walking holiday in Switzerland for which he paid using money earned for the scoring of Morris Dance tunes for Cecil Sharp. On returning he reduced his teaching burden at Morley College concentrating only on the more advanced pupils to facilitate more composition.

Holst began work on a setting of Hecuba's Lament from Euripides' 'The Trojan Women' using the Gilbert Murray translation, scoring the work for contralto solo, three-part female chorus, and orchestra - with a characteristically pragmatic attitude, he scored the piece so that it could work with reduced orchestration (14).

In 1912 Holst took on another teaching position - at Wycombe Abbey School at High Wycombe, Buckinghamshire, which had links with St. Paul's Girls' School. He composed a 'School Song' for St. Paul's after a competition for a poem that he might set to music. In the end an amalgamation of several students' attempts resulted and the Playground Song was set to the words:
With joyful hearts our song we raise
For many a jocund scene
In swimming-bath, gymnasium,
And playground cool and green

Come victory or failure
St. Paul's will play the game!
This was never published and the manuscript remains in the school itself.
Besides composition there was an increasingly busy round of concerts. Holst conducted
A Somerset Rhapsody
in Bournemouth and Frank Duckworth directed the first performance of
Two Eastern Pictures
. In London the first group of the
Choral Hymns from the Rig Veda
were performed at the Queen's Hall and later, on 1 May, Holst conducted the first performance of
Beni Mora
. This final piece received mixed reviews with the Musical Times praising the finale: 'Its clever mingling of dance music, such as might issue from the cafés, with the music of an Arab procession from the desert through the town and out into the desert again, was an interesting feat of the imagination and technique.' But other critics were less kind 'We do not ask for Biskra dancing girls in Langham Place.' Friends, however, remarked that, although the work is difficult to comprehend and enjoy on first hearing, it improves with further listening revealing 'great power and much striking beauty.'
During the summer of 1912, Holst heard Diaghilev's extraordinary Ballets Russe performing Stravinsky's
The Firebird
and it is even possible that Holst met the great Russian composer after the performance. The influence of Stravinsky was soon to be discernible in Holst's subsequent works. A further musical shock came in the form of Schoenberg's
Five Pieces for Orchestra
which Holst heard on 3 September and described as 'like Wagner, but without the tunes.'
Able to switch from the heights of Schoenberg to evening classes with ease, Holst attempted, unsuccessfully, to obtain further financial backing for his musical projects and tuition at Morley College. He did, however, shame the committee into funding the tuition of one particular student when he offered to teach him without fee. Concerts in Newcastle-upon-Tyne of Holst's works were becoming more frequent thanks to the efforts of W. G. Whittaker, a close friend who worked as a conductor and choir director (
15
).
Holst was chiefly occupied with revision rather than composition during the second half of 1912 during which he worked on
The Cloud Messenger
,
The Mystic Trumpeter
, and the
Suite de Ballet
. In his direction of musical groups of mixed ability, Holst saw himself in the same tradition as Purcell, who himself wrote music for a girls school, as Bach who composed music according to the requirements of his employers, and as Haydn, who moulded his music to accommodate the varying technical abilities of his players.
The busy life of a teacher, composer and conductor was again taking its toll. Holst accepted an invitation to go on an expenses paid travelling trip with Balfour Gardiner, Clifford, and Arnold Bax. Holst felt that the only way to get to know a new city was to get lost in it, and, on arrival in Gerona, Holst duly set off alone and was not to be found at dinnertime. He eventually turned up by some folk dancers and the four musicians proceeded to hold philosophical conversations considering 'fogginess' in the arts and the difference between memory of an event and the event itself. An important aspect of the holiday was the development of Holst's interest in astrology as Clifford Bax was something of an expert.
On his return, a new wing had been built in St. Paul's School and Holst had a soundproofed room which he subsequently said helped him greatly to compose (in peace and quiet!) the first composition completed in this new environment was the
St. Paul's Suite
on which he had been working for about a year and which he dedicated to the school in honour of the
new wing.
Concerts and influences
1913 was an important year for Holst: Many concerts of his works took place under the baton of Balfour Gardiner, Edmund Fellowes brought out his pioneering edition of madrigals by Thomas Morley (
16
), and Diaghilev's Ballets Russes returned to London for two seasons now performing such works as
Petrushka
and
The Rite of Spring
. While the English audience did not emulate the Parisians (
17
), the reviews portray prevalent disapproval: 'Its savagery…is horrific...the most outlandish cries and groans…To hear this Festival of Spring is the most curious of experiences; but one cannot believe one would ever get it to yield a moment's actual pleasure.'(
18
) Labelled as having 'no relation to music as most of us understand the word', Holst was doubtless affected by the conception of large orchestral writing and these concerts must have had a major influence on his decision to compose large-scale orchestral works.
After the autumn term at Morley and further concerts of
Beni Mora
and
The Cloud Messenger
, Holst decided to go on a five-day walking holiday in Essex. He arrived in Thaxted despite the wintry weather and, after viewing a number of the medieval buildings, decided that he liked the place so much he would like to live there. Two months later he and Isobel looked at a cottage two miles south of the town and decided to rent it straight away. It was in these peaceful surroundings that Holst was to start work on
The Planets
.
After hearing Schoenberg's
Five Pieces for Orchestra
in 1914, although this probably provided one of the impulses that sparked off the creation of
The Planets
, Holst, in a demonstration of his sense of humour, lampooned the modernist school at Morley. He wrote a futuristic 'Tone poem in H' for two violins and orchestra with a 'Contrabass macaroon', a 'Babyphone (appealing especially to mothers)', a 'Tubular Pneumatic Buzzaphone', together with a pair of 'Te(a)tra(y) Chords especially imported from Lyons in the south of France.' A special feature of this work would be the seventeenth inversion of the Metropolitan and District sixth, and Holst would be obliged to conduct with two batons, one for the strings and one for the wind, as one section would be playing in seven and the other in nine beats to the bar. Later on the time would be 9.666 and X-Y for the two sections respectively!