paid for
advertisements

<!- Forgotten to FEb 2023-->
FOGHORN Classics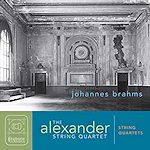 Brahms String Quartets

All Foghorn Reviews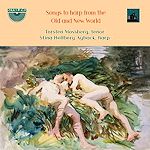 Songs to Harp from
the Old and New World

all Nimbus reviews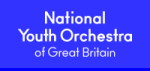 Follow us on Twitter
Editorial Board
MusicWeb International
Founding Editor
Rob Barnett
Editor in Chief
John Quinn
Contributing Editor
Ralph Moore
Webmaster
David Barker
Postmaster
Jonathan Woolf
MusicWeb Founder
Len Mullenger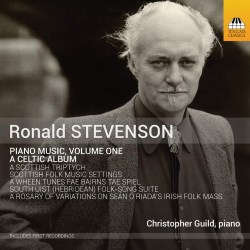 Support us financially by purchasing this from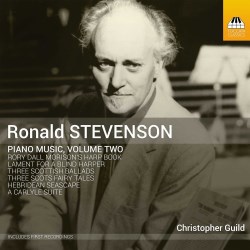 Support us financially by purchasing this from
Ronald STEVENSON (1928-2015)
Piano Music - Volume 1: A Celtic Album
A Wheen Tunes fae Bairns tae Spiel: 4 Scottish Pieces for Piano (I Croon; II Drone; III Reel; IV Spiel) (1964) [2:44]
A Scottish Triptych (1959-67) (I Keening Sang for a Makar; II Heroic Song for Hugh MacDiarmid; III Chorale-Pibroch for Sorley MacLean) (1959-67) [20:38]
South Uist (Hebridean) Folk-Song Suite (I Sailing Song: Lively, jolly, robust; II A Witching Song for the Milking; III A Little Mouth Music; IV A Waulking Song; V Spinning Song; VI A Tired Mother's Lullaby; VII The Christ Child's Lullaby) (1969) [6:58]
A Rosary of Variations on Sean O Riada's Irish Folk Mass (1980) [15:53]
Scottish Folk Music Settings: (I John Anderson, my Jo; II Waly, Waly; III A Rosebud by my Early Walk; IV Lang hae we Pairted Been; V From an Old Pibroch; VI Ca' the Yowes; VII Jock o' Hazeldean; VIII The Hielan Widow's Lament; IX Hard is my Fate; X Ne'erday Sang) (1956-80) [25:05]
Christopher Guild (piano)
rec. 2014, Recital Room, Edinburgh Society of Musicians, Edinburgh
TOCCATA CLASSICS TOCC0272 [69:04]

Piano Music - Volume 2 (1967- 1995)
Three Scots Fairy Tales (1967) [3:15]
A Carlyle Suite (1995) [20:18]
Rory Dall Morison's Harp Book (1978) [17:04]
Three Scottish Ballads (1973) [9:48]
Savourna STEVENSON (b.1961)
Lament for a Blind Harper (1986) [3:01]
Frank MERRICK (1886-1981) Hebridean Seascape (c.1935/1986) [13:05]
All works transcribed by Ronald Stevenson
Christopher Guild (piano)
rec. 2016(?), Turner Sims Concert Hall, Southampton
TOCCATA CLASSICS TOCC0388 [66:37]

Stevenson's music for solo piano has, quite naturally, found sympathetic and even enthusiastic responses in more than few quarters. His orchestral music has done less well, although the two piano concertos have been around for a while and in their latest avatar can be heard on Forum. What about the concertos for violin, cello and the symphony?

The present two discs, issued in 2015 and 2017, concentrate on his Scottish music; well, more accurately, the Celtic or Gaelic pieces, as they also touch on music of Irish colour and origin, including O'Riada's Irish Folk Mass.

A Wheen tunes fae Bairns ae Spiel comprise little pieces written after the Passacaglia on DSCH. These four miniatures are alive with sweetness, lithe activity and Scottishry.

A Scottish Triptych (the composer is quite keen on the modest indefinite article) consists of a set of 'tombeaux' or, more accurately, tributes. The first is dissonant and is stonily unapologetic. Keening Song for a Makar - F.G. Scott strikes a sturdy stance. It is angular and granitic but also revels in great delicacy seeming to evoke magically sparkling shallows and rock-pools. There's a reference at 6:00, in a serene melody, to F.G. Scott's songs. The second adopts a more thrumming and resounding dissonance. It's directed at Hugh Macdiarmid and was BBC-commissioned in 1996 to mark the poet's 75th birthday. Virtuosic and discordant, its transitions are expressed in music of touching power. The Chorale Pibroch for Raasay-domiciled Sorley Maclean (a friend of Macdiarmid) is, as the liner-note, tells us, full of drones in bare fifths and spicy dissonances around which whiskey fumes, volatile and peat-toned, hang and lend amber shades in misty trails.

The pieces that make up South Uist Hebridean Folk Suite are more immediately engaging and look in the direction of the Wheen Tunes. They are jolly, short and moving such as A Witching Song for the Milking or the glittering Waulking Song which addresses the listener in part deliberate pattern and part wispy asides. One of the gems is Mothers Lullaby, a slow-stepping Andante. There's a touch of Grainger and Warlock at their finest here, and always very approachable.

A Rosary of Variations on Sean O'Riada's Folk Mass was written by Stevenson in 1980. This complex piece has none of the unrepentant "elbows and knees" angularity of the Scottish Triptych. Simple themes predominate, as might be expected from a folk ritual. It ends in a Grainger-like, decorated fast-trot from which there is a sliding away with a twirling paraph of notes.

The Ten Scottish Folk Music Settings are dedicated to Percy Grainger. These date from the late 1950s to the early 1980s. They are subtly sweetened but never, or hardly ever, sentimental. John Anderson comes across with a plangent dignified sorrow. The note-writer mentions "studies in sonority" and I can hear why. The richly appointed, glowing and humming, of A Rosebud by My Early Walk is cited as an example. These pieces often feel like embarkation points for Stevenson's journeys of expression and discovery as in Lang hae we Parted Been. In this latter, trilling swirling notes seem to describe some far-off lochan.

The second disc includes a quietly recounted and Liadov-like Three Scots Fairy Tales. These are spun as miniatures and as if with the trembling pulse of a harp by Christopher Guild who has also appeared as pianist on other Toccatas: Grigori Frid and Ronald Center.

The Three Scottish Ballads start with Lord Randal which rings out like a march but one that undergoes some rough magic in its transformations from Baxian trudging figuration to a fantastic haze. The Dowie Dens of Yarrow, in its dignified, sorrowing beauty, has similarities to Peter Warlock's Frostbound Wood. It makes a cooling change from McCunn's Overture of the same name. New Haven Fishwife's Cry is a grand statement and is the most Graingerian of the three pieces.

Lament for a Blind Piper is Savourna Stevenson transcribed by Ronald Stevenson. Its swirling beauty keeps the sorrowing under control. It is not about keening or about "ranail" but holds its lamenting on tightly checked reins. The handling of the idea is piercing nonetheless and Stevenson again demonstrates that he has a devastatingly effective way with melodies.

A Carlyle Suite is laid out in eleven tracks, one for each of a series of movements. The Aubade's soft impacts capitalise, with great art, on the music's humming and moaning rather than on the percussive nature of instrument. Souvenir du Salon seems a title almost at odds in this company. The romantic velveteen Allegro Ardente contrasts with the Grosz-like bitterness of Rezitativ Und Marsch. Scherzino Schottische half resembles Mayerl but set in a moonlit garden drained of sinister overtones. It's surprising to find a Serenade concluding this 20-minute sequence.

Rory Dall Morrison's Harp Book is divided into eight Gaelic-titled pieces. Here the invention feels simpler and is not as artistically 'processed' as the Grainger-dedicated set on CD1

The blue oceanic distances of the Hebridean West coast are chimingly captured in the fantastic Hebridean Seascape. This is a whirling Baxian statement with a heroic glint. It is a massively imaginative piece, here communicating through aural images worthy of a journey by a Gaelic Ulysses. This piece has been transcribed from the pianist-composer Frank Merrick's Piano Concerto No. 2. Let's hope the two Merrick piano concertos will find recordings or that those ancient LPs from Rare Recorded Editions can be refurbished for CD issue. It would be welcome to see the two concertos appearing as an instalment on Hyperion's Romantic piano concerto line. Merrick was from an earlier generation than Stevenson but he is intriguing enough for me to want to listen through those performances given by the composer in old age on Frank Merrick Society LPs issued in the late 1950s up to 1965.

The booklet contents are in English only and are easily readable. They're extensive too: vol. 1: eight pages and vol. 2: twenty pages. The essays for volume 1 are by the composer (600 works including 12 symphonies and 19 piano sonatas) and music writer David Hackbridge Johnson who spent time with Stevenson. For volume 2 the writer is the pianist Christopher Guild. He is as skilled and persuasive a writer as he is a pianist.

Toccata also have in their lists Colin Scott-Sutherland's massive "Ronald Stevenson: The Man and His Music". This is well thought through and quite brave, given that Stevenson was at that time thankfully with us and worklists will change. It's on Toccata Press and dates from 2005. There's also "Comrades in Art - Correspondence of Stevenson and Grainger 1957-61" Toccata Press, 2010.

Even the track read-out information for Toccata is meticulous and full; thus, each movement of a suite displays the name of the suite, its movement title and a speed indication. This attention to fine detail extends to the sensibly matte surface of the CD's title side.

The sound for both discs is cool yet not clinical. Both speak nobly and have nothing to prove. The music is sincere and has nothing of the empty braggart about it.

Rob Barnett

Previous reviews (Vol. 2): John France and Stuart Sillitoe.



---
| | |
| --- | --- |
| | |
Donate and keep us afloat
New Releases


<!- cpo end March 2023 --> all cpo reviews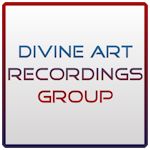 Click to see New Releases
Get 10% off using code musicweb10
All Divine Art reviews
<! apr 12 months Nov 22 - Oct 23 -->