TROUBADISC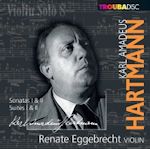 <!- December 2018 -->
colourful imaginative harmony
Renate Eggebrecht violin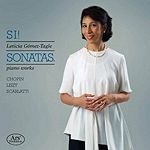 Leticia Gómez-Tagle
Chopin, Liszt, Scarlatti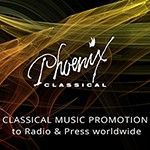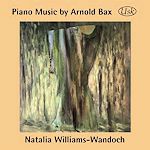 Bax Piano Music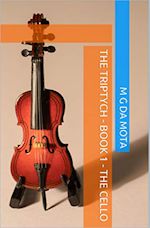 Book 1 Book 2 Book3
Mota The Triptych: -Website
---

Acte Prealable returns
with New Releases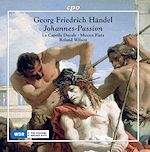 Superior performance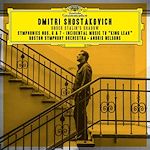 Shostakovich 6&7 Nelsons
Notable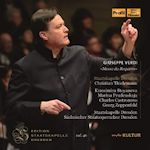 Verdi Requiem Thielemann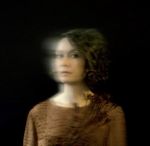 Marianna Henriksson
An outstanding recital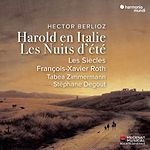 this terrific disc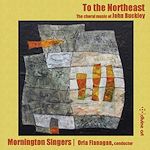 John Buckley
one of my major discoveries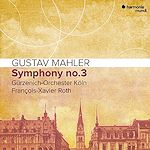 François-Xavier Roth
A game-changing Mahler 3
........................................
Bryden Thomson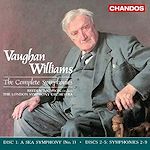 Symphonies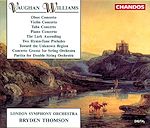 Vaughan Williams Concertos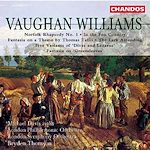 RVW Orchestral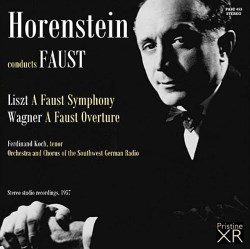 Franz LISZT (1811-1886)
A Faust Symphony, S108 (1854 rev 1857) [67:33]
Richard WAGNER (1813-1883)
A Faust Overture [10:13]
Ferdinand Koch (tenor)
Orchestra and Choir of the Southwest German Radio/Jascha Horenstein
rec. November 1957, Südwest Tonstudio, Loffenau, Germany. Stereo
PRISTINE AUDIO PASC453 [77:46]


These stereo recordings were made under studio conditions for Vox in 1957. When the Liszt was issued in 1958, the same year that Beecham's recording came out these were the first stereo recordings of the score – a mono recording had been issued in 1955, conducted by Ataulfo Argenta but no chorus was used in that recording. I gleaned this information from notes by Horenstein's assistant, Joel Lazar which accompanied another Horenstein CD of this work.

That other Horenstein performance was issued by BBC Legends. It's a rather later traversal, recorded with the BBC Northern Symphony Orchestra in April 1972. In that version the men's voices of the BBC Northern Singers take part and the soloist is John Mitchinson (BBCL4118). I think that version may now be deleted.

Notwithstanding that the 1972 version may no longer be a purchase option for collectors I've still used it as my comparative recording and the results are fascinating. In 1957 Horenstein took 67:33 to play the score whereas his 1972 traversal took 74:33. I don't have access to a score but I'm as sure as I can be that the shorter playing time in 1957 was not the result of any cuts or omitted repeats. I'm pretty confident that Horenstein played the same text on both occasions. However, in 1957 his approach had considerably more urgency at times.

That's particularly evident in the first movement, the portrait of Faust. Indeed, it's this movement that accounts for most of the time divergence between the two performances. In 1972 Horenstein took 30:01 but in 1957 Faust almost whizzes past our eyes in 23:24. I exaggerate, of course, not least because in 1957 Horenstein gave proper space and expression to the reflective passages in the movement, just as he did fifteen years later. However, in the earlier performance he frequently drives the fast music in a thrilling way. What emerges is a portrait of Faust that is often turbulent and unsettled. There's genuine urgency in the music and the aforementioned fast passages are taut and dramatic. By comparison there is rather more weight and expansiveness in the 1972 performance; Faust is perhaps rather less impulsive.

The second movement, Gretchen, is similarly paced in both versions. Having shown his ability to bring out the drama in a piece of music during the first movement Horenstein here demonstrates an ability to portray tenderness and sensitivity. The Southwest German Radio Orchestra plays quite well for him but the BBC Northern Symphony Orchestra was capable of rather more finesse in 1972. I also have the sense that Horenstein's conducting was even more persuasive second time around, perhaps because he had a more responsive orchestra at his command.

The malevolence and cynical manipulation that characterise Mephistopheles come out well in both performances. Horenstein is again very dramatic in his 1957 performance and some of the results he gets are very exciting, even if the orchestra is clearly pressurised by some of his demands. Though they are audibly stretched at times their response is never less than spirited. There's plenty of thrust and drama in this performance. When Liszt revised the symphony in 1857 the biggest change was the addition of the choral conclusion (from 18:20 in this performance.) The men's voices of the Choir of the Southwest German Radio offer stalwart singing but their delivery is rather foursquare and one is aware that Liszt's choral writing isn't all that imaginative: the BBC Northern Singers are streets ahead in the 1972 performance. Horenstein is well served by both his tenors. In this performance Ferdinand Koch sings well. He's undaunted by the demanding tessitura and he maintains a good line. John Mitchinson is equally up to the vocal demands but I feel his tone has more body to it than is the case with Koch and Mitchinson invests the music – and words – with more expression.

According to Joel Lazar the BBC Northern Symphony rehearsed with Horenstein from 19 April before recording the 1972 performance on 23 April. My goodness, it shows. Their playing for Horenstein is very fine indeed. By comparison the Southwest German Radio Orchestra, though they play with tremendous commitment for Horenstein must have found his demands challenging. Their playing is far from flawless – I wonder how familiar they were with the symphony before starting work on it with Horenstein. That said, I found that I could forget the frailties of the orchestra in the context of the excitement and conviction of the performance as a whole. (Incidentally, once the Liszt symphony was safely 'in the can' the BBC Northern then went on to rehearse Mahler's Das Lied von der Erde with Horenstein before making a marvellous recording of it on 28 April (review). What an intense period of working on Liszt and Mahler that must have been.)

Liszt's symphony is rather too sprawling for my taste, especially in the first and third movements – he could, with advantage, have shaved 15 minutes or so off the length. It needs a conductor to get hold of it by the scruff of the neck and project it dramatically. That's one of Jascha Horenstein's principal achievements, especially in his 1957 recording.

Unsurprisingly, the more modern sound on the BBC Legends release is better than the Vox recording from 1957. I haven't heard the original Vox recording but I'm sure Andrew Rose has worked his usual magic on the original sources because the Pristine transfer comes up very well indeed.

In terms of the recorded sound and the quality of the playing and singing choice between the 1957 and 1972 recordings might seem clear cut. It's not that simple, however. The 1957 reading often has a white hot thrust and urgency that Horenstein didn't – or chose not to – match in 1972. I'd argue that the two readings are complementary and if you already have the 1972 version you should strongly consider adding this earlier traversal to your collection as well.

Horenstein's swifter pacing in 1957 means that there is room for Pristine to add his contemporaneous recording of Wagner's A Faust Overture as a not inconsiderable – and very apt – bonus.

John Quinn

Previous review: Gwyn Parry-Jones

Footnote
Since I wrote the above review, my colleague Paul Corfield Godfrey has kindly alerted me to the fact that second hand copies of the BBC Legends issue of Horenstein's recording of the Liszt Symphony are currently listed on Amazon. In addition both Amazon and Arkiv Music list a Music & Arts CD release of the 1972 BBC performance.

---
| | |
| --- | --- |
| | |
We are currently offering in excess of 51,000 reviews
Donate and keep us afloat
New Releases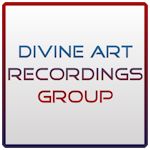 <!-eloquence closes end Jan 2019 extended end Feb->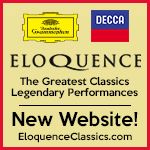 Special offer 50% off
15CDs £83 incl. postage




Follow us on Twitter
Editorial Board
MusicWeb International
Founding Editor
Rob Barnett
Editor in Chief
John Quinn
Seen & Heard
Editor Emeritus
Bill Kenny
MusicWeb Webmaster
David Barker
Postmaster
Jonathan Woolf
MusicWeb Founder
Len Mullenger