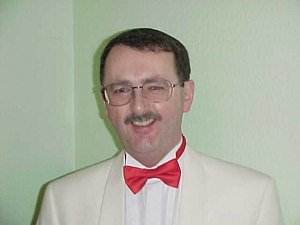 John Quinn joined the Music Web reviewers' panel early in 2001.
Born in Halifax, West Yorkshire, he read history at the University of York and after doing a research degree at Lancaster University he took up a career in banking.
Most of his earliest musical experiences were as a bassoonist. He played the instrument in several orchestras in his native Yorkshire and also played in "the pit" for a number of shows. Thus he played in repertoire that ranged from Birtwistle to The Desert Song.
In 1986 a career move took him to Gloucestershire, where he still lives. He then decided to pursue his other musical interest, namely singing. He joined the tenor section of a very busy choral society, Philomusica of Gloucestershire and Worcestershire (www.philomusica.org.uk), and became its chairman in 1990.
Although he is an eclectic (and excessive?) collector of classical CDs his particular interests lie in choral and orchestral music written between about 1800 and 1950 and in the lieder and song repertory, especially English song. As befits a resident of Three Choirs country, he has a particular love of English music with that of Elgar and Vaughan Williams being especially close to his heart.
---