It's hardly surprising that we are being treated to several new and reissued recordings of the operas of Richard Strauss, on CD, DVD and blu-ray and as downloads, as 2014 marks his 150
th
anniversary. The arrival for review of a new CD recording of
Intermezzo
, together with the fact that a couple of blu-ray releases, of
Salome
and
Elektra
, have been sitting in my in-tray for too long, prompts me to deal with them in this article.
I'll start with a very considerable bargain in the form of a box set of all the operas for just under £100, released under the DG umbrella but also containing a number of recordings from Decca, one from EMI and one from Sony:
•
Arabella
(Keilberth, live, 1963)
•
Ariadne auf Naxos
(Sinopoli, 2000)
•
Capriccio
(Böhm, 1971)
•
Daphne
(Böhm, live, 1964)
•
Elektra
(Solti, 1967)
•
Feuersnot
(Leinsdorf, live, date?)
•
Die Frau ohne Schatten
(Solti, 1989-91)
•
Die schweigsame Frau
(Böhm, live, 1959)
•
Friedenstag
(Sinopoli, 1999)
•
Guntram
(Queler - licensed from Sony)
•
Die Ägyptische Helena
(Doráti, 1979)
•
Intermezzo
(Sawallisch, 1980 - licensed from EMI)
•
Die Liebe der Danaë
(Krauss, 1952)
•
Der Rosenkavalier
(Solti, 1968)
•
Salome
(Sinopoli, 1990)
•
Vier letzte Lieder
(Norman/Masur, 1982)
DG 4792274
[33 CDs: 33:31:16] or as a download in two volumes,
4792277
(
Arabella
–
Die schweigsame Frau
) [17:32:53] and
4792278
(
Friedenstag – Vier letzte Lieder
) [15:58:23].
Support us financially by purchasing from
Amazon UK
–
Amazon US
–
ArkivMusic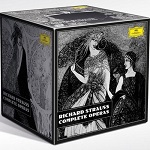 I downloaded Volume 1 from
7digital.com
in 320 kb/s mp3 for £22.99 and sampled Volume 2 from
Qobuz
. There's no booklet with the 7digital download, but you can read it at Qobuz. It contains synopses only, no texts; that's the only serious drawback about the enterprise which is otherwise self-recommending.
Even if you already have some of these recordings, the set offers excellent value: the Sawallisch
Intermezzo
alone costs almost as much to download as Volume 2, of which it forms 2/17. I'd want, however, to supplement Sinopoli's
Salome
with the Solti recording, which would have been at DG's disposal for the set, and Solti's
Rosenkavalier
with Karajan. No matter: Solti's
Salome
is available inexpensively on Decca Originals
4757528
and Karajan's
Rosenkavalier
is also inexpensive (Warner/EMI
9668242
or Brilliant Classics
9085
). The Park Circus DVD of the film of
Rosenkavalier
, again with Karajan and Schwarzkopf, is also inexpensive – around £10.
Now that the Brilliant Classics Strauss set which Rob Barnett
reviewed
, and which contained several of the operas, appears to have been deleted, though some individual opera sets remain on Brilliant Classics, such as Karajan's
Rosenkavalier
(see above), this is the best large-scale bargain currently on offer.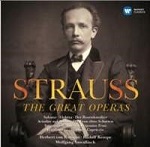 The 1988 Sawallisch
Intermezzo
also appears in a smaller 22-CD set on Warner Classics, together with the 1967 Karajan
Rosenkavalier
. These two alone make it worth buying the set for around £38 (
4317792
). The others are
Capriccio
(Sawallisch, 1957/8),
Daphne
(Haitink, 1982),
Friedenstag
(Sawallisch, 1988),
Die schweigsame Frau
(Janowski, 1976/7),
Die Frau ohne Schatten
(Sawallisch, 1987),
Ariadne auf Naxos
(Kempe, 1967),
Elektra
(Sawallisch, 1987) and
Salome
(Karajan, 1977/8).
Intermezzo
is a very strange opera. Without an overture – the symphonic interludes come later – we are plunged
in medias res
, straight into the marital ups and downs of Herr und Frau Robert Storch, a thinly disguised version of Strauss and his wife – Storch means 'stork' and a Strauß-vogel (literally 'bunch-bird') is an ostrich.
The EMI recording, the first to be made of the work – though we have since had a CD set of a 1963 broadcast directed by Joseph Keilberth on Orfeo – has a strong claim also to be regarded as authoritative. Wolfgang Sawallisch was an accomplished Strauss conductor and he had a very strong team at his disposal: Lucia Popp, Dietrich Fischer-Dieskau, Adolf Dallapozza, Raimund Grumbach and Kurt Moll, with the Bavarian Radio Symphony Orchestra. It's no longer available separately, except as a download – and a rather expensive one, at that: £22.99 from
7digital.com
(320kb/s mp3), £28.72 for lossless quality from
Qobuz
and £17.99 from
amazon.co.uk
for less than top-rate mp3. If you want that recording, then, it's best obtained in one of the box sets.
The details of the new set are:
Intermezzo
: a bourgeois comedy with symphonic interludes in two acts, Op.72, TrV246 (1924)
Christine – Simone Schneider (soprano)
Hofkapellmister Robert Storch – Markus Eiche (baritone)
Anna – Martina Welschenbach (soprano)
Baron Lummer – Martin Homrigh (tenor)
Notary – Michael Dries (bass)
Notary's wife – Maria Bulgakova (soprano)
Kapellmeister Stroh – Brenden Gunnell (tenor)
Legal Counsellor – Peter Schöne (baritone)
Resi – Sophie Mitterhuber (soprano)
Singer – Günter Missenhardt (bass)
Brigitte Fassbaender (spoken role)
Müncher Rundfunkorchester/Ulf Schirmer
rec. live, Richard Strauss Festival, Werdenfelsaal, 7-8 June 20011. DDD
Booklet with text and Andrew Porter's translation included
CPO 777901-2
[77:35 + 58:00]
Support us financially by purchasing from
Amazon UK
–
Amazon US
– ArkivMusic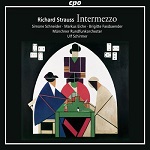 I can't pretend that
Intermezzo
, premiered in 1924, comes anywhere near to being my favourite Strauss opera. It's not surprising that it's performed and recorded so infrequently that neither DG nor Decca had a version to hand, but there's almost as much fine music as in
Rosenkavalier
and
Ariadne
– and not just in the well-known orchestral interludes. The new recording, conflated from two live concert performances, makes a very strong case for it, especially now that the Sawallisch is not available separately except as an over-priced download.
The cast come very close to rivalling their better-known counterparts on the older recording.
The role of Christine requires the singer to be on stage almost all the time, like the principals in
Salome
and
Elektra
, and to combine a biting tongue with – at times – a winning manner. Martina Welsenbach is as convincing as Lucia Popp and raises the unanswerable query whether even the legendary Lotte Lehmann in the first production sang better. Nor do any of the other singes let the side down – and it's a bonus to have Brigitte Fassbaender in the spoken roles.
The orchestral contribution is very good – the Bavarians seem to have a real penchant for this opera. Ulf Schirmer is a veteran Strauss conductor – his 1994
Capriccio
, with Kiri Te Kanawa, recently reissued at lower-mid-price, Decca Opera
4786499
, is well worth considering and John Phillips reported of his DVD recording of the same work, Arthaus
107327
, with Renée Fleming, that he hadn't enjoyed an opera DVD so much for a long time –
review
. (NB: please note new catalogue number). Schirmer seems to specialise in making a success of under-rated works, as, recently, in the case of Lehár's
Das Fürstenkind
–
review
.
The CPO booklet provides Andrew Porter's idiomatic translation, a welcome adjunct in a such a wordy opera, even for Anglophones whose German is good: even AP can't find English expressions for
gnäd'ge Frau
or its abbreviation,
gnä'Frau
, leaving them untranslated along with Skat, a card game to which Strauss was addicted but for which there seems to be no English name. Strauss, having failed to find a librettist, wrote the text himself and there are times when he might have been better to have stuck to the day job. On the other hand, one feels like an eavesdropper on some real Strauss family arguments.
If I end as I began by feeling that this is an interesting opera but not one that I shall visit very often, those concerned in producing this CPO recording can be exonerated of all blame.
The remaining operas are on blu-ray releases:
Salome
, Opera in one act, Op.54 (1905)
Salome – Erika Sunnegårdh (soprano)
Jochanaan – Mark S. Doss (baritone)
Herodes – Robert Brubaker (tenor)
Herodias – Dalia Schaechter (mezzo)
Narraboth – Mark Milhofer (tenor)
Page – Nora Sourouzian (contralto)
Five Jews – Gabriele Mangione (tenor), Paolo Cauteroccio (tenor), Dario Di Vetri (tenor), Ramtin Ghazavi (tenor), Masashi Mori (bass)
A Cappadocian – Masashi Mori (bass) (tenor)
Two Nazarenes – Rainer Zaun (bass), Pauolo Polillo (tenor)
Soldiers – Cesare Lane (bass), Rainer Zaun (bass)
A Slave – Edoardo Milletti (tenor)
Orchestra of the Teatro Comunale di Bologna/Nicola Luisotti
Stage Director Gabriele Lavia
rec. live Teatro Comunale di Bologna, January (?) 2010. Exact date(s) not given.
Sound Formats: PCM Stereo, dts-HD Master Audio 5.0
Format: 16:9. 1080i HD
Subtitle Languages: German (original language), English, French, Spanish, Italian, Korean
FSK: 0
Region Code: 0 (Worldwide)
ARTHAUS MUSIK
Blu-ray 108096
[109 minutes]
(also available on DVD
101699
).
Support us financially by purchasing from
Amazon UK
–
Amazon US
–
ArkivMusic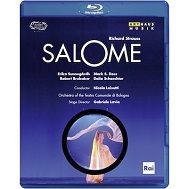 Given that Birgit Nilsson is the Salome
de nos jours
– at least,
de mes jours
– I've used her 1961 Sonicstage recording with Georg Solti and the Vienna Philharmonic, still sounding well after more than half a century, as my benchmark (Decca Originals
4757528: Recording of the Month
–
review
). Since you can find that 2-CD set for around £8 – one dealer has even discounted it to £5.75 at the time of writing – I would regard it as an essential purchase, whatever other recording you may have or intend to have, especially as DG favoured the Sinopoli recording instead for their box set.
I first heard that recording played by a well-to-do undergraduate friend who owned a Garrard turntable, SME arm, Shure cartridge and Quad amp and speakers, such as I could only have dreamed of at the time – 1962 or 1963 – and was bowled over, as I still am by the Decca CDs and even by the Hallmark download, sounding very well for a mere £1.68, which I recommended in
2014/2 Download News
alongside the Chandos recording with Inga Nielsen and Michael Schønwandt directing the Danish Radio SO (
CHAN9622
).
Salome is in many ways an even more demanding role than many Wagner heroines – 'a teenage princess with the voice of an Isolde', as Strauss himself put it. I hadn't heard Erika Sunnegårdh before but I was greatly impressed with her performance on this recording – a powerful voice with a real edge to it when it's called for, but never sounding forced, and worthy to stand alongside Birgit Nilsson (Decca) and Inga Nielsen (Chandos). It's an especially stunning achievement when you consider that she stepped in almost at the last moment to replace Nadja Michael for this production. Considering that her first operatic role was Turandot, her success as Salome, another half-femme-fatale, half little-girl-lost, hardly comes as a surprise.
Mark Doss as Jochanaan gives an equally powerful performance, all the more remarkable in the light of the physical indignities to which he is subjected, though the worst of these occurs after he is 'dead' when he's hung upside down – something of a trend in Strauss opera productions: it happens to Klytämnestra in the
Elektra
reviewed below. Robert Brubaker and Dalia Schaechter make a convincingly effete Herod and Herodias and the support cast are all at least competent.
The Bologna orchestra may not be the Vienna Phil at the top of their form for Solti, but they acquit themselves very well and Nicola Luisotti directs a very well-paced performance overall. The
Dance of the Seven Veils
on track 21 is as good as you are likely to hear it on a 'lollipops' recording. Luisotti may be better known as a conductor of Verdi and Puccini, including an EMI DVD of
La Bohème
which Ian Lace ranked with the best –
Recording of the Month
–
review
– but he had already conducted
Salome
the previous year, 2009, in San Francisco.
The sound on this blu-ray release is excellent, as heard through my audio system. In fact I tried it in audio-only first and thoroughly enjoyed it. There are some inevitable stage-action bangs and crashes, but very few and nothing too distracting. For all that John Culshaw's Sonicstage recordings of Strauss and Wagner for Decca were very successful in giving the illusion of a live performance, the new blu-ray set adds the excitement of the real thing.
I always put an opera DVD or blu-ray on to watch with bated breath but this production is mercifully free from idiosyncrasies. Inevitably, the cast are in modern or neutral dress, but the fairly minimalist staging suits the opera well.
There is neither libretto nor synopsis in the booklet, but the libretto is available in pdf format from
operatoday.com
– German only – and a score from
imslp.org
.
Solti's Salome remains my version of choice but I'm sure that I shall be revisiting this blu-ray.
I can be brief about my final recording,
Elektra
, since two of my colleagues have reviewed it in an earlier incarnation:
Elektra
, Op.58 (1909)
Elektra - Iréne Theorin (soprano)
Klytämnestra - Waltraud Meier (mezzo)
Chrysothemis - Eva-Maria Westbroek (soprano)
Aegisth - Robert Gambill (tenor)
Orest - René Pape (bass)
Konzertvereinigung Wiener Staatsopernchor/Thomas Lang
Wiener Philharmoniker/Daniele Gatti
Stage director: Nikolaus Lehnhoff
Stage design: Raimund Bauer
Video director: Thomas Grimm
Picture: 16:9/1080i Full HD
Sound: PCM stereo, DTS-HD Master Surround 5.1
Region: worldwide
Subtitles: German (original), English, French, Spanish, Italian
Menu language: English
rec. live, Großes Festpielhaus, Salzburg, 2010
ARTHAUS MUSIK blu-ray 108110
[109:00]
Support us financially by purchasing from
Amazon UK
–
Amazon US
–
ArkivMusic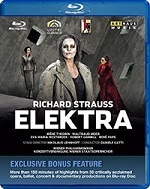 Dan Morgan liked this same recording on blu-ray, with a different catalogue number, in 2011 –
review
– while Simon Thompson made the DVD equivalent a
Recording of the Month
–
review
. Between them they have given such a clear account of the virtues of the singing, staging and recording that I need only refer you to what they have written and summarise the main points.
I'm not sure why the blu-ray has reappeared at a lower price, though I suspect that the Strauss anniversary may have something to do with it. Another motive may be a desire to head off at the pass another highly regarded recording which has just appeared: Evelyn Herlitzius, Waltraud Meier, the Orchestre de Paris conducted by Esa-Pekka Salonen and directed by Patrice Chéreau, recorded in 2013 at Aix en Provence (Bel Air Classiques blu-ray and DVD).
Prospective purchasers should note that the original release (
101560
) remains available for around £30, while the reissue sells for around a quarter of that price. One dealer is currently asking just £6.50. At that price – a real bargain considering what blu-rays normally cost – it's possibly a limited offer, so buy now if you intend to.
Strauss had powerful antecedents for
Salome
and
Elektra
– Oscar Wilde's play for the former and Sophocles'
Electra
, restrained by the conventions of Greek tragedy but meaty stuff for all that, for the latter. Powerful women figure largely in these two operas and again, in very different fashion, in
Der Rosenkavalier
and
Ariadne auf Naxos
.
As has become my wont, I listened first to the stereo layer in audio only and was immediately impressed by the quality of the singing from what Dan Morgan rightly describes as a stellar cast. Even as an audio-only
Elektra
this recording succeeds very well indeed, with superb sound, as played via both my audio set-ups.
In that form the benchmark, set long ago, is the Nilsson/Solti recording (Decca Originals,
4758231
, 2 CDs, or
4783704
, 15 CDs, with
Arabella
,
Ariadne
,
Die Frau ohne Schatten
,
Der Rosenkavalier
and
Salome
, all conducted by Solti). Alongside the new recording, I refreshed my memory of that performance from Volume 1 of the DG Complete Operas listed above.
Any performance stands or falls on the quality of Elektra herself, one of the most demanding roles in opera if only because she is on stage almost all the time. Irene Théorin may not dispel memories of Nilsson but her singing is thoroughly convincing in its own right and Eva-Maria Westbroek is equally convincing as the yang to Théorin's yin in the role of Chrysothemis. Nor does Waltraud Meier as Klytämnestra in any way disappoint.
The male roles may be less important, but Robert Gambill and René Pape fill them more than adequately and the Vienna Philharmonic take to Richard Strauss as naturally as they do to the other Strauss family on New Year's Day. With Daniele Gatti at the helm, my aural satisfaction was complete. The lack of applause at the end came as a complete surprise – almost eerie – but I know that many readers will approve of its removal.
As for the production, unless you were expecting Greek costume you won't be disappointed. If you want gimmicks, I understand that the place to go is Martin Kušej's production with Christoph von Dohnanyi at the helm in Zurich (TDK DVD
DVWW-OPELEK
– for two very different takes on this see
review
and
review
). Individual niggles apart – as Dan Morgan says, why make singers project their strongest passion and volume when kneeling or lying down? – gimmicks are mercifully absent from the Arthaus recording. The bare setting is completely appropriate, keeping in mind that Sophocles' play would also have been performed against a bare background: our word 'scenery' derives from the Greek
skéne
, originally meaning the wall of a tent and later applied to the area on which the actors, as opposed to the Chorus, performed.
The original release was a single-layer 25GB offering. By employing dual-layer technology, the reissue doubles the capacity and adds over 140 minutes of samples from the Arthaus catalogue. There doesn't appear to be a DVD equivalent and even the original DVD which Simon Thompson reviewed seems to be in short supply. With blu-ray players at prices within most people's budgets, including some very good examples at well below £100, all offering backwards compatibility with DVDs, we may well have reached a moment equivalent to that when the record companies ceased to offer mono LPs.
For those of us with less than monster-size televisions, the crystal clear blu-ray picture may not be a great advantage as against an up-scaled DVD picture, but blu-ray sound is considerably superior, making it an ideal carrier for concerts and operas. Recently, with only the likes of BIS, Chandos and Channel Classics staying true to SACD technology – and most good blu-ray players will cope with SACD, too – I'm pleased that Naxos and other companies have begun to release blu-ray audio versions of some of their recordings –
review
.
The downside of the reissue is that Nikolaus Lehnhoff's
Reflections on 'Elektra'
, the synopsis of the opera, and the track list are printed, not very legibly, on the inside of the wrapper, the booklet which I presume came with the original having been replaced with a leaflet advertising Arthaus Musik's blu-ray catalogue.
There may be no one ideal
Elektra
but this will do very nicely, especially at the new bargain price. It left such a powerful impression that I had to listen to the Schwarzkopf/Karajan recording of
Der Rosenkavalier
as a reminder of the more approachable side of Strauss immediately afterwards.
Brian Wilson