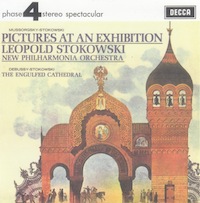 CD 32
[77:10]
Modest Petrovich MUSSORGSKY
Pictures at an Exhibition
- symphonic transcription, Leopold Stokowski
Boris Godunov
- symphonic synthesis, Leopold Stokowski
Night on a Bare Mountain
orch. Leopold Stokowski
Pyotr Il'yich TCHAIKOVSKY
Ouverture solennelle
'1812', Op. 49
New Philharmonia Orchestra, L'Orchestre de la Suisse Romande, London Symphony Orchestra, Royal Philharmonic Orchestra & Chorus, Chorus of Welsh National Opera, Band of The Grenadier Guards/Leopold Stokowski
rec. 1966 67
First released on LP as PFS 4095 (September 1966), PFS 4181 (July 1970) and PFS 4189 (February 1971)
Stokowski's symphonic syntheses are something of a rarity in the concert hall these days, but they do surface on record from time to time. There's the Oliver Knussen recording (DG) and, more recently, the 5-CD Naxos box of Stokowski transcriptions with Josť Serebrier and the Bournemouth Symphony (
review
). This Phase 4 CD is another compilation of tracks from several albums – in this case three – taped in different venues with different orchestras; the New Philharmonia, OSR and LSO do the honours in Mussorgsky, while the RPO and the Band of the Grenadier Guards anchor the ever-popular
1812 Overture
.
Stokowski's
Pictures
is just one of many orchestrations of Mussorgsky's piano original. Unlike the ubiquitous Ravel version this one opens on strings (far left) and the engineers make the most of the brass interjections (far right). It's good to hear this music sounding less svelte than usual – more Russianate, if you will - and the New Philharmonia's incisive playing adds welcome edge to the proceedings. One could argue that Stokowski is too fussy at times, with exaggerated dynamics and colouristic touches, but the upside is that he gives these disparate pieces a genuine sense of narrative.
The recording, taped in Kingsway Hall in September 1966, is typical of so many in this Concert Series; in other words the sound is somewhat crude and the balances are all over the place. No, if you want excellent versions of this 'symphonic transcription' go for Knussen or Serebrier, both of whom benefit from good modern sound. The 'symphonic synthesis' on
Boris Godunov
, recorded with the OSR in Geneva a year later, starts off well; alas, the old goblins appear before long, with even more extreme interventions than ever. At one point the sound is yanked from one channel to the other so suddenly that we're left with a horrible 'suck-out'.
Despite my reservations about this
Boris
Stoky has produced a darkly compelling piece that's always worth a listen. Also, the OSR - recorded in the Zurich Opera House - play with tremendous brio throughout. The LSO are just as exciting in Stokowski's gnarled
Night on a Bare Mountain
, created for Disney's
Fantasia
in 1940. What a pity, then, that this 1967 Kingsway Hall recording is so coarse and confined, especially in the climaxes. Only in the quieter moments – woodwind, harp and ghostly tam-tam to the fore – does the sound become bearable. As before, if you want to hear this Technicolor
tour de force
at its best look elsewhere.
Listening to the start of Stokowski's
1812
I began to think we might be in for something rather special. This Kingsway Hall recording from 1967 has a tautness and inexorable tension that I like, and control-room interventions aren't so extreme. Even without the extra 'air' of a modern recording this sounds quite decent, and the music itself seems less hackneyed than usual. This is a slow burner, so that when the big moments arrive they do so with maximum impact. The ordnance detonates left, right and centre and the combined RPO and WNO choruses are thrilling. The lingering bells at the end are a bit of a damp squib, though.
Good performances hobbled by grim sonics; the
1812
is the best thing here.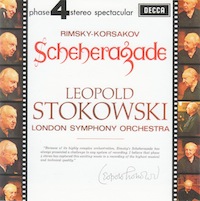 CD 33
[72:49]
Nicolai RIMSKY-KORSAKOV
Scheherazade
, Op. 35
Capriccio espagnol
, Op. 34
Alexander BORODIN
Polovtsian Dances
RPO Chorus; WNO Chorus
London Symphony Orchestra; New Philharmonia/Leopold Stokowski
rec. 1964/73
First released on LP as PFS 4062 (February 1965), PFS 4333 (June 1975) and PFS 4189 (February 1971)
The Russian theme continues with Rimsky and Borodin favourites from Kingsway Hall. Given that this
Scheherazade
was recorded in 1964 (
reissued at one stage by Cala
) the sound is surprisingly full and immediate. Violinist Erich Gruenberg is seductive in his solos and the LSO are in terrific form throughout. I did my best to ignore the sudden shifts of perspective, for this is a lovely account of the piece. Even those wiry strings and congested tuttis aren't so distracting when the performance is this gripping. Rhythms are nicely sprung, phrasing is uncontroversial and it all hangs together very well. Perhaps someone will re-master this at some point; I would certainly buy it.
We leap forward nearly ten years, to 1973, for the second
Capriccio espagnol
in this box. It shows, for the sound is warmer and more pliable, with plenty of acoustic information thrown in for good measure. The opening
Alborada
is crisply done, and there's some fine horn playing in the beguiling
Variazioni
. The second
Alborada
is very atmospheric and the
Scena e canto
gitano
has an ear-pricking quality that's all too rare in this box. And what a fizzing
Fandango asturiano
. The New Philharmonia play with passion and point and the engineers leave well alone.
Borodin's
Polovtsian Dances
gets a second outing, and a very good one it is too. This recording – Kingsway Hall, 1969 – isn't quite as satisfying as that provided for the
Capriccio espagnol
but it's still pretty good. Climaxes aren't at all fierce, the percussion is thrilling and that tramping bass is well managed. The combined RPO and WNO choruses are suitably febrile. True, Stoky pulls things about a bit, but that doesn't get in the way of a marvellous performance. Indeed, a re-mastered version of this entire disc would be most welcome too.
Stick it to 'em, Stoky; what this conductor does best.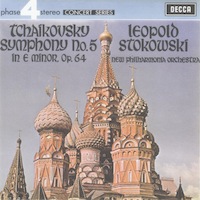 CD 34
[71:52]
Pyotr Il'yich TCHAIKOVSKY
Symphony No. 5 In E minor, Op. 64
Alexander GLAZUNOV
Violin Concerto in A minor, Op. 82
Silvia Marcovici (violin)
New Philharmonia Orchestra, London Symphony Orchestra/Leopold Stokowski
rec. 1966/72
First released on LP as PFS 4129 (January 1968) and OPFS 3-4 (January 1973)
More Russians, this time from Kingsway Hall in 1966 (Tchaikovsky) and live from the Royal Festival Hall in 1972 (Glazunov). Stokowski and the New Philharmonia are in good form in the symphony, and the start of the first movement is darkly sonorous. In the more animated sections the sound becomes rather pinched, but at least the music-making is worthwhile. This is a performance full of contrast and packed with incident. The horn theme in the
Andante cantabile
is meltingly done and ardour is mixed with nobility in a reading of substance and character.
The third movement waltz is pleasing enough, although a bit of lift and lilt wouldn't go amiss. This is one of those rare occasions when musical values come first, and what a difference that makes. Instrumental highlighting is still evident, even if it's more subtle, and the well-shaped finale proceeds without a hint of bluster. Stokowski brings out all the music's energy and colour, dynamics are nicely judged and the orchestral blend is good. True, this isn't a Tchaikovsky
Fifth
you'd want to take to your desert isle, but it's still a persuasive performance in very acceptable sound.
We seem to be on a winning streak with this batch, but will it continue? The Glazunov concerto gets off to a good start, although the Romanian violinist Silvia Marcovici is very closely miked. Her tone is full and hyper-Romantic, which makes for a somewhat soupy performance. The stereo image is very narrow as well, so the orchestra isn't always as 'present' as I'd like. Still, it's an affectionate reading, and only in the
Andante
does the performance came close to congealing. The finale perks up nicely and the LSO relish the chance to dance. There's applause, but it's quickly faded.
A very worthwhile coupling, well played and recorded; is our luck holding?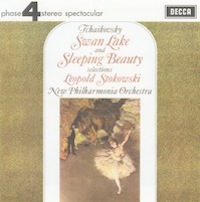 CD 35
[67:12]
Pyotr Il'yich TCHAIKOVSKY
Swan Lake
, Op. 20 (excerpts)
Sleeping Beauty
, Op. 66 (excerpts)
Romeo and Juliet
, Fantasy Overture
Marche Slave
, Op. 31
New Philharmonia Orchestra, L'Orchestre de la Suisse Romande, London Symphony Orchestra/Leopold Stokowski
rec. 1965/68
First released on LP as PFS 4083 (November 1966), PFS 4139 (June 1968) and PFS 4181 (July 1970)
Anatole Fistoulari's complete
Swan Lake
(CDs 15-16) was a bit relentless for my tastes, so I hoped this set of highlights from
Swan Lake
and
Sleeping Beauty
would make up for that initial disappointment. Certainly Stokowski's Tchaikovsky
Fifth
shows he has strong affinities with this composer; and so it proves, for he and the New Philharmonia give wonderfully supple and spontaneous accounts of these familiar numbers. The waltzes in particular are gorgeous - there are some distracting perspective shifts, though – and while Stoky's
Swan Lake
doesn't supplant Ansermet, Previn or Dutoit it has a pleasing sense of theatrical give and take.
This is very acceptable sound for 1965 – Kingsway Hall again - and there's a good stereo spread to boot. It's very upfront, so I turned the volume down more than usual; happily, doing so doesn't sacrifice detail. The
Danse espagnole
is as bouncy as ever – listen to those castanets – and the players really sound as if they're enjoying themselves. Upper frequencies are apt to shred and climaxes are congested, but at least the music isn't quite as driven as it is under Fistoulari. Indeed, Stokowski conveys that heartfelt Tchaikovskian sweep and surge better than most. Only in that glorious finale does the performance become coarse and untidy.
The
Sleeping Beauty
excerpts, which also date from 1965, aren't quite so alluring. The sound is actually too big and blowsy for my liking, although it does make for some very exciting climaxes. Rhythms are pliable enough, although there are times when Stokowski presses ahead rather too much. Goodness, was he late for an appointment elsewhere? No, this is
Sleeping Beauty
on amphetamines; it has little charm and even less subtlety. Drat, we were doing so well.
The
Romeo and Juliet
overture, recorded with the OSR in Geneva in 1968, is blighted by perverse balances. However, sonic shiftiness is only part of the problem, for Stokowski overloads the music in a way that courts vulgarity. The playing is pretty scrappy, too. Ugh. The
Marche Slave
, taped with the LSO in Kingsway Hall in 1967, also strikes me as rather peremptory. It's not vintage Tchaikovsky, but the piece really doesn't respond well to such a heavy hand. The coarse, constricted recording doesn't help. Ghastly.
The
Swan Lake
excerpts are most enjoyable; it's all downhill after that.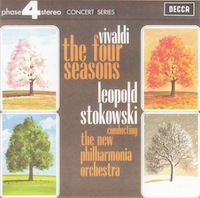 CD 36
[45:28]
Antonio VIVALDI
The Four Seasons
Hugh Bean (violin)
New Philharmonia Orchestra/Leopold Stokowski
rec. 1966
First released on LP as PFS 4124 (September 1967)
At first glance Stokowski and Vivaldi don't natural bedfellows, yet that Naxos box I mentioned earlier contains a number of fine Baroque transcriptions. Violinist Hugh Bean, leader of the New Philharmonia at the time this recordings was made, doesn't seem to have recorded much of this repertoire. Also, this
Four Seasons
is the only Baroque music to be found in this box. So the auguries are mixed, to say the least.
This engaging music is perennially popular, yet this robust, larger-than-life performance shows just how much performing styles have changed over the past half century. If you want HIPP-inspired Vivaldi – lean, transparent – this is not for you. The big orchestral sound – there's some messily added reverb at times – makes Bean's distant violin seem more remote than ever. Stokowski is mannered – he's metronomic and dynamic contrasts are horribly exaggerated – which turns this into a very tedious performance. This is one musical year that can't pass quickly enough.
Old fashioned, bloated; Bean doesn't shine, either.
Dan Morgan