In a very short time Resonus Classics have made themselves a major player with a unique approach to the repertoire. Three years ago I hailed their first release as heralding a very promising new label; I think I was the first reviewer to do so –
DL Roundup March 2011/2
. Download only, as all their subsequent releases have been, it offered the world premiere recording of the original 1825 version of Mendelssohn's Octet. Their emphasis from the start has been on first recordings of contemporary music, neglected music by earlier composers or different versions of works that have come to be known in revised forms. Even when some of the contemporary music has been a little outside my comfort zone, the quality of the performances has encouraged me to persevere.
The recordings are available in mp3, aac, 16-bit and 24-bit lossless from Resonus themselves –
resonusclassics.com
– and from various suppliers including classicsonline.com (mp3 only) and eclassical.com (all formats except aac). The pdf booklets come with the deal or can be obtained from Resonus. Subscribers to the invaluable Naxos Music Library can sample there.
Among the many fine earlier releases, my choice is
Johann Sebastian BACH (1685-1750)
Clavier-Übung III
Stephen Farr (Metzler organ, Trinity College, Cambridge) – rec. April 2013.
RES10120
[105:08] –
Recording of the Month
DL News 2013/8
and
DL News 2013/10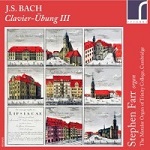 A superb performance of this magnificent music on a wonderful organ and excellently recorded. I made an mp3-CD copy of this to play in the car, but I have to be careful where and when to play it because it gets the adrenalin too fired up for city traffic.
It's so good that, as you see, we reviewed and praised it twice; I passed it on to my organist friend Geoffrey Molyneux and he was equally impressed. There's no physical booklet but the pdf version is very detailed and contains the specification of the Trinity organ and the registration used for each work.
The most recent releases are:
RES10124
:
La Lira di Orfeo
: A Tribute to Gualberto Magli – reviewed in
Download News 2014/2
Music and Sweet Poetry
: Choral Music by Matthew HARRIS (b.1956)
Two Lorca Songs:
Las seis cuerdas
[3:30];
Crótalo
[3:04]
La Guitarra
[6:55]
from
Shakespeare Songs
: Full fathom five [1:37]; Under the greenwood tree [2:01]; Come away, come away, death [4:41]; Blow, blow, thou winter wind [2:30]; When daisies pied [1:36]; Fear no more [4:29]
O sacrum convivium
[2:43]
Ave verum corpus
[4:37]
Ave Maria
[2:48]
O vos omnes
[4:16]
Innocence and Experience
: The Sick Rose [1:21]; The Lamb [3:30]; The Tiger [2:25]
Sweet and low [3:36]
If music and sweet poetry agree [5:08]
I love you much (most beautiful darling) [6:49]
Fantasy on
La Bamba
[]
Kantorei of Kansas City/Chris Munce
rec. St Mary Magdalene Episcopal Church, Loch Lloyd, MO, USA, 30 August and 1 September, 2013. DDD
pdf booklet with texts and translations included
RES10125
[72:09]
No CD: download from
resonusclassics.com
(mp3, aac, 16- and 24-bit lossless) or
eclassical.com
(mp3, 16- and 24-bit lossless)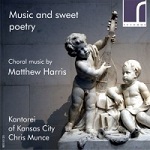 I can't find any rival recordings of the music of Matthew Harris in the UK catalogue nor am I aware of having encountered any of his music before so, like many of Resonus's offerings, this wide-ranging anthology of his choral music has the field to itself.
His inspiration is drawn from a wide selection of sources, from Latin liturgical texts via Shakespeare and Blake to Lorca, settings of two of whose poems open the programme, the first in quiet mode the second more boisterous. Harris indicates in the notes the inspiration of his early experiences as a guitarist in inspiring the pensive and flamenco mood respectively of these two works. The third work, too, again a setting of Lorca, is guitar-inspired.
As the title of the album indicates, taken from the Richard Barnfield poem set on track 18, Harris is always sensitive to the mood of the poetry. Without wishing to suggest that he can be stereotyped – as the publicity material claims, his is a unique voice – if you want to place his music among contemporary composers of vocal music, it belongs to the warm and melodic school rather than to the angular and challenging: in crude terms, Eric Whitacre rather than James MacMillan.
Maybe you would wish something sharper and more bitter in tone than Harris's setting of the Good Friday reproaches,
O vos omnes
, but there's a haunting beauty about this setting that lifts the listener above the anguish of the words: All ye that pass by behold and see if there be any sorrow like my sorrow.
The same is true of the setting of Blake's
Sick Rose
which follows.
The Lamb
which comes next receives a much softer treatment than John Tavener's setting which has become a perennial in the King's Christmas Eve service, yet never sounds sentimental or facile. The jaunty setting of
Tiger
very well captures the power of a poem which is much more profound than its inclusion in school anthologies might suggest.
I enjoyed hearing this album; that the quality of the performances, booklet notes and recording all contributed to that enjoyment.
resonusclassics.com
are the only show in town for Apple users who need aac – but be aware that it comes at a lower bit-rate than the similarly priced mp3); their prices range from £7.99 (mp3 and aac) to £15.99 (24/96). Those who pay in US dollars may find
eclassical.com
less expensive for the 16-bit ($12.97) and 24-bit ($19.45) versions.
RES10126
:
Ciaconna
– works for harpsichord – reviewed in
Download News 2014/1
Clarion Call
– Music for Septet and Octet
Michael BERKELEY (b.1948)
Clarion Call and Gallop (2013)* [6:41]
Howard FERGUSON (1908-1999)
Octet, Op.4 (1933) [20:43]
John CASKEN (b.1949)
Blue Medusa (2000/2007)* [10:09]
Charles WOOD (1866-1926)
Septet (1889)* [38:45]
Berkeley Ensemble (Kathryn Riley (violin), Sophie Mather (violin), Dan Shilladay (viola), Gemma Wareham (cello), Lachlan Radford (double bass), John Slack (clarinet), Andrew Watson (bassoon), Paul Cott (horn))
rec. SS. Peter and Paul, Chacombe, UK, 24-27 July 2013. DDD
Pdf booklet included
World premiere recording
RES10127
[76:15]
No CD: download from
resonusclassics.com
(mp3, aac, 16- and 24-bit lossless) and eclassical.com (mp3, 16- and 24-bit lossless) or eclassaical.com (mp3, 16- and 24-bit lossless)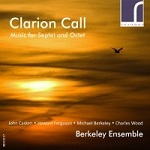 True to the Resonus core policy, three of the four works here are world premiere recordings, one of them specially composed for the occasion. There's little enough by Howard Ferguson in the current catalogue, and the fourth work here, his Octet, is not currently available.
Stick-in-the-muds like me need have no fear about the most recent work, Michael Berkeley's
Clarion Call
, which gives its name to the programme. It's no more avant-garde than anything his father Lennox might have written, or his friend Benjamin Britten – indeed I fancy that I hear echoes of both those composers in the work.
Nor is John Casken's
Blue Medusa
likely to set the teeth on edge of those easily upset by the likes of the Second Viennese School. Like everything here it's very agreeable music, agreeably and skilfully performed by a group which has adopted the name of Lennox and Michael Berkeley and it's all very well recorded. This is the sort of recording that I find ideal for hearing on a quiet Sunday morning or in the late evening. If that's what you are looking for, go for it.
I tried both the mp3 (very good of its kind) and the 24/96 versions, the latter worth paying a little extra.
resonusclassics.com
are the only show in town for Apple users who need aac – but be aware that it comes at a lower bit-rate than the similarly priced mp3); their prices range from £7.99 (mp3 and aac) to £15.99 (24/96). Those who pay in US dollars may find eclassical.com less expensive for 16-bit ($12.97) and 24-bit ($19.45).

RECORDING OF THE MONTH
Daniel PURCELL (c.1664-1717)
The Judgment of Paris
(1701)
Venus – Goddess of Love - Anna Dennis (soprano)
Pallas - Amy Freston (soprano)
Juno – Goddess of Marriage - Ciara Hendricks (mezzo)
Paris – a shepherd - Samuel Boden (tenor)
Mercury – Messenger of the Gods - Ashley Riches (baritone)
Rodolfus Choir
Spiritato!/Julian Perkins
rec. St John's Smith Square, London, 27-29 September 2013. DDD
pdf booklet with libretto included.
RESONUS CLASSICS RES10128
[78:42]
No CD: download from
resonusclassics.com
(mp3, aac, 16- and 24-bit lossless)
eclassical.com
(mp3, 16- and 24-bit lossless)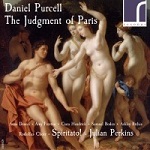 This is one of Resonus's most enjoyable discoveries and it's my own personal favourite. I've made it a Recording of the Month for many reasons: as well as making available some fine music which has been largely ignored, it introduces us – me, at any rate – to some fine young performers.
Musical talent seems to run in families – not just the many Bachs before and after JSB, but the Gabrielis and Couperins spring immediately to mind. Daniel Purcell was either the younger brother or cousin of the better-known Henry and there was an older generation of Purcell brothers who were employed in the Chapel Royal.
Chandos have given us recordings of Daniel's sonatas for violin and harpsichord (
The Unknown Purcell
CHAN0795
) and Christophorus have produced a CD of Henry and Daniel (
CHR77284
) but this is the premiere recording of his one-act opera or masque
The Judgment of Paris
. With a libretto by William Congreve, it won third place in the Music Prize established by a group of opera-loving aristocrats led by Lord Halifax with the aim of fostering the development of all-sung opera in English. I wonder what the winner and runner-up sounded like.
I'm not a great fan of Congreve and the other Restoration dramatists but his libretto for
The Judgment of Paris
gave Purcell effective material to work with. The plot would have been well-known to the classically educated of the day: the Trojan prince, Paris, living as a shepherd, is called upon to judge the beauty of three goddesses, awards the golden apple to Venus and is rewarded with the hand of Helen whom he steals from her husband Menelaus, precipitating the Trojan War.
When Paris, accompanied by a 'Symphony of Hoboys' (oboes), sings
Oh Hermes, I thy Godhead know
by thy winged Heels and Head,
by thy Rod that wakes the Dead
and guides the Shades below.
Congreve expects the listeners to know that Hermes is the alternative (Greek) name of Mercury, that the 'rod' is his
rhabdos
or
caduceus
and that the reference is to passages such as that in
Æneid
IV where Mercury appears to Æneas to order him to leave Troy and be on his way to his destiny in Italy:
… et primum pedibus talaria nectit
aurea, quae sublimem alis sive æquora supra
seu terram rapido pariter cum flamine portant.
Tum virgam capit: hac animas ille evocat Orco
pallentes, alias sub Tartara tristia mittit,
dat somnos adimitque, et lumina morte resignat.
illa fretus agit ventos et turbida tranat
[First he puts on his golden sandals which wing him swiftly aloft over sea and land alike with the speed of a gale. Then he takes his rod, with which he calls forth the pale spirits from Orcus and sends others under sad Tartarus; he gives sleep and takes it away, and unseals the eyes in death. With it he drives the winds and flies through stormy clouds.]
It was very thoughtful of Daniel Purcell to produce a work that just fits a well-filled CD but Resonus' download-only policy doesn't constrain them to a particular length. More to the point, the work is delightful – not the equal of Henry's
Dido and Æneas
but as entertaining as his
Indian Queen
– and the performances do it excellent service. All the singers are thoroughly competent – all that's required: this is not a work for star turns – and are very well supported and directed. I didn't need to print out the libretto which is contained in the pdf booklet because the diction is exemplary.
The recording is very good – I tried both the 24-bit and the mp3. The notes in the booklet, by Professor Bruce Wood, are very helpful. I've listed links for
resonusclassics.com
– their mp3 has the price advantage and they alone offer aac – and
eclassical.com
, whose price for 16- and 24-bit in US Dollars works out about the same as the resonusclassics.com price in GB Pounds at current rates and may be preferred by US purchasers. Eclassical.com also allow you to buy a lossless version and come back later for an mp3 download for your personal player. Whichever version you choose, go for it.
If you plan to move on from this recording to
The Unknown Purcell
on the Chandos CD that I've mentioned, it's true, as William Kreindler wrote in his
review
that Hazel Brooks' violin tone is somewhat shrill – I'd rather say bright – but her extensive experience of performing late medieval and renaissance music leads her to the belief that such a tone would still have been appropriate at the turn of the 18
th
century. I'm not qualified to offer an opinion on that, but overall I lean towards WK's summing-up that this is a worthwhile recording rather than Johan van Veen's that it amounts to a tame affair –
review
. Try
The Unknown Purcell
from Naxos Music Library if you can. I would, however, recommend getting to know the Chandos recordings of brother/cousin Henry's sonatas first (download only, from theclassicalshop.net).