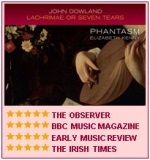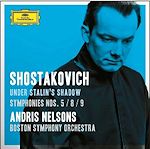 Shostakovich 5, 8 9
Great concentration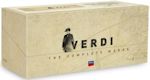 Complete Works
Special price £135.75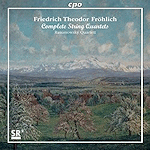 Fröhlich Quartets
What a discovery!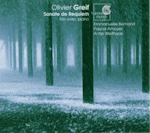 GREIF Sonate de Requiem for Cello and Piano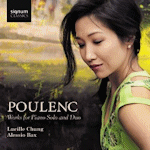 a sonic treat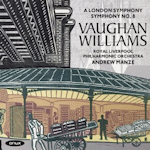 Terrific performances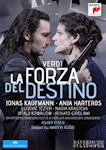 the finest Verdi cast available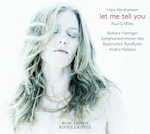 Let me tell you
Stratospheric Barbara Hannigan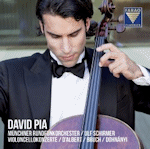 David Pia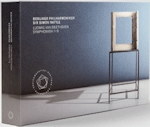 Beethoven Rattle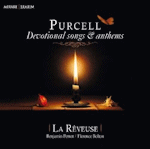 Highly Impressive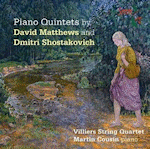 Matthews Shostakovich
Sheer delight!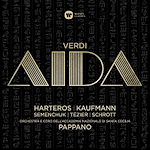 To live with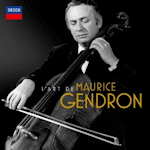 outstanding retrospective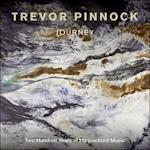 A superb celebration



alternatively Crotchet

Franz SCHUBERT (1797-1828)
String Quartets Vol.1
String Quartet in D Minor, D.810 Death and the Maiden (1824) [44:19]
String Quartet in E major, Op.125/1, D.87 (1813) [25:29]
Mandelring Quartett: (Sebastian Schmidt (violin); Nanette Schmidt (violin); Roland Glassl (viola); Bernhard Schmidt (cello))
rec. 4-6 March 2003, Martinkirche, Leinsweiler, Germany. DDDD
AUDITE 97.507 [69:42]

---



This disc is the first volume in what I am sure will be a fascinating cycle of Schubert quartets*. It opens with the most famous of them all, Death and the Maiden. The Mandelring Quartett's account of this piece is monumental. Their tempi are on the slow side and they include all repeats, which extends the length of the first movement to 16:45. The average time for this movement, in my experience, is roughly 12 minutes. They also play the music with such deep respect and gratitude that in some places it almost sounds like late Beethoven. Nevertheless, this account of the first movement is strongly characterised, revealing a great deal of fascinating detail, and maintaining the musical argument – and with it the listener's interest – by paying careful attention to the colouring of each phrase.

The second movement begins with a hushed intensity. The first violin phrases the first variation of the theme with an attractive restraint, lending it a rare poignancy. The hunting gallop motif in the third variation is deliberate, but the slower pace and superbly controlled dynamic contrasts give the music an atmosphere of menace. The intensity builds in the fifth variation, again enhanced by the sudden changes in the dynamics. For a moment here ensemble becomes untidy as the players press too hard and get slightly ahead of one another, but unanimity is soon restored.

The the third movement is grim, with an impressive cut and thrust to the phrasing, and the lyrical second subject emerges like winter sunshine trying to force its way through thick cloud. The finale, more allegro than presto, is understated but strong.

The other quartet on this disc, D.87 is a much earlier work, penned by a 16-year-old Schubert who was just getting to grips with the string quartet form. Its style is an amalgam of Haydn, Mozart and the Beethoven of the Opus 18 string quartets, with Schubert's own musical personality peeping through. The Mandelring Quartett play this youthful work with great respect, and a little humour. Their superb technique and belief in the piece make it sound better than it is.

The Mandelring Quartett comprises the brothers Schmidt on first violin and cello, their sister Nanette on second violin and violist Roland Glassl. Though they are young, they have been playing together for many years, and in the case of the Schmidts they have been playing together for longer than many older professional quartets. And it shows. This is one of the most integrated string quartets you will hear anywhere. Their ability to blend and balance their sound is second to none. Their intonation is faultless and each player's tone is firmly centred.

For all the Quartett's technical brilliance, it would be very easy to overlook this disc. I almost did. The first couple of times I played it through I was vaguely impressed but underwhelmed. The performance sounded respectful but not particularly interesting. In hindsight there were two reasons for this. Firstly, I was not listening to this disc with my full attention or sympathy. Secondly, I expected the Mandelring Quartett to turn in a much more energetic performance of Death and the Maiden. This is, in fact, the Mandelring Quartett's second recording of Death and the Maiden. They first recorded it back in 1992 for Naxos' now defunct Linz imprint (48114), a performance that is still available on Naxos' super-budget Amadis imprint (7114). The Mandelring Quartett do not include that disc in the discography on their website. Perhaps this is because they feel they are a new quartet with Glassl, who replaced former violist Dorothea Funk. Perhaps they are simply not proud of it. Their early performance is rough around the edges and misses much of the subtlety of Schubert's writing. I still listen to it from time to time, though. It is full of the fire of youth and tremendously exciting, whatever its faults. It seemed to me on first hearing this new disc that they had traded that fire for restraint.

Later, I listened to the new disc again and discovered, to my surprise, an absolutely riveting account of Death and the Maiden. The trick was giving the Mandelring Quartett my full attention. Once given, they held it until the final bar. This is not a virile performance that seizes you by the scruff of your neck and caries you along. Rather, it is an introspective performance that you need to follow rather closely. But the effort to concentrate is repaid by the insights the Mandelring Quartett bring to this music. There is so much thought behind each note and phrase that I know I will be returning to this performance of Death and the Maiden time and time again. It will sit beside the brilliant extrovert recording by the Takács Quartet, to be played and ruminated upon on wet winter afternoons.

For the record, the liner notes deal comprehensively with the music and the performers, and the recorded sound is immediate and well balanced. If a DDDD recording (as per the sleeve) is a different "format" to DDD rather than just a typo, then it is new to me!.

Tim Perry

* See also Michael Cookson's review of volume 2 in this series.









Gerard Hoffnung CDs

Donate and get a free CD
New Releases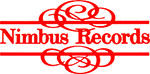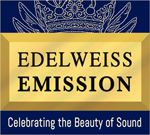 Follow us on Twitter
Editorial Board
MusicWeb International
Editor in Chief
Rob Barnett
Seen & Heard
Editor Emeritus
Bill Kenny
Editor in Chief
Vacant
MusicWeb Webmaster
David Barker
MusicWeb Founder
Len Mullenger