Ives' Piano Sonata No. 2, Concord, Mass., 1840-60, consists of the following four movements:
i. Emerson
ii. Hawthorne
iii. The Alcotts
iv. Thoreau
Commentary
In October 1918, Charles Ives suffered a heart attack brought on by exhaustion and undiagnosed diabetes. This marked a turning point in his career. As Ives' biographer Jan Swafford points out, for the remainder of his life the primary focus of Ives' musical efforts would be promoting his works, rather than composing. The very first work that he chose to show to the world--after fifteen years of nearly absolute artistic isolation--was his Second Piano Sonata, subtitled Concord, Mass., 1840-1860.
Ives had a special regard for the work. He took great pains to explain his aims in the Essays Before a Sonata, a programmatic overview of the sonata that Ives included when he published the work (at his own considerable expense) in 1921. In short, the sonata is a series of meditations on four great Transcendentalist writers: Emerson, Hawthorne, "The Alcotts," and Thoreau.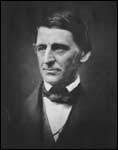 i. Emerson
In Emerson, Ives finds "an invader of the unknown-America's deepest explorer of the spiritual immensities" (Essays 11). Ives also imagines Emerson as "a mountain guide so intensely on the lookout for the trail of his star that he has no time to stop and retrace his footprints..." (Essays 12). (Of course, Ives is not only describing Emerson here; he's describing his own music.)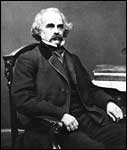 ii. Hawthorne
Turning to the second movement, Ives tries to "suggest some of [Hawthorne's] wilder, fantastical adventures into the half-childlike, half-fairylike phantasmal realms," rather than focusing on Hawthorne's foremost themes: sin and the conscience (Essays 42).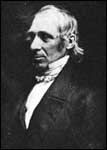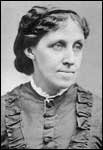 iii. The Alcotts
The third movement is Ives' homage to domestic life, as represented by Bronson Alcott (far left) and his family (Louisa May Alcott, immediate left). The movement is one of Ives' most lyrical works.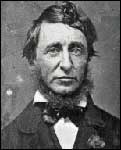 iv. Thoreau
The fourth movement is dedicated to Thoreau, who Ives describes as "a great musician, not because he played the flute, but because he did not have to go to Boston to hear 'the Symphony'" (Essays 51).
[Project Gutenburg has made the complete Essays Before a Sonata available online. Click here to access it.]
One other comment reveals Ives' deep attachment to the Concord Sonata. Many years after publishing the work, Ives remarked that the sonata was his one work that never seemed finished; it was a perpetual work in motion, a continual improvisation: "I don't know as I shall ever write [my improvisations] out, as it may take away the daily pleasure of playing this music and seeing it grow and feeling that it is not finished...I may always have the pleasure of not finishing it..." (Memos 80).
Composition History
Ives assembled / recomposed the Piano Sonata No. 2 circa 1915, based on music that he had composed from 1904 to 1915. He made additional revisions in 1919 prior to publishing the work, and continued to revise it throughout his life.
Ives' derivations:
The Emerson movement is partly derived from Ives' earlier Emerson Overture for Piano and Orchestra. (This unfinished work has been realized by Ives scholar and composer David Porter.) The first movement of the sonata also uses music from various other piano studies.


The Hawthorne movement was initially based on the now-lost Hawthorne Concerto for Piano and Orchestra, as well as other lost pieces titled The Slaves' Shuffle and Demons' Dance Around the Pipe. This movement also served as the foundation for the second movement of Ives' Fourth Symphony.


The Alcotts movement developed out of the lost Alcott Overture.


The Thoreau movement is derived from the lost Walden Sounds. Later, this was also adapted for the song Thoreau.
Ives quotes Beethoven's Piano Sonata No. 29, "Hammerklavier" in every movement of the work. Ives clearly envisioned his work as an extension of and commentary on Beethoven's sonata. Interestingly, Ives also quotes Beethoven's Fifth Symphony, Wagner's Tristan and Isolde and Lohengrin, and Debussy's Children's Corner. Ives also makes use of some of his favorite popular and religious tunes, including: "Columbia, Gem of the Ocean," "Loch Lomond," "Missionary Chant," and "Massa's in De Cold Ground."
Premiere Performance
The first documented public performance of the Concord Sonata took place on November 28, 1938 in Cos Cob, Connecticut. John Kirkpatrick performed the work from memory. Less than two months later, he performed the work again at Town Hall, New York City. Along with Slonimsky's premiere of Three Places, Kirkpatrick's performance was enormously influential in bringing Ives name (and works) before the public. Lawrence Gilman, in a review in the NY Herald Tribune, made famous remarks about the sonata and Kirkpatrick's Town Hall performance:
This sonata is exceptionally great music--it is, indeed, the greatest music composed by an American, and the most deeply and essentially American in impulse and implication. It is wide-ranging and capacious. It has passions, tenderness, humor, simplicity, and homeliness. It has imaginative and spiritual vastness. It has wisdom and beauty and profundity, and a sense of the encompassing terror and splendor of human life and human destiny--a sense of those mysteries that are both human and divine... [Kirkpatrick's] performance was that of a poet and a master, an unobtrusive minister of genius.
Premiere Recording
John Kirkpatrick made the first recording of the work for Columbia records. It was released in 1948.