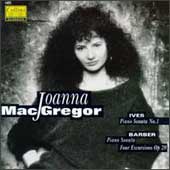 Joanna MacGregor (Collins Classics 11072, coupled with Barber: Piano Sonata and "4 Excursions," out of print)

This is tremendous reading of the First Piano Sonata. MacGregor's playing is thrusting, rhythmic, dynamic, and beautifully shaded. It's something special. The recording quality is fantastic too. Unfortunately, it is out of print, as are all recordings on the Collins Classics label. If you find, buy it! (The Barber couplings are outstanding as well.) If you can't find MacGregor's recording, look for Nalley's CD or one of Masselos's LPs. But MacGregor is still my top choice.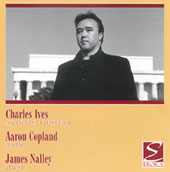 James Nalley (Eroica JDT 3097, coupled with Copland's Piano Sonata)
This is another outstanding recording of the First Sonata. Nalley is a commanding, powerful pianist, and this is also an extremely well-thought-out performance with an amazing amount of detail. Nalley also swings hard in the ragtimey sections of the work. The Copland Sonata is great too. The recorded sound quality of the Eroica disc is excellent too. Recommended.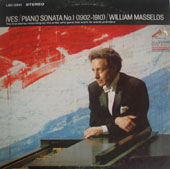 William Masselos [MHS 522732F (CD), coupled with works by Satie, Brahms, and Schumann; originally RCA LSC-2941 (LP)]
In 1949, William Masselos premiered Ives' First Piano Sonata, and he later made the first recording of it for Columbia. (See review below.) By 1967, Masselos had performed the work many times, and he re-recorded the work in stereo for RCA. In the liner notes to the LP, Masselos talks about the improvisatory nature of this composition, how each performance of the work was always different from the last. That's true of his two recordings. This RCA recording is much more rhapsodic and extrovert than his Columbia disc. For the most part, I prefer the RCA reading--even though Masselos sounds convincing and authoritative in both. (The Musical Heritage Society has reissued all of Masselos' RCA recordings, including Ives' First Sonata, on a two-disc set titled "Tribute to Ives, Satie, Brahms & Schumman.")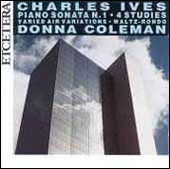 Donna Coleman (EtCetera KTC 114) This recording includes:
I like Donna Coleman's performance of the First Sonata very much. It's a dark and mysterious reading, full of foreboding. It doesn't swing as hard as some others; rather, the feeling is more consistent across all of the movements. But the cumulative impact is quite impressive, and the final movement works especially well. The recorded sound is excellent. Recommended.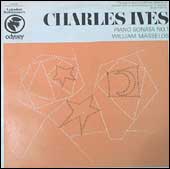 William Masselos (Columbia / Odyssey Mono 32 16 0059, out of print LP)
This was the work's premiere recording, and there's a rightness to Masselos' reading that's very compelling. It doesn't swing as hard as more recent recordings, but Masselos does an especially good job of catching the hushed, inward, reverential quality in this music. And the closing of the work is a real cosmic vision, very grand. Unfortunately, this one has never made it to compact disc, so you'll have to track down a copy of the LP if you'd like to hear it.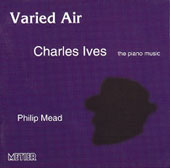 Philip Mead / "Varied Air, Charles Ives: The Piano Music" [Metier MSV CD92037 (a+b), coupled with Ives' Piano Sonata No. 2, Concord; The Three Page Sonata; studies and other piano works by Ives; available in the U.K.]
Mead gives a compelling performance of the First Sonata that never flags in intensity or focus. However, this reading is a bit "rough around the edges." Mead's playing doesn't have the smoothness or the polish of MacGregor or Nalley. And the ragtime movements don't swing as hard as some others. But I think that this is a very fine performance that works on its own terms. To my ears, Mead manages to capture a wonderful, Ivesian sense of freedom and spontaneity. This performance sounds improvised, rather than studied. Some may find this unfinished quality off-putting. I think it's great. The only downside to this performance is the quality of recorded sound, which is sub-par.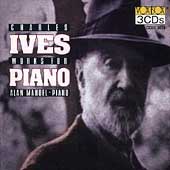 Alan Mandel (Vox Box CD3X 3034, coupled with Ives' Sonata No. 2, "Concord" and other works)
Mandel's traversal of Ives complete piano works, originally released on Desto, was a pioneering effort. His recording of the First Sonata is good, but it is nowhere near the equal of MacGregor's or Nalley's. Also, the recording is marred by poor sound.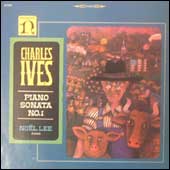 NoŽl Lee (Nonesuch H-71169, out of print LP)
This is a good recording of the First Sonata, but it lacks the drama of the best versions.
Other Recordings
Other recordings of Ives' Piano Sonata No. 1 include:
Nina Deutsch (Vox Box CDX 5089, coupled with Piano Sonata No. 2 & other piano works by Ives)
Sara Laimon (Mode Records MOD 93, coupled with Copland's Piano Fantasy)
Peter Lawson (Virgin VBD5619282, 2 disc set, coupled with Ives' Three Page Sonata, Copland's Piano Sonata, Carter's Piano Sonata, Barber's Piano Sonata, Session's Piano Sonata, and Griffes' Piano Sonata)
James Sykes (Folkways FM 3348)