TALES OF THE ILL-FATED VICAR
by Charles A. Hooey
Liza Lehmann's opera The Vicar Of Wakefield sprang to life in London at the Prince of Wales Theatre just prior to Christmas in 1906. From its early tryout in Manchester to the final curtain, it lived a mere nine weeks.
Lehmann first delighted music-lovers in 1896 with a charming and unique song cycle, In A Persian Garden, following with In Memoriam for bass voice and piano in 1899 and The Daisy Chain in 1900, both fine successes; then she set her sights on creating a comic opera based on Oliver Goldsmith's immortal tale. But fate would intervene.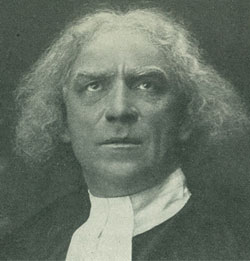 Operas and musicals try and fail on a regular basis so why is the Vicar so special? The answer: the music, which was universally acclaimed. The work's demise stemmed from a series of miscues as is apparent from the writings of three participants: composer Lehmann, David Bispham (pictured as the Vicar), who sang the Vicar, and Edith Clegg, his younger daughter, Sophia.
Why did Liza choose this story? Goldsmith penned it in 1764 for his own amusement after toiling during the day as proof-reader of others' writings. His doodlings were taken up by Dr. Johnson and converted into 60 pounds, a princely sum that freed Goldsmith from penury. The VICAR proved an instant hit, the author's whimsical treatment placing him instantly amongst his nation's leading humourists. Basing her opera on such a popular tale seemed a wise move indeed.
In her book, she recalled those heady days, "When I first conceived the idea of a musical version of The Vicar Of Wakefield, Mr. Arthur Boosey, to whom I intended to offer the music for publication, at once commissioned Mr. Housman to write the book and lyrics." Bispham, who also acted as producer, added, "It was intrusted to Laurence Housman, to whom and to his sister had been traced the authorship of the beautiful anonymous work, 'An Englishwoman's Love Letters', which added a luster to a name already made famous by their brother, Alfred Edward Housman, author of "The Shropshire Lad."' Laurence it seems was a gifted wordsmith.
The music was duly composed and the dialogue created and deemed excellent, but too lengthy. "At the first rehearsals," Liza noted, "it had become apparent that there were far too many long dialogues without music. My original intention had been "opéra comique" as given in Paris - that is, almost continuous music with very little spoken dialogue. Our author had apparently not understood this, and, as his long drawn conversations naturally destroyed the musical continuity, he was asked to reduce them. Mr. Housman was away in the country, and wrote back that he could not personally undertake any excisions or revisions, but gave us carte blanche to do anything that was found necessary, and said he would attend the dress rehearsal as a spectator."
There was a casting problem as Bispham described: "I had trouble in finding a tenor for the part of Squire Thornhill and was about to engage Walter Hyde when Madame Lehmann begged me first to hear a young man whose voice had been brought to her attention. Accordingly, one Sunday afternoon in September 1906, I went with my conductor, the late Hamish MacCunn, and my manager, Bram Stoker, so long Sir Henry Irving's right-hand man, to Madame Lehmann's house at Wimbledon... After he had sung, my dear Liza took me into the next room and enthusiastically said, `David, if you don't engage him you're a fool. He has an angel's voice.' `True,' said I, `but he has an Irishman's brogue.' `He can get over that,' said she fervently."
Liza soon had ruefully to agree, "He proved, however, to be so inexperienced as regards the stage, and his Irish brogue was at that time so unquenchable and out of the character of the young squire, that after a few rehearsals it was mutually agreed the part did not suit him."
Edith Clegg worded the scene best: "His first sentence in the play was his undoing. Phwoi! Phwat's the matter-r-r?' was felt to be out of keeping in the ultra-English Squire Thornleigh, and despite his lovely voice, after a few rehearsals it was found necessary to engage another artist."
Squire Thornhill (or "Thornleigh" to Edith), had to be English so re-enter Walter Hyde, a young tenor from Birmingham who had scored mightily in the musical My Lady Molly. Edith again: "I had the pleasure of working for this first time with my old friend Walter Hyde who took up the part and had a great personal success with it."
Bispham saw the others as ideal, "Mr. Richard Temple was admirable as Mr. Burchell and Mr. Lander played the part of the rascally Jenkinson, which fitted like a glove, Mrs. Primrose, the vicar's wife, was played to perfection by that most sympathetic of comediennes, Mrs Theodore Wright; the daughter Sophia and the boys Moses, Dick and Bill were performed as if Goldsmith's characters had come to life; while in the charming Miss Isabel Jay I had the one woman on the London stage who filled the eye as well as the ear in her rendering of the part of the wayward but captivating Olivia."
However the Vicar was the star. "How charming he was," Edith said, "especially when he gave up wearing the false nose. The strain of keeping that nose in position was dreadful, and many a time during a performance did he inquire in his best canonical whisper, `Sophy, is my nose straight?'"
At the dress rehearsal, as promised, Housman turned up but soon became severely agitated. Liza wrote "with considerable flow of eloquence (he) told Mr. Bispham that he could not recognize his play, and that it was utterly ruined." He threatened to sue, and to force an injunction to restrain performance. "This was a horrible position for all of us at the eleventh hour, and under the circumstances we could not see that Mr. Housman had any earthly right to take such action. In an atmosphere of threats and counter-threats, the work enjoyed considerable success during its preliminary tour of two or three weeks in provincial theatres."
Edith's memories were vivid: "We opened in December at the Prince's Theatre, Manchester. How well I remember that day! (It was 12 November) It began with a thick fog - a regular pea-souper, and I was staying in rooms - my first experience of `theatrical digs.' My sister rang for matches to light the gas and after repeated peals, punctuated by long waits, a very dirty little maid with a bad attack of adenoids came panting into the room to say - `The Bissis says you boosn't rig the bell so booch. I'mb cleadig the step and I can't coob!' Poor child! I am afraid I was a little hard on her. It is difficult enough to keep clean in Manchester at any time, and the atmosphere that day was appalling." Soprano Violet Londa sang Olivia at this stage.
Presumably with every wrinkle ironed out, the production arrived in London and opened on the 12th to a packed and expectant house. Housman, ensconced in his complimentary box seat, "laughed derisively" during a moment of sentiment in the first act, causing the theatre manager to rise up and hurry to quell the disturbance. At first he failed to recognize him, but after a loud exchange, Housman was ejected. The next day The Daily Chronicle screamed: DISOWNED OPERA - Author Ejected From The Theatre - `First Night' scenes. The controversy thus created continued to boil while at the theatre, audiences went on applauding wildly. Alas, the negative publicity proved devastating and after a few weeks, the Vicar closed.
Summing up, Liza lamented: "Apart from the length of the dialogue, which, even after the offending liberties had been taken with the text, still needed an active pruning knife, we had chosen the wrong time of year for this type of entertainment. It was just before Christmas; the winter was a particularly severe one, and the snow was piled up in the streets, making them almost impassible. And then the Pantomines burst forth, and the receipts at the box office, which had started splendidly, began to languish. By the time the poor Vicar was to make his parting bow, `business' had already begun to recover, and the whole company offered to continue playing at half-salaries, as they believed in ultimate victory." But theatre management had other plans, deeming a comedy by Paul Rubens a far safer card, and no other suitable theatre was available.
And yet press reaction was universally favourable, The Daily Telegraph view being typical, "Oliver Goldsmith's simple but fascinating story has been turned to musical account by Madame Liza Lehmann, and the result of her efforts is altogether delicious. Number follows number, each more pleasing than the other, while the orchestration (which she attributed to her husband Herbert Bedford) is of a particularly delicate yet rich description."
To Edith Clegg it had a weakness: "The music was charming, but the book lacked humour, and being `light' not `grand' opera, a funny man was essential to its financial success. The humour we did get was sometimes unintentional. I had a delightful little song to a blackbird. A real bird was tried at first, but the poor thing was terrified by the lights and a stuffed one was substituted. One night, just before I had to bring the cage down to the footlights, one of the men in the orchestra called up, `Sophy! Your blackbird's hanging on his perch!' I just had time to put him right side up before my cue for the song." Possibly she was right but Liza likely rejected any outright comic touches, thinking both situation and music were comic enough.
Clearly the main problem was the inadequacy of the dialogue; it lacked the flow of good opera. One wonders why Housman was chosen as his writing credentials seemed unsuited to opera, or as Liza felt, he failed to understand his purpose. And why did he choose to absent himself during the work's crucial formative stage?
Housman possessed a somewhat different view, for according to Kurt Gänzl in the Encyclopedia of the Musical Theatre, he "flounced angrily out when his overlong book was cut to make room for the vast amount of music his composer had supplied." Whatever was true vis-à-vis libretto vs music, Liza must share some blame in that her lack of operatic expertise meant that she was unable to spot potential trouble soon enough nor able to resolve it in time.
The cast seems to have done well. Although Walter Hyde presented a squire to the manor born, one wonders if the other Irish tenor's splendid voice would have tipped the scales favourably, presuming his brogue was sufficiently tamed. Probably not. Most will have guessed he was none other than John McCormack.
Was Liza really an operatic composer? No one now can really say but Steuart Bedford, her grandson, affirms "I do have a score of the piece and it contains many charming numbers. Dick's song, `It was a lover and his lass' is particularly characteristic." So, to conclude on a positive note, in fact, it is possible for the Vicar to be reawakened. © Charles A Hooey
Sources: The Life Of Liza Lehmann by herself, published by T. Fisher Unwin, London, in 1919; A Quaker Singer's Recollections by David Bispham, published by the MacMillan Company, New York, in 1920; "As It Was In My Beginning," an article by Edith Clegg in Opera Vol. 1, No 11, November, 1923. Also thanks to Jim McPherson for providing Mr Gänzl's report.