Caroline, Her Sisters And The Sea
by Charles A. Hooey
Magnificent, and oh so dangerous ... the English Channel lapped not far from their home in Portsmouth, allowing Caroline Hatchard and her four sisters to watch harbour action at will. They could see trade and commerce flourish in peacetime and sleek, powerful monsters of the Royal Navy sweep by in troubled times. For all the Hatchard girls save Caroline, the sea would have its fateful way.

In 1906, times were peaceful enough when Caroline returned home to sing for her many friends in Portland Hall. They had some en masse to honour one of their own. Most knew she had sung her way onto the stage of the Royal Opera as the Company's FIRST native-born and trained soprano to do so.

Parents George and Lilian were non-musical as was middle daughter Alice, but each of the other girls had an exceptional musical talent burning within. Strange, isn't it? Lilian, Jr. chose piano, Ethel the violin, Caroline sang and baby Isabel...Bell, she wanted to sing like Carrie. Papa George, a supervisor for the telegraph authority, perhaps found work easier than evenings at home with his lively brood.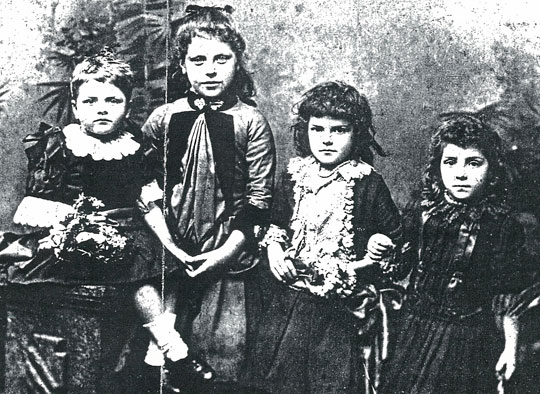 L to R: Caroline, Lilian Jr, Ethel & Alice.
Born on 12 October 1883, Caroline Gertrude was truly most amazing for she loved to sing and to entertain. In no time at all, most in Portsmouth knew of her prodigious talent. But this was Victorian England with its dictates. Middle class young ladies had no business being on stage and any skill leading in that direction was to be quickly squelched. Fortunately the Hatchards did not subscribe to such nonsense and advised the girls, "Go for the top prize, always!"

At the tender age of seventeen, Caroline headed for the Royal Academy of Music in London, thanks to her parents and a wealthy family friend. She entered the famous rabbit warren on Tenterden Street on 24 September 1900 to find Agnes Larkcom, a highly regarded vocal teacher, waiting. Madame's fierce demeanor barely masked her heart of gold; she only wanted her charges to do well. After earning both the Rutson and Melba Prizes, Caroline acquired experience singing alongside the likes of John Harrison and Robert Radford at RAM-arranged concerts in Queen's Hall, where in 1904, she made her professional debut at a Proms Concert.

At the Royal Opera she appeared, auburn-haired, svelte and with an impish smile, creating an "ideal" Dewman in Hansel und Gretel. A month later, her Shepherd in Tannhäuser was truly "charming." Roles in Armide, Traviata and Faust followed. Early in 1908, she assumed four parts in what was undoubtedly the greatest musical happening of her time...Wagner's Ring Cycle in its English language Première.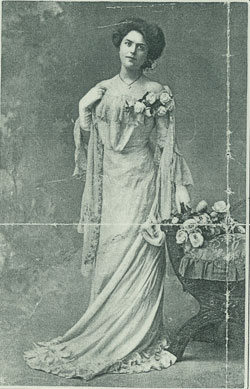 After debuting in London as a soprano in 1885, Liza Lehmann had proceeded to carve a nice niche for herself, but in 1894 she abandoned all that, ostensibly to marry Herbert Bedford. Actually she wished to compose music. It was a wise decision for in just two years, she had crafted a song cycle, "In a Persian Garden," that had instant appeal.

In the autumn of 1906, Liza set out to enlist young singers to tour Britain to sing her music, including Persian Garden, which everyone was eager to hear. Caroline joined contralto Palgrave Turner, tenor Albert Watson and baritone Peter Dawson to form Lehmann's Concert Party and off they went to places like Exeter and Torquay and to Plymouth, where Caroline gave "a beautiful and sympathetic rendering of `I sent my soul' and `each morn a thousand roses brings,' imparting deep feeling into the closing line, `but where leaves the rose of yesterday?'" Her encore, "If no one ever marries me" was amusing, especially to those who knew she had slipped away in August to marry agronomist Robert Langford. They would have two sons, Peter, born in 1915, and Ewen, eight years later.

She enjoyed Royal Opera camaraderie while gaining oceans of experience...so why, was she not offered key roles? Soon she came to understand, perhaps bitterly, that major parts were reserved for singers from Italy, France and Germany, according to public demand. Prejudice reigned. "If we're paying top prices, we don't want to hear locals," patrons indignantly proclaimed. Unfortunately this repressive attitude prevailed for years.

In 1910, she found a solution when she met charismatic Thomas Beecham, hell bent on thrusting grand opera upon his fellow Britons, whether they wanted it or not. His "opera-comique" style involved light and tuneful, small-scaled operas given in medium-sized halls throughout the land. If he misjudged, family funds would see him through. He needed young English singing talent so Caroline signed up.

Offenbach's Tales of Hoffmann launched his season at His Majesty's Theatre, London, on 12 May 1910. Caroline's chance came twelve days later when she sang the saucy colleen Kitty in Sir Charles Stanford's comic opera, Shamus O'Brien. While saving her beleaguered hero, she sang charming songs in an opera packed with folk tunes.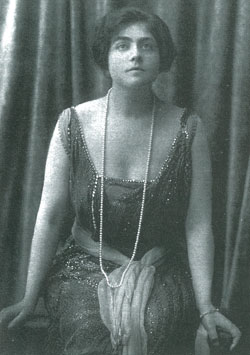 Noticing a casting weakness in his Hoffmann, Beecham decided Caroline would make a better Olympia. Later she recalled a rehearsal, "I was standing frozen and unable to look at the conductor, singing contentedly when the music suddenly began to fall apart! I felt a sudden sense of panic. Then I heard the doll's mechanism being rewound and almost immediately, the music underwent a change. There was more zip and I could again detect a clear beat to follow. I stole a glance at the podium and saw Beecham had appeared to relieve his floundering colleague." Joining the cast on 7 June, she sang Olympia 22 times that summer.

Beecham's initiative produced the première of Strauss's Feuersnot in English on 9 July with Caroline as Walpurg, wife of the Burgomaster who was portrayed with ease by the ubiquitous Radford. It caught the fancy of the critics and aficionados but music lovers in general stayed away.

Her next experience came at the Whitney Theatre, Aldwych in the musical Baron Trenck, which opened on 19 May 1911. She was a bewitching Countess Lydia at her wit's end coping with a dallying Trenck. The press said (she) "acts interestingly but her voice, admirably and so easily used by turns for comedy, tenderness and passion, would win its way anywhere."

She sang in Verdi's Requiem in Norwich Cathedral on 28 March 1912 ... grimly ominous for in Southampton, 300 kilometres away, happy folk were boarding the Titanic.

After her starry run with Beecham, the next step was to join Ernst Denhof's upcoming tour, especially as it had Beecham's backing. In the fall of 1913, they set out but Denhof's inadequate promotional skills quickly led to half-empty houses. To avert disaster, TB rushed to the scene and shut operations down while he devised solutions. Ten days later the tour resumed in Sheffield with Beecham's people firmly in charge. It became a resounding success!

Caroline was handed a real plum, the role of Sophia when Richard Strauss's Der Rosenkavalier was given its English language première as The Rose-Bearer in Birmingham on 20 September 1913. She sang with "just the ingenuous charm needed" as Sophia, appearing in the opera thirteen times in total. The series enabled more Britons to experience Strauss's unique music than the British Première at Covent Garden in eight performances the previous January. She sang also the Queen of the Night in Mozart's Magic Flute, Eva in Wagner's Mastersingers and the Forest Bird in Siegfried.

At one point, she felt a year in Italy would have yielded much, the thought being that intense opera studies would have enabled her to springboard onto world stages. Enticing, but she had singing engagements upcoming...children she wanted...and ominous war clouds on the horizon...home was the only option.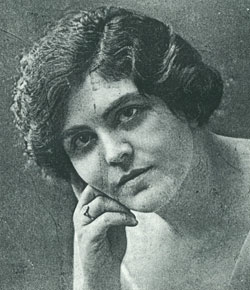 In 1914, she discovered the exotic, richly-textured music of Samuel Coleridge-Taylor singing excerpts of his Hiawatha and A Tale of Old Japan in Bournemouth. Three years earlier the composer had given an Alfred Noyes poem such vividly coloured music that he remarked to his wife, "We'll have a motor car yet, Jess, out of `A Tale of Old Japan'." Sadly, it was not to be, for C-T died in 1912, aged 37. At his funeral, friend bass Julien Henry sang the composer's own "When I am dead, my dearest." Caroline never forgot C-T's music and chose Hiawatha as the pièce de resistance for her stage farewell in Liverpool on 17 November 1931.

To Liverpool she went on 15 December 1914 to help composer Gabriel Pierné introduce his epic Children's Crusade to England. It graphically depicted the woes of religiously-deranged children during the Middle Ages as they strove to reach the Holy Land. The role of Alain, with its feast of high-lying music, was tailor-made to her voice.

Singing so often in Northern England spawned a steady demand for repeat visits, usually in oratorio. This, she realized was where her future truly lay, depending on how well she sang Handel's Messiah and Mendelssohn's Elijah. However, by being so active provincially, she left London audiences and critics blissfully unaware of her existence, not to mention her blazing success. This factor acts negatively on the way "the establishment" views her efforts today.

Occasionally a chance to sing opera appeared as in 1916 when the Nottingham Harmonic Society mounted Faust for famed native son Robert Radford. As Margarita, Caroline revealed "technical ability and facility and a voice as beautiful and bright in quality as it is supple and extended in range."

Radford presents an intriguing case. A botched appendectomy in the mid-1890s likely cost him a shot at an international operatic career, for it put him in and out of hospital all his days. Yet, he managed to become England's premier basso, a Garden mainstay and oratorio genius. Frequently Caroline's stage partner, he possessed all the tools, a strong stage presence allied to a voice that was rich, dark chocolaty in quality and capable of the most delicious low notes.

During dark days of The Great War, Caroline gave voice to Sir Edward Elgar's newly-completed Spirit of England on 15th December 1917 in Manchester. Subsequently, she sang this inspiring music in a number of British cities.

When Beecham decided to conduct Mendelssohn's Elijah for the first time, he asked Caroline to sing soprano. In Manchester on 9th March 1918, she shared in yet another Beecham triumph. Perhaps as a reward, Beecham invited her to sing Micaëla in Carmen at Drury Lane on the 24th.

In 1924 when the Garden launched its first German Ring since the war, Caroline repeated the roles she sang in 1908. Her alma mater, the Royal Academy of Music, chose this moment to elect her a Fellow in recognition of her achievements. The next year in Albert Hall, she rejoiced in singing the music of Dame Ethel Smyth as that formidable lady's Mass in D was given with Astra Desmond, Archibald Winter, Herbert Heyner sharing the vocals. Sargent conducted. Interest in Smyth's music reached a climax of sorts at a Grand Gala on 28th November 1928 that drew many including Queen Mary to Albert Hall. The Queen was there to proclaim "the cause of women" while Dame Ethel basked in long overdue acclaim.

While Caroline amused herself with such illustrious events, her sisters were involved in adventures of their own.

LILIAN, JR. - The eldest and considered the most intelligent, at least in her nephew Ewen's eyes, as he watched her solve the Times Crossword in 15 minutes flat. Well read, a fine pianist and a great character, she was openly kind to young people and keenly interested in their comings and goings. While working in the Post Office, she met and married William Duff, a young man who was about to achieve enduring fame as the telegraph operator involved in the trans-Atlantic pursuit of the murderer Crippen. Lilley's life was sad as she lost all three sons, beginning with her first born who suffered from Down's Syndrome dying very young. Then, in 1919, George succumbed to pneumonia at age 12. Alexander, a member of the regular army, had just graduated from Sandhurst Military Academy when World War II broke out. Primed and eager, he crossed the channel to join the Loyal Lancashire Regiment in France...and soon he went "missing." Lilian bore her multiple pain with great fortitude.

ETHEL - Did she dream of becoming a world class violinist? No way to know as Caroline arrived and parental support gravitated towards her...Ethel played to entertain herself and friends. In 1903, she married naval engineer, Henry Smith, and quickly began living and breathing "the Navy."

Smith pursued his career with diligence. When the Great War erupted, he was Engineering Officer on HMS Suffolk, cruising Atlantic waters north of Cuba on 6th August. At Noon they spotted the German cruiser Karlsruhe and gave chase. Smith knew his ship could exceed its designed speed so he poured on all the fuel he could muster, including the wardroom piano! The slightly speedier Karlsruhe escaped by a whisker but blew up mysteriously two months later. For his ingenuity and spirited endeavor, Smith was awarded the DSO.

Ethel maintained her keen interest, accompanying Henry when he was posted overseas, especially a stint in Bermuda. In 1928, while Admiral in charge of the Devonport Dockyard, Henry honoured his wife by letting her preside at the laying of the Exeter's keel. Smith oversaw construction of a second Suffolk, a cruiser that in the coming conflict would shadow brilliantly the Bismarck during its failed escape bid. He saw his innovative ideas in engine design used in HMS Hood, more so in HMS Repulse, HMS Exeter and other major vessels.

The Admiral died in 1936, not knowing what fate held in store for his ships. No doubt he would have been pleased when Exeter helped hunt down the German pocket battleship, Graf Spee, but pained considerably by the destruction of the Hood, Repulse and finally, Exeter itself.

Ethel survived to share her musical knowledge by giving piano instruction to her seven year old grandson, John. "I remember her playing the violin at that time, but it was not then my favourite instrument nor is it now!"

ALICE, introspective by nature and soft-spoken was a determined lass with a good sense for finance, though this never translated into personal wealth. She and her husband went to live on the Channel Islands off the south coast of England but the poor chap died soon afterwards. When she married a Naval Chief Petty Officer, Alice found herself looked down upon from a great height by Ethel, the Admiral's wife. This created a bizarre situation when the Admiral and CPO got along famously in retirement.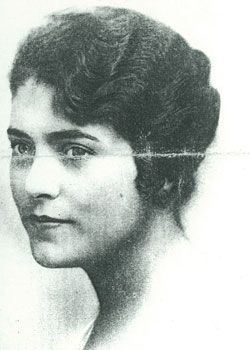 ISABEL, with singing her main interest, seemed destined to follow in Caroline's footsteps. They did appear together with bass Harry Dearth in the Faust trio. Beecham, who conducted, said: "Isabel has a most promising voice." But Bell happened to be a ravishing beauty, the object of much male attention, who abandoned singing when she married George Cousins, son of the Lord Mayor of Portsmouth. She moved easily into high society, quickly settling into the role of grand country dame, becoming the most sophisticated of the Hatchard girls.

During World War II, her only son John was serving with the garrison at Hong Kong when it surrendered to the Japanese; subsequently, he was aboard a transport bound for Japan when it was torpedoed by an American submarine. Bell was spared this ultimate sorrow, having passed away in 1934.

Caroline left the stage in the early thirties to teach at the Royal Academy of Music. A famous pupil, contralto Helen Watts, recalls: "Her way of teaching was simply by example. She would rise in a stately manner from her chair by the accompanist and show me how to breathe. She would then sing a phrase and I would be expected to copy it. This may seem an extraordinarily haphazard way of teaching but it proved ideal for a young voice and when three years later, she handed me on to another teacher of her choice, my voice had matured enough to accept the much more technical training I was then subjected to. Looking back on those early years of training, I realize I have much to be eternally grateful for in that Caroline provided me with such a gentle introduction to vocal technique. Anyway, she was such a lovely person and I was devoted to her."

During the second war, she was at home in London when a German bomb flattened two houses nearby and badly rattled her own. She was lucky. Twenty years later, Ewen was at work upstairs when he heard a rumbling and clatter below, then his mother calling up, urging him to cease whatever he was doing. With a horrendous roar the ceiling plaster, loosened years earlier by the bomb, came crashing down. She was lucky again for if she had remained seated, she would surely have been crushed. In 1946 Robert suffered a fatal attack while enjoying his weekly game of golf.

As teacher and adjudicator, she kept active within Britain's musical scene to the end. The last hurrah came on 22nd June 1969 at a Beecham lecture in the Garden Crush Bar when, after her record of the Hoffmann Doll Song was played, the audience rose in unison to applaud as she took her final bow. In her eighty-eighth year, she died on 7th January 1970.

From the evidence, she was a superb vocalist who could have become one of England's greatest contributions to world stages, if conditions had been different.

As for her records, she viewed the recording process with distaste, saying it could not possibly preserve her voice truthfully. But she made 27 discs, 21 being released. In spite of her misgivings, they reveal a lyric soprano with a full and easy coloratura that produces a zest and vigour causing music to spring to life. They contain some of the loveliest sounds ever to emerge from a female throat.

Exceedingly rare, discs located to date inevitably are worn by much loving play. Oddly enough, Caroline once owned a set of her centre-start Pathés, all unplayed, which she handed over without hesitation during a wartime salvage drive.

Recently Ewen Langford has managed to prepare a CD containing all of his mother's discs, copied at exact speed thus ensuring she sings in perfect pitch. Even with the sonic imperfections, what a joy she is to hear! Surely a commercial release is approaching.

DELETED ITEMS:

There once was a soprano named Caroline
A Victorian lass she sang just fine
Three of her sisters cried
While Ma and Pa sighed
Proud Portsmouth said, "Come and dine."

It was the year 1907. A tense atmosphere prevailed in Portsmouth since HM King Edward VII had launched England's first Dreadnought class battleship on 10 February 1906. As the ship's fitting progressed, international intrigue was the order of the day, with deals made, then quickly broken, angry words exchanged and ill-conceived action, all culminating in that awful conflagration, known with some irony as the "great" war.