The Immortal Sextet
by Charles A. Hooey
The author reviews the careers of the six soloists who took part in the première of The Apostles which Elgar himself conducted, and briefly surveys their recorded legacy.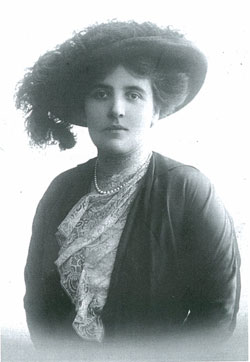 Of all Elgar's oratorio creations, The Apostles calls for the largest group of soloists, six in all. For its first performance at the Birmingham Festival on 14 October 1903, the composer chose a stalwart crew, five from his homeland and the other from Canada. Four had taken part in previous premières, the newcomers being Emma Albani, the Canadian, and Robert Kennerley Rumford. They came from different backgrounds, of course, but fashioned similar careers. So, who were these immortals, the creators of Elgar's apostolic gem?

The contralto we've already met (see Elgar Journal, March 2003, p. 11-24). With her unique brand of warmth and sweetness, Muriel Foster (see left) had made her Angel in The Dream of Gerontius so utterly appealing; now she set about to impart the same magic to Mary Magdalene.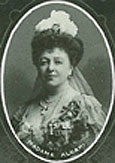 Amongst the others, without doubt the doyenne was that petite prima donna, Emma Albani, as the Virgin Mary and the Angel. She was born in 1847 to the Lajeunesse family in Chambly near Montreal. Her parents labeled her "Marie-Louise-Cecile-Emma" no doubt with high hopes. It was not Emma's way to disappoint so she quick-marched to the pinnacle of her profession, becoming Canada's first, honest-to-goodness, international opera star.

She was only eight when she astonished everyone at the Sacred Heart Convent in Montreal by singing operatic arias to her own accompaniment on the piano. Eventually she moved to Paris to study with Gilbert-Louis Duprez, then to Milan for a time with Francesco Lamperti. In 1870, she made her debut as Amina in La Sonnambula in Messina. After guesting in Malta and Florence, she came to Covent Garden on 2 April 1875 to offer Amina again, then Lucia di Lammermoor, Martha, Rigoletto, Linda di Chamounix and the London premieres of Tannhauser and Lohengrin. Her Elsa proved a "revelation!"

She did conquer the world's operatic stages, but her true home was at the Garden. Who could forget her "deliciously girlish" Eva nor "finely-thought" Isolde and when Herold's Le Pre-aux-Clercs was revived in 1880, her Isabella sung "with great effect." In "Souvenirs du jeune age," her eyes would mist as memories of her vast, snow-enrobed homeland flooded back. Londoners with Queen Victoria in the vanguard grew to adore the plucky Canuck.

When not busy in opera, she often sang in oratorio with tenor Edward Lloyd. Together at the Norwich Festival of 1881, they sang in Sullivan's Martyr of St. Antioch and in the first performance of Cowen's St. Ursula, and in 1889 Berlioz's colorful Damnation of Faust with Andrew Black and a debuting Robert Radford. A busy Handelian too, she sang between 1888 and 1902 in at least nine Messiahs on New Year's Evenings at Royal Albert Hall.

By 1886, she had reached her prime, the heavier roles having taken their toll. Nevertheless she made her Metropolitan Opera debut on 23 December 1891 as Gilda in Rigoletto, then as Desdemona in Otello with de Reszke, Donna Elvira, Valentine (Huguenots), Elsa and Senta. By 1896, she chose to lay aside costumes and greasepaint and turn to oratorio and concerts and so, when Elgar was looking, she was available. Later he would describe her voice as "golden."

She retired in 1911 but in 1916, she joined Clara Butt, Edward Lloyd and a khaki-clad Kennerley Rumford for a huge Red Cross Concert in Albert Hall. In the twenties, a series of bad investments thrust her into hard times, and into the music halls to survive. Aghast, Melba teamed with Elgar and Sarah Fischer, Albani's protégée, to stage a benefit at Covent Garden on 25 May 1925. Melba sang as did Rosina Buckman, Dinh Gilly and Radford. Emma was then elevated to Dame Commander of the British Empire. The grandeur long gone, Dame Emma died penniless and alone in 1930.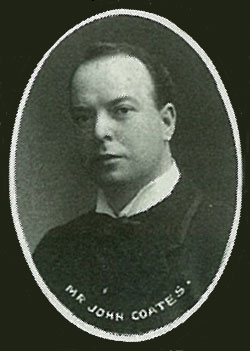 As "John", John Coates (pictured) brought top value. Elgar knew him as "Arch-Chanter John" recalling a famous singing cleric of their distant past. Born on 20 June 1865 near Bradford in Yorkshire, Coates "arrived" on stage as a baritone in 1899, singing nightly in The Absent-Minded Beggar at the Alhambra. Deciding his baritone was "run-of-the mill", he paused to reframe his voice as a tenor. A wise move for Coates would quickly excel in opera, oratorio and in concert.

At Covent Garden, he sang a fine Walther in Tannhäuser on 15 May 1901, then Melot in Tristan und Isolde. For his efforts, he was awarded the dubious task of portraying Claudio in Stanford's Much Ado About Nothing on 30 May. To many it was aptly named, though the music possessed a certain charm. It seems audiences were not ready to hear their own language sung at the Garden. On a loftier plain, he sang Faust with Melba, Kirkby Lunn and Plançon. Although Coates held his own there in the very best international company, it was his sole appearance with such an august group.

He left an eager audience in Germany to respond to a call, "William Green is ill. Can you sing The Dream of Gerontius at Worcester on 11 September 1902?" Thus he began a run with The Three Choirs Festival that lasted until 1926.

He was in Cologne singing Romeo and Lohengrin when he decided in April 1907 that opportunities existed with the Moody-Manners and Carl Rosa Opera Companies and with Beecham's burgeoning enterprises. For TB, he sang Hoffmann a couple of dozen times in 1910. Early in 1911, he sang Wagner on tour with Ernst Denhof in Leeds, Manchester and Glasgow, then in October, with Quinlan he visited cities in the UK, South Africa and Australia, not returning till January 1913.

His career flourished a further dozen years until 1927, when he moved into teaching and BBC work. Remarkably in 1933 at age 70, he joined Elgar to appear with the Hallé Orchestra for a final Gerontius. "There stood John Coates grasping the back of his chair, living through every phrase with all the intensity of feeling we first experienced some 30 years ago - it was grand to renew that early association of composer and singers.".. Musical Times, April, 1933. Elgar's tenor died on 16 August 1941 after a long illness.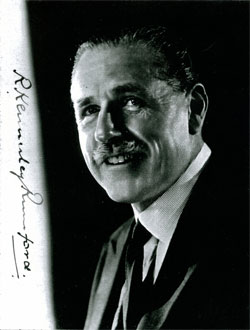 Baritone Robert Kennerley Rumford (pictured), who sang Peter, was born in Hampstead in 1870. He attended King's School, Canterbury on a scholarship that helped him prepare to enter his father's business. In Frankfurt to study German, he took to entertaining friends, and did so well commerce was quickly forgotten. After studying with Alfred Blume, he gave his first concert in 1903. Tosti attended as did Maude Valerie White who was impressed. She wrote "Three little songs" for him. In 1897 Rumford laid eyes upon a gangly mam'selle from Bristol, a singer also on the way up ...Clara Butt, of course. Both quite tall, they gazed easily right into each other's eyes, while uttering sweet nothings. Like Foster, Rumford never fancied himself in operatic garb.

He and Clara married on 26 June 1900 amidst great fanfare, with both Black and Albani in attendance. Emma stepped forth to sing "O God, Thou art worthy to be praised," an anthem that was Sir Arthur Sullivan's special endowment.

Many a husband might have fretted, but Rumford easily played second fiddle to Clara during her travels in Britain and to farflung outposts of the Empire. Late in 1912, a Canadian reporter queried Clara about Emma Albani. "Ah! Albani!" was her quick response, "Yes, I know her so well...there was never another singer with such a lovely legato as hers." Composers of the day wrote or adapted songs and duets for the famous duo. One, Liza Lehmann, composed "Four Cautionary Tales and a Moral" to witty lyrics by Hillaire Belloc, which Rumford and Clara premiered at Albert Hall. Rumford proved to be an intelligent, musically well-educated singer with good style but vocally less well endowed than his wife.

Rumford and Clara were prominent in New Year's Messiahs at Albert Hall in 1911 and 1912. When the war did begin, he was variously reported active in Red Cross causes and as Captain in British military intelligence. After Clara died in 1936, he re-married in 1942 and lived on until 9 March 1951.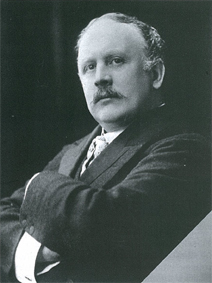 Baritone David Ffrangcon-Davies as Christus enjoyed a rare distinction as one of five singers who appeared in the first Proms concert on 10 August 1895. He must have pleased for he was back fifty-two times over the next decade to sing a wide array of operatic excerpts and songs.

He was born "Dafydd Thomas Davis" in North Wales at Bethesda (now Gwynedd) on 11 December 1855, and educated at Friar's School in Bangor. Later, he tacked on "Ffrangcon" as a fond salute to the range of hills near his home.

At Jesus College in Oxford, he applied to take holy orders, but discovering his fine voice changed all that. At first he sang tenor but at the Guildhall School of Music with Richard Latter, Albert Randegger and William Shakespeare, he became a baritone. The proud owner of a voice ranging from bass E to top B flat, he made his debut in Manchester on 6 January 1890. Then on 26 April, he sang the Lohengrin Herald at Drury Lane with the Carl Rosa Company, and on 31 January 1891 the original "Cedric" in Sullivan's Ivanhoe at the English Opera House, London.

Now a sensitive and conscientious artist, David took his talent overseas between 1896 and 1898 to principal concerts and festivals in USA and Canada. He arrived in Cincinnati to sing Samson et Dalila in concert on 21 May with Marie Brema and Watkin Mills. Based in Berlin, he reaped acclaim at the main German and Swiss cities, but he was polishing his technique in lieder too. A chance to sing at Queen's Hall on 19 March 1900 convinced him to return to stay the following year. Favourable responses came in bundles as he went about singing new works by Elgar and others at all the principal festivals and concerts. It is claimed he owed his career (and income) to Elijah, a role he sang so often that when he did, he sounded like an Old Testament Prophet.

In 1903 at year's end, he combined teaching at the Royal Academy of Music with production of a book, "Singing of the Future." In May 1906 he visited Cincinnati with Elgar to sing Gerontius and Apostles. Back home in 1907, overworked and depressed, he suffered a nervous breakdown that abruptly squelched his singing and left him mentally unbalanced. It is said that when he attempted Elijah anew, he felt he was the prophet! He died in a Hampstead asylum on 13 April 1918.

Interestingly, his daughter Gwen became a soprano who in 1919 created "Etain" in Boughton's The Immortal Hour. Later she appeared as an actress on radio and on TV where her crossed-eyes proved an asset. She lived a lively 100 years.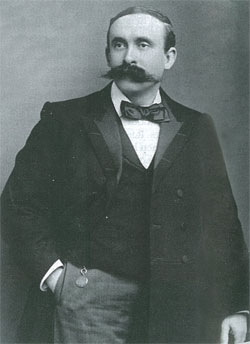 Judas Iscariot was assigned to Andrew Black (pictured), a Glasgow chap born in 1859, who functioned as an organist, until his fine voice propelled him into vocal study in London and in Milan. When he first sang in public in 1897, such was his success at the Crystal Palace, he switched to oratorio. By 1893, he gave opera a try in the title role in Wagner's Flying Dutchman, causing many to believe he was Charles Santley incarnate. In Hanley he sang Samson with Albani, Ben Davies, Bantock Pierpoint and an exciting newcomer, named Clara Butt. That year, he also entered academia as Professor at the Royal Manchester College of Music.

A Hull favourite, he first came in 1889 to concertize on 11 October and again for Mendelssohn's St. Paul on 22 November. He returned to sing Dvorak's The Spectre's Bride (1890), Parry's Job (1897), Handel's Acis and Galatea (1901), a Handel and Bennett Concert (1901) and Elijah (1903).

With at least four Gerontius performances under his belt in 1903, including one in Birmingham, Black was primed and ready for Elgar's latest. Another ten years and he wound up his singing career. He died in Australia in 1920.

After such a resounding reception, The Apostles became familiar fare in Britain and Germany. The four men "repeated their Birmingham success" during a special Elgar Festival at Covent Garden on 15 March 1904, with Agnes Nicholls, "whose beautiful pure voice and sympathetic style made her almost ideal" and Madame Kirkby Lunn "who sang well like the accomplished artist she is..." (Musical Times). Surely Muriel Foster, if she had been in England, would have sung. She did return to sing in The Apostles on 8 September in Gloucester.

Can They Be Heard Today?
Unfortunately the answer is "No" for Muriel and Ffrangcon-Davies, but at least the others did leave lasting memories. Fifty-six year old Albani visited HMV's studios two months after The Apostles to record the first of an eventual twelve sides. Even so late, the magic in her singing is apparent. The Herold aria, the only relic from her operatic heyday, with most of her others, can be enjoyed on CD.

Coates recorded his first sides in May/June 1907, his last, three arias from Holbrooke's Bronwen, on 23 September 1929. He waxed 71 sides overall. The Bronwens can be savoured on Symposium 1130 while stirring accounts of Elgar's "In the Dawn" and "Speak music" will be familiar through their reincarnation on Elgar Interpreters CD, Vol. 2

Recording solo, Rumford favoured songs by English composers of the day, songs such as Cowen's "Border ballad," Clutsam's "Myrra" and Squire's "Three for Jack" but his fame lies in six duets he recorded with Clara. Their most popular is "The Keys of Heaven" which is featured on Pearl CDs.

Black's bright and breezy style suited that era's recording process to a tee, resulting in just over fifty discs. His "Leap, leap to light" from Caractacus, "a first" he recorded in 1906, eight years after he sang in the work's premiere in Leeds. It also is part of the Interpreters CD, Vol. 2.

For a truly unique experience, try "The Crystal Palace, 1851-1936" (Symposium 1251), to savour not only a galaxy of the greatest voices in Handelian classics, Albani with "Ombra mai fu" from Serse and Black in "O Ruddier than the Cherry" from Acis and Galatea, but also to find a strange aura of musical life as it was in 1903.


Sources:

Foreman, Dennis: John Coates; The Record Collector Vol. 38, No. 2
Fuller-Maitland, J. A.: A Door-keeper of Music; John Murray, London, 1929
Lewis, Paul: Emma Albani's Records; The Record Collector Vol. 39, No. 2, pp 153-160
Moogk, Edward B.; Roll Back The Years; National Library of Canada 1975, p 127
Ponder, Winifred: Clara Butt, Her Life-story; George S. Harrap, London, 1928
The Proms in Pictures; BBC Books, 1995, p. 19

Also, thanks to Wayne Turner and Graham Oakes for filling gaps in the Ffrangcon-Davies segment and to Dennis Foreman for his research into early performances of Apostles.

Published in The Elgar Journal, July 2003

NOTABLE APOSTLES PERFORMANCES
14 October, 1903
Birmingham Festival world premiere with Muriel Foster, Emma Albani, John Coates, David Ffrangcon-Davies, Andrew Black; cond. Sir Edward Elgar

15 March, 1904
Covent Garden, London (Elgar Festival) with Agnes Nicholls, Louise Kirkby Lunn, John Coates, David Ffrangcon-Davies, Kennerley Rumford and Andrew Black; cond. Sir Edward Elgar

14 April, 1904 Birmingham, Festival Choral Society; Cond. Sir Edward Elgar

22 May 1904
Cologne (Lower Rhenish Musical Festival) with Frau Rusche-Endorf, Frau Metzger-Froitzheim, Dr. Felix von Krauss, Heinrich Knote, Theodor Bertram, J. M. Orelio; Cond. Fritz Steinbach

May/June 1904
New York, Oratorio Society US Premiere with Muriel Foster, David Bispham

29 June, 1904 York Minster, Leeds Choral Society; Cond. Alfred Benton, organist of the Leeds Parish Church

8 Sept., 1904
Gloucester (Three Choirs Festival) with Emma Albani, Muriel Foster, John Coates, David Ffrangcon-Davies, Dalton Baker and Harry Plunket Greene; Cond. Sir Edward Elgar

30 Nov., 1904
Mainz with Frau Tilly Cahnbley-Hinken, Frau Adrienne von Krauss-Osborne, John Coates, Herr M. Buttner, Jan Hensing, Dr. Felix von Krauss

Dec, 1904 Rotterdam; Cond. Fritz Steinbach

8 March, 1905 Royal Albert Hall

14 Sept., 1905
Worcester (Three Choirs Festival) with Emma Albani, Muriel Foster, John Coates, William Higley, Dalton Baker, Harry Plunket Greene; Cond. Sir Edward Elgar

23 Feb., 1906
Berlin with Fraulein Clara Enler, Frau Walter-Choinanus, Felix Senius, Herr von Wilde, Heinemann, Gunther; Cond. Prof. George Schumann

2 May, 1906
Cincinnati Summer Festival with Mrs. Ryder-Kelsey, Janet Spencer, John Coates, Herbert Witherspoon, Charles W. Clark, David Ffrangcon-Davies; Sir Edward Elgar

13 Sept., 1906
Hereford (Three Choirs Festival) with Agnes Nicholls, Muriel Foster, John Coates, William Higley, Dalton Baker, David Ffrangcon-Davies; Cond. G. R. Sinclair

March, 1907 New York, Cond. Elgar (during tour of America)

22 March, 1907
Hull (first performance) with Cicely Gleeson-White, Alice Lakin, John Coates (filling in for Gervase Elwes), Ivor Foster and Robert Burnett.

Sept., 1907
Gloucester (Three Choirs Festival) with Emily Squire, Marie Brema, Gervase Elwes, Dalton Baker, David Ffrangcon-Davies, and Harry Plunket Greene; Cond. Sir Edward Elgar

7 Sept., 1909
Hereford (Three Choirs Festival) with Agnes Nicholls, Phyllis Lett, John Coates, William Higley, Dalton Baker, Frederick Austin; Cond. G. R. Sinclair

Sept., 1921
Hereford

8 June, 1922
Canterbury Cathedral, Leeds Choral Union; Cond. Sir Edward Elgar

8 Sept., 1922
Gloucester (Three Choirs Festival) with Agnes Nicholls, Phyllis Lett, John Coates, Herbert Heyner; Cond. Sir Edward Elgar

8 Sept., 1925
Gloucester (Three Choirs Festival) with Agnes Nicholls, Astra Desmond, John Coates, Herbert Heyner, Horace Stevens, Norman Allin; Cond. Sir Edward Elgar

7 Sept., 1926
Worcester (Three Choirs Festival) with Agnes Nicholls, Olga Haley, John Coates, Herbert Heyner, Horace Stevens, Norman Allin; Cond, Sir Edward Elgar

5 September, 1935
Worcester Cathedral with Isobel Baillie, Astra Desmond, Heddle Nash, William Parsons, Roy Henderson, Harold Williams

8 September, 1936 Hereford Cathedral with Isobel Baillie, Astra Desmond, Heddle Nash, Keith Falkner, Roy Henderson, William Parsons

9 September, 1947 Gloucester Cathedral with Isobel Baillie, Mary Jarred, Eric Greene, Henry Cummings, Gordon Clinton, Harold Williams

7 September, 1954 Worcester Cathedral with Isobel Baillie, Norma Procter, Wilfred Brown, Gordon Clinton, Norman Walker, Roderick Jones

Not published with The Apostles story in Elgar Journal