Sea Pictures - Alive and Well
by Charles A. Hooey
When I first heard Elgar's Sea Pictures, I instantly fell in love with the music and found it firing fresh interest in the composer. Why this sudden and intense fascination for a mere twenty-three minutes of music? It had to do with my location, for on this great Canadian prairie the sound of ocean waves lapping on a shore lies strictly in the imagination. When the wind blows wheat fields that extend as far as the eye can see, one can easily picture undulating seas. Is it any wonder that in World War II prairie-born lads were quick to don Navy blue?

That initial discovery came thanks to a recording provided by a friend in New Zealand. The singer was Janet Baker but it was not her famous 1965 commercial recording with Barbirolli but part of a concert she gave in New Zealand three years later. The youthful Janet was inspired and in sumptuous voice and with both conductor Juan Martinucci and the New Zealand Symphony in perfect accord they stir the blood and score the memory.

More than a century has elapsed since Elgar penned his evocative music, setting the songs down thus: Sea Slumber song (No. 1), In haven (No. 2), Sabbath Morning at Sea (No. 3), Where corals lie (No. 4) and The swimmer (No. 5). Actually the cycle was begun in 1897 when the composer set to music a song written by his wife Alice and had it published as The lute song. Then, after amending the text to strengthen the sea references, Alice produced In haven. Although one article cannot hope to reveal the entire performance history of Sea Pictures, the aim is simply to describe a tiny portion to validate the widespread importance and vitality of this music.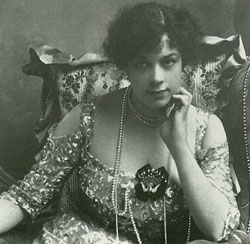 Sea Pictures was written with Clara Butt (pictured) in mind, and if we are to believe her creative friend and biographer Winifred Ponder, it happened thus: After returning from Paris and living at Hyde Park Mansions, Clara one day found her companion Madame Snella at the door to say someone wanted to see her about music he had written. Clara, contentedly splashing in her bath, called out she wasn't coming to see anyone. After delivering this message, Madame Snella returned, evidently impressed, to say, "Oh, `Baby' dear, do see him! He's such a nice man, and he's got a whole cycle of songs to show you!" But Clara, not about to abandon a perfectly good hot bath for all the nice men in London, retorted, "I don't care if it's a bicycle! If he wants to see me he must call another day!'" The "nice man" was Edward Elgar, then quite unknown and the next day he did return and was admitted. As soon as he had played his songs Clara knew she had found music that could have emerged from her own soul.

Clara went on to introduce the cycle at the Norwich Festival on 5 October 1899, stepping on stage garbed in a gown that glistened with sequins like a mermaid. She and the music were instant hits. This plus its brevity made Sea Pictures appeal to concert organizers, as short bursts of brilliant music by different composers were all the rage at the time. Thus, two, three or four of Elgar's sea songs became frequent programme elements. Clara became much in demand to sing the music and within weeks of the première she appeared at Balmoral Castle where Queen Victoria was eager to hear this strapping mermaid sing of the sea.

The demands of oratorio in British Music had produced a host of rich, low-voiced ladies who welcomed Elgar's cycle, the peerless Muriel Foster being one. While still a student, she offered four of the songs on 15 March 1900 at a St. James Popular Concert, prompting composer C.V. Stanford to fire off an excited evaluation and recommendation to Elgar. For the time being he ignored the advice as Muriel continued to sing the songs, including a Gentlemen's Concert under Dr. Hans Richter on 15 October 1900 in the Free Trade Hall, Manchester. With Elgar conducting, Clara Butt sang a few songs at Royal Albert Hall on 12 December 1900 during tenor Edward Lloyd's farewell concert. However, when the composer strode to the podium in St. George's Hall, Bradford on 16 February 1901, it was Muriel Foster who joined him to sing four of his songs. The momentous collaboration of Elgar and Muriel Foster had begun. But in mid-March 1904 when Elgar was fêted at Covent Garden with a three-day festival of his music, it was Clara Butt who sang Sea Pictures as Richter conducted. The Hallé Chorus's singing of this and other Elgar music with its precision and full-blooded tone gave London musical societies a lesson in how this music should sound.

Two early interpreters were contralto Helen Valma who first sang excerpts from Gerontius and then Sea Pictures at an afternoon concert in Worcester on 9 May 1901. The other, contralto Maud Santley, introduced Sea Pictures in April 1904 to music-lovers in Bournemouth. Early in 1908, Maud would have her moment of musical notoriety when she was cast as Waltraute in the English Ring at Covent Garden. She sang in The Valkyrie but couldn't answer the bell on 1 February for the scene with Brünnhilde in Twilight of the Gods so her part was cut. Edna Thornton was asked to do a quick study to sing Waltraute in the second performance on 8 February. But redemption of a sort would come when Maud sang the sea songs that year on 22 November again in Bournemouth, when Dan Godfrey, revered music director in the coastal town, finally was able to welcome Sir Edward Elgar to the Winter Gardens to conduct a special Saturday afternoon concert of his music. Included were the Enigma Variations, the Meditation from The Light of Life, his new Wand of Youth Suite No. 2, the Pomp and Circumstance Marches Nos. 2 and 4 and last but not least, Sea Pictures sung by Miss Santley.

Muriel Foster sang Elgar's cycle countless times throughout her illustrious career, even at a final concert on 31 January 1918 in Queen's Hall, London, to celebrate Major Mackenzie Rogan's "Fifty Years in Army Music". She sang Where corals lie and The swimmer with Arthur Fagge conducting. Though wildly successful, alas she did not record any of the songs; in fact, Muriel made an attempt to record five ballads on 23 June 1904 but all were rejected.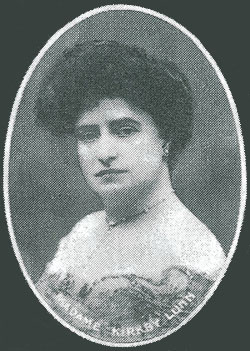 While Muriel Foster avoided opera, Louise Kirkby Lunn (pictured) embraced it, prowling the stages at Covent Garden and the Metropolitan Opera in New York, often as a Wagnerian heroine. She sang Elgar's music but left no recorded memento of Sea Pictures. When she accepted the highly prized medal of the Royal Philharmonic Society late in 1909, she did so during a concert when she sang Sea Pictures with Elgar conducting. Then at St. Andrew's Hall in Glasgow on 4 December 1911, she offered In haven and Where corals lie along with Mon coeur s'ouvre from Samson et Dalila, Voi lo sapete and O lovely night by Landon Ronald who conducted. They had recorded the latter song on 29 September; why, oh why did she not record Sea Pictures as well?

It took just over two years for Elgar's magical creation to cross the Atlantic, the bearer being Kirkby Lunn. She sang Sea Pictures at the Auditorium in Chicago on 31 January 1903 with venerable Theodore Thomas at the helm. The following year Muriel Foster sang In haven in Brooklyn on 18 March 1904 and three days later repeated in Hartford. Going on to Chicago she sang Sea Pictures on 30 April under Thomas's direction, and two weeks later on 14 May at the Biennial Festival in Cincinnati again with Thomas, In haven, Where Corals Lie and The Swimmer. Early in 1905 she made a third and final foray to the U.S. where everyone in the Eastern states was frantic to hear her sing Sea Pictures.

When Kirkby Lunn returned to the U.S. in 1914, she evoked the sea in New York as Mahler conducted. Then, on 2 April 1922, Dame Clara Butt delivered her inimitable versions of Where Corals Lie, In haven and The Swimmer at a Sunday night concert for devotees of the Metropolitan Opera in New York. Fellow artists on hand were soprano Lenora Sparkes, tenor Orville Harrold and bass Léon Rothier with Giuseppe Bamboschek conducting. To round out the evening Clara added Divinités du Styx from Alceste to the piano accompaniment of Grace Torrens. Has anyone sung Sea Pictures on the Metropolitan Opera stage since?

Although Kirkby Lunn failed to record Sea Pictures she left two other Elgar songs, The shepherd's song and Like to the damask rose recorded on 27 June 1921 although HMV chose not to issue the former.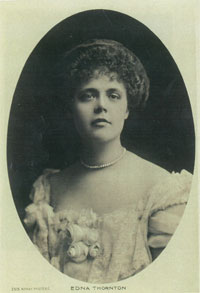 Edna Thornton (pictured), who followed Kirkby Lunn into opera, spent a career interpreting a full range of mezzo roles, including Delilah, Amneris and all the deep female characters in Wagner's Ring. In 1905, she sang Sea Pictures under the composer's direction and, although she did not record it, she did manage a mountain of other discs. On 16 July 1903, she made her first record, Elgar's Land of Hope and Glory but it didn't pass muster. Two more versions followed, both making a release list. Edna took part in a massive rendering of The Dream of Gerontius on 12 November 1904 with William Green, Frederic Austin and the 700 person strong Alexandra Palace Choir under Allen Gill. With 6000 seated and a further 2000 standing, it was the largest audience to that date to experience Elgar's oratorio.

Marie Brema, the mezzo from Liverpool who on 3 October 1899 sang in the first performance of The Dream of Gerontius, likely sang Sea Pictures on occasion. Born on 28 February 1856 as "Minnie Fehrmann", the daughter of an American mother and a German father from Bremen, Marie honoured Papa when she assumed the name "Brema" on stage. Marie left no records of this or any other music.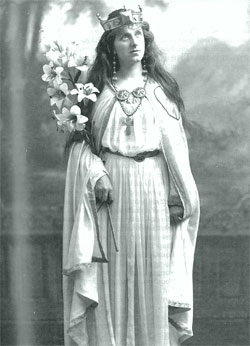 Elgar in 1905 accepted an invitation from Admiral Lord Charles Beresford, Commander of the British Fleet, to sail on H.M. Surprise as his guest during a month-long cruise in the eastern reaches of the Mediterranean Sea. In Teraphia, Turkey, Elgar's friend, Lady Maud Warrender (pictured), sang at an impromptu concert at the British Embassy on 27 September, presenting many songs and Frank (Schuster) accompanied beautifully - then we had 'In haven' and 'Where corals lie' which Lady M. sang well as Elgar accompanied. She did not record any of this music but did preserve Elgar's The shepherd's song on 13 December 1906 as issued on HMV 3860. Her 1908 record of Ethelbert Nevin's O that we two were maying reveals a striking, deep, dark sound that could easily have placed her on stage but she must have been content in her socially-elevated life as she made no such career move. Would that she recorded Pleading, music Elgar dedicated to her.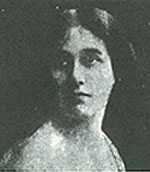 In February 1906 Sylvia Blackston recorded Where corals lie for HMV to release on 3638. With six other songs netted at the same session also seeing the light of day, she must have been a contralto of considerable accomplishment. Then near year's end Carmen Hill (pictured) sang two songs with the North Central London Orchestral Society to conclude a programme of mainly music by Haydn, Grieg and Brahms.

Having heard Florence Venning sing The sweetest flower that blows via Columbia cylinder 200466 from 1903 and A tiny seed of love on cylinder 13814 cut by Edison in 1908, I am encouraged to think she may have utilized her lovely dark contralto to sing Elgar's sea cycle, but her involvement with Gilbert and Sullivan operas as "Ada Florence" may have meant she had little time for Elgar.

As originator, Clara Butt frequently sang Sea Pictures. She did so with Henry Wood's Queen's Hall Orchestra on 7 January 1909 and in 1912, she wowed the Viennese with this strange and wonderful music. For some reason, she failed to record the complete cycle. She did preserve three songs but in the end only two versions of one were issued. For HMV on 24 June 1909, she recorded Sea Slumber Song and Sabbath Morning at Sea, neither to be released. Three years later on 24 July 1912, HMV again recorded Sabbath Morning at Sea and two versions of Where corals lie, the second issued as 03299. After she joined Columbia she recorded Where corals lie on 16 September 1920 and this was issued as well.

Contralto Grainger Kerr sang two of Elgar's Sea Pictures during the final concert of famous conductor Hans Richter at Eastbourne on 22 April 1911. The avant-gardiste of her day, she introduced Norman O'Neill's ballade for contralto and orchestra, Death on the Hills at a Proms concert on 8 September 1904 and in support of Granville Bantock sang his Evening Star in Nottingham in November 1906 and again on 13 January 1907. Another faintly remembered artist Marion Beeley must have been special for she sang Erda in both Das Rheingold and Siegfried and Siegrune in Die Walküre when Wagner's Ring was given in Leeds late in October 1913. During a National Sunday League concert at the London Palladium on 28 January 1912 with Beecham leading, Marion sang Where corals lie and The Swimmer and added Softly awakes my heart from Saint-Saëns' Samson et Dalila. She can be heard in Songs my mother sang by Grimshaw, My ships by Bishop and The Call of the Homeland by Teschemacher, all 78 rpms made by HMV. Early in 1915, Violet Oppenshaw recorded for HMV Sabbath Morning at Sea, In haven and Where corals lie but just the latter two were released. And when she sang in Bournemouth on 25 October, she again chose In haven.

Amongst other excellent English contraltos and Elgar songbirds were Alice Lakin, Ethel Hook (a sister of Clara Butt) and Olga Haley though none seems to have left for posterity any of Elgar's music. Olga was born into a musically gifted family and studied at the Royal College of Music. She made a stab at opera singing Carmen with the newly formed British National Opera but found her true forte concentrating on modern music. At a Promenade Concert in the Royal Albert Hall on 9 June 1915, she sang three songs from Bantock's Sappho and The shepherd's song by Elgar. Then at Beecham's Delius Festival of 1929, she joined others on 16 October at the Aeolian Hall to offer a series of Delius songs, seven in all. On 11 December for a BBC broadcast Olga offered Part I of Bantock's Omar Khayyam with Parry Jones and Dennis Noble. Then on 5 March 1934 in Leeds, she joined Noble in launching Delius's Songs of Sunset.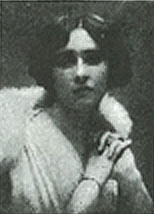 Phyllis Lett (pictured), Elgar and the London Symphony visited Hull on 26 October 1909 to present one of the first concerts in the new City Hall. After Elgar led the orchestra in his First Symphony, which he had introduced the previous December in London, Phyllis sang Sea Pictures, almost certainly the first to do so in Hull. Then, after Elgar conducted his Wand of Youth Suite No. 2, a Pomp and Circumstances March (probably No. 1) and Tchaikovsky's Serenade for Strings, Phyllis added the familiar Ombra mai fu.

In June 1915, both Phyllis Lett and Ethel Hook appeared at Proms Concerts. On 15 June, Phyllis sang In haven and Where corals lie along with None will know by Landon Ronald and The Fairy Pipers by Herbert Brewer. The next evening Ethel sang Pour aimer d'amour by Isidore de Lara. Phyllis again sang two of Elgar's sea songs with Sir Henry Wood on 21 December 1918 in Liverpool. She tackled the full cycle on 27 February 1922 when Elgar conducted a Brand Lane Concert in Manchester. Although Phyllis made a goodly number of 78s, including Elgar's Ave Verum, she did not record Sea Pictures.

Welsh contralto Leila Megane (1891-1960) was first to record the complete cycle. With the composer conducting on 10 November 1922, Leila recorded for HMV Nos. 2 and 3 … and the others on 8 January 1923: It is part of Pearl's 5 CD Elgar Edition, GEMM CDS 9951-5. Born "Maggie Jones" at Bethesda in Caernarfonshire, Leila was assisted financially by Prime Minister David Lloyd George and others to study in Paris with Jean de Rezske. In June 1919, she appeared at Covent Garden in Massenet's Thérèse and with the Opéra Comique in Paris as Charlotte in that composer's Werther with Leon Beyle and Charles Panzera. Her Sea Pictures, though acoustically recorded, due in part to Elgar's participation, serves as Leila's ticket to immortality.

When radio began to cause a stir in England, many heard Elgar's music for the first time. Sea Pictures was first broadcast on 20 September 1923 when an enterprising Dan Godfrey offered it at a concert in Manchester with local contralto Rachel Hunt as soloist. Elgar's turn "on-air" came during a concert he led on 31 March 1925 when Astra Desmond (1898-1973) sang the Angel's Farewell from The Dream of Gerontius. They followed that year with Sea Pictures on 13 November during a relay from the Eastbourne Festival. After studying with Blanche Marchesi, Astra earned high acclaim singing all of Elgar's great mezzo/contralto roles. In fact, her musical leanings ranged from ballad concerts to the songs of Kilpinen, Stravinsky and Henry Purcell. In March 1930, when National and Regional programmes were introduced Elgar's music could be heard throughout the British Isles. Singers were eager to sing his songs, in particular Sea Pictures and following their initial broadcast in 1923 through February 1934, Pictures or individual songs therefrom were heard an incredible 256 times!

One of those performers may have been contralto Mary Cartwright who on 14 May 1929 recorded Where corals lie with the distinguished Madame Adami as her accompanist. Unfortunately HMV did not deem it worthy of release.

Britain's centuries old tradition of religious music is celebrated annually at the Three Choirs Festival, in rotation between the cathedrals at Hereford, Worcester and Gloucester. Ever since Elgar had provided his Overture Froissart for the 1890 Festival and The Light of Life in 1896, his music had become regular festive fare. In 1902 Marie Brema was engaged for The Dream of Gerontius at Worcester on 11 September but when she fell ill, Muriel Foster sang. At the secular concert that followed Muriel sang Sea Pictures Nos. 2, 4 and 5. It wasn't until 1911 that the remaining pair, Sea slumber song and Sabbath morning at sea were heard at a Festival when Muriel Foster sang them at Worcester.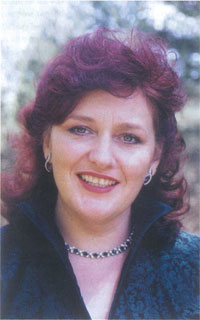 Oddly enough, this was the last time Festival organizers scheduled any of the songs until 1983 when the full cycle was given at Gloucester. Eight years later they surfaced at Hereford. Then, after a performance at Gloucester in 2001, Paul Bassett wrote in The Elgar News: "The jewel in the crown turned out to be Sea Pictures in the final evening with, once again, the Philharmonic Orchestra, this time under David Briggs. Catherine Wyn-Rogers (pictured) was the soloist, and singing without a score, gave one of the most beautiful and moving performances of Sea Pictures it has been my privilege to hear. This was not a clinical performance as sometimes is the case, but an emotional, compelling and intense one, with the audience spellbound by Miss Wyn-Rogers' tour-de-force as she held centre-stage in a stunning midnight sequined dress. The range from the peaceful `Sea Slumber Song' to the surging and powerful `The Swimmer' was beautifully portrayed and the audience quite rightly called Miss Wyn-Rogers back for five curtain calls." As "the leading female exponent of Elgar's choral works", she sang the work at a Royal Albert Hall Proms with Sir Andrew Davis on the podium and HM The Queen in attendance. It was broadcast and subsequently released on CD (BBC/Warner 2564 61550-2) together with items by Walton, Britten and Bax from the same concert.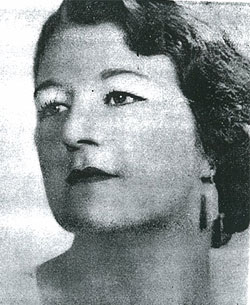 The long-running Promenade Concerts showed little interest from 1951 to 1960, offering three songs on two occasions and two at another concert. Lewis Foreman reporting in BMS News 112 did not identify the singers or the songs. A recording of the full cycle made in 1926 by Muriel Brunskill (1899-1980, pictured) is available on Elgar Interpreters CD Volume 2, CDAX 8020. She featured the music often in concerts. In Southport on 14 February 1927, she sang Where corals lie and The Swimmer as well as songs by Moussorgsky, Grechaninov, Rachmaninov and Quilter. Then on 2 June that year to celebrate Elgar's birthday, she sang Sea Pictures together with other music by the composer. A pupil of Blanche Marchesi, Muriel had a remarkable voice with an ability to adjust to whatever she sang, be it opera, oratorio, lieder, musicals, films or Gilbert and Sullivan. "Unforgettable" was Isobel Baillie's reaction to her Delilah in Manchester at a concert version of Aida on 17 November 1922 with the Leeds Choral Union; she sang Amneris "with magnificence of tone and style". Muriel also sang in Beecham's first recording of Messiah and while singing this work with the Bradford Old Choral Society, she "stood out for general excellence" being regarded as "now in the first rank of British contralto singers". During a concert in Bournemouth on 13 August 1933, she again sang Where corals lie.

Petite Margaret Balfour was a remarkable contralto often heard in Messiah, once earning this accolade: "her contralto voice has a rich and resonant timbre that impresses ... she is a true artiste, and for passionate music it would be almost impossible to find her equal ..." Beecham conducted as she sang the sea cycle minus On Sabbath Morning at the Town Hall in Leeds on the opening day of that city's Triennial Festival early in October 1928. For Columbia she recorded In haven and Where corals lie and is prominent in excerpts of Dream of Gerontius recorded in 1927 with Elgar conducting. For a broadcast in 1933, Madame Balfour sang Sea Pictures at a Proms Concert that included Albert Sammons playing Elgar's Violin Concerto. Rispah Goodacre (1897-1971) also sang two sea songs in 1933 at a concert from Belfast on 14 October conducted by E. Godfrey Brown replacing a suddenly ill Elgar. The splendid British contralto Mary Jarred (1899-1995) spent years at the Hamburg Opera where she developed a keen interest in modern music, Pfitzner, Alban Berg and the like but all that ended in the mid-1930s when she fled the Nazis to return to England. She featured the full cycle in a concert on 20 June 1937 with a BBC Orchestra conducted by Clarence Raybould. From this broadcast, the Elgar Society has released on CD Sea Slumber Song, most of Sabbath Morning at Sea and part of The Swimmer. The latter was included on October 1937 when Enid Cruikshank appeared on a BBC programme.

Between the two versions of Where corals lie by Clara Butt and Janet Baker's recording, one would think that legendary Kathleen Ferrier would have been an ideal interpreter. However she got off to a rocky start in 1944 in Sheffield when under Barbirolli's direction, she sang Sea Pictures for the first time. On 16 December 1946 she wrote to her agent, "I don't think I'm a very good Sea Pictures-ite and have been wondering if for Brighton -10 May - they would let me off with the middle three - In Haven, Sabbath Morning and Where Corals Lie and let me push in something else in which I'm happier". She may have felt that some of the music lay too high for her or perhaps the words in the other songs did not please her. Of Elgar's music, Kathleen did leave My work is done and It is because, tantalizing excerpts from The Dream of Gerontius.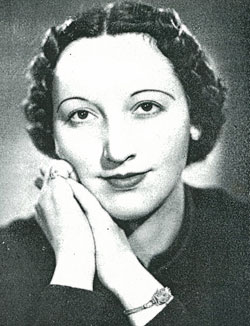 The vivacious and fun-loving nature of Gladys Ripley (1908-1955, pictured) recorded Sea Pictures twice in 1946 for HMV and in 1954 for Columbia, a year before her untimely death at age 47. The later recording is part of a CD (SOMMCD 073) that pays tribute to its conductor George Weldon. After debuting in London in Elijah at age 17, Gladys appeared occasionally in opera but it was mainly oratorio that kept her busy. In 1940 she accompanied Isobel Baillie and Heddle Nash on an operatic tour of New Zealand to take the roles of Carmen and Marthe in Faust with naturally many Messiahs, Creations and Elijahs. In 1945 for Columbia she sang the Angel in Sir Malcolm Sargent's famed recording of The Dream of Gerontius, then in his recordings of Messiah the following year and Elijah in 1947. In her book Isobel Baillie claims she sang Where Corals Lie in concert.

Prior to and just after World War II, Elgar's Sea Pictures faded despite the efforts of low-voiced ladies such as Janet Howe, Betty Bannerman and Nancy Evans, all Elgar interpreters. Edith Furmedge (1898-1956) who studied with Algerian baritone Dinh Gilly later became his wife. She was the Angel in the 1924 acoustic recording of The Dream of Gerontius. Following studies with John McCormack's teacher Victor Beigel, contralto Constance Shacklock, a favourite at the Royal Opera prior to and following World War II, sang Sea Pictures in 1957 at a concert that fortunately was recorded. Born in 1913, she is lovingly remembered by Prommers for her rousing Rule Britannia on the final night.

On 29 May 1951 at a Henry Wood concert in Albert Hall, Sir Malcolm Sargent directed the London Symphony Orchestra in a programme that celebrated 20 years of Elgar's music with Sea Pictures a lively opening. The soloist, Kathleen Joyce, displayed a pleasant contralto voice that, lighter than the type Elgar envisaged, also lacked the temperament, the wide variety of tone-colour and the dynamics needed to express the various mood changes. Patricia Kern did better with a broadcast of Where corals lie and lieder by Brahms on 21 July 1967.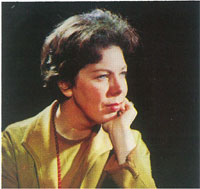 Late in 1964 when EMI decided to record The Dream of Gerontius, Sir John Barbirolli's long association with Elgar's music ensured that he became the conductor for Janet Baker (pictured), Richard Lewis and Kim Borg. In a conversation with Andrew Greene on BBC in 1999, Dame Janet recalled how she was not keen initially about Sea Pictures; however she gave in to the entreaties of Sir John when EMI announced plans to record it. "I was absolutely swept up in his enthusiasm and love for the piece and his tenderness - the way he makes a very difficult song cycle possible for the voice - suddenly made me see it in a different light. I did grow to love it, with reservations about the last song, which I find is horrendously difficult and very unsatisfying from the poetry point of view, putting the words over." The recording from August 1965 remains a beloved classic in current catalogues.

When Janet Baker sang the cycle three years later in New Zealand, she could not have been more exciting to this writer's ears as by now she could do no wrong with the music. She sang the cycle at a St. Cecilia's Day Concert with The Royal Philharmonic Orchestra conducted by Lorin Maazel, causing the Duke and Duchess of Kent to join those screaming and shouting in ecstasy at its conclusion. She sang Sea Pictures at the Royal Festival Hall on 18 December 1975 with Maazel and on 6 February 1979, replacing an indisposed Alfreda Hodgson with Davis and the Philharmonia and at a Proms Concert on 9 September 1982 at the Royal Albert Hall with James Loughran as conductor. It is on a Carlton Classics CD.

When Sir John Barbirolli stepped onto the podium at King's Lynn on 24 July 1970 to conduct Sea Pictures, he was a very sick man, and with singer Kerstin Meyer uneasy at times with the words, they produced a sluggish, ponderous performance. Sadly it was the conductor's last as he died a few days later. Swedish-born Miss Meyer made her debut in 1952 in her home city of Stockholm as Azucena in Il Trovatore, then went on to fashion a major international career. Another Swede, Birgit Finnila recorded Sea Pictures in 1976 for BIS Records with piano accompaniment by Geoffrey Parsons. Then there's Birgitta Svendén's dark and beautiful voice in the version on Forlane, conducted by Mackerras. Carrying on the northern tradition, Anne Sofie Von Otter on 4 June 1999 gave a well-reasoned performance at Worcester Cathedral with Richard Hickox and the Philharmonia Orchestra.

Australia has produced its share of skilled Sea Pictures performers. Clara Serena was fond of Elgar's music but no instance of her singing Sea Pictures has surfaced. In Sydney mezzo Elizabeth Connell sang three sea songs in June 1975 while two years later, the brilliant Yvonne Minton left her mark, recording the cycle for CBS Records under Daniel Barenboim's direction, her lovely, creamy sound making this version very special indeed. Meanwhile another mezzo, Heather Begg, sang Sea Pictures along with arias from Alceste and Alcina at the Auckland Town Hall on 22 October 1981 during a concert with the Auckland Symphony under Jack Spiers. The Gluck was broadcast; Elgar's music was not. Lauris Elms had better success committing her version to disc. A recording of a complete Sea Pictures on ABC Classics CD (476 7966) features Australian mezzo Elizabeth Campbell with the Adelaide Symphony Orchestra conducted by Nicholas Braithwaite. In reviewing this performance in the March 2006 Elgar Journal, Andrew Neill noted redeeming qualities but felt "her tone seems, at times, to vary from line to line in the five songs. This means that this is not a relaxing listen."

As for Canadian involvement, Maureen Forrester recorded Sea Pictures for the CBC as I discovered while driving about Winnipeg one frosty night. It stayed in my mind for months. Maureen sprang to prominence in Toronto in 1961 in Gluck's Orfeo ed Euridice and quickly became one of Canada's greatest international stars. She appeared on television in such works as The Medium by Menotti and very often in concerts across the country. Another Canuck, Linda Maguire, made a valiant effort with the Winnipeg Symphony, Bramwell Tovey conducting, but her singing pales beside the outpourings of Janet Baker. We are left to ponder if another great Canadian mezzo Judith Forst ever sang the music.

Legendary American mezzo Marilyn Horne offered the sea songs during an Elgar Concert Zubin Mehta gave with the New York Philharmonic orchestra on 6 January 1980. Listening to a tape of the broadcast, we hear Miss Horne plunge ahead, her voice acquiring a slight tremolo and pouring forth with little nuance, but what majesty! Lili Chookasian, a Chicago native of Armenian descent, often likened to the deep contraltos of old, supplied proof when she sang Sea Pictures in Cleveland with the Symphony Orchestra conducted by Robert Paige. A pupil of Rosa Ponselle, Lili made her Metropolitan Opera debut on 9 March 1962 as La Cieca in La Gioconda with Zinka Milanov, Franco Corelli and Robert Merrill. Subsequently she added Mamma Lucia, Ulrica and Madelon. Away from the Met, her performances included Prokofiev's Alexander Nevsky with the New York Philharmonic. Also in Ohio but in Springfield, contralto D'Anna Fortunato presented her Sea Pictures on 18 January 1982 to appreciative listeners. In Philadelphia on 16 March 2006, contralto Meredith Erwady sang Sea Pictures accompanied by Mikael Eliasen, doing so with intelligence and considerable power when needed. Miss Erwady, who was trained at the Curtis Institute, sang with the Chicago Lyric Opera and was a Metropolitan Opera Auditions winner in 2004.

An audience in Minneapolis was treated to the cycle on 24 September 1985 when English contralto Carolyn Watkinson sang with the Minnesota Orchestra, an event that radio listeners could also enjoy. Born in Preston, Lancashire, Ms Watkinson studied at the Royal College of Music and in Amsterdam where she took up residence. In 1981, she successfully debuted at La Scala as Ariodante in a production that was repeated the following year and then at Glyndebourne. Earlier, she sang Sea Pictures over Netherlands Radio on 20 September 1978.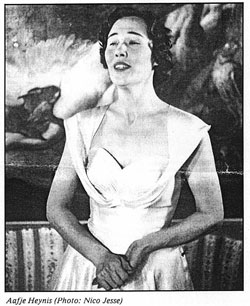 Famed Dutch mezzo Tilly Koenen sang a few of Elgar's sea songs in Ostend, Belgium when the composer visited to conduct his music at the 1906 Festival. Then an historic recording Maartje Offers made of Where corals lie on 15 April 1929 with John Barbirolli was issued on HMV DB 1761 but her Sabbath Morning at Sea recorded at the same session was a non-issue. Though she toiled with certain English words, Klein complemented her for "her superb organ and chaste artistic style (that) place her among the leading contraltos of the present time". A rather ponderous lady with a wide vocal range and more a dramatic soprano than contralto, she died on 28 January 1944. Dutch audiences had their fondness for Elgar especially his Sea Pictures reinforced when Kathleen Ferrier sang there in the fifties. When Netherlands Radio decided to broadcast 'Where corals lie' on 10 March 1962, Aafje Heynis (pictured), a renowned Mahler specialist was the chosen soloist. It is reported that over 200 of her recordings, some dating back to the 1950s, lie buried in Netherlands Radio archives. In the 1970s both Ms. Heynis and Elly Jens sang all or part of Sea Pictures on air. Madame Jens, confined to a wheel-chair, sang for NCVR (Dutch) radio but in the 1990s, when the station planned a re-broadcast and found they had problems with their tape they requested the loan of Elly's tape. She was happy to oblige but never saw it again. She died in November 1998. On 18 June 1983 Jard Van Nes sang Elgar's piano arrangement of Sea Pictures with Gérard van Blerk as pianist in the Muziekcentrum, Vredenberg at Utrecht during a Holland Festival. All Europe heard her sea cycle plus seven other Elgar songs in stereo.

Surely a most unique performance occurred in the Grand Hall of the Moscow State Conservatoire on 11 April 1977 when Larisa Avdeyeva sang Sea Pictures with the late Evgeny Svetlanov conducting. The familiar words sung in Russian create an odd and eerie sound but one that definitely grows on a western listener. It was recorded by Melodiya and re-released in 2003 on CD (Scribendum SC 032). In the July 2004 Journal, Barry Collett pointed out that "the Moscow audience liked it because we have an encore of Where corals lie".

When Elgar's cycle was given in Hull by the Choral Union in 1971 it was in a sea setting, consisting of paintings, models, equipment, lamps, uniformed cadets and a piping party of ratings, the artists being Norma Procter and Benjamin Luxon with the Capriol Orchestra of London. The programme included the well known and often nostalgic music of Elgar's Sea Pictures, Stanford's Songs of the Sea, Henry Wood's arrangement of Fantasia on Sea Songs and Mendelssohn's Hebrides Overture. "Miss Procter sang with complete assurance and illuminating sincerity." Obviously she was a favourite in Hull as she re-appeared fourteen times over twenty-five years, mostly in Messiah.

According to the late basso Dennis Wicks, his famed colleague mezzo Josephine Veasey considered parts of the music too low so she did not sing Sea Pictures. However when Welsh mezzo Helen Watts came to Winnipeg for a recital on 6 November 1972, I asked her if she ever sang Elgar's cycle. "Oh Yes!" she exclaimed enthusiastically, "Many times. It's a lovely work I enjoy singing very much." Not long after via tape, I did hear her sing this music with the Welsh Orchestra conducted by Owain Arwel Hughes over the BBC on 21 January 1974. Then consider Marjorie Thomas who sang The Dream of Gerontius and presumably she tackled the sea cycle too. Mezzo Gillian Knight was splendid on Saturday, 16 September 1976, with Sir Charles Groves leading the BBC Symphony Orchestra for a Proms audience and others tuned in to the BBC. A recording of Elgar's cycle Irish mezzo Bernadette Greevy made for EMI in 1981 with the London Philharmonic Orchestra later appeared on CD. Bernadette offers a beautiful performance, perfectly paced by conductor Vernon Handley. Also for EMI, Felicity Palmer recorded the cycle in 1987 with Richard Hickox and the London Symphony. Especially to be relished is her opening Slumber Song. This Sea Pictures is coupled with a rousing rendition of The Music Makers, Op. 69.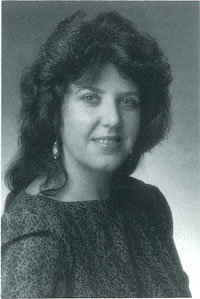 Another worthy interpreter keeping the music alive is Della Jones, a Welsh mezzo from Neath. She studied at the Royal College of Music before carving out a nice niche for herself in international opera. She sang Elgar's cycle frequently with the BBC National Orchestra of Wales ranging from Aberystwyth on 2 May 1985 to St. David's Hall in 1994 and beyond, while recording the work for Decca. Anne Collins offered an Elgar programme on BBC in August 1983 that omitted Sea Pictures but surely she sang the full cycle at other times. It is said that, when Jean Rigby sings Sea Pictures she sounds uncannily like Janet Baker although fans of Catherine Wyn-Rogers make the same claim. In April 1991 for a Chandos CD released a year later, contralto Linda Finnie (pictured) recorded Sea Pictures with The London Philharmonic Choir and Orchestra, Bryden Thomson as conductor. Though beautifully sung, it remains a placid studio version. Others tackling the music at various British venues at this time were Sara Fulgoni and Fiona Kimm.

In this century, mezzo-soprano Louise Winter sang Sea Pictures at an all-Elgar Concert at Bridgewater Hall in Manchester on both 12 and 14 June 2002 with Sir Charles Mackerras conducting. Another version by Sarah Connolly recorded in January 2006 has appeared on a Naxos CD. Emerging from County Durham to study at the Royal College of Music, she has fashioned an international career leading in 2005 to an appearance at the Metropolitan Opera in New York as Annio in Mozart's La Clemenza di Tito. Her Sea Pictures is especially moving, highlighted by her precise diction and truly lovely voice. Simon Wright leads the Bournemouth Symphony Orchestra and Chorus as well in Elgar's The Music Makers. An even more recent recording features Claire-Louise Lucas in the alternative version with husband Jonathan Darnborough at the piano. On her CD for Claudio, she also sings four other Elgar songs and two by Vaughan Williams. "Dates for your Diary" in every issue of The Elgar News, lists upcoming Sea Pictures performances and though the soloist is not always identified, this encourages a belief that the music having flourished for more than a century is on its way to immortality.

While purists may consider this music less than Elgar's finest, it did emerge between Enigma Variations and Gerontius and it certainly works for most of us. For its happy estate, we can look back with gratitude on performances by Dame Janet Baker that have led us to a full appreciation. So, on behalf of all lovers of this music, Dame Janet, many thanks!

With apologies to the legions of singers of the past and those of today who still perform Sea Pictures and yet were overlooked in this report.

Acknowledgements
Thanks to Andrew Neill for providing information about early broadcasts of Sea Pictures in England. The late Jim McPherson helped by supplying data about Muriel Foster's time in North America as did Roger Beaumont for activity in New Zealand. I am also grateful to André Achtien in The Hague for insights concerning Dutch artists, to Paul Campion in London for reporting on Kathleen Ferrier's views towards this music and to Wayne Turner in the UK for information concerning other British artists.

Other Sources
Sir Thomas Beecham, Bart, C.H., A Calendar of his Concert and Theatrical performances compiled by Maurice Parker, 1985 & Supplement by Tony Benson.

"Clara Butt: Her life Story" by Winifred Ponder, George G. Harrop & Co. Ltd, London, 1928

"Elgar and the Three Choirs Festival" by Donald Hunt, Osborne Books Limited, St. John's, Worcester, 1999

" Two Centuries of Music in Hull" by Norman Staveley, Hutton Press, 1999

"Elgar in Smyrna, 1905" by Andrew Neill, The Elgar Journal, November 2005

" Music in England 1885-1920" by Lewis Foreman, Thames Publishing 1994

" Never sing louder than lovely" by Isobel Baillie, Hutchinson & Co, 1982

Discography of Barbirolli's Elgar Recordings by K. D. Mitchell, Elgar Journal, Vol. 12, No. 1, March 2001

" Bournemouth, a Microcosm of Musical England" by Stephen Lloyd in "Oh! My Horses" Edited by Lewis Foreman, Elgar Editions, 2000

CD liner notes by Andrew Burns for the Sarah Connolly CD, Naxos 8.557710