Dennis Noble (baritone)
by Charles A. Hooey
"Turn up the wireless! That Noble chap is singing his trademark song." "Dad, that's called an aria...and the Post says he has a cold." "Forget that, let's listen anyway; he's always good stuff!" Imagery, yes, but it could easily have happened in a Birmingham home on the eve of 23 March 1929, for that's when Dennis Noble was singing Figaro's great aria, "I am the Factotum". Indeed it was the signature of this bouncy and irrepressible Englishman as he went about making opera meaningful for his fellow citizens.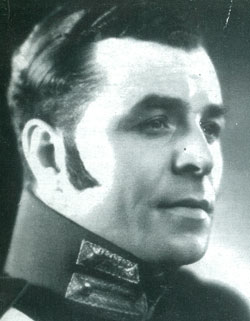 But fame is fleeting. Judge how his father, a widower in 1941, felt when he entertained RAF fliers from nearby billets in his lounge, its walls lined with photos of his son, proudly regaling them with tales of his boy, Dennis, when he overheard someone whisper to a mate, "Who is Dennis Noble?"

"William Ewart Noble" was born to William Vernon and Elizabeth Guard Noble née Titcomb on 25 September 1898. Soon a sister, Clarice, would help brighten home and hearth on Oak Lees Drive in the Bristol suburb of Henleaze. Noticing their son's keen interest in music, the Nobles chose Bristol Cathedral's Choir School so he would receive a general education while obtaining a grounding in music from the School's renowned teacher, Dr. Hubert Hunt.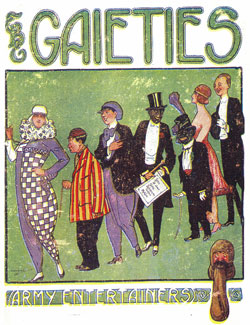 The Great War called a halt to all this pleasantry and, in no time, Ewart was in France with the Royal Bucks Hussars. He was slightly wounded and was invalided home. But his singing had attracted interest, so he returned to join "The Gaieties," the Fifth Army's famed entertainment unit directed by Leslie Henson. They were busy adapting the opera house in recaptured Lille, so the musical Aladdin could be given as a Christmas pantomime. "We used artillerymen as chorus girls," Dennis recalled, "and canvas the Germans had intended for the Grail Scene in Parsifal as staging material. I was cast as Aladdin. Of course Bert Errol, our famous female impersonator, portrayed the Princess while Henson was Abanazar. Amazingly it all came together and I made my first appearance in an opera house!" A frolicking scene in colour in postcard form, stamped A.O.S. reminds us of this show.

Much impressed by his protégé's voice, Henson was convinced his future lay in the arena of professional music. For this he needed a dynamic name and, one day when a Dennis lorry rolled by, he exclaimed, "Dennis it is!" After the Armistice, Noble was employed for a time by a London newspaper, but he kept thinking of Henson and his remark. "I can't see how this is making me a professional singer." So, on the side he pursued singing jobs and by 1923 he felt buoyed enough to marry his sweetheart, Marjorie Booth. A popular Bristol contralto, she was a member of an amateur opera society, as was Clarice, his sister.

But his main task at hand was to learn how to find success in his chosen field. To this end, he drew support from Marjorie Bain, a friend local debutante. With her help and his earnings from singing, he studied first with Dinh Gilly, a man he grew to admire greatly, then with baritone Mattia Battistini. The famous Italian had come to London in his twilight years to give a few concerts. Noble sought his knowledge. It was Gilly, though, who prepared him for one of his finest roles: Amonasro.

One day, while singing at a seaside resort, a couple of officials from Westminster Abbey heard him. "Join us!" they pleaded. He became a choral clerk (or senior choir boy), and in this modest capacity he found himself singing at the Duke of York's wedding to Elizabeth Bowes-Lyon on 26 April 1923 (the first Royal Wedding in the Abbey in 540 years, since Richard married Anne of Bohemia.) It was a "first" for the young radio pioneer too. As this was prior to Savoy Hill days, the broadcast emanated from Marconi House.

Films were gaining popularity, too, despite being silent, so, when The Prisoner of Zenda opened in London at the Palace Theatre, Dennis gave a 'live' prologue. Percy Pitt of Covent Garden attended one night and like others before him, he was amazed by the young man;s voice. "You're wasting your time here!" he asserted. "Come, Covent Garden can use you!" Dennis auditioned with "Eri tu" and became "Silvio" in Pagliacci British National Opera would give at the Garden on 16 June. After a 'crash course' in stage 'savvy' from conductor Aylmer Buesst, he made his début with the pros, Beatrice Miranda and Tudor Davies.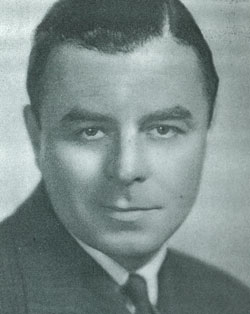 Cast in a small but unfamiliar role in Andrea Chénier, he turned for guidance to conductor Leopoldo Mugnone. But, after a minor disagreement led to a shouting match, Dennis stormed out in tears. Tempers soon cooled over a glass at the Nag's Head and they settled into work again. Mugnone gave Noble valuable advice about a role upon which he had set his sights: Rigoletto. Once, while singing the jester with BNOC, he had an ankle taped, after being flung in a previous role (Silvio) across the stage by an overly-dramatic Walter Widdop. "My favourite role," he wrote in a Music Masterpieces story in 1928,"is Rigoletto and I cherish the hope I shall one day appear in this role at Covent Garden." He would have to wait ten years.

With no immediate prospects at the Garden, Dennis decided to exercise his youthful yen for musical comedy while cannily retaining his Abbey job. On 8 September 1923, he opened at The Adelphi Theatre in Head Over Heels as the Hon. Montague Jepson, singing the words of Seymour Hicks to music by Harold Fraser and continued through a respectable 113 performances.

In 1924, BNOC, Covent Garden and the Royal Carl Rosa Opera all vied for his services, but he decided to join Amelita Galli-Curci's fantastic tour of Britain. After travelling to London in regal style (in the Prince of Wales own coach no less), she debuted at Royal Albert Hall on 12 October, with a robust Mr. Noble presumably blending in nicely. Solo, he sang the gamut, arias from opera and oratorio, songs and ballads. The tour, a prized effort by "Peoples Impresario" Wilfred Stephenson, must have been enervating for the young singer to say the least. After he discovered the world of advertising, his visage appeared on cards accompanying Phospherine (a nerve tonic) and cigarettes, the latter extolling his radio prowess. A strange mix this, pharmaceuticals and tobacco.

When not voicing his few lines at Covent Garden, Dennis sang Silvio, Rigoletto and Papageno with the Old Vic and BNOC, even Prince Aphron in The Golden Cockerel, this when the National Opera visited Edinburgh in October 1925. Those in King's Theatre experienced a new opera and a newcomer.

Covent Garden was proving a tough nut to crack. At least, in his support capacity he could rub shoulders with the rich and famous (This detail is contained in the Chronology) Otherwise, did it rankle that foreigners reaped all the glory, not to mention the extra coinage? Or was he content to have the security of a somewhat unusual job?

Whatever the situation, he kept juggling operatic dates. An opera singer, he rarely sang in oratorio, but on 11 March 1926 in Manchester under Harty, he did sing in Elgar's Apostles. This left him primed and ready for a recording, not of a complete Apostles -the industry was too uncertain for that - but of "By the wayside", a stand-alone portion that might just appeal to Elgarian phonographic owners. After that he toiled for BNOC until Covent Garden called.

Alas, his dear wife Marjorie developed a brain tumor and on 26 April 1928, she passed away. Dennis had little time to mourn for, as a valued comprimario at the Garden, he was needed for six roles during the season then getting underway. Indeed on 1 May he sang Ubald in Armide, but then tragedy struck again. His mother, worn out by long hours of nursing Marjorie, took ill and quickly she too was gone. This was the time, with Beecham's urging, he first became interested in the music of Frederick Delius. The maestro led him to Leeds on 3 October 1928 where he undertook the long narration in Delius's Sea Drift, in the process capturing "the somewhat mystic and peculiarly intangible charm of Delius's poetic music". This success would ensure repeat performances. Two nights later, he had a similar but smaller part in Parry's Job, which "added to his reputation for if his voice is not very sympathetic in quality, he has style."

Back in London on 11 November, Beecham and Noble rendered Sea Drift during a London Symphony Afternoon Concert at Royal Albert Hall. Everyone then adjourned to the Portman Rooms to record the work. At year's end, Beecham called upon his services again, "We're doing Messiah but Stevens is ill. Can you fill?" Dennis was happy to oblige, especially as it would take him to his home city of Bristol at Christmas.

An epidemic of cold was ravaging the land in March 1929 when Dennis raced to Birmingham to sing in the Verdi Requiem, and he arrived, suffering from a chill. "His voice," according to the Mail, "actually gave out at one point, but he sang finely nevertheless and with little suggestion of the disability that affected him." Stronger the next night, he joined soprano Mercy Unwin in Central Hall to sing songs and his familiar 'Largo al factotum.' "Our forebears regarded the singing of it as almost impossible, but he dashes it off as an encore without raising a hair…in the Nedda/silvio duet from Pagliacci, Miss Unwin proved a quite capable partner…"

Back at the Garden in the opera Judith by Eugène Goossens at its première on 25 June, 1929, Dennis was Achior. He decides to warn Holofernes (Arthur Fear) not to attack the Israelites as his Assyrians would be destroyed and for his betrayal, he is bound to a stake where Judith (Göta Ljungberg) finds him. Upon learning he is a true believer, she frees him and asks the eunoch of Holoferne to arrange a meeting with the Tetrarch Bagoas (Widdop) so she can bargain for Achior's life. At the following feast, Bagoas is captivated by her beauty and charm but later in his tent, she decapitates him.

Late in 1929, Beecham decided to honour his ageing and infirm friend Delius by mounting a festival of his music. For this amazing event, he assembled the cream of British music. Dennis sang Sea Drift in Queen's Hall on opening day, 12 October, as Delius expressed his pleasure. The composer then sat back to watch as Dennis, as the Black Fiddler, joined Nash and Pauline Maunder in singing Act 3 of A Village Romeo and Juliet.

For a Beecham-inspired concert in Cardiff on 8 December, our baritone contributed his engaging Figaro aria, songs and an encore, 'The Three Comrades' by Hans Hermann. Three days later in Queen's Hall he sang part of Bantock's Omar Khayyam with Olga Haley and Parry Jones. To end a busy month, he stepped into Monteverdi's Orfeo for the London Opera Festival at the Scala Theatre. To the Era, he "made good as Orpheus, especially in the more dramatic moments," while to Stage he "rendered the many recitative passages with praiseworthy clarity and distinctness, and also sang impressively." Three performances were given.

The following summer, he showed up at Covent Garden resigned to utter his usual in Andrea Chénier, only to hear great news. "O good and faithful servant, we have a major part. We want you to sing Sharpless in Butterfly." Finally! Actually he'd had a 'look-in' in the summer of 1928 as Marcello in La Bohème. This time things appeared far more positive.

It must seem that Dennis had a finger in almost every new musical pie. And once again during the last two weeks of September, 1930, he portrayed a Singing Devil and Neptune in Shakespeare's Tempest when it was presented outdoors in Regent's Park with music by Arne, Sullivan and Purcell, combined with a masque by Dryden and Davenport. Was it a worthy pastiche or simply a mish-mash? The Times tended to the latter view. After providing Falke in Die Fledermaus at Covent Garden, he joined Beecham in Liverpool on 2 December to sing Sea Drift and with Dora Labbette Brahms's A German Requiem.
His career at the Royal Opera received a huge lift on 9 June 1931, when he sang the elder Germont in La Traviata. His 'Di Provenza' went so well that during curtain calls after Act II, Ponselle and Borgioli vacated the stage. After seven years in the shadows watching others, the spotlight now shone brightly on him. Dennis's work had become special and was often exceptional.

Even so, he allowed himself to be lured away by the greatest new show in town. Johann Strauss Jr.'s Walzer aus Wien, reshaped as Waltzes from Vienna, opened on 17 August 1931 at the Alhambra in London, where it was seen twice daily for almost a year. Dennis was Leopold Wesseley, Marie Burke the Countess Olga and Robert Halliday of Desert Song and New Moon fame Schani. His alternate was a handsome singing-actor named Esmond Knight, who led a contingent just before Christmas to St. Margaret's Church, Westminster to witness Dennis's marriage to Kathleen Marjorie Bain, only daughter of Sir Ernest and Lady Bain, on 21 December 1931. The Bains were upper crust, part of Bristol's tobacco elite.

As usher, Knight watched Marjorie pause at the back of the church while Percy Heming sang 'Jerusalem', then, as the choir joined in, begin to move down the aisle. Knight was a sensitive chap with a passion for nature, especially bird-watching. He would be aboard HMS Prince of Wales in pursuit of the Bismarck and be blinded by a blast. Partial sight would return to one eye and he continued his career for some decades afterward. Dennis and his bride spent their four day honeymoon motoring but soon he had to return to action. He stayed until the show went on tour in 1932. He did manage to record his main tune, 'Love and War'.

In September for The Three Choirs Festival, he sang in Elgar's Dream of Gerontius in Gloucester Cathedral. Normally this would be an experience hard to cap but cap it he did in Leeds on 8 October with the world première of William Walton's Belshazzar's Feast. How could he sing this exacting music with such ease? With cathedral and abbey training, that's how. He would record it twice and still be singing it shortly before he died. Walton made him famous.

There was great glee on 20 May 1932 when Delius's A Village Romeo and Juliet was broadcast for the first time, with Beecham at the helm, Dora Labbette as Vreli and Dennis as the Black Fiddler. Later, he was shocked to learn that his benefactor, Percy Pitt, had died suddenly on 23 November. He attended the memorial in All Souls' Church to intone Sullivan's 'Thou art passing hence, my brother' in tribute to this man who had truly been a brother to all musicians.

In December, Dennis appeared in The One Girl when the musical opened at the suburban Streatham Theatre, but when it moved to The London Hippodrome on 24 February 1933, both he and Robert Hale were ill and could not go.

Fully recovered, he returned to Queen's Hall on 5 March 1933 for more magic by Delius. With Beecham conducting, he and mezzo-soprano Olga Haley sang the première of Songs of Sunset. This went down so well they repeated on 14 December and again on 1 March 1934 during a Festival in Manchester, when Dennis added the Appalachia solo. Two weeks later, he went to Edinburgh to sing Elijah with Janette Sclanders, Catherine Mentiplay and Charles Brown.

Meanwhile, Waltzes from Vienna was crossing the Atlantic to undergo a sumptuous and costly renewal, courtesy of Moss Hart, and picking up a new name in the process, The Great Waltz. It opened in New York at the huge Center Theatre in Rockefeller Center on 22 September 1924 with Dennis and Marie Burke and a cast of 200. As expected, it became a smash hit, prompting the famous MGM film with Milizia Korjus. After 298 performances in New York, it went on tour of the US.

In the midst of this furore, Dennis's agent managed to secure him a role in Philadelphia. And so, on 15 March 1935 at the Academy of Music, he sang Figaro in Le Nozze di Figaro, in English, with Maria Kurenko (Countess), Julius Huehn (Almaviva) and Josephine Antoine (Susanna) with Fritz Reiner conducting the Philadelphia Orchestra. Now in his vocal prime, it is conceivable he sang at other US venues and in Europe. There are reports he appeared in opera in Paris, Brussels and Rome.

Upon his return to the Garden, however, in November 1936, he found another Sharpless in Butterfly and a part in Albert Coates; new opera Pickwick. He chose the meaty role of Sam Weller. But ten days prior to the premiere, BBC moguls chose to present 33 minutes of Pickwick as their first 'opera' on television, giving Dennis a moment in history. Pickwick (William Parsons) is imprisoned for breach of promise but Sam engineers his release, amidst Pickwickian partying and jiggery-pokery aplenty, fueled by forty-three bodies on stage. Then, faced with Pagliacci, he groaned, "Not Silvio again!" but no, after thirteen years he sang Tonio!

That winter his Lescaut in Manon Lescaut at the Garden was deemed "most successful in standing up vocally to the orchestra". And for this man who could sing anything and everything, Ottorino Respighi's Maria Egiziaca should have been no obstacle, even two roles, during its British première at the Hyde Park Hotel on 18 April 1937.

The following Spring was dominated by the American baritone Lawrence Tibbett. Dennis shared Amonasro with him and Cesare Formichi during a series of Aidas, while in Tosca, his Angelotti was properly in awe of Tibbett's Scarpia. Noble next sang in French as Prince Igor in four performances of Borodin's opera with a cast primarily of imported singers.

Tibbett's raison d'être was to liven up the new opera by Goossens, Don Juan de Manara, at its world première on 24 June and subsequently. Dennis, fresh from his final Igor the previous night, now became Don José, unlucky brother of the evil Juan, portrayed by Tibbett. He was a lascivious son, hell-bent on preventing his father from leaving his wealth to José, his illegitimate son. After murdering a gentle priest Dom Mortès (Norman Allin) and wading through a succession of loves leaving a trail of corpses, Juan drives Don José to suicide. In the finale, ghosts of his victims descend for Juan but Marta (Stella Andreva) expresses her true love and promises to save him if he relents. He does and dons a friar's cloak. Tibbett did well, the spooky music being apt and effective but its spoken dialogue, excess gore and weak ending sank it in the end.

So, what did Dennis think of all this? Tibbett had been imported after attaining stellar status in a single stroke as Ford in a Met Falstaff, throwing fellow Americans into a paroxysm of delight. Nothing like that ever happened to Dennis in six years of singing at the Garden but of course he performed in quite a different social milieu.

After Respighi and Goossens, why not Sibelius? At the Leeds Festival on 5 October, 1937, he tackled Tulen Synty or, in English, The Origin of Fire, a colorful musical sketch for baritone, male voices and orchestra, which Sibelius based on Finnish folk tales. Malcolm Sargent conducted as he did the next day for Rossini's Petite Messe Solennelle with Noble, Ina Souez, Nash and Astra Desmond. All four "interpreted their gracefully expressive parts with suavity of manner."

Unfortunately, thongs had not worked out with the second Marjorie so their marriage was dissolved. This opened the way for Miriam Ferris, a well known BBC actress, to enter his life. She recently had been prominent in a Cinderella pantomime. They married in 1937 and settled in a charming 18th century cottage in Buckinghamshire, where Dennis could indulge in his avowed favourite pastime, farming, when he was able.

On stage, if not a farmer, he was a pretty fair barber. "Percy Heming's Bartolo fairly played the Count of Ben Williams almost off the stage, but "he cannot quite run away with the opera because there is Mr. Dennis Noble's lively Figaro to dispute it with him, a Figaro who can sing as well as act."

With his perfect enunciation, Dennis was infinitely suited to radio and television "To list them all," Neil Somerville of BBC archives wrote, "would be a mammoth undertaking." So, a few operas on radio/TV and the Proms must suffice to show his amazing scope. Unquestionably he was the most active British opera broadcaster of his time. Not that all went smoothly each and every time. Prior to Arlecchino, he caused last minute consternation by announcing he had lost his voice at the dress rehearsal and couldn't sing the performance. All night, the cast laboured feverishly to prepare a substitute, only to have a beaming Dennis breeze in the next morning exclaiming, "Amazing how it all cleared up!"

During the 1938 autumn season in English, Dennis appeared in Gounod's Faust, his Valentine "robust and impulsive...he has of late years acquired a more legato style which enables him to throw off his phrases in a big way, but he is inclined to sing too consistently at the top of his voice."

There followed on 20 October yet another première, The Serf by Cornish composer George Lloyd. Dennis's main contribution came in Act 1 as Sweyne, when he launched "the Freebooter's song with much verve." Sigrid was sung by Ruth Naylor, Cerdie by Henry Wendon, De Fulke by Oscar Natzke, Githa by Edith Furmedge and the Priest by Richard Watson. Albert Coates conducted. On tour, Dennis sang this opera and his roles in Fledermaus, Pagliacci and Rigoletto.

During his second visit to Hull, his famous, fiery Belshazzar's Feast highlighted a "Demons and Darkness" concert on 9 March 1939, earning him "an inspiring soloist" verdict. After Borodin's stirring Polovtsian Dances, he introduced "a pool of quiet" with Handel's "Silent Worship" before the evening descended again. Six nights on he was in Queen's Hall for the British première of Hindemith's Mathis der Maler. In the Sunday Times, Ernest Newman penned reams about the opera, complained at length about it being sung in largely unintelligible English, and of the singers said, "only Dennis Noble had a genuinely dramatic style." It was broadcast so, listeners could form their own opinions.

In concerts, he always gave top value. At Preston on 23 March 1939, he "almost literally took the house by storm. He has the range of interpretative and versatile gifts of the perfectly-equipped baritone, with a verve that is all-too-rare on the concert platform. Three things stood out…the beauty of Liszt's Lorelei, the tour-de-force achieved in the Figaro aria, with cadenzas that are seldom heard, and the sheer drive of Lucifer's aria from Handel's Italian opera The Resurrection, rarely heard in this country." Sir Henry Wood had loaned Dennis both music and its English words.

With the war having closed Covent Garden, Dennis realized he could best help by singing to raise troop morale. He did so for British forces in France in November, 1939 with Sir Seymour Hicks and Gracie Fields. Afterwards he raced home to Bristol for a 'Pig and Whistle' broadcast but got only as far as the east coast of Britain. He managed to send a bit of cheer by rendering 'The Yeomen of England' by telephone!

For the home front, he bounced into the cast of Chu-Chin-Chow as Nur Al-Huda Ali, Ali Baba's son when it opened at the Streatham Theatre in June 1940. On 3 July, the show moved over to the Palace Theatre where Dennis continued his hefty share of 87 performances. At show's end, he joined the Home Guard, but first things first; he had an obligation in Edinburgh. In St. Giles Cathedral on 29 November he sang Elijah with Cathie Mawer, Isobel Kerr, John Tainsh and the Choral Union with Greenhouse Allt conducting.

With ENSA, he joined Miriam Licette, Nancy Evans, Walter Widdop, Ivor Newton and violinist Alfred Cave to be whisked in the dead of night in true cloak and dagger style, via Liverpool, to the Persian Gulf for a three months' stay. Nancy Evans recalled: "I first sang with him when were engaged by the BBC for 'Studio Opera' with Stanford Robinson - Tales of Hoffmann, Strauss operettas and some Ivor Novello broadcasts. Dennis's voice was a beautiful, rich, high baritone, his singing of the `Mirror Song' unforgettable in true colour, line and sensitive mezza voice." Happily that sublime vocal effect enhances many of his discs.

His ENSA work over, he was able early in 1943 to revert to opera with the Royal Carl Rosa Company at the Winter Garden in Bournemouth, as Germont in La Traviata with Joan Hammond. He cut a "fine figure of the stern parent (who) excelled in that song (of) innocent joys of family life in Provence." During this run, he brought full value to Figaro in The Barber of Seville with Joan Collier, Heddle Nash and Norman Allin.

With lighter music still in vogue, he set out upon a wondrous odyssey. In late April 1943, he was at the Winter Garden as 'Francois Villon' in Friml's Vagabond King. In July, he moved to the Piccadilly to join Evelyn Laye in Sunny River, an Oscar Hammerstein II and Sigmund Romberg creation that unexpectedly flopped. In May 1944 at the Cambridge Theatre, he portrayed Caramello in Johann Strauss's A Night in Venice, where "Noble, a Figaro turned gondolier, puts immense verve into his comedy (and just a shade too much into his singing.)"

With the war winding down, Noble left the Home Guard on 31st December 1944, proudly clutching a certificate acclaiming his contribution. He rejoined the Royal Carl Rosa for two weeks at the New Theatre in Hull, but kept attuned to events on the war front. It was an emotional time as he participated from 8th to 12th April 1945 in recording Elgar's monumental Dream of Gerontius with Gladys Ripley, Heddle Nash, Norman Walker, the Liverpool Philharmonic Orchestra and the Huddersfield Choral Society conducted by Sir Malcolm Sargent. His singing of the priest's music moved Michael Kennedy to declare, "Noble's Proficiscere has a clarion quality too often missing." Walter Essex, however, begged to differ (See Elgar Editions: The Best of Me p. 292/3) citing a "dry tone, "a laboured treatment" and other ills. Most Elgarians are happy the recording was made.

To coincide with a return to peacetime, Edward German's Merrie England opened at Prince's Theatre on 6th September in a re-working by Edward Knoblock. During its year-long run, Dennis was commended for 'singing resonantly as Essex" with Nash as Raleigh and Linda Gray as Queen Elizabeth. Critics cared little for the altered tale but the vivid score won out producing 367 performances until closure on 20th September 1946. He took time out to participate on 17th March 1946 in a Victory Concert in Berlin. Back in England, in addition his work in Merrie England, he sang in two other musicals, The Song of Norway, considered ideal for his talent, and 1066 and All That, which opened on 7th May 1946 with Michael Redgrave, Ivor Novello and Googie Withers.
With normalcy returning, he went to the Garden in January, 1947 as one of three Escamillos in a run of Carmen. Then, he was much praised for his Lescaut in Massenet's Manon with Nash and Virginia McWatters. At year's end he found a measure of Christmas spirit, delivering modern carols at the Royal Albert Hall for the Royal Choral Society.

In December 1949, thanks to the BBC, he sang in a pair of Verdian gems, Falstaff and Simon Boccanegra. After hearing him as the portly knight, Miriam Licette wrote, "You were in fine voice and your diction (I heard every word) and interpretation excellent. I hope you will soon do it at C.G. and Sadlers Wells. shall certainly come and see you." He received no such opportunity.

When he sang in Coleridge-Taylor's Hiawatha in Birmingham on 21 January, 1950 with Ena Mitchell and Ronald Weston, the Post was complimentary. "Dennis Noble was admirably direct, firm and dignified." Then in Nottingham on 18 March, he was appreciated for his villainy in Tales of Hoffmann.

Early in May, as Count Gil in Wolf-Ferrari's Susanna's Secret, when it was given by the London Opera Club at Fortune Theatre, he couldn't quite relate to the plot. "A mute butler reduces the number of singing parts to two, and on this occasion Miss Lorely Dyer was an attractively arch wife and Mr. Dennis Noble a plausibly jealous husband, though his actual discovery of his wife `in flagrante delicto' with her cigarette was dramatically unconvincing."

In 1951, he sang at a St. Cecilia Concert notable for the presence of HM the Queen, but a month later he learned he had bowel cancer. But, after two serious internal operations within five days, he emerged smiling and eager for action.

For a multi-faceted concert in Birmingham on 1 April 1952 that included Spem in Alium by Tallis, Thalben-Ball's Sursum Corda, Dennis sang Belshazzar's Feast and Five Mystical Songs by Vaughan Williams, in "a concert of extraordinary richness ...that suggested the complicated and rhythmically exciting thing could easily be done before breakfast. Altogether a superb assault on the ear." In June 1953, he had the distinct honour of singng Walton's work as part of the celebration of Queen Elisabeth II's Coronation.

A Rigoletto in Dubin in October, 1949 seems to have opened doors. He made the tragedy of the role very appealing, building up affection, dread, and a thirst for revenge into a fine study of character." After that he could not err in Dublin or in Cork. In Carmen, "his entrance lifted the whole performance to a higher plane. He embellished the tawdry Toreador song with artistic restraint and sincerity, and was an admirable Escamillo." As Rossini's Figaro, there was "an easy unforced delivery and the acting showed the right measure of mischievousness", and from a second viewpoint, "his portrayal of the tragic jester is, in my opinion, the best on the British operatic stage." "Late in October, 1950, in Verdi's Simon Boccanegra: "He brought out the innate nobility of the plebian Boccanegra, and his dominating personality brought a fine dignity to the part." And in Cork, Dennis sang in Maritana by Irish composer Wallace at the Coliseum Theatre with Heddle Nash and an Irish cast. He did Messiahs and, at a special concert on 15 October, 1954 at City Hall with Ena Callanan, they sang 'The Death of Minnehaha' from Hiawatha, while Dennis added an aria from Borodin's Prince Igor and several songs.

Curiously, late in 1953, he encountered Aladdin, again, the musical that had started it all. As The Emperor now, he is attended by Douglas Rust, a Mandarin. Rust still serves, supplying this fascinating glimpse: "We sang together at the Connaught Theatre in Worthing… I knew he'd sung on radio and pre-war at Covent Garden, so as a youngster, I was at first somewhat awe-struck. During the runthrough, I found him conversational and inspiring; his greatest ability was his diction something he pressed home to me very much and something I have never forgotten to this day when I am singing. I thought at the time he was a lonely man; obviously he'd seen better and grander days and his voice was not the voice I remembered as a child, but I was aware nevertheless I was working with a great singer. One night, we were standing in the wings when he started an argument over a trivial point and missed his cue, coming in two or three bars after the music had begun. He'd lost his words but as a true pro, he garbled any old wording until he found his place a minute or so later. After exiting he accused me of starting the argument and causing him to miss his cue...but within a couple of evenings, I was very much aware he considered me his friend and was always seeking a chance to talk. I certainly had a great respect and admiration for him. Once he came almost in tears to say his great friend, Chester Wilmot, the ace 2nd War reporter, had been killed that day in a Comet air crash at Elba. When the show closed, he was quite concerned that I had work to go to or even a home; fortunately I had both." Dennis, in his Emperor regalia, also found time to bring cheer to sick children in a local hospital.

In 1954, after singing a splendid Elijah with the Alexandra Choir at the Royal Albert Hall, he entered academia as professor of singing at Guildhall School of Music and Drama in London. Here he would remain until 1959.

However, his days as a singer continued: He sang in Chester with that city's choir with Ronald Hugh Smith at the piano. To the late Wayne Turner, his "outstanding features were a compelling presence, a forceful and ingratiating personality allied to an authoritative artistry and a high baritone of `forward' tonal brilliance, superb resonance and unusual `bright' resonance; it was not a huge voice but it was one which carried easily, with a cutting edge. He emerged on the concert platform as something of a character."

Smith's memories concurred: "I actually played for him twice, a privilege that will always remain with me; both events in Chester - Upton Village Hall in 1955 and the Town Hall in 1957 - his repertoire on both occasions was comprehensive - opera, oratorio, songs (including Russian), ballads - and performed with all the skill of a seasoned artist. His voice was still firm, clear, wide ranging and distinctive, and (with) exemplary diction. His presentation was a model. He was more than generous in his offerings. He actually placed his bag of music on top of the piano and picked out extra items, ad lib, asking the ecstatic audience (capacity on both occasions) what they would like. He was a very endearing character, full of the devil!"

Following the earlier success of Manon, Covent Garden staged a revival in 1955 with Vivian Leigh, John Lanigan, Jess Walters and Dennis as Lescaut, alternating with Geraint Evans. In September, he undertook a series of Rigolettos at Sadlers Wells and on 2 November in Leeds gave hearty lunchtime entertainment with arias from Andrea Chénier and Forza del Destino, Tschaikovsky's "None But Weary Heart" and Schumann's complete "Dichterliebe, op. 48.

" I don't like knocking fellow performers," the late Norman Lumsden wrote, "but I found Dennis very egotistical. He sang at the microphone with his thumbs in his braces and an air of "I am the great I am." He spoke a lot about his farm as if he were a gentleman farmer and during one of his broadcasts, one of the other singers said confidentially, "Don't fall for it, he's probably got a goat and a few chickens. There must have been a great rivalry and a lot of jealousy between Dennis and Heddle Nash. They were both at the top and worked together a lot. I shared a dressing room with Heddle over a fair period and all he could talk of was that blankety-blank Dennis Noble. It was quite sad that a man of such talent who had done so much in a wonderful career could feel such bitterness. It amounted to a persecution complex. Every night he would go over the stories of Noble. I mostly let it go over my head." Lumsden was obviously taken in by the tomfoolery; these were simply two old friends having fun.

Dennis paid tribute upon Heddle's death in 1961, thanking him for special moments in Stainer's Crucifixion in All Souls Langham Place, for the national hook-up on Good Friday some years ago and The Dream of Gerontius in Canterbury Cathedral. For these experiences I will always be grateful."

Dennis had one more fling at comedy, at the Palace Theatre in a Trevallion. An unfortunate, cliché-ridden debacle, it opened on 21 March 1956 and closed five performances later, leaving Dennis forlorn as Farmer Haycorn and Janet Hamilton-Smith reflecting on her effective burlesque of a pierrot song.

Roy Henderson was approaching his 100th birthday when I chose to bother him for memories of Noble. "Baritones and basses," he replied, "generally were the best of friends, Harold Williams, Keith Falkner, Norman Allin, Robert Easton and myself often got together at Lord's and the golf course, but Dennis wasn't one of our members. We hardly met as he was mostly in opera. All I can say is that he had a fine high baritone, metallic quality voice." Cricket was Dennis's game, and in the forties he did appear at Lords and elsewhere with the Cross Arrows team and the Buccaneers.

He was ever the bon vivant and popular pub patron: his brash behavior sometimes alienated more down-to-earth types. Was this aggressive veneer the result of those years in the operatic 'trenches'? HE, at least, knew his worth! Could it have been a 'public personna' hiding his true nature? It is an intriguing idea. English composers, whom he had always well served - Haydn Wood, Eric Coates and Vaughan Williams - wrote with no sign of anything but solid friendship.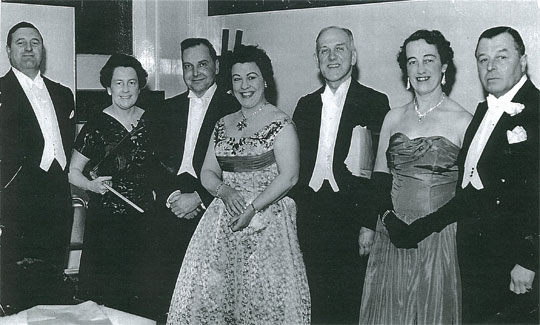 In 1957, he lost his beloved Miriam. Amongst the condolences were invitations, so on 25 March 1958, he visited Kingston-upon-Hull, where his Amonasro stood out in a concert Aida (see cast photo above, l. to r. Walter Midgeley, Marjorie Matthews, Robert Marchant, Victoria Elliott, Harold Christian, Gladys Delionne, Dennis Noble). After he left Guidhall, his years in Dublin led to a post at the Royal Irish Academy of Music. There he met a kindred spirit in Sylvia McCormack and on 25 July 1960 they were married.

In his later years, Noble flourished as a raconteur, delighting business and charitable groups on his theme of "Music-my life". To conclude, he would tell of a Yorkshire audience that would not let him go. "I'll miss the last train" he pleaded. "Give us an encore, lad" said a little man at the back, "It'll be all right. A'am the engine-driver."

Had he felt so inclined, Dennis, I feel certain, could have written a delightful book about his life. Perhaps he had something like that in mind, for he kept reviews and programmers. This material, passed by Sylvia to the Irish Theatre Archive in Dublin, has helped to enrich these pages,

Dennis died in Javea, a town 40 miles north of Alicante in south-east Spain. News of his passing on 14 March 1966 left legions of his fans in shock.

In one of her last acts, mezzo Constance Shacklock acknowledged the greatness of her colleague: "Dennis Noble was one of my Toreadors at Covent Garden when I played Carmen... the ideal Toreador to me - vocally and histrionically perfect - the audiences loved him."

Today, anyone listening to his voice, most conveniently via the splendid CDs by Greenhorn and Cheyne, should love him too; they may even be moved to exclaim, "This was the sound of England!

Acknowledgements: This account would never have been possible without the assistance of many friends in England. Key man was Alan Robinson of Bristol who researched most of the detail in Noble's career. Besides those mentioned in the text, I was assisted by Dennis Foreman, Denham Ford, Frederick Hodgkins, Larry Lustig, Don Hickling.