Dora Labbette (soprano aka Lisa Perli)
by Charles A. Hooey
Surely the strangest event to occur at the Royal Opera Covent Garden between the wars was the time when a mysterious, veiled stranger showed up to audition for the rôle of Mimi in an upcoming series of La Bohème performances.

It was no contest. Clearly the newcomer had the goods and was signed on the spot. Still heavily veiled, she came to a rehearsal, only to have a chorister blurt out, "Blimey! It's Dora!" The conductor, Sir Thomas Beecham whirled about and snapped, "Signorina Perli, if you don't mind!" But the secret was out. Dora Labbette's operatic career was underway in an unusual and auspicious manner.

For years she had been a beloved oratorio and concert artist, but she fretted over the inactivity and yearned for something more. Opera was the obvious alternative but a career in opera was almost impossible in England at the time. The public had long held a deep prejudice against their own singers, preferring instead foreigners with exotic names and lofty reputations.

In the beginning …
At this point, we should backtrack. In 1983, tenor Ian Partridge, shortly before Dora's death, interviewed her for a radio broadcast. She explained her earliest times..."I did not come from a musical or a wealthy family. No, (I had) no education at all... (We were) very poor people. I was born in Purley, and then my father went to Hastings for his health."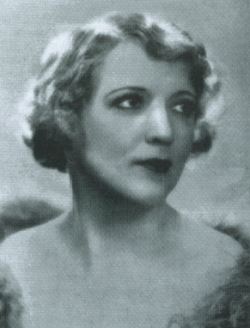 Dora was born on 4th March, 1898, the daughter of John William Labbett, a railway porter and Nellie Labbett (nèe Berry). "Dorothy Bella Labbett" actually arrived at their residence in Woodside, a community to the north of Croydon, a town on the southern outskirts of London. Purley, an area to the south of Croydon, about five miles away, would later support the story of her name change. By 1901, the Labbetts were in Hastings, the small town on the south coast of England made famous in history for the battle of the same name.

(How did you come to music?) "I really don't know except...I was cleaning a window when Florence Aylward walked down the street and said, `Oh, do come to my flat and sing to me sometime.' I said, `Yes, with pleasure.' Madame Aylward was a well-known composer of songs, her most famous being, "Beloved, T'is Morn." At seven, Dora received piano lessons from Dr. Herman Brearly, the esteemed gentleman who would become Hallé chorus master and at ten she was heard in public in Hastings, singing "The Guardian Angel" by Liza Lehmann.

(How did she know you sang?) "I was a member of the Oriana Choir and someone said `Oh! That girl can sing!' and that was it. So, I walked all the way from Hastings to St. Leonard's to sing for her, and she said, `Oh! you've got a beautiful voice! Would you come and sing at my Cafe Chantant?' I said, `Yes.' I had to go and sing at the Café as a little kid. And, Oh, I was a great success ...really and so she said, `You'd better have some training. I must take you to Liza Lehmann.' So Liza taught me all this business, you know...Clever. Make you stand, and walk properly...and then, I went to Guildhall. She was so good at it, `cause she never tried to change my voice, never made me sing higher than I could. She was very, very good, she really was...and such a nice person. Charming. I used to go and stay with her sometimes in London. Very, very kind to me." Dora had tried for and gained a scholarship to attend Guildhall, where she became one of their most famous students. Named gold medallist in 1916, she was recipient in 1917 of the Landon Ronald prize...as "likely to become the best artist of all the students that year." A review by an unnamed critic in The Times describes a concert in which she participated on 3 July 1917:

A vocal and instrumental concert by the students of the Guildhall School of Music was given at Queen's Hall yesterday. Queen Alexandra and Princess Victoria occupied the Royal Box, and remained till the close of the performance. The hall was very nearly full, and the music reached a consistently high standard. Miss Labbette sang "Solveig' with quiet sincerity, and pleased every one with her 'Cherry Ripe.

As the result of a lasting friendship formed with William Boosey at Tillets, famed artists representatives, she began to sing at Ballad Concerts, Promenade and Sunday evening concerts, now billed as "Dora Labbette," the "e" being tacked on presumably to give the name an elitist French flair.

"I got a contract (worth) £500 a year which was a lot of money in those days... for singing one of their songs on my programme everywhere I went. It was pretty hot stuff, wasn't it? ... £500 a year." (Were you doing many ballad concerts at that time?) "Yes, I kept on doing it, as it suited me. Ha! Ha! So, I sang the songs I liked, not always the ones they wanted me to sing."

She was quickly in demand, for, as an English soprano, she found that oratorio and ballad concerts put bread on the table. Often concerts were sizeable affairs, and surely none was grander than when she sang at the London Palladium on 11th February 1917 for the Sunday League in a vastly varied programme with Caroline Hatchard, Helen Blain, Ruby Heyl, Herbert Cave, George Baker, Norman Allin and the Royal Artillery String Band conducted by E. C. Stretton.

Things were happening off stage too. She had met a charming fellow, a dashing Captain in the Royal Engineers, David Rogerson Strang, and on 15th April 1918, seven months before the Armistice, they were married in the Parish Church of St. Mark Hamilton Terrace in London. She was twenty, the soldier thirty. His father was William Strang, a famous artist of the previous century, and the son inherited a good deal of Papa's artistic talent and temperament.

Afterwards, they lived at 70 Carlton Hill, St. John's Wood, a smart London suburb, where on 18th April 1919, their daughter Joan was born. Strang wanted Dora to give up her singing career, but she resisted, and nineteen months later, she walked out of marital life, pulling a handcart heaped high with her belongings. Dora and infant Joan took lodging at 3, Pembridge Place, Notting Hill, another desirable suburb. Carrying on, she wrote to Edward German on 29th January 1921, "I think the two songs you have chosen for me to sing at Bournemouth on April 19 will do beautifully. I am looking forward to the concert with much pleasure."

With that most sterling of English tenors, Hubert Eisdell, Dora also began a series of wonderful duet recordings in 1922 for Columbia. With Muriel Brunskill and Harold Williams in September 1928, they recorded Liza Lehmann's 1896 cantata, In a Persian Garden. Liza had died in 1919 but her husband, Herbert Bedford, oversaw the recording. Later, Dora's son recalled that his "mother and Eisdell much enjoyed their many musical partnerships. His wife, Kitty, worked often with my mother accompanying her, and it was Kitty who first introduced me to the piano. Some years later she returned to Australia and we lost contact."

Consummate oratorio and concert artist, including the Proms
With her sublime, boy soprano-like purity of voice, allied to womanly passion, she became a regular on Henry Wood's ever popular promenade concerts (see Proms appearances listing), singing there on many occasions. At Queen's Hall and later at the Royal Albert Hall, she made a number of appearances, beginning on Thursday, 30 August 1917 in which she sang Louis Spohr's 'Rose, softly blooming' from Zémire und Azor with Henry Wood conducting the Queen's Hall orchestra and Liza Lehmann's ' Fly away, pretty moth' accompanied by pianist Frederick Kiddle, with whom she began a long association as an accompanist It must have been valuable experience for a singer at the outset of her career. A complete listing of her Proms appearances can be found later in a companion piece to this article.

In addition to quality presentations at the Proms, she was frequently heard in concerts throughout the British Isles. On 9th November, 1923, she sang in a concert with the Hull Philharmonic and another in Liverpool early in 1924. She always took her art very seriously. Once when singing on the Palace Pier, St. Leonard's, two young men walked noisily across the hall. Dora ceased singing, and said: "Ladies and gentlemen, you must keep still. I cannot have you walking about whilst I am singing. Please shut the door and stop rattling the money." There was momentarily a dead silence, then applause. At the end of her song, she received a thunderous ovation.

Late in 1925, she returned to Hull twice, at a recital on 21 November at Queen's Hall and then on 17th December for a Messiah with Edith Furmedge, John Booth, Joseph Farrington and the Vocal Society.

Her marriage in a shambles, Dora considered herself fancy-free. Enter Beecham ..."He sent for me to do a recording of Messiah. He'd been to a gramophone place in Savoy Hill and saw my picture on the wall and said, `Who is that? I'd like to see her'... (and at this point, wistfully) Oh yes! ... I loved him...no question about that."

That year at the Leeds Festival on 6 October, 1928, she sang in A Pastoral Symphony by Vaughan Williams. At the final rehearsal, after she had brought the work to its peaceful conclusion, Beecham showed his dislike for the work by continuing to beat time. "Why aren't you playing?" he asked. Willie Reed, the orchestra leader, piped up, "Because it's finished." "Thank God" said Beecham.

For the holiday season that year, he gave a stupendous performance of Messiah at Queen's Hall on 15th December with the London Symphony Orchestra and Philharmonic Choir, quite surprising everyone with his beauteous soprano, Dora Labbette, who sang with John Coates, Margaret Balfour and Harold Williams, and the way he made the musty old work sound so fresh and gloriously up-to-date.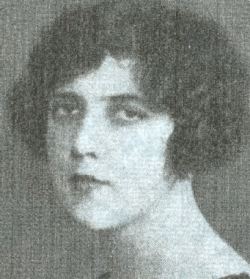 There were more Messiahs, including one in Manchester with Muriel Brunskill, Walter Glynne and Norman Allin, Harty conducting. On 2nd May 1927, she linked up with Beecham at Captain H. G. Amers's 6th Annual Complimentary Concert, singing "Ruhe sanft" from Mozart's Zaide and a pair of unidentified encores, one by Handel. From June through October, Beecham managed to complete his recording of Messiah for Columbia with Dora, Eisdell, Brunskill and Williams giving their all for this maestro as he went about removing centuries of obfuscation.

In January 1928 Beecham departed for America, leaving Dora busy on the concert stage, including an appearance with the Vocal Society in Hull on 7th March. When he returned to stage a very special event on 22nd March, Dora eagerly rushed back to London to share in the excitement. Absent since 1919 from association with the Royal Philharmonic Society, Beecham was back to conduct Handel's Solomon in his own re-orchestrated and revivified version. Curious music-lovers flocked into Queen's Hall on 22nd March as Dora, Lilian Stiles-Allen, Clara Serena and Harold Williams took their places to partake as he peeled off layers of Victorian muck to return another amazing work to its original beauty. King George V and Queen Mary were amongst those enthralled. To show their high regard, the RPS awarded Beecham their Gold Medal, the highest award in British music. On 15th April, he and his singers reprised at the Royal Albert Hall.

Handel's music figured in Beecham's concert on 20th September in Harrowgate as Dora sang two arias from Solomon and "The song of Iole" from Hercules. After the applause died away, she added "Non mir dir" from Don Giovanni. Moving on to Leeds on 4th October, she sang Debussy's La Demoiselle Élue in French with Lottie Beaumont, a fugitive from the ladies' choir. Then with Harold Williams, she sang Brahms' A German Requiem with Beecham conducting as he did for the Debussy. Two nights later she soloed in Vaughan Williams' "A Pastoral Symphony."

On 1st December she travelled to the Winter Gardens in Bournemouth to sing Mozart - "Non so piu" from Figaro and Handel - two arias from Hercules, the latter presaging a complete performance five days later in Queen's Hall. Hercules was a rarely heard secular oratorio and Beecham's latest revival. With fewer choral attractions, it was keenly admired for its action, numerous recitatives and arias that Dora tackled with gusto as Iole with Stiles-Allen (Dejanira), Brunskill (Lidas), Tudor Davies (Hylus) and Horace Stevens (Hercules/Priest). Some numbers were omitted as Beecham had injured his right hand and could not finish editing the score in time.

The Christmas season meant at least three Messiahs for Dora, each time with Beecham. On 16th December she sang in Royal Albert Hall with Hubert Eisdell, Muriel Brunskill, Harold Williams, the Philharmonic Choir and the Royal Philharmonic Orchestra. Two nights later, they repeated in Blackburn with the Municipal Choir and the Liverpool Orchestra. Then, back in London on 23rd December at the Golders Green Hippodrome, Margaret Balfour replaced Brunskill and with the Royal Philharmonic again but with the London Choral Society. How uplifting it must have been for audience members at one of these musical events!

On 17th December 1928, Dora's marriage to Strang was finally annulled, after lasting a little over ten years. With Joan entrusted to her mother's keeping, nannies would have been kept hopping.

Indeed, her profession made its demands. She sang Delius's "Songs with Orchestra" on 8th February 1929 in Kingsway Hall with Beecham leading the Wireless Symphony Orchestra. The same programme was to have been given in Cheltenham, but Beecham contracted influenza, so it was cancelled. He was still under the weather on 16th March so Arthur Sims conducted Bach's B Minor Mass in Bristol with Dora, Margaret Balfour, Steuart Wilson and Robert Easton. Also falling by the wayside was an Imperial League of Opera concert in Plymouth on 18th March. By 29th April, however, Beecham had recovered so they took part in Captain Amers's 8th Annual Concert at the Winter Gardens in Eastbourne where Dora sang three songs by Delius and two arias from Mozart's Marriage of Figaro.

That summer on 24th June and 10th July, Dora recorded five of Delius's songs with Beecham at the piano. Then, in mid-September they were in the Theatre Royal, Dublin, for a pair of concerts, sponsored by The League of Opera. On the 14th she sang The Cradle Song by Delius, "Voi che sapete" from Figaro and Grieg's Nightingale. The next evening, she returned with "Deh vieni" from Figaro as well as songs and ballads, those titles now unknown.

By now, Dora was highly regarded as a concert artist, and a perfectionist with a particular bête-noir. She wrote (in Musical Masterpieces of 1926) "Often enough I have arrived at a concert to find the accompanist engaged totally unable to play the music of pieces I have selected, and they have had to be altered on the spot in favour of something simpler."

This criticism was not directed towards Beecham or certain others such as Gerald Moore. In his book, "Am I Too Loud?" Moore bemoaned the cool draughts that plagued many halls..."It is a mystery to me how ladies can endure it...however, Dora was up to any emergency. I played for her in a perishingly cold hall where she sang like an angel and was a vision of loveliness. As I cowered over the fire in the artists' room, I asked her how she managed to keep warm in her diaphanous gown. For answer, she raised her skirt and revealed a pair of corduroy trousers pinned up well above her satin slippers."

The Delius experience
Now, as a special salute to his ageing friend, Frederick Delius, Beecham organized a festival of his music, an honor never before accorded to a British composer. As a Herculean supporter of his music, Dora was primed to take part.

(You met Delius?) "Beecham used to take me lots of times to sing for Delius at Grez-sur-Loing, a commune in the Seine-et-Marne département in north-central France. Oh! It was a beautiful spot with a river running down at the bottom of the garden. It's the `Summer night on the River.' (Did Delius comment?)...Oh, no! He used to sit there and revel in them... He couldn't see, you see."

To finalize festival plans, Beecham arrived at Grez in the first week of September 1929, clutching an armful of scores. Perched on a stool near Delius, he expounded on his musical choices. Then, as the dinner hour neared, he announced that he had brought an English nightingale to sing a few songs and on cue a taxi pulled up and out stepped Dora, a vision of enchanted loveliness in pink. To honour her guests, Jelka, Delius's wife, picked two roses from a nearby bush and pinned one on each visitor. Then it was party time.

The festival, which began on 12 October 1929, consisted of six concerts spread over three weeks, four in Queen's Hall and two in the more intimate Aeolian Hall. At the latter venue, Dora and Nash appeared on 23rd October, her scintillating offering being two song groupings: 1) "The Nightingale," "Autumn," "La Lune Blanche" and "Klein Venevil" and 2) "Twilight Fancies", "Am schönsten Sommerabend war's", "Margaret's Lullaby" and "Spring, the sweet Spring," all accompanied by Evlyn Howard-Jones at the piano.

A Mass of Life concluded festivities on 1 November, after which Beecham called for a round of applause for the composer. Although very frail and not expected to come, he could not resist attending such a key event. He expressed his gratitude to Beecham for the inspired presentation of his music.

Afterwards, in Liverpool on 3rd December, Dora tackled Debussy's "La Demoiselle Élue" with Eleanor Toye, and added songs by Delius: "The Nightingale," "Evening Voices," "Sweet Venevil," "Lullaby (Cradle song)" and "Spring, the sweet Spring" with Beecham tickling the ivories. Closer to Christmas on the 19th, she helped with a Messiah at the Leeds Town Hall with Frank Titterton, Dorothy D'Orsay, Robert Easton, the Choral Union and the Symphony Orchestra.

Now, since Dora was divorced from Strang, Beecham began proposing marriage, offering to part officially from his wife Utica in America. Dora thought this might not be regarded as legal in Britain, and urged him to seek a divorce in London, although she acknowledged this would be difficult to accomplish as Utica would very likely oppose it. It was a stalemate.

Back in action at Queen's Hall in London on 28th February 1930, Dora helped Beecham repeat Handel's Solomon. She was cast as Solomon's queen, facing Keith Falkner with Stiles-Allen as the Queen of Sheba and Tudor Davies as Zadok. How many heard the national broadcast? Then on 1st April, she joined Beecham for a concert with the National Orchestra of Wales in Central Hall, Newport. She led off with Grieg's "The Nightingale," then Leila's aria from Bizet's Pearlfishers, "Deh vieni" from Figaro and "The Cradle Song" by Delius. For the 8th Eastbourne Festival on 24th November, she sang an aria from Handel's Ode to St. Cecilia, Mozart's "Deh vieni" and another Handel aria. In Liverpool on 2nd December, with Dennis Noble, she sang Brahms Requiem and repeated the Ode.

To usher in 1931, Dora went to Glasgow for a further run at Solomon, this time with the local Choral Union and Keith Falkner, Stiles-Allen and Davies. That year Solomon opened the Leeds Festival on 7th October, Dora joining Falkner and Stiles-Allen with Walter Widdop as Zadok. That evening she returned to sing in Cherubini's Mass in D Minor with Astra Desmond, Francis Russell and Horace Stevens with Mrs. Norman Strafford and Hubert Eisdell stepping up for the sextet, "Et incarnatus." Dora visited Hull for the last time on 17th December to sing Messiah with Etty Ferguson, Percy Manchester and Joseph Farrington.

Falkner was a fan: "I first sang with Dora Labbette at a Goldsmith's Dinner. She was lovely to look at, probably the best-dressed soprano of her day and, while she had a pronounced London accent, it was never evident in her beautifully enunciated singing." At rehearsals, when Beecham became overly pompous, she would fire off a heavily accented put-down that instantly deflated the maestro.

Dora appeared as soloist at a subscription concert in Cambridge Hall, Southport on 20th January 1932. Especially notable was a new work by Sir Edward Elgar, his Nursery Suite, conducted by J. E. Matthews. Dora then stepped on stage, as a critic for The Herald reported: "The very name of Miss Dora Labbette brings great pleasure to a very wide public, for both as a BBC artiste and in recording for the gramophone she has earned fame. A more charming and cultured singer has never appeared at one of these concerts. So finished is the art of her voice production that she sings as naturally as a bird, and she won the most enthusiastic applause. Her sweet, pure-toned soprano, especially in its middle and higher ranges, made her rendering of 'L'Air de Marthe,' from Rimsky Korsakov's 'La Fiancée du Tzar,' a truly delightful performance, for which she was accompanied by the orchestra. She completely expressed its mood, and her diction and phrasing were flawless. As an encore she sang Roger Quilter's 'It was a Lover and His Lass,' a vivacious individual interpretation that the audience found completely captivating."

After the interval, she re-appeared with a piano accompanist, Walter Wright, and re-engaged the Herald man on the scene: "Later she achieved sure success with a group of songs, which included two by Delius - the familiar 'Evening Voices,' with the poignant perplexity of the wistful Princess yearning in her 'turretted [sic] keep' expressed with feeling and sublety [sic], and 'Sweet Venevil,' sung with winsome, romantic spirit. She gave 'The Nightingale' (Grieg) with artless piquancy, the charm of her voice matching the engaging quality of the words and the music. In response to the applause she gave the Sussex folk song, 'Come my Own One' (arranged by Butterworth), in a cheery style that captured its breezy humour, and proved the wide resource of her art with an air from 'Le Roi d'Ys' (Lalo), which she sang as an additional encore."

For a rival newspaper, the critic A.K.H. also approved but detected a flaw: "Miss Labbette's style has broadened and lost nothing in its freshness while ceasing to be quite so naive and artless. Her two Delius songs were well expressed, but the free treatment of 'Twilight Fancies,' with one or two little slips in the words, was not so successful as the delightful movement of her 'Venevil.'"

In February, 1932 she returned to Glasgow to sing in a performance of Handel's Semele with Falkner, Margaret Severn and Heddle Nash. Then on 20th May, she helped Beecham promote Delius, by singing Vreli in the first broadcast of A Village Romeo and Juliet with Jan van der Gucht as Sali and Dennis Noble doing triple duty as The Dark Fiddler, Manz and First Bargee. In June, Beecham took Dora to Paris, and then to visit Delius, where he played most of A Village Romeo and Juliet with Dora singing Vreli and Beecham doing what he could as Sali. Her singing was exquisite and they stayed till almost midnight.

For much of 1933, Dora was occupied with the demands of motherhood after giving birth to a son, Paul, on 23rd March. As she was still working, she did not seek maintenance for herself or her son, but Beecham insisted upon drawing up a legal document to provide financial support when she ceased singing. He also agreed subsequently to fund Paul's education. He would call in from time to time to listen to the lad's beginnings at the piano.

On 12th November, according to The Musical Times, "Sir Thomas Beecham inaugurated his chairmanship of The Music Club with a delightful concert at the Mayfair Hotel. The programme was of just the right length, and it was given under congenial conditions...and (concluded with) the recently produced Idyll of Delius, in which Dora Labbette and Dennis Noble were soloists." Then at Queen's Hall on 30 November, she sang in Dvorak's Stabat Mater for The Royal Philharmonic Society with Edith Furmedge, Heddle Nash and Keith Falkner.

When Delius died on 10 June 1934, Beecham asked Dora to go immediately to Grez to help Jelka with arrangements. Though Delius had asked that he be laid to rest in a country churchyard in southern England, this was not at the time possible, so he was temporarily interred in a Grez churchyard.

Later that year, Dora was invited by the Oxford University Opera Club to appear as Telaire in Rameau's Castor and Pollux. Then, for the Leeds Festival she appeared on the morning of 3rd October to sing "Benedicite" by Vaughan Williams with Sargent conducting and the next morning in Mozart's Mass in C Minor with Elsie Suddaby, Heddle Nash and Keith Falkner, Beecham conducting. Then, it was on to St. George's Hall in Liverpool on 9th October to sing an aria from Figaro and Delius's "To Daffodils," "So white, so soft, so sweet" and "Spring, the Sweet Spring," with Beecham his inimitable self at the piano. On 9th November, she gave a similar concert with the London Philharmonic Orchestra at Colston Hall in Bristol, the same Delius plus two arias from Figaro but as Beecham was indisposed, Hamilton Harty conducted. For a Messiah on 13th December, her last in Hull, she sang with Doris Cowan, Jan van der Gucht and Robert Easton.

As has been shown, Dora Labbette had labored well and assiduously in the admirable world of oratorio, but she always regretted the lack of action. A few arias sung in concert simply whetted her appetite to sing a complete opera. But who would take her seriously? Blessed in her endeavors by baritone Dinh Gilly, she took a tentative, first step in March 1935 when for the London and Provincial Opera Society, with Barbirolli conducting, she essayed Juliet in Gounod's Romeo and Juliet with Heddle Nash.

Lisa Perli, the operatic soprano
Now it was time for the fateful Bohème. Dora was ready and to audition, she adjusted her blond wig and showed up to see how she would fare. Beecham gleefully joined in the fun; an Italian-sounding name was chosen as "Lisa Perli" was born. As she explained, "I had two names while I was singing, Lisa Perli and Miss Labbette. Harold Holt gave me the name `Perli' as I was born in Purley."

She gave her initial performance as Mimi in La Bohème on 28th September 1935 at the Garden with Clarence Raybould conducting during a brief German-Italian season Beecham held, allied with the Imperial League of Opera. The Daily Telegraph, not fooled at all, trumpeted, "DORA LABBETTE A SUPERB MIMI!" And in Crescendo, "It is a long time since I have heard such a perfectly satisfactory all-round Mimi. Not only is the voice beautiful in quality but she is a singer of rare distinction. There are no conventions in her delineation of the pathetic little girl. She is the girl herself, Mimi to the life." The Cockney gal had triumphed. Brava! During a five-city provincial tour that followed, "Lisa" proved she was no "one shot wonder," surely as Mimi in the flesh for most of fourteen performances, the last coming in Leeds on 23rd November with Nash and Dora and Beecham conducting. A memento, Act 4, of this combination exists in a recording Columbia made soon after with the London Philharmonic. It is a gem.

(What do you remember about singers you sang with?) "Harold Williams was a nice man...a lovely bloke... Nash? Oh, he was a very nice singer. I liked him very much and he liked me. He was a bit tricky, you know, cause he always talked a lot and he swore with every word almost and once…it was in Romeo and Juliet...I was laid out on the bier, and he came up to me and I said `You're on my train.' Well, off the stage he went and came on again and he did it again. I said, `You are still on my train.' He said, `Yes, and now the poison bottle has gone into the bloody footlights. Now, you go and find it!' Ha! Ha!"...All of course at a point when the plot dictated that the unfortunate Juliet was quite dead!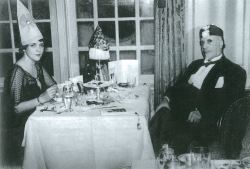 At the end of 1935, Beecham sailed to America for a third series of concerts with the New York Philharmonic Orchestra, beginning on 2 January 1936. Dora accompanied him (see photo left - on board at Christmas). Then back with Covent Garden during a visit to the Theatre Royal in Glasgow on 9th March 1936, 'Lisa' sang with Nash in Romeo and Juliet as Beecham conducted. He was again at the helm eight nights later when she sang Mimi with Dino Borgioli, Stella Andreva, John Brownlee and Robert Easton. Then late in August, she travelled to Vichy where she sang Mimi in the Casino with Martinelli as Rodolfo. It was the start of campaign that in the following year would make Lisa Perli's Mimi the toast of Europe.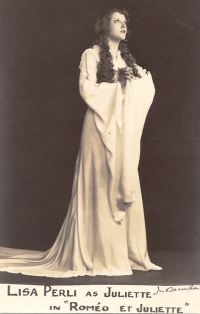 The first appearance in Germany we have traced took place on 1 October 1936, when she sang Mimi with the Berlin State Opera in Unter den Linden. Fortunately The Times in London received a review from its correspondent there:

"German Praise For English Singer". Miss Lisa Perli, the English opera singer, had an undoubted success at the State Opera in Unter den Linden last night when she took the part of Mimi in the second performance of La Bohème with the striking new Berlin setting. It is very rarely, indeed, that an English artist sings as a guest in the German opera, and it was a pleasure to note the enthusiasm with which her dainty yet impressive performance was greeted in a country which is particular in its choice of Mimis. Miss Perli, who sang in Italian, fitted in smoothly with the rest of the excellent company, and as the music critic of the Angriff put it, 'overcame the difference of language by a great naturalness'. 'Her interpretation of the part.' he goes on, 'was altogether something rather unusual here, more simple and natural, more delicate, and more deeply thought out than the German tradition makes it. Equal tribute is paid by the critics to her voice, and her management of it in the interpretation.'

Early in 1937 she sang the rôle of Mélisande in Debussy's Pelléas et Mélisande in Paris at the Théâtre des Champs Élysées. On hand were officials from Covent Garden, who afterwards pleaded, "Lisa, you must sing Mélisande during the upcoming Coronation season." And so, on 25th May 1937, she strode upon the Garden stage as the only English principal in this very French Opera with André Gaudin as Pelléas and Vanni Marcoux as Golaud with Albert Wolff from Paris conducting. The media in unison agreed she was making splendid progress as "Lisa." She repeated her Mélisande in Bordeaux and Vichy.

In the autumn of 1937 she was a guest singer at the Berlin Staatsoper, and also at Munich and Dresden where she sang the rôles of Mimi and Mignon. The latter opera was presented in Berlin on 16th October, 1937 with Marcel Wittrisch as Wilhelm Meister, Erna Berger as Philine and Josef von Manowarda as Lothario with Werner Egk conducting. In Vichy she also appeared as Desdemona with Giovanni Martinelli as Otello and Cesare Formichi as Iago with Maestro Salfi conducting.

During a new Imperial League of Opera season at the Garden, she portrayed Antonia in Offenbach's The Tales of Hoffmann on 6th December, 1937 with Ben Williams as Hoffmann, Noel Eadie as Olympia, Monica Warner as Giulietta and Arthur Fear as all three villains. Robert Ainsworth conducted as he did four nights later when La Bohème was given with Perli and Nash.

Dora Labbette had made the songs of Delius popular, so it was right and proper that she was invited to Abbey Road on 11th February 1938 to record: "Whither," "I Brasil," "The Violet," "Sweet Venevil" and "Twilight Fancies" with Beecham leading the London Philharmonic Orchestra.

(And Gigli?) In June 1938, Dora sang twice in La Bohème with the great Beniamino Gigli as Rodolfo..."He used to hold my arm and use it like a pump to get his top notes out! Ha! Ha! He smelled of garlic...all romance was gone!" That autumn, she returned with the English Opera Company on 15th October in Faust to sing Marguérite with Frank Sale as the older Faust and Nash the younger after Harold Williams as Méphistophélès had worked his magic. Dennis Noble sang Valentine. When the Covent Garden English Opera Company went on tour, "Lisa Perli" sang in Faust with much the same forces.

Down under with trouble brewing
During the summer of 1940 Beecham sailed off to Australia with his lady, the exotic "Lisa Perli" on his arm. Originally he had planned to give four concerts in Melbourne but so great was the demand for tickets that he agreed to conduct two more, one a charity concert for the Red Cross on 9th July in the Town Hall with Lisa making her first of her seven appearances on the tour. She sang "Deh vieni" and "Voi che sapete" from Le Nozze di Figaro and "Batti, batti" from Don Giovanni. Two nights later Lisa and Harold Williams offered Brahms' A German Requiem, especially poignant in view of the unhappy times about to come.

Moving on to Brisbane, she sang at the City Hall on 25th July in Handel's Messiah with Evelyn Hall, Godfrey Sterling and Williams. For the occasion a Queensland State and Municipal Choir swelled to 340 with the addition of nine local choirs.

During each lull in activity, Beecham would relate to Dora for hours on end a host of now forgotten topics. Anyone familiar with his autobiography A MINGLED CHIME can imagine the seductive speech, even the nuances and accent. Could there be writings from these fascinating sessions tucked away somewhere? But for both it was not in general a happy time with Beecham dropping acidic insults at every turn, signaling he was thinking of ending his fascination with Dora.

In Sydney on 6th August, she appeared at a Grand Patriotic Concert in the Town Hall, to offer an aria from The Magic Flute, "Knowest thou the land" from Mignon, and "The Nightingale," a traditional song arranged by Beecham. On 24th August, she joined Heddle Nash and Harold Williams in interpreting "Spring, The Seasons" by Haydn. Next, moving over to Adelaide on 5th September, she shared Dvorak's Stabat Mater with Evelyn Hall, Nash and Williams. Then, at the Capitol Theatre in Perth on 18th September, she participated in Messiah with Elsie Fisher, Nash and Williams, as a final offering for the Aussies.

The next day Lisa and Beecham began a four day train journey to Sydney, where a frustrating delay of eleven days awaited before they could sail to Vancouver. Dora was filled with anxiety over the safety of their son, Paul, then seven years old, and left to endure the blitz. She longed to be on her way home to be with him. From Vancouver, they travelled by train across the vastness of Canada eventually arriving at Montreal, where at the beginning of November 1940, Dora boarded ship for Britain despite the high risk of being torpedoed by a U-boat en route. Beecham intended to follow after completing engagements in Canada and the United States. However, success at these concerts led to a conductorship at the Metropolitan Opera in New York so he remained in the USA. Dora later told her son that when she bade farewell to Beecham at the dockside in Canada, she had a strong premonition that he would never return to them. When Beecham gave a concert in Vancouver on 7th November 1941, Miss Betty Humby played Mozart's Piano Concerto No. 24; she would soon become Lady Beecham.

Once back in wartime Britain, Dora resumed her career with a series of broadcasts for the BBC that included operatic arias with Boult and the BBC Orchestra. She also worked for the Motor Transport Corps, delivering medical supplies to hospitals; acted as water taster during a scare that the Germans were poisoning reservoirs; and helped to raise money to equip the London Philharmonic Mobile canteen, which she drove to the scene of air-raids to provide refreshments to ambulance workers, fireman and beleaguered victims.

She still dabbled in music although her heart was probably elsewhere. When the BBC presented a studio performance of Boughton's Immortal Hour in 1941, Dora appeared as Etain. In April that year, a plan was put forward to record A Village Romeo and Juliette with Dora as Vreli and Beecham conducting. Though he claimed there was a unanimous demand for the piece, Walter Legge and his confrères begged to differ and the project never materialized.

In the Spring of 1942 on tour with the Met, Beecham was conducting Faust in Boston while Dora ironically was singing the rôle of Marguerite in English in less glamorous circumstances in a blackened-out Glasgow with the intrepid but thread-bare Carl Rosa Opera during a three week stint at the Theatre Royal. She alternated Marguérite with Mimi in La Bohème.

News of Beecham's marriage to Betty Humby on 18 January, 1943 must have come as a devastating blow to Dora, because he had continued to write to her in the most affectionate manner even though he was deeply committed to Humby.

In April 1943, Dora decided to take part in a production in English of André Messager's operetta Monsieur Beaucaire during a provincial tour culminating in a performance in London's West End. As "Lisa Perli," she portrayed Lady Mary Carlisle when the tour opened at the Grand Theatre, Blackpool on 3 May, followed by openings in Leeds and Edinburgh. It was well reviewed but box office receipts hardly merited risking the London venture. And so, on 22 May, the final performance at Glasgow's Theatre Royal marked the closure (almost) of Dora's singing career. That year she made a final appearance in opera fittingly as Mimi with Sadlers Wells Opera.

Though only forty-five and singing as well as ever, she felt betrayed by Beecham's abandonment and had lost the will to continue performing. She moved to the village of Sidlesham, close to the West Sussex coast to grow tomatoes, keep chickens and breed spaniels.

Their son, a distinguished solicitor, now retired, reported that "She never at any stage in her life kept programmes, press reviews, etc. which held little interest for her, and in 1941 she destroyed whatever letters and papers she had in relation to my father. I was seven when the relationship between my father and mother broke up. It destroyed my mother's wish to continue with her career, so she spoke little about it in later years, though I was very conscious that her memories of it were very precious to her."

In a letter just prior to her passing, Constance Shacklock, recalled how as a newcomer on the opera scene, she encountered the fabulous Dora..."I saw quite a few of her performances - she was a great favorite at Covent Garden during the Beecham days..." And fond memories were retained too by Isobel Baillie and expressed in her auto-biography "...I rarely shared the same platform or programme, though I did see one of my close contemporaries, Dora Labbette, through many stages of her career. I first saw her from afar in the 1920s at such engagements as the Saturday afternoon ballad concerts...I admired Dora not only for her singing but also for the way she looked, always so elegantly dressed and always so beautiful! When, in 1935, she was furtively transformed into a newly `discovered' soprano `Lisa Perli,' Dora at last broke the chains of her reputation as an oratorio and concert singer by which she felt constricted and limited. Her subsequent stage successes were such that she seemed the ideal person to contact when I realized that an appearance as Marguérite in Gounod's Faust while on tour in New Zealand was more or less inevitable. I visited her in a house in St John's Wood, London, where she was preoccupied with some war work. We grabbed a quiet corner with the score in front of us and Dora gave me an idea of what stage actions I should attempt."

In that late radio interview, one can sense the sadness, the longing and everlasting love for Beecham, and the regret over so many lost years. In her 86th year, with lung cancer having metastasized to engulf her body, Dora suffered a stroke and she died on 3rd September 1984 in Selsey, near Chichester. Dora Strang departed this world near the glorious cathedrals, site of many of her triumphs. Among the tributes, Eva Turner in OPERA wrote: "She was renowned in the soprano part in Messiah and I vividly recall her triumph as Mimi in La Bohème at the autumn season at Covent Garden in 1935. She was an outstanding artist but also a warm and lovable personality (who) always rejoiced in the success of other singers. Her sense of humour was quite delicious."

Not one to forget good friends, she remembered in her Will Kitty Eisdell, then in Tasmania. This bequest, however, was not realized, as Kitty predeceased her would-be benefactor.

Later during a radio talk about his famous parents, Paul Strang noted: "My mother had a very remarkable voice. She developed it at a very young age. I think she was 15 or 16 (?) when she first sang at the Proms. She was very good looking too and had a way of captivating audiences with a sort of innocent charm which you don't find very much nowadays in the musical profession. She always used to say, `Nobody died on the stage better than I did.' It was actually true, as she seemed to have a penchant for these tragic heroines, rather delicate, innocent and always betrayed. She had a slightly long face with very remarkable oval chin structure that I think must have had something to do with the production of her voice as well. Very frank, open eyes and a very disarming laugh, rather naughty; really, in fact, she was quite naughty. She liked spicy stories and she told them with a sort of impish delight."

From the humblest of beginnings, this determined lady had climbed steadily to the heights, accomplishing all upon which she had set her sights, except the one thing she desired the most, the heart of her beloved.

Acknowledgements:
First of all, a mighty "Thank you!" to Paul Campion in London for delving into Dora's family background. I also wish to thank Stewart Winstanley of the Delius Society for his rundown on the 1929 Festival, Christian Springer in Vienna and Graham Oakes in Wales for data concerning Lisa Perli's European exploits, and Michael Bott in Bermuda for the 1932 Southport programme with enclosed newspaper reviews as well as the Proms report. Also much appreciated was information supplied by Norman Staveley in Hull. Finally, I'd like to acknowledge the help of the late Denham Ford in providing special Beecham insights.

Sources:
Radio interview of Dora Labbette by Ian Partridge, 1983.
News accounts and programmes.
"Thomas Beecham An Obsession with Music" by John Lucas, The Boydell Press, 2008.
"Never sing louder than lovely" by Isobel Baillie, Hutchinson, 1982
"Sir Thomas Beecham, Bart, C.H. A calendar of his Concert and Theatrical Performances" compiled by Maurice Parker with Supplement by the late Tony Benson. Special thanks are due to Tony for vetting the article, in the process calling upon his vast knowledge of matters Beecham. As well, many thanks to others mentioned in the text.

Note: This article originally appeared in the December 2010 issue of The Record Collector.