Edward Johnson (Edoardo di Giovanni)
by Charles A. Hooey
On 28 February, 1950 they sang "For he's a jolly good fellow" at a gala concert that signalled the retirement of Edward Johnson as General Manager of the Metropolitan Opera, and it was fitting for this affable and beloved figure who had guided the fortunes of this grand institution through fifteen tough seasons. Many, no doubt recalled as well, his distinguished career as a tenor prior to taking on management duties.

Eddie Johnson was born of Welsh-Irish parents, his mother being Margaret and his father James, on 22 August, 1878 in the modest-sized city of Guelph, a scant fifty miles west of Toronto in southern Ontario, Canada. James, a local character, was proprietor of a small hotel, a director of the Riding and Driving Association and a city alderman; he also played the clarinet in the local band and conducted from time to time. At one of these weekly concerts, young Eddie was standing next to the bandstand and when the music stopped, someone hoisted him onto the stage. People began calling out "Sing something!" so his father suggested "Little Annie Rooney." Taking a deep breath, the wee lad began to sing. There was tremendous applause and flushed and happy, Eddie bowed to the right, left and centre as he had seen older entertainers do. The seed was planted.

At eight, he was playing the piccolo and at nine not only was he taking piano lessons, but he also appeared as the First Dwarf in a Guelph City Hall production of Snow White and the Seven Dwarfs. At thirteen, when his voice broke, he turned to sports and even with his brother Fred, took boxing lessons from their father...so Eddie could deal (successfully) with a schoolyard bully! Two years later, he was tenor soloist at St. George's Anglican Church while singing at clubs, social gatherings and in various choral groups. A so-so student in High School, he dropped out for a few weeks, but returned with a vengeance to complete his studies. His father pressed him to attend the University of Toronto, as he was convinced his clever son had potential, and should become a lawyer. Eddie did for a while but rebelled, declaring "No! Music will be my life!" In 1899, with $200.00 in his pocket, he boarded a train for New York, where, through the brother of a Guelph friend, he soon had a place to stay, a voice teacher and a job. Within two years, he had acquired a New York manager and more engagements in oratorio than he could handle. He also chose to become an American citizen.

In April-May 1902, he allied with a musical group, The Bostonians, to understudy tenor Vernon Stiles in a series of performances of De Koven's Maid Marion during a tour of cities in New York and Pennsylvania. When Stiles took ill, Eddie found himself on stage, impressing everyone, thus hastening Stiles' recovery. When de Koven's Robin Hood, to which Maid Marion was a sequel, was presented at the Boston Theatre on 12 May 1902, it was Edward Johnson who sang the title rôle. Then, two weeks later, he appeared as Lopez in the company's production of Victor Herbert's The Serenade.

Eddie's many appearances had not gone unnoticed, and one day he found himself in the office of Henry Wolfsohn, head of New York's leading concert bureau. Out of this meeting came a chance to sing "The Holy City" at a concert in Carnegie Hall on 17 January 1903 that had a critic referring to him as "today's most promising oratorio tenor." And so in less than four years, he was positioned loftily with the Wolfsohn Bureau as a "church, concert, oratorio and opera tenor" for the season of 1903-04.

However, during the summer of 1903 he set sail with friends for a sight seeing tour of Europe that included two weeks soaking up the sun and sights in Naples. Back in New York and faced with a heavy schedule, he felt his two singing teachers were not helping and when he heard about Madame von Feilitsch, who was regarded by many as "the best teacher in town," he called. After an audition, her reaction was music to his ears, "You're wasting your time in concerts and oratorio. With a voice like that, you should sing opera. All you need is to learn how to use your breath and to work with someone who knows opera and languages." He was delighted when Madame agreed to help.

His father, who from the outset was doubtful about his son's choice of career, was duly impressed when Eddie advised he was to sing at Carnegie Hall. There, with Walter Damrosch and the New York Symphony, he sang in Elgar's The Apostles, first at a dress rehearsal on 17 January 1904 with Caroline Mihr Hardy and David Bispham and then at the first public performance in North America on 9 February with the New York Oratorio Society and the Musical Art Society, led by Frank Damrosch. As "Edward P. Johnson," he was St. John with Shannah Cumming (The Blessed Virgin and the Angel), Janet Spencer (Mary Magdalene), Gwilym Miles (St. Peter), Frederick Wheeler (Jesus) and David Bispham (Judas). After a Messiah on 22 February with the People's Choral Union, Eddie repeated The Apostles at Carnegie Hall on 24 March with others from the American première, but with Mrs Theodore J. Toedt taking over from Shannah Cumming and the English mezzo-soprano Muriel Foster replacing Janet Spencer. He then proceeded to sing symphony concerts in New York, Chicago, St. Louis, Salem, Richmond, Halifax and Toronto, accumulating in the process a tidy sum of $1500.

As the highest-paid church singer, he became a regular soloist at the Brick Church on Fifth Avenue in New York. Also in addition to singing with the New York Symphony, he sang in Elijah with the Philharmonic Club in Minneapolis; Samson to Louise Homer's Delilah at the Worcester, Massachusetts Festival, the Verdi Requiem and Faust in Portland, Oregon and in a host of concerts. On 2 July1904 he sailed to Europe to work on oratorios in London, before going on to Paris for coaching every day by Richard Barthélemy, famed as Caruso's répétiteur. He advised Eddie to go to Italy to study opera. "I will write to Maestro Lombardi in Florence. He's the best." This plan, however, had to be put "on hold" while Eddie increased his finances by singing in America.

Thus, during the season of 1905/6, Eddie appeared in forty-eight different cities in the United States as well as undertaking an extended Canadian tour followed by visits to Syracuse, Brockton and Ithaca to sing operatic excerpts. "Mr. Damrosch gave excerpts from Parsifal in English and I was the Parsifal. I sang part of the first act, the duet in the second act with Caroline Mihr Hardy, and some of the third act. Later I sang the final scene in Siegfried with Mme. Nordica as Brünnhilde."

He had occasion to speak earnestly to Wolfsohn about the future. "I've been singing Siegfried, Lohengrin and Tannhäuser and I like this music a lot!" "Take my advice," Wolfsohn said, "Forget Wagner on a regular basis as that would ruin your voice. You are a lyric tenor and you should concentrate on Verdi and Puccini and some of the French operas, Faust, for instance." These words eventually would become Eddie's credo.

And so, brimming with confidence, he set sail for Europe on 13 June 1906 to work again with Barthélemy in Paris. One day while singing at a private function, his coach and accompanist was a young Portuguese woman, Beatrix Maria Ferrura da Veigo d'Arneiro, the daughter of Visconde Jose d'Arneiro. Eddie was attracted to this slight and charming aristocrat and they began meeting often while she painstakingly taught him Italian and French along with his operatic roles. Soon they were very much in love, but as Eddie had engagements in America, he departed, promising to return. Would she wait for him? The answer was a resounding "Yes!"

Back in the US, he embarked on a two month long tour of major centres in the Eastern US and Canada, beginning on 1 April, appearing in recitals, concerts and such works as Samson et Dalila, Faust, the Verdi Requiem, Messiah, Elijah, Hiawatha, The Dream of Gerontius and The Redemption. At a first stop in Philadelphia, he appeared in Berlioz's Damnation of Faust with Frank M. Corly and Zaider Townend Stewart and 250 voices of the local Choral Society. He had a most successful season as a member of the New York Artists Quartet with Janet Spencer, Corinne Rider-Kelsey and Herbert Witherspoon. Early in 1907, Sir Edward Elgar came from England to conduct The Apostles at Carnegie Hall and although George Hamlin sang St. John, Johnson must have served as his understudy for after a rehearsal, Elgar gave him advice he would never forget: "Remember the real substance of the music is the meaning of the words."

At this time producers of Oscar Straus's A Waltz Dream couldn't find a tenor capable of singing the lead role of Niki so they approached Wolfsohn who suggested that Johnson could be their man. And, sure enough, he was in place when the show opened on 27 January 1908 gaining this reaction: "Edward Johnson, as the reluctant bridegroom of royalty, made probably the biggest personal success to date, which was an achievement because Charles A. Bigelow, as the kingly papa, James W. Herbert as an imbecilic prince with a new kind of stage limp, Josie Sadler as a stout female virtuoso on the bass drum, and Sophie Brandt as the conductorette who took the flirtatious bridegroom too seriously, were all enthusiastically applauded." "In Lt. Niki, the hero of A Waltz Dream, New York has a tenor - Mr. Edward Johnson - who can coo like a dove or hit the top of the ceiling with his high notes when he comes to the refrain of the waltz duet, ' Love's Roundelay,' which is the gem of the new operetta. Stage Director Mr. Herbert Grecham introduced a kiss that is so long drawn out that commuters will lose their trains if they try it." The next day the New York Evening Post reported: "... His is a true tenor voice, the best heard in many years in operetta in this city. It is sympathetic and sweet, the high notes being especially good, while his use of the mezza voice is delightful. He has a good stage presence, and, for a novice - he has never acted before - he was easy and natural, and a good lover." He was saluted as "The Man of the Hour," "The Latest Matinée Hero," "Concert Tenor's Success in Light Opera Encourages Colleagues," "Edward Johnson and Sophie Brandt Share Smash Records," "Concert Tenor in Opera Makes Hit," "Johnson's High B's Surprise New York." At age 29, he had scored mightily, first in New York and then in Philadelphia and Baltimore, singing seven high Bs in each performance - a challenge few tenors anywhere could match.

Late in February, in a change of pace, he slipped away to Cleveland to appear in Elgar's masterwork. "Edward Johnson was splendid...it's a far cry from the Waltz Dream to the 'Soul of Gerontius.' His interpretation was artistic."



Despite his success, he rejected a lucrative contract to stay and become a Broadway star. "No!" he declared, "I'm concentrating on opera." After accumulating enough cash, he was able to return to Europe, but, of course, he had another purpose. He wanted to get married. Part of the reason for the long delay was owing to Edward being a Protestant while Beatrice (see picture) was a devout Catholic, and neither was willing to change. The solution, a Papal dispensation, was sought and obtained on 16 November 1908 and so Edward, aged thirty-one and Beatrice, thirty-six, were duly married on 2 August 1909 in All Saints Church, West Dulwich, London. Bebe would remain his coach and advisor,

Immediately the newlyweds left to honeymoon in Florence, and to look for a new home. But the day after arriving Eddie found himself singing for Maestro Lombardi. After the first aria, he exclaimed "Basta!" and immediately got up and embraced the young tenor. He didn't need to hear any more; this was the voice he had been yearning for, ever since his last sessions with Enrico Caruso. In quick order they began work to improve Eddie's breath control and to strengthen his middle voice.

In the spring of 1910, after nine months of work, Lombardi finally gave Eddie a few easy arias. Then one day he handed him the score of Andrea Chénier, giving the Johnsons cause to celebrate that evening. A month later, Bebe found out she was pregnant, and with characteristic decisiveness she began looking for a larger apartment, for they would need a larger place for a nanny to stay, as well as space for the regular help.

The baby arrived on 21 December 1910 after a difficult birth that at one point endangered Bebe but she survived thanks to the doctor's quick action. The little one was christened Fiorenza Margherita d'Arneiro Johnson. Though Bebe thought she was beautiful, Eddie, when he first saw her, blurted out "She looks more like a tomato than anything!"

LAUNCHING HIS OPERATIC CAREER
Meanwhile Lombardi had been busy arranging for his young protégé to make his operatic début on 10 January 1912 at the Teatro Verdi in Padua in the title rôle of Giordano's Andrea Chénier. He was also urged to change his name to "Edoardo di Giovanni," a direct translation of Edward Johnson, because Italians were very chauvinistic about their opera. "They resent foreigners," he was told, "but because of your perfect Italian, they will accept you with an Italian name as one of their own." Reluctantly Eddie agreed, but he felt like a phoney. Beforehand, upon learning that the tenor he had replaced had hired a claque to boo whenever he sang, a furious Eddie tracked the leader down, berated him, and told him he'd better watch and react honestly, not because he had been paid, or else!

Controlling his emotions, he sang his first aria, and huge waves of applause swept through the whole theatre. The next day the newspaper Il Veneto raved: "The tenor di Giovanni so marvellously captured the public with the vigour of his perfect bel canto singing and with his acting that few spectators could believe he was making his début." Bravos erupted throughout, not only for di Giovanni but also for Teresina Burchi as Maddalena and Cesare Formichi as Gérard, as well as the conductor Vittorio Orefice and the theatre officials. It was an evening, all in all, that would not soon be forgotten. Fourteen performances took place.

After the final Chénier on 22 February 1912, he made his way to Ancona where he'd been engaged to sing in that city's first production of Mascagni's Isabeau - it had had its world première in Buenos Aires the previous year. When it was given at the Della Muse on 27 April and on other occasions, Eddie appeared as Folco, causing reviewers to agree that "Edoardo di Giovanni was the ideal embodiment of the indigenous hero."

For his next challenge, Edward and Bebe journeyed to Bergamo where he began rehearsals on 12 August for his first performance of La Fanciulla del West, twelve days hence. Serafin seemed pleased from the outset, and found nothing to disprove of or correct. The theatre was full - and all the powers of Milan were there to judge. The first act over, Tito Ricordi came to compliment Edoardo - and after him came many others. The second act went even better and signalled the evening as a thorough success. Now, suddenly, di Giovanni was in wide demand.

Assimilating into the Italian musical scene, Eddie and Beatrice had befriended not only Puccini but also Mascagni, Alfano, Gratico and Pizzetti; in some cases causing them to write music specifically for Eddie to sing. It meant long hours into the night, day after day, to learn rôles rarely to be repeated. In Italy he would sing eight world premières.

After Bergamo, he went on 6 November to Bologna to sing Folco in Isabeau at the Teatro Comunale with Bianca Lenzi (Isabeau), Elisa Petri (Giglietta) and Amerigo Pasuello (Raimondo). Then, during a gap in the series, he went to Messina to sing La Fanciulla del West, afterwards returning to Bologna for Don Carlo on 21 November with Juanita Cappella, Luigi Montesanto, Carlo Walter and Nini Frascani, led by Marinuzzi. Next, he chose to sign for leading roles at the Costanzi in Rome. Certainly "memorable" were the performances of Don Carlo. Rehearsals began on 27 December 1912 with an impressive cast: Juanita Cappella (Elisabetta), Mattia Battistini (Posa), Nazzareno de Angelis (Filippo II) and Luisa Garibaldi (Eboli) with Edoardo Vitale conducting. The latter was totally cooperative but Edoardo and Bebe were impressed most all by the famous singer Battistini who was kindness itself predicting a great future for di Giovanni. After opening night on 4 January 1913, Eddie wrote to his mother. "The rehearsal went magnificently, but a bad throat and nerves made the première unsteady. The public was disposed only toward the old favourites, and I was most coldly received. The second and third performances went somewhat better, but I could not seem to make any ground. Then came a bad cold - almost pneumonia - and I went to bed for ten days. But don't worry I am alright now. Cappella was taken ill and so was Battistini. De Angelis and Garibaldi were called to La Scala so this Don Carlo ended a vero disastro."
When Mascagni's Isabeau was presented in Rome on 6 February 1913, expectations ran high. In the cast were di Giovanni as Folco, Maria Farnetti as Isabeau, Elvira Casazza as Giglietta and Eugenio Giraldoni as Raimondo with Vitale conducting. After the opening, the critics were divided but the public came for nineteen nights. Prominent critic Pompei wrote of the beautiful timbre of di Giovanni's voice and of his perfect vocal technique.

Eddie's next venture was to create the tenor rôle of Don Piero in Iguale Fortuna by Vincenzo Tommasini opposite Gilda Dalla Rizza as Donna Ignese. Subsequently he would sing often with this soprano. Unfortunately this particular opera turned out to be a fizzle in which he felt totally out of place and preferred to forget it after its première on 21 February. Nevertheless when Pompei reviewed the opening performance in Il Messagero, he was extravagant in his praise, especially of the tenor, di Giovanni and the baritone Corradetti.

Zandonai's Melenis had already been heard in Milan, though without much success, so it was hoped that the Costanzi production would improve the fortunes of the work when it was given there on 22 March 1913. Di Giovanni sang well as did Lina Pasini-Vitale opposite him, but while Eddie found his rôle of Marzio interesting, he felt the opera was "just not effective". The reviews, however, added to his rapidly growing reputation as critics spoke of his vocal resilience and consummate artistry.

But his greatest success in Rome was about to come in an opera he had sung previously, Puccini's La Fanciulla del West. During its first presentation on 5 April 1913, he sang with Tina Poli-Randaccio as Minnie but when her contract ended, Gilda Dalla Rizza assumed the rôle, and made a fine impression. It proved to be an excellent production that received plaudits from both press and public. Afterwards Beatrice wrote to the family in Guelph that Edward was terribly tired but they were both very happy. "We had eight performances of Isabeau, ten of Don Carlo, a Verdi concert and Fanciulla with every performance a big success. The papers praised Edward's Don Carlo to the skies. May God be thanked for all graces delivered."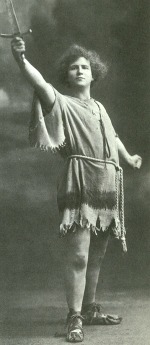 PARSIFAL, A FIRM STEP UP THE LADDER OF SUCCESS
His arrival at La Scala was auspicious, for, when he showed up, he was offered the title rôle in Parsifal that was about to be given for the first time in Italy (see picture). After the opening performance on 9 January 1914, sung in Italian of course, the accolades poured in, these words being typical: "Parsifal made a sudden entrance on the scene, after the death of the swan, and truly he was a Parsifal one had read about in the poem - tall, young, handsome, innocent, covered in a brief tunic, The tenor di Giovanni had understood the character... every detail was studied and digested and presented with the greatest dignity...his voice possess a warm timbre and he has a fine appearance, his manner of phrasing is very clean..." Later Eddie confided to an accompanist how he was visited backstage by the young and enthusiastic critic of the socialist newspaper L'Avanti. The chunky press representative who so admired Johnson's singing was none other than Benito Mussolini!

During the run of twenty-seven performances, Lucy Weidt sang Kundry at the outset but when she left to fill engagements in Berlin, her replacement was Margot Kaftal, a Polish soprano already known at La Scala. "She only made the public appreciate Weidt to whom full justice had not been done," commented Bebe. Carlo Galeffi sang Amfortas at the outset but he gave way to Angelo Scandiani. Bebe's verdict: "A sad change." In order to free up Eddie so he could study his rôle in Alfano's new opera, management brought in the great Italian Wagnerian, now semi-retired, Giuseppe Borgatti to sing Parsifal but he failed to please. The call went out to bring the young tenor back so he returned to earn even greater plaudits. At about this time for Columbia, Edoardo recorded two selections from Parsifal in Italian: "Es starrt der Blick" and "Nür eine Waffe taugt."

La Scala was also about to present L'Ombra di Don Giovanni by Franco Alfano. While he considered it a major honour to create the rôle of Don Miguel Manara (Don Giovanni) in his friend's opera, Eddie found it difficult to work on both L'Ombra and Parsifal at the same time. The difficulty of L'Ombra was enough to excite everyone against the composer, resulting in fights, rows and fierce discussions; nothing lacked to make things hectic. Eddie duly sang the première on 2 April 1914 and three other performances but the opera itself was a near disaster. Riccordi, Serafin and Clausetti (of the review Symphonia), all called di Giovanni "the saviour of the evening" but L'Ombra just didn't work - all of Alfano's dreams and ambitions were shattered. Mulling over recent events with friends, Bebe declared: "The critics did say that Eddie's Parsifal was a truly a revelation, but in L'Ombra di Don Giovanni he made a great impression on the public with the power of his voice, his clean style and phrasing, and the intensity and variety of his dramatic portrayal. They said it was wonderful." "I just wish they had said a few kind words at least to Franco," was Eddie's wry comment, "For him not a single word." With war clouds forming, a projected Loreley under Toscanini's direction was shelved.

On 22 April, Eddie and Beatrice left for Florence to sing his first Don Carlo there, the first of twelve performances being on 3 May 1914 with Juanita Cappella, Carlo Walter, Luigi Montesanto, Ria Berlalucci (Eboli), Sebastiano Cirotta (Inquisitor) and Carmago Guarnieri conducting. But for the Johnsons a pall had fallen over the event. Maestro Lombardi had been unable to attend any of the Parsifals due to illness and in mid July he died. This was a shattering blow to Eddie as this man had been such a major force in shaping his career as well as being a true friend to both him and Bebe.
Near year's end, Eddie returned to La Scala to sing four performances of Loge in Wagner's Das Rheingold, in Italian as L'Oro del Reno. After the première on 20 December 1914, the newspaper La Sera reported: "Di Giovanni was a most intelligent Loge, able to conjure up all the grotesque efforts of that character and still give even more importance to his fickle character. As a singer we found in him the exquisite impeccable diction that we have already admired last year." Leone Paci, who sang Donner, later said, "Johnson was the most fantastic Loge I ever saw!"

With his entire professional life wrapped up in things Italian, Eddie hobnobbed with many Italian composers, established and aspiring, and in singing their operas he was gaining exposure in the cradle of opera that would prove priceless in his future. Italy officially recognized his achievements by making him a Cavaliere della Corona d'Italia, an honour bestowed by King Victor Emmanuel III. More honours would follow.

Negotiations had been ongoing for some time to bring Johnson to the stage of the Metropolitan Opera in New York but his rôles were not currently in operas the Met was performing so the move was put on hold. Instead Catalani's Loreley finally took place at La Scala on 5 February 1915 led by Gino Marinucci, La Sera commenting that "the most highly valued tenor gave shining proof of his magnificent vocal interpretative gifts." Next came another world première when Ildebrando Pizzetti's Fedra was mounted on 20 March under the baton of Marinuzzi. Reviewers spoke of di Giovanni as "an Ippolito of bold, fearless bearing," although the opera itself did not meet with much favour.

Deciding exposure in the US could help, Eddie signed with the Chautauqua circuit for concerts in Canada and the United States that summer. With Beatrice he returned to America despite warnings of wartime danger in trans-Atlantic crossings. Singing in tents was vastly different from the glamour of Italy's opera houses, but Eddie loved being close to people. He liked to relax and be himself, to joke and to tell a story now and then.

At year's end, he returned to Rome for a season at Teatro Costanzi from 28 December 1915 to 24 February 1916. On 8 January he appeared as Des Grieux in the first of ten performances of Puccini's Manon Lescaut with Ersilda Cervi-Caroli as Manon and Leone Paci as Lescaut. Andrea Chénier followed on 12 February with Giuseppina Baldassare- Tedeschi as Maddalena with Eugenio Giraldoni, Giacomo Rimini and Anafesto Rossi sharing the rôle of Gérard during ten performances of the opera.

As La Scala was also giving Andrea Chénier, Edoardo went to sing six performances, beginning on 9 March 1916 with Gilda Dalla Rizza and Riccardo Stracciari. According to Giacomo Lauri Volpi, "He had no rivals in the part of Andrea Chénier, except perhaps Giuseppe Borgatti, insofar as vocal line and dramatic realization of the character were concerned... In Johnson's interpretation, Chénier was truly a poet inspired, far removed from earthly considerations and enlightened by faith in the life which commences after the death of the body." During this visit, he also appeared with Dalla Rizza in Isabeau.

That summer La Scala dispatched the "Grande Companhia Lírica do Teatro Scala di
e Milan" to South America to give twenty-two operas over the next five months with Eddie and Beatrice very much a part of the entourage. In Buenos Aires, he appeared at the Colon in June, sharing the title rôle in six performances of Andrea Chénier with Giulio Crimi, his success being "full, complete and of the utmost brilliance." Then on 22, 24 & 29 June he sang in Meistersinger, followed on 1 and 3 August by Catalani's Loreley, and ten performances of Mascagni's Isabeau. Moving on to Montevideo, he "made a complete conquest of the public with his superior qualities and extraordinary voice" via single performances of Meistersinger and Andrea Chénier. Boarding the S.S. Friseano, they sailed to Rio de Janeiro to appear from 4-20 September. Edoardo di Giovanni sang first on 9 September in Andrea Chénier with Gilda Dalla Rizza and Giacomo Rimini and again on the 18th in Die Meistersinger with Dalla Rizza, Adèle Roessinger and Armand Crabbé with Giuseppe Barione conducting both events. Rio called him "a singer incomparable, "ideal" whether in Chénier, Die Meistersinger (i. e. Cantores de Nuremberg) or Isabeau. Winding up in São Paulo in October, he offered single outings in Die Meistersinger and Andrea Chénier and concluded with his first Canio in Pagliacci, conducted by Gennaro Papi...and was acclaimed as "a true and consummate artist." Clearly he had conquered South America. On the return journey they landed in Lisbon where he gave a pair of concerts. Then, with wife, daughter and nanny, he navigated his way over tortuous roads back eventually to Florence.

He next made a single appearance at the Paris Opéra on 22 January, 1917 to give a fund raising concert that honoured Princess Eulalia of Spain, singing in the last act of Mascagni's Isabeau with the composer conducting. After a successful Fanciulla del West at the Costanzi in Rome on 6 February with Gilda Dalla Rizza and Giuseppe Danise, Edoardo went to Madrid where at the Real Theatre, he sang on 4 March in the first of four Die Meistersingers with Giulia Gagliardi, Armand Crabbé and José Torres de Luna, earning enthusiastic words of praise: "Fresh voice of sympathetic quality, well suited art and perfect declamation." He also appeared in Fedora on 25 March in the first of four performances with Elena Rakowska, Crabbé and Torres de Luna, Serafin conducting.

Ever since Italy had entered the war on 23 May 1915, Eddie had fretted about how he could contribute, and so in 1917, while negotiations raged about how and when he would sing at the Met in New York, he set about during May to November to sing for soldiers in hospitals throughout Italy, France and Belgium. "I remember him well," one soldier recalled years later, "he was like a breath of life to all of us. I'll never forget that smile of his. I never saw him again and never heard him again, but I've never forgotten him."
As 1917 neared its end, Edoardo found himself at the Teatro Politeama in Genoa on 26 December, cast as Loris in Fedora with Carmen Toschi and Ciro Scafa. Then it was on to Rome where on 6 February he sang Dick Johnson in La Fanciulla del West with Gilda Dalla Rizza as Minnie and Giuseppe Danise as Rance. In March, Luisa Villani sang Minnie. In attendance was famed tenor Giacomo Lauri Volpi who later wrote: "Johnson proved himself an authentic Johnson di Sacramento in La Fanciulla at La Scala and also in Rome, at the Costanti. He outshone all his colleagues in this rôle by the originality of his presentation, which, moreover, was faithful to Puccini's original conception." Then he took part in another première. After gruelling weeks of rehearsal, Maria di Magdala by Vincenzo Micchetti was given 8 March, 1918. Di Giovanni drew praise as the very embodiment of the character of John the Baptist and mention was made of his sharing the great applause with Elena Rakowska as Maria, Giuseppe Danise as Guido and Maestro Panizza. Nevertheless, the work received only four performances.

Still another première took place on 27 May, 1918, when Eddie sang in Pietro Canonica's La Sposa di Corinto in Rome's cavernous Teatro Argentina. He knew his part but chorus members and other leads arriving late had Eddie quite worried. But Bee told him, "Be calm. You've done your part. Now trust and be ready to adapt to whatever happens." True to her prediction, the first performance took place as scheduled and he won ecstatic acclaim from the press. In the audience was the British Prince of Wales, then a visitor to Rome. It was the third time during the visit for Eddie to sing for His Royal Highness; at the first, a reception in the British Embassy, he had sung Rule Brittania to the delight of all.

Montemezzi had composed his patriotic opera La Nave for Johnson's voice and saw it premièred at La Scala on November 3, 1918 though it proved most difficult to stage and sing. A ship, the 'nave' of the story, must sink in the last act in front of the eyes of the public; thus it was costly to mount. At the première, fate had taken a hand. Serafin had just put down the baton, when it was announced from the stage that Italian troops had entered Trieste. However, in the rôle of Marco Polo, Eddie had one of his most successful and personal triumphs, reaping praise for his voice, for his bearing and for his dramatic impersonation. Afterwards he wrote to Fiorenza; "La Nave was a great success for Babbino and for Signora Rakowska. There was not a vacant seat in all of La Scala. Even famous baritone Titta Ruffo sent 'infinite congratulations on the success of La Nave.' "

Puccini insisted that for the European première di Giovanni would create the tenor rôles in two operas of his Il Trittico - Gianni Schicchi and Il Tabarro - the third, Suor Angelica, involving an all-female cast. Il Trittico was to have its world première at the Metropolitan Opera less than a month before the production in Rome at the Costanzi but Puccini was not worried about New York; instead everything had to be right in Italy. It was one thing to be fêted in New York, quite another to be acclaimed at home.

Afterwards, the Italian world of opera belonged to Eduardo di Giovanni. Two days after the première on 11 January 1919, Bebe wrote to Fiorenza, "Babbo had a great success in the operas by Puccini and was complemented by everyone. I know these words will make you happy." She enclosed a review that had praised the vigour of Eddie's portrayal, the security of his singing and the highly intelligent and dramatic conception.

The first performance of Montemezzi's Jacquerie on 6 March 1919 in the Teatro Costanzi drew praise for the composer/conductor and the two "marvellous stars," Dalla Rizza and di Giovanni - the tenor "whose interpretation of the rôle made the performance especially memorable." Then, in contrast to his usual repertoire, di Giovanni tackled Debussy's unique Pelléas et Mélisande, then being given in Italy for the first time, but it would be sung in Italian. He found the rehearsals taxing and the rôle of Pelléas the most exacting he had ever sung, not because it was difficult vocally but because of the elusive quality of the character. "Pelléas is a mere lad," he remarked, "but he is also a man." Opening night on 11 April drew reams of comment mostly about the opera but praise was heaped on the "impeccable Mélisande" of Bianca Bellincioni Stagno, the "excellent Pelléas of di Giovanni and the "very effective Golaud" of Eugenio Giraldoni. All three artists were said to have contributed miraculously to the inestimable success of this exceptional work. Marinuzzi, the conductor, was applauded at the end of each act. Edoardo could not realize just how significant this opera would become for him.

TRAGEDY!
A second production of Il Trittico was set for Florence on 24 May 1919 with Eddie primed for action but Beatrice had been ill for several days. After a rehearsal, he returned home and they talked until she became drowsy. She said, "In bocca al lupo domani" ("Good luck tomorrow.") But next morning he awoke to find Bebe unconscious. A doctor was called and tests were made, but soon the doctor came and placed his hand on Eddie's shoulder. He knew the worst and burst into uncontrollable sobs. She had slipped away, a victim of uraemia. Devastated, Eddie sent word he could not sing that evening in Il Trittico. The situation was desperate with singers, musicians, conductor and management all insisting that he must sing, and finally two hours before the performance he agreed to go on, but only if his close friends sat in front to lend support. Eddie continued singing every performance until the season ended on 1 June. Then he left immediately for Turin for rehearsals with Toscanini of Beethoven's Ninth Symphony. After a second performance in Milan, he was invited to sing in Trieste, but he returned to Florence.

Acting on previous plans to go to America, Eddie decided to go ahead despite how low he felt. Along with Fiorenza, her nanny Tata and a governess, he left Italy for the time being and returned to the United States, Chicago being his destination. Upon arrival Eddie enrolled Fiorenza at a private school, where her lack of English and strange attire soon had some calling her "the Wop." Eddie could only advise her to make friends and let time heal the situation. When Chicago management insisted that he return to his own name, he agreed though he figured it would cost him prestige.

THREE SEASONS IN CHICAGO
He made his début on 20 November 1919 in Giordano's Fedora. In this tawdry tale, the Russian Princess Fedora (Dorothy Jardon) loves the son of the dreaded St. Petersburg police chief, Vladimir, but he is secretly chasing the wealthy Wanda. Her husband Count Loris Ipanov (Edward Johnson) learns of his wife's perfidy and shoots Vladimir. By the next scene Loris and Fedora are in love, but she wheedles out a confession and resolves to avenge Valdimir's death. She writes to the police chief who imprisons Loris's brother. When water rises in his cell, he is drowned causing their mother to die of shock. Loris discovers that it was Fedora who caused these tragedies, and he curses her. As he continues to berate her, she realizes his violence towards Vladimir had been justified and her love for him returns. Thinking there is only one way out, she takes poison. Near the end of Act 2, Johnson's "Amor ti vieta" aria, extolling his love for Fedora, literally stopped the show. There was a moment of distress however. When he discovered that he had been billed as "an American tenor," his blood boiled. He told management, quite calmly but definitely, that he was not American, but "Canadian, and proud of it!"

He combined with Miss Jardon again on 6 December for a matinee Il Tabarro as Luigi with Dorothy as Giorgetta. Rinuccio in Gianni Schicchi followed with Carlo Galeffi and Evelyn Herbert as Lauretta. The sudden death of popular conductor, Cleofonte Campanini, on 19 December was a great blow to morale in the company. But the next night Johnson had to carry on, singing excerpts of Die Meistersinger with the Chicago Symphony, achieving success despite the unfamiliar English proving a stumbling block. The press wrote, "Learning to sing his own language as well as he does foreign tongues is still something for Mr. Johnson to add to his repertoire." He was relieved when Marinuzzi, his friend from Italy, was appointed director but felt he was stepping into a hornet's nest. Mary Garden averred that no one could fill Campanini's shoes. To round out his first season in Chicago, Eddie and Mary performed in L'Amore dei tre Re on 7 January 1920.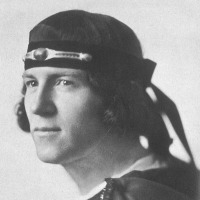 After the season ended, the company opened on 26 January in the Lexington Opera House in New York by repeating Montemezzi's opera. As Avito (see picture), Johnson was not only the hero of the opera, but of the occasion. Hundreds of telegrams and good wishes flooded in; but one that pleased him especially was from his old voice teacher in New York. "Heartfelt wishes for brilliant success of the star. I shall hear him from the fourth row tonight. It was signed, L. von Feilitsch." Although Eddie sang with Mary Garden that night, there was no doubt of his conquest of New York. The New York Tribune reported that he "was all that had been heralded, a fine figure of a man, tall, lithe, graceful - a romantic figure if ever there was one. His voice, too, was a fine one, and beautifully used, a dramatic tenor of rather light quality, but capable of expressing deep emotion. The curtain fell with Mr. Johnson a great success." Another joint appearance in New York came when the Chicago forces presented the US Première of Erlanger's steamy Aphrodite on 27 February 1920 with Eddie and Mary headlining a large cast. Continuing the tour, he sang Aphrodite again in Boston on 3 March as well as both of his Il Trittico rôles. Then, successively in Pittsburgh, Cincinnati and Detroit, he sang Cavaradossi in Tosca with Mary Garden. In Cleveland on 25 March, again with Mary, he sang in L'Amore dei tre Re. Two nights later, a Tosca with Rosa Raisa concluded the tour.
It was a difficult time for Johnson. Accustomed to singing often in Italy, he now got a call only once every two or three weeks. No longer the star, he was just one of a crowd. In addition he and Mary Garden did not exactly hit it off. She resented the boisterous applause he received and was not about to be upstaged by "that young Canadian upstart from Italy." As for singing together in Pelléas et Mélisande, there was no way!

He had enjoyed the company of Fiorenza and Tata (their faithful friend and nanny) in Chicago that first winter, but he wanted Fiorenza to develop a feeling for Canada so he took her and Tata to live with his parents in Guelph and arranged for her to attend public school in the fall. Glad to escape the nonsense in Chicago for a while, he began his summer engagements with a recital in the opera house on Guelph on 29 March 1920. The place had never been as crowded or resounded to louder applause for anything or anybody. It was real triumph for Eddie to have conquered his hometown in such a way.

With Beatrice gone, life with Fiorenza had become complicated, even difficult, due to his frequent absences. He was always leaving her but he would visit whenever he could. Fiorenza would write constantly to say how much she missed her beloved Babbino.

Gaps in his Chicago schedule meant that Eddie gave concerts in nearby centres. Once he slipped over to Toledo to sing with the American contralto, Sophie Braslau. They hit it off so well that she didn't even seem to resent it when he was given the lion's share of the review, being compared to Jean de Reszke and praised for his "towering expression and tonal beauty." She even suggested that it might be profitable for both of them if they teamed up for a few joint concerts the next year.

Expecting Wolfsohn's staff to arrange guaranteed performances and juicy recording contracts, Eddie went all out during a concert in Carnegie Hall on 20 October 1920. With Conrad V. Bos at the piano, he sang a fascinating array of songs, twenty-three in all, by Schubert, Faure, Durante, Cimara, Pizzetti, Moniusko and others, winding up with a pair of folk songs. But negotiations bogged down with the Met. And so, with no agreement in sight, he headed back to Chicago for a busy time indeed.

He found himself cast in the opening opera on 17 November 1920 as Mazurec in the American première of director Marinuzzi's own Jacquerie. Having sung this rôle in Rome in March the previous year, this proved to be sensible planning. It was a tale of a fourteenth-century peasant revolt in France with sets and costumes that alone had cost a tidy $50,000. Yvonne Gall and Johnson headed the cast while the composer conducted, but it wasn't a great success. On 24 November he sang Andrea Chénier with Rosa Raisa, Titta Ruffo and Cyrena van Gordon, then on 6 December Rinuccio in Gianni Schicchi and Luigi in Il Tabarro with Dorothy Jardon. Five nights later, he was Canio in Pagliacci with Margery Maxwell and Carlo Galeffi. Christmas Eve was spent making merry in Lohengrin, given "with greater dispatch and smoothness at its second performance. Also the English of the singers was easier to understand. Edward Johnson was a superb Lohengrin, and actually sent an electric thrill through his hearers by his glorious voice and noble singing of the narrative, 'In distant land.' Johnson's Lohengrin must rank with the greatest presentations of the rôle. His enunciation was flawless, every syllable being distinct and clear." Rosa Raisa was "a brilliant and loveable Elsa," Cyrena van Gordon "in opulent voice" as Ortrud, while Louis Kreidler applied his "sonorous voice and remarkable musicianship to the part of Telramund."

Opera lovers in New York and in other US cities had experienced Camille Erlanger's Aphrodite, now it was Chicago's turn. It took place on 31 December with Johnson as Demetrios. This was another of the courtesan rôles in which Mary Garden excelled, but the audience found the music dull, not so the fabulous Mary who made the part of Chrysis so commanding that they could almost overlook the shortcomings of the score. In one scene clad in transparent rose and a leopard's skin about which she twisted a long blue-green scarf, she so mesmerized her audience with a few simple motions that scarcely anyone was aware of the screams and moans of a slave being crucified a few feet away.

Johnson concluded his season on 7 January 1922 with a performance of L'Amore dei tre Re, this time with Olga Carrara as Fiora. But then Marinuzzi's sudden resignation in January 1921 meant that Mary Garden was elevated to the post of director. She accepted the challenge and immediately began planning to finish the 1920/21 season with a grand, national tour. But she proved more capricious than efficient as a manager, and soon there was dissent. She and Johnson avoided each other whenever possible, but were carefully polite when they met. She made no bones about the fact she would not have him in a performance with her if she could help it. She had to recognize his popularity at the box office, however, and therefore condescended to appear in L'Amore dei tre Re with him. "You get a lot of applause," she would say, "Why, I'll never know. You must have a good claque." Then she would sweep off before he could reply. Had she been a man, he knew what he would have done. Just imagine what these two as Pelléas and Mélisande could have done for box office receipts!

Post season the company began with a customary visit to New York where on 4 February, Johnson sang in Jacquerie with Yvonne Gall, Olga Carrara, Hector Dufranne and Carlo Galeffi. He sang twice in Pagliacci, initially on 19 February with Alice Zeppilli as Nedda. Then on 25 February, for a good-sized audience at the Manhattan Opera House, "Johnson and Titta Ruffo were impressive in their respective parts and aroused their hearers to much applause. As Nedda, Margery Maxwell "acquitted herself creditably, both vocally and otherwise." Johnson also sang Avito in two performances of "The Love of Three Kings" with Mary Garden and once with Olga Carrara when Mary was laid low by laryngitis. "Johnson was in splendid vocal form, singing the music even more beautifully than last year." In Pittsburgh, Cleveland, Cincinnati, Dallas, Los Angeles, San Francisco and Denver, he sang Lohengrin with Rosa Raisa with L'Amore dei tre Re with Garden as Fiora, performed as well in the two California cities.

As he began his third season with 'La Directa' Mary Garden in charge, Eddie realized she had engaged more tenors than she could utilize, so had little use for him. However, he was asked to sing his first Pinkerton in Madama Butterfly. During his career he would seduce and abandon five Cio-Cio-Sans, Edith Mason being the first on 16 November 1921, Amelita Galli-Curci the second, during this series. Later at the Met he would discard Florence Easton in 1923, Elisabeth Rethberg in 1925 and Maria Müller in 1929.

When the Chicago forces went on tour to New York, Johnson again sang in Madama Butterfly with Edith Mason on 27 January 1922. Next he and Mary Garden teamed in L'Amore dei tre Re on 30 January repeating it at their next stop in Toledo. He had a change, though, in Baltimore on 8 March when he and Edith Mason sang in La Bohème, and another when he offered his first Radames with the company in Pittsburgh on 11 March with Rosa Raisa as Aida and her husband Giacomo Rimini as Amonasro. Three nights later in Milwaukee he provided another "first" as Tannhäuser with Raisa, Joseph Schwarz as Wolfram, Margery Maxwell as Venus, and James Wolf as the Landgraf. Opera lovers in St. Paul witnessed him in this rôle while in Portland he was heard as Lohengrin. In San Francisco, he sang in Aida, Tannhäuser, Lohengrin, La Bohème and La Fanciulla del West. Then in Los Angeles, he reached a milestone. His Tannhäuser on 14 April with Raisa and Baklanoff became his swan song with the company. His differences with the Metropolitan Opera ironed out, he went off to conquer New York.

That summer, though, there was a high point when he performed in the first opera ever given at the Hollywood Bowl. It was Bizet's Carmen and as Don José he sang with Marguerita Sylva and Henri Scott. Many years later, after he journeyed across the country to appear on a This is Your Life TV Show devoted to Margherita on 14 March 1956, she wrote to him in appreciation: "Let me repeat that your Don José was one of the three greatest ones I met during my several hundred performances of Carmen. The other two were Edmund Clément and Thomas Salignac, but neither had what you had - the glorious voice added to the great dramatic genius. We had forty thousand in the audience, wish it had been 40 million, I am told, saw us on the 14th of March last. I sign with, and say, deep affection, gratitude, admiration and love! And hum the song 'Till we meet again.' Hope soon - Sylva." A year later Marguerita died in a car crash.

AT THE METROPOLITAN
On 16 November 1922, he began his career at the Metropolitan Opera in what many agreed was his signature rôle, Avito in Italo Montemezzi's vastly popular L'Amore dei tre Re. This concerns the love of a blind king Archibaldo (Adamo Didur), an ancient barbarian conqueror, for his son Manfredo (Giuseppe Danise); of Manfredo's love for Fiora (Lucrezia Bori), princess of a conquered country, given to him in marriage; and the love of Avito (Edward Johnson), prince of the conquered country, for Fiora, whom he was to have married. Suspecting Fiora of infidelity, the king strangles her, applying poison to her lips to trap the interloper, and indeed Avito slips in and kisses her and dies. Overcome with grief Manfredo does so too. Now the king's world is both dark...and empty. Johnson drew this reaction: "He has a voice of warm tenor quality which he uses with skill and with telling dramatic effect; a voice of power, but capable of reserves and subject to the discipline of musical understanding. He enacted the part with a chivalrous, romantic ardour, with intelligence and feeling; for here is a tenor who is something more than a voice who is an artistic personality. What he did last evening seems to assure the value of his membership in the company."

Gatti valued his new acquisition as had Chicago's Campanini for his ability to create difficult (and often unrewarding) rôles in Italian and French novelties, several of which he would face. But he would also benefit from a variety of more conventional rôles right away. Four nights after his début, he was called upon to replace Orville Harrold on Monday evening, 20 November and for the first time in his life he sang Dimitri to Feodor Chaliapin's Boris Godounov with Margarete Matzenauer as Marina. In spite of good reviews, he looked upon it as a waste of time, a rôle for which he had little affinity. And yet he would be asked to sing it again and of course he obliged.

He was on more familiar ground on 25 November as Des Grieux in Manon Lescaut with Frances Alda and Antonio Scotti and in Tosca on 1 December when he had an opportunity to prove his skill against the glamorous Maria Jeritza. Then on 16 December he joined Florence Easton and De Luca in Bizet's shocker Carmen. That season the Met gave Catalani's Loreley in New York with Gigli or Dolci as Walter; Johnson sang the rôle during a Met visit to Philadelphia on Boxing Day with Alda, Marie Sundelius, José Mardones and Giuseppe Danise. After having such a mighty success as Walter in Italy, it seems odd that New York opera lovers were denied seeing him in this rôle. In the New Year, he sang Canio in his first Met Pagliacci on 3 January 1923 with Elisabeth Rethberg and Titta Ruffo, followed on the 19th by Pinkerton in Madama Butterfly with Florence Easton and Scotti. Then on February 2 came an opera in which he and his partner, Lucrezia Bori, completely captivated the public, in a first-at-the-Met performance of Gounod's Roméo and Juliette with De Luca as Mercutio and Léon Rothier as Frère Laurent. Still making headlines with Met "firsts," he sang the title rôle in Faust on 8 February with Alda as Marguerite, Rothier as Méphistophélès and Danise as Valentin. That brought first season at the Met to an end.

At the end of his Met contract for the 1922/3 season, Eddie embarked immediately on a heavy concert schedule that was interrupted on 24 May when he sailed on the Olympic for England to début at the Royal Opera House, Covent Garden. In Faust on 21 June with the British National Opera, his Marguérite was none other than the aged but still outstanding diva, Dame Nellie Melba, while Méphistophélès was sung by the superb British basso, Robert Radford. May Blyth sang prettily as Siébel with William Michael a stalwart Valentin. It was awkward in that the parts of Marguérite and Faust were sung in French while others sang in English. "Mr. Edward Johnson's singing seemed marked more by ease and refinement than by fervour or fire. He rarely let himself go, and though we recognized the merits of his singing and the fine quality of the voice, especially in the upper part, the performance had not the glow and thrill of the great tenor." Of the three performances given, Tudor Davies sang in the first with Edna de Lima while Johnson sang again in the third on 28 June. Afterwards with daughter Fiorenza, who accompanied him whenever possible, he visited friends in Paris and Florence before returning to the Met where he knew a mountain of work was waiting.

He began the 1923/24 Met season on January 30 as Roméo to Queena Mario's Juliette but he didn't feel well. He sang, also a Pagliacci on 1 February, and a Romeo with Galli- Curci on the 11th but then he was forced to cancel the rest of his season on doctor's advice. Back in Guelph, the enforced holiday proved to be the most relaxed period for him in many a year. He returned to action on 29 April during a Met Carmen in Cleveland with Florence Easton, followed by Faust in Rochester on 5 May with Alda and Chaliapin.

For the 1924/25 season he led off on 9 February in Madama Butterfly with Elisabeth Rethberg and Antonio Scotti followed by Pagliacci (14th) with Bori and De Luca and Roméo et Juliette in Philadelphia (17th) with Queena Mario. Returning to New York, he portrayed Dimitri in Boris Godounov (21st) with Adamo Didur as the crazed Tsar, Carmen (23rd) with Ina Bourskaya and José Mardones, Pagliacci (25th) with Mario, Roméo et Juliette (4, 23 March) with Bori, Carmen (10 March), Pelléas et Mélisande (21 March, 9, 13 April) with Bori, Faust (1 April) with Marie Sundelius and Michael Bohnen and wound up on 18 April in La Bohème with Maria Müller, Scotti and Didur. Edward Johnson was now as much in demand as Edoardo di Giovanni had ever been in Europe.

With the advent of this handsome and ardent protagonist who possessed exactly the right attributes, Gatti was able in 1925 at last to launch an annual exposure of an opera close to his heart - Debussy's Pelléas et Mélisande. After their first performance on 21 March 1925, Lawrence Gilman in the New York Herald Times had just one word, "Memorable." The Tribune critic spoke of his rare intelligence, insight, art as a singer and actor, and commented that he "struck the right balance between the gravity, the simplicity, the aloofness and reserve that are essential to the character, and the sense of passion under difficult restraint." Furthermore "it was a delight to hear the voice part, so beautifully and so eloquently delivered." Johnson and Bori proved irresistible to Pelléas devotees for the rest of Gatti's tenure, each year performing twice in what was almost a ritual. Initially Bori suffered somewhat from comparison with Mary Garden, New York's only previous Mélisande, but she quickly held her own through her truly touching portrayal of the character. For the first eight years Clarence Whitehill completed the triangle as Golaud but when the American baritone left during the salary slash in 1932, Ezio Pinza took his place for the remaining three years under Gatti. Léon Rothier was a constant Arkel.

That summer, after an appearance at the Cincinnati May Festival, he embarked on what must have been the experience of his lifetime, a grand tour of the Orient. As "Edoardo di Giovanni" again, he sang in Tokyo, Kobe, Hong Kong, Tientsin and Manila with a host of stops along the way. The trip included many vicissitudes: typhoons, fights with coolies and at one point a strike by the seventy man crew of his ship, the President Adams. Reporters, who met him as he stepped off the boat in Naples, asked how he liked the tour, "All in all," he told them, "It was something I wouldn't have missed for anything!"

Beginning his next Met foray on 3 November 1925, Eddie sang Rodolfo to Alda's Mimi in La Bohème. Two nights later he and Bori gave their first Pelléas et Mélisande of the season with three other performances to follow. The Met then presented Spontini's La Vestale for the first time on 12 November with Rosa Ponselle's Giulia justifiably garnering most of the praise but the tenor did admirably too: "Johnson made the staggering transition from last week's Pelléas to last night's early Roman Licinio as if all types of tenor lovers were within his scope. Last night he displayed a histrionic composition that was duly in the grand manner, yet charged with a fervour and plasticity of feeling that brought it nearer to our sympathies than Spontini's unwarmed lyricism could have done." De Luca as Licinio's friend Cinna, José Mardones as Pontifex Maximus and Margaret Matzenauer as the High Priestess, were all warmly received.

Asked later about Johnson as Licinio , Rosa Ponselle said, "Oh, we never had any problem between us, not in Vestale. We had some differences about my staying at the Met, but that was a lot later. Eddie Johnson was a love and a good tenor too." Asked how he compared with Martinelli, she replied, "You can't really compare them. Eddie Johnson's voice was much more lyrical than Martinelli's. Johnson sang some spinto roles, but he didn't have the spinto voice, not anything like Martinelli had. I always think of Eddie with Bori in Pelléas et Mélisande and L' Amore dei tre Re and in Peter Ibbetson with Bori and Tibbett. Johnson and Bori were quite a pair on stage. To me, he was the Bori of the tenors - he was a good actor and a good artist - and a nice-looking man too."

On 2 December, Johnson once again sang Dimitri to Chaliapin's Boris Godounov with Jeanne Gordon as Marina. He then offered as a Met "first" his great rôle, Loris Ipanov in Giordano's Fedora not in New York but in Brooklyn on 15 December 1925 with Maria Jeritza as Fedora, Antonio Scotti (De Siriex) and Nanette Guilford (Olga). The same team gave the opera in New York City on 1 February 1926. On New Year's Eve he and Queena Mario emoted in Roméo et Juliette. (Galli Curci sang on 5 February.) When Mary Lewis made her début as Mimi in La Bohème on 28 January 1926, she was one of the first singers to come to the Met from musical comedy, although others had followed the opposite course. Henderson rated her début "credible but heard little to suggest a distinguished operatic career. Johnson's Rodolfo made for a rather merciless contrast between raw talent and finished artistry." After a La Bohème in Brooklyn with Bori, Eddie sang Tosca with Jeritza and Scotti in New York.

From this year on, Eddie's summers followed a more or less regular pattern: Finish at the Met, go to the Cincinnati May Festival, then to Ravinia and the day after that closed - take off for Europe. A few weeks in Italy always recharged his batteries for the winter ahead.

Ravinia Park, just twenty-five miles from central Chicago, hosted the first summer opera-in-the-outdoors experience in the US in 1912. In fact, the Ravinia Opera Festival owed its existence to an electric railway that deposited patrons right at the front door as no roads or cars existed at the time. As train schedules had to be kept, in most cases truncated versions of favourite operas were offered. Into this charming milieu, Johnson strode for the first time on 29 June 1926 as Roméo with Lucrezia Bori (who else?) and Rothier as Frère Laurent. He followed on 1 July with Faust with Elisabeth Rethberg, Luella Melius and Mario Basiola; then on the 5th, Don José with Alice Gentle in three acts of Carmen with Luella Melius and Basiola. Two nights later he returned as Pinkerton with Rethberg in Madama Butterfly, followed on the 9th by Avito in L'Amore dei tre Re with Bori, Basiola and Virgilio Lazzari. This opera he would repeat three times with only Act 2 being given during the last outing. After Tosca on 29 July with Rethberg, he tackled the title rôle in Lohengrin on 5 August, in German for the first time. Only Acts 1 and 3 were given with Rethberg (Elsa), Alice Gentle (Ortrud). Again there were three repeats with only Act 3 given in the last performance on 6 September.

For his next Met season, he began on 20 January 1927 with a Roméo et Juliette on 20 January 1927 with Bori and a repeat on 19 February with Thalia Sabanieeva as Juliette. On 25 January, he sang Avito in Montemezzi's L'Amore dei tre Re in Brooklyn and in New York on the 29th with Bori (Fiora), Tibbett (Manfredo) and Pavel Ludikar (Archibaldo). In a third outing Pinza sang Archibaldo. After Johnson sang a matinee La Bohème on 4 February with Bori, they teamed up for Pelléas et Mélisande on the 11th. Then Gatti's efforts to promote operas by American composers bore fruit again when Deems Taylor's The King's Henchman was premièred on 17 February 1927 in the first of seven performances. In basing her libretto on an Old-English Saxon tale, Edna St. Vincent Millay had produced a work that was both complex and so difficult to sing she required singers with a complete command of the English language. Thus Florence Easton, Lawrence Tibbett and Johnson as Aethelwold reaped more praise than the opera itself and helped to make it the high point of the season.

As the season continued, Johnson sang in a matinee Faust on 5 March with Michael Bohnen and Queena Mario. Then, for the first time during his Met career he sang Radames in Aida on 8 March with Maria Müller, Karin Branzell, Giuseppe De Luca and Ezio Pinza with Serafin conducting, repeating the rôle on 11 April with Julia Claussen as Amneris and Bohnen as Amonasro. He finished his New York season as Canio in Pagliacci (17 Mar) with Mary Lewis as Nedda and De Luca as Tonio. During the tour that followed, the Met visited Philadelphia where Johnson again sang in The King's Henchman (29 Mar.) with Nanette Guilford as Aelfrida. Then in Baltimore, he had two rôles; first on 18 April when he added Calaf in Turandot to his Met credits with Florence Easton portraying the ice princess, Nanette Guilford as Liu, Pavel Ludikar as Timur, Serafin conducting, and then he sang in La Bohème (21 April) with Bori, Scotti and Rothier. He repeated Rodolfo in Washington (23 April) and Calaf in Atlanta (27 April.)

At the Cincinnati May Festival on 9 May 1927, he joined Florence Austral, Dan Beddoe and others in all-Wagner Concert with Act III of Tannhäuser and Act III Quintet and Finale of Die Meistersinger. Then, on 26 June, firmly attuned to the charm of Ravinia Opera, he returned to offer portions of Roméo et Juliette with Bori, Gladys Swarthout and Rothier. On 3 July he appeared in Carmen with Ina Bourskaya as the tantalizing gypsy with Mario Basiola as the toreador. On 7 July he reappeared in Puccini's La Bohème with Rethberg, Maxwell and Basiola. In L'Amore dei tre Re on 12 July, Bori, Danise and Lazzari were able stage partners. On 14 July, he sang Canio in Pagliacci, and the next night, Pinkerton with Rethberg as Madama Butterfly. For his next effort, he sang Faust on 19 July with Yvonne Gall and Rothier. On 28 July and twice more, he offered Lohengrin with Rethberg. That left two challenges: Cavaradossi in Tosca on 15 August and Julien in Charpentier's Louise on the 22nd, both in the company of Yvonne Gall. Though he would never sing Louise at the Met, he did perform it at Ravinia that year and subsequently. In each case, all of Act 2 or just the first scene was omitted.

That autumn concert activity included his only visit to New Orleans on 10 December 1927 when, under the auspices of Philharmonic at the Athenaeum, he delivered an interesting program of arias ranging from La Bohème, Louise and Pagliacci to songs by Stradella, Rontani, Schubert, Strauss, Franz, Marx, Vaughan Williams, Novello and others. Blair Neale, his accompanist at the piano, was a Canadian, born in Chatham, New Brunswick. Working with Johnson for a few years helped this young man's career.
Resuming at the Met on 13 January 1928, Johnson sang Don José with Maria Jeritza as Carmen, Edith Fleischer (Micaëla) and Tibbett (Escamillo). The same cast repeated on 18 January, but different Micaëlas appeared in the other three performances: Bori (27 Jan.), Nina Morgana (13 Feb.) and Queena Mario (9 Mar.) The toreador was sung by Pinza on 13 February and by Mario Basiola on 9 March. On 25 January, the Met presented the first of three Pelléas et Mélisandes that season with the usual principals: Johnson, Bori, Whitehill and Rothier. A revival of The King's Henchman warranted four performances (3, 15, 24 Feb., 12 Mar.) with original cast members plus a few changes in minor rôles.

The La Bohème on 7 February was a benefit for Misericordia Hospital in New York in which Johnson introduced Grace Moore to 4000 Met patrons. Originally from Tennessee two years earlier, she made her mark on Broadway in "The Music Box Review." Scarcely had the asbestos curtain descended after the opera than he had gone over and grabbed her hand and said, "God bless you, child. You have a great future before you!" She had impulsively kissed him. A few years later Johnson was linked romantically with Grace Moore, but both denied the rumour. He repeated Rudolfo on 17 March with the same cast except that Pinza replaced Rothier and Nanette Guilford took over as Musetta. Johnson sang Avito in L'Amore dei tre Re in Philadelphia (11 Feb.) and Aethelrod in The King's Henchman in Brooklyn (3 Mar.) Back in New York, he joined Mary Lewis in Pagliacci (21 Mar.), sang Avito (26 Mar.), offered Lohengrin's narrative at a Met concert on 8 April, and wound up the season in The King's Henchman.
.
For Ravinia in 1928 he began on 24 June with three acts of Louise with Yvonne Gall. Two nights later he was back as Avito with Florence Easton. Active back-to-back on 4 and 5 July, he sang Andrea Chénier and then Lohengrin. On 13 July as Roméo, he pursued Miss Gall, while the next night, as Canio, his target was Queena Mario. His next rôle Cavaradossi, he sang on 25 July with Yvonne Gall as Tosca filling in for an ailing Elisabeth Rethberg. She rejoined Johnson at a later performance. On 7 August as the warrior Radames he sang with Rethberg. Next, and new for him at Ravinia, came Des Grieux in Puccini'sManon Lescaut on 10 August with Florence Easton and Defrère.

For the 1928/29 season, it seemed he was wanted everywhere. Settling on San Francisco, he hurried westwards to perform a season in Dreamland Auditorium, where it was thought an atmosphere of intimacy prevailed. With a capacity of 4600 seats, it was cosier and slightly less of a barn than the previous Civic Auditorium. Johnson made his début as Radames in Aida on 15 September 1928 with a basically Metropolitan cast of Elisabeth Rethberg, Marion Telva as Amneris, Tibbett as Amonasro, filling in at the last minute for an ailing Danise, and the young and promising Ezio Pinza as Ramfis. Redfern Mason, music critic of The San Francisco Examiner, noted that Rethberg's Aida was "subtle with a Teutonic warmth of emotion," while opposite her Edward Johnson, then "a well-known tenor, was a flesh-and blood Radames, not a stick." Johnson went on to sing three of his standard operas, L'Amore dei tre Re with Elda Vettori and Pinza, Fedora with Maria Jeritza and Giuseppe Danise, and to close the season on 3 October, Pagliacci with Vettori and Tibbett. After that Johnson was never free when they wanted him.

Next he proceeded to Los Angeles where the Grand Opera Association was holding a season at the Shrine Auditorium. Johnson first sang Loris in Fedora with Maria Jeritza and Giuseppe Danise, Gaetano Merola conducting. Then on 10 October, he appeared as Don José with Jeritza as Carmen, Ezio Pinza as Escamillo and Zaruhi Elmassion as Micaëla. For his third offering he sang Canio in Pagliacci with Laurel Nemeth as Nedda, Lawrence Tibbett as Tonio and José Mercado as Silvio. Merola again conducted.

Back with the Met, he sang Avito in L'Amore dei tre Re in Philadelphia with Ponselle as Fiora and Didur as Archibaldo, Serafin conducting. Returning to New York, he rendered his customary fare: Canio in Pagliacci with Nanette Guilford; Don José with Jeritza as Carmen and Pelléas et Mélisande with Bori. After a Pinkerton in Philadelphia with Maria Müller as Cio-Cio-San, he returned to New York for a Tosca with Jeritza and Antonio Scotti and a Roméo et Juliette, now with Grace Moore. Four performances of The King's Henchman followed; the fourth in Philadelphia. The company then adjourned to Brooklyn where Johnson and Bori were reunited in Roméo et Juliette.

Next he assumed the title rôle in Pizzetti's Fra Gherardo but this music would not bring him the same success as Fedra had done. It was described as "essentially sterile, the vocal line being in the new mode of spasmodic, almost song-speech writing with an excessive emphasis on declamation." Henderson saw the reaction of the first audience on 21 March as "apathetic, perhaps as the principals - Maria Müller (Mariola), Johnson and Pinza (Old Man and Podesta) had rather hopeless vocal tasks." Three further performances were all the opera merited.
1929 was a disastrous year for Johnson as the market crash wiped out his "comfortable nest egg." He managed, however, to maintain his close relationship with his home town of Guelph, even donating $25,000 towards the musical education of local children and Guelph's first May Festival that featured the Toronto Symphony with himself as soloist. "I love Canada and I love music," he always said, "and I want to bring them together." The year previous in confirming this belief, he recorded "O Canada," later to become the country's national anthem and "The Maple Leaf Forever," a favourite patriotic piece.

At Ravinia, though it was not in his contract this season, when asked to sing Julien in Louise, he cheerfully agreed and in short order, he appeared in scenes from the opera with Yvonne Gall on 25 June. On 2 July he sang Acts 1 and 3 of Lohengrin with Elisabeth Rethberg, and two nights later as Roméo with Met regulars Bori and Rothier, followed on 16 July by Ruggero in Puccini's infrequently heard La Rondine with Bori as Magda. His final challenge came on 14 August as Loris in Fedora with Yvonne Gall.

With Johnson and Bori in so many intimate pairings on stage it was inevitable that gossipmongers would link them romantically off stage. The rumours were impatiently - and rightly dismissed. Johnson remained an eligible widower, devoted to his daughter Fiorenza and the probable despair of many a marriageable lady. There was even a rumour of an affair with Mary Garden! He never remarried.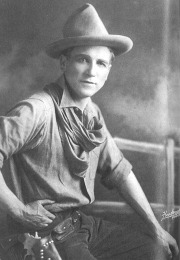 Puccini's La Fanciulla del West was restored to the Met repertory on 2 November 1929 after being absent since 1912-1913 but the original compulsion of Belasco and Toscanini was missing. No pretence of realistic drama remained but it still was superior to other operas of recent vintage. It was rancid melodrama with the cowboys of old now no more than brigands of Abruzzi. Conviction was lacking in the Dick Johnson of Martinelli and his replacements fared no better. Johnson assumed the role on 10 January 1930 (see picture) and Frederick Jagel came later. Leonora Corona also replaced Maria Jeritza as Minnie.

The audience eagerly anticipated Sadko when it was given for the first time in America on the Met stage on 25 January 1930, as Rimsky Korsakoff's music was familiar through countless adaptations. Thus the place was packed. Tickets had been at a premium, forcing the great soprano Marcella Sembrich to call Johnson and have him intercede for her. Later she thanked him profusely, saying: "I particularly enjoyed hearing your fine interpretation of that difficult role, and your beautiful singing." The press noted, "Mr. Johnson laboured manfully with the music and won much applause and sympathy but the interest of the afternoon was centred on the pictures and dancers and Katisha's left shoulder blade which people went miles to see."

That summer he continued to support the Guelph musical festival, the second such event, held on 20 & 21 May, by arranging to have his friend Richard Bonelli, the popular baritone of Chicago Opera, come and present the featured concert.

At Ravinia, he was cast as Avito in L'Amore dei tre Re with Bori on 22 June, and twice subsequently. Next in a pair of revivals, he sang Julien in Louise and Ruggero in La Rondine. After singing Roméo with Bori on 5 July, he appeared twice in Faust with Yvonne Gall and Léon Rothier. On the 7th and 17th of August he portrayed Don José pursuing Carmen in the person of Ina Bourskaya. Two operas completed his season: Lohengrin with Rethberg and Tosca with Gall and Danise.

For the 1930-31 season, Eddie's concert bookings were lighter than usual so he was able to join the Metropolitan Opera early as Roméo on 12 November, followed by Fanciulla on 22 November. All the while he was hard a work preparing for the new opera of Deems Taylor, Peter Ibbetson. He and Lucrezia Bori often worked together, usually with Pelletier (as for Pelléas) and occasionally with Serafin, the conductor of the première.

The music was not easy nor was the characterization, but as Eddie rehearsed, he began to feel more and more at one with the character of Peter Ibbetson. Even Bori one day laughingly commented, "I do believe, dear Edward, that you have forgotten Edward Johnson and have really 'become' Peter Ibbetson." And so on 7 February, 1931, "Miss Bori, beautifully costumed, looked adorable, acted with dignity and charm, and sang as well as the dialogue would permit. Mr Johnson as Peter Ibbetson had the most important rôle in the drama and acted it earnestly. His clear-cut diction went far toward sustaining the interest of his scenes." In fact the Met made Peter Ibbetson Johnson's exclusive property during its four seasons in the repertory. It enjoyed a marked popular success, fetching almost $150,000 into the Metropolitan's needy coffers during its first season.

Of many letters he received after the première, one caused him to smile when he recognized the familiar flamboyant handwriting. "Dear Mr. Johnson: Your creation of Peter Ibbetson, which I had the real pleasure of hearing last night, was simply delightful. So slim, young, sad and dreamy. Lots of luck to you always! Greetings. Mary Garden"

By the end of the 1930/31 Met season Edward Johnson had made four rôles more or less his exclusive property, Peter Ibbetson, Sadko, Pelléas and Roméo. All were popular with the public, although he also was well known as Canio and Faust, and he and Bori remained a beloved stage pairing.

Johnson had continually stressed his interest in young people and the importance of their having an early musical education and early exposure to good music. Years later in Canada he became a key figure in the preparation and presentation of the CBC radio program, "Singing Stars of Tomorrow." However in 1931, the burgeoning Guelph Music Festival had shrunk to a single concert. Hard hit financially by his stock losses, all Johnson could do was to offer advice and moral support.

The 1931 Ravinia season would be his last, as the Festival would fold, a victim of the depression and mismanagement. On 22 June he offered a smarmy Pinkerton to the Cio-Cio-San of Hilda Burke in Puccini's immortal Madama Butterfly. He portrayed Julien in three acts of Louise on 24 June with Yvonne Gall, Julia Claussen and Léon Rothier and six days later faced another French gem, Faust with colleagues from his previous opera. Three acts of Lohengrin were given but just the final episode of Act II with Rethberg as Elsa on 2 July and 26 August (Hilda Burke sang Elsa on the 23rd.) In La Bohème on 12 July, Bori, Margery Maxwell, Basiola and Lazzari were his partners. Performances of La Rondine, Tosca, L'Amore dei tre Re and Roméo et Juliette were intertwined with the pièce de resistance, Deems Taylor's new opera Peter Ibbetson. Three acts were presented on six occasions; at the final on 31 August, the curtain descended on Ravinia Opera.

After Wolfsohn died in 1928, Eddie had hooked up with Columbia Concerts Corporation and when they re-activated the Metropolitan Opera Quartet in December 1930, he was the natural choice as the tenor, his cohorts being Rose Bampton, Richard Bonelli and his old amour (?) Grace Moore. Johnson was grateful for the twenty concerts that winter, in view of his light schedule at the Met. Touring several cities in the US and Canada, they offered duets, trios, quartets and solos drawn from the melodious operas presented at the Met. The inimitable Gracie, sensational new opera personality and film star, was the key name at the box office though the others, of course, had their followers. It must have been a merry time for all concerned, including accompanist Giuseppe Bamboschek.

By the start of the 1931/32 season, Eddie's rôles were beginning to dwindle. Operas he had sung in Italy remained of no interest to the Met, but he had reason to believe he'd still be singing Roméo, Pelléas and Sadko, though even these rôles were now being allotted to Beniamino Gigli, Armand Tokatyan, Georges Thill and Frederick Jagel. Eddie was left with six performances of Peter Ibbetson, but only two of Pelléas et Mélisande and one of Sadko - not a single Roméo et Juliette.
This situation was righted somewhat when the 1932/33 season got underway on 9 January 1933 when Eddie joined Lucrezia Bori for another of their Roméo et Juliette trysts. In February, he would sing Roméo twice, once with Mario and again with Eidé Norena. He also sang Canio in Pagliacci on 13 January with Editha Fleischer and Richard Bonelli. In two other performances Armando Borgioli sang Tonio. Next came three Pelléas et Mélisandes, including one in Philadelphia. He continued to sing with Bori in a pair of L'Amore dei tre Re renderings and participated in a trio of concerts.

Peter Ibbetson was Eddie's opening vehicle in the 1933-34 season, the first performance being on 26 December 1933; two repeats happening later. On 31 December he gave a concert, singing the Lohengrin aria and sharing scenes from Madama Butterfly and Faust. However, a vast and expectant audience waited with baited breath the unveiling of Howard Hanson's new opera Merry Mount on 10 February 1934. It was the fifteenth opera by an American composer to be staged by Gatti-Casazza, and hopes ran high for its success. Hanson and his librettist Richard Stokes had selected as their subject the brief invasion of the pious shores of Massachusetts Bay when a band of roistering Cavaliers proceeded to set up a Maypole and dance about it like degenerate heathen. To his dismay, Pastor Bradford develops an unholy passion for the beauteous visitor Lady Marigold and wrestles with his conscience throughout the opera. In the finale seeking redemption he leaps into the flames with Lady Marigold in his grasp. Tibbett had the starring rôle of the wayward cleric Wrestling Bradford; Göta Ljungberg was Lady Marigold Sandys and Johnson Sir Gower Lackland, her true but hapless lover.

The diction of the two men was lauded, but "hardly a word of the Swedish Ljungberg comes through. Still she manages to convey the changing moods of her act three aria and while a few of her top tones are unattractive, her middle voice carries emotional weight." When the Met gave the opera in Philadelphia three nights later, American soprano Leonora Corona provided greater clarity in the role. She would sing most of the remaining performances in New York.

Dr. Hanson's music was most effective in the choral passages, but unfortunately his writing for solo voices was awkward and at times the weight and density of the orchestral fabric tended to swamp the singers' efforts. His incessant drumbeat ostinati and repeated fanfares ultimately relegated a large portion of the score to the realm of background music. After two weeks of rehearsals, Johnson confessed he was "pretty well fed up with it. Merry Mount is a very pretentious and ineffective work. Give me Peter Ibbetson any day or Pelléas." Johnson's objections to Merry Mount were so intense that after he became manager he refused to consider re-staging the opera despite the entreaties of Hanson who claimed he had made changes that dealt with the major complaints.

Johnson and Bori sang Pelléas et Mélisande in New York on 23 February and 4 March, 1934 and again on 7 April during their first visit to Boston in sixteen years. Truly an event - it was broadcast nationally with a recording becoming a priceless document, although noisy and low-fi. It was the same team that had frequently portrayed this opera: Johnson, Lucrezia Bori, Ezio Pinza and Léon Rothier. Of the event Paul Jackson wrote "Too, Johnson had prepared his rôle with Jean Périer, the original Pelléas. It was generally regarded as his finest portrayal though the later Peter Ibbetson was also universally acclaimed. The tenor was just a few months shy of his fifty-sixth birthday at the time and age has invaded his tones if not his girth. (Critics and admirers of Johnson always wrote of 'seeing' his performances, the visual aspect was undoubtedly a prime factor in his success)...one can admire his beautiful articulation of the text, and above all, his stylistic climaxes are the more effective."

After a suitably heart-warming Farewell Gala on 19 March 1935, Gatti-Casazza retired from his top Met post, leaving Herbert Witherspoon as his successor with Johnson as his assistant. Fittingly, Johnson said a formal adieu to the Met stage as Pelléas to Bori's Mélisande on 20 March, but a hilarious time ensued at the Third Annual Metropolitan Surprise Party on 31 March. His particular moment came when he and Gladys Swarthout danced in a number called "Music Without Words" to the tune of A Waltz Dream that had launched Eddie to Broadway fame back in 1908. He then left for Boston to sing Peter Ibbetson with Bori and Tibbett on 4 April, not knowing, of course, that fate had decreed this would almost be his last singing engagement with the Metropolitan Opera. .

No, he wasn't quite finished. Nearly six thousand opera-goers flocked into Detroit's Masonic Auditorium on 7 May, 1935 to hear the local première of Puccini's La Rondine, sung in English, by the Detroit Civic Opera Company with Johnson as Ruggero, playing the young lover opposite the Magda of Lucrezia Bori and sharing with her many curtain calls after the performance. He was preparing to follow withPeter Ibbetson, but in New York, Herbert Witherspoon, after six arduous weeks preparing for the upcoming season, succumbed to a fatal heart attack. Johnson would have gone to New York immediately but there was no one to sing the dress rehearsal of Peter Ibbetson on the 12th. Afterwards, he hurried to New York but he arrived too late to be amongst the honorary pallbearers at the funeral. He did have discussions and made it known he would accept the General Manager's post if Edward Ziegler and Earle Lewis agreed to stay on. Going back to Detroit, he sang in Peter Ibbetson. "Much of the success of the opera," the Musical Courier reported, "was due to the outstanding performances of Miss Bori and Mr. Johnson. Mr. Johnson's diction in English was magnificent. Both were in exceptionally fine voice...the huge audience thundered its applause and composer Deems Taylor, as well as Pelletier, Johnson and Bori received curtain calls too numerous to count." Then, his terms accepted, Johnson hurried to New York as the new General Manager of the Metropolitan Opera. A new and more important chapter in his life was about to begin.

Fiorenza's upbringing was troubled but it must have worked for in Guelph on 12 September 1936 she married George Drew, a fast rising politician who three years later would be elected leader of the Conservative Party of Canada. Switching to provincial politics, as head of the Conservative Party in Ontario, Drew won the election in 1945, and became Premier of Ontario. They would make Eddie a grandpa twice.

MANAGEMENT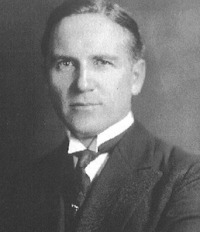 Now would be a time of challenges too numerous to report here where emphasis lies on his achievements as a singer, so a few points must suffice. On becoming General Manager, he let his auburn-dyed hair go white, becoming in the process somewhat handsomer, if anything, than before. His light, high-pitched speaking voice, good looks and ingratiating manner gave an impression of weakness. It was obvious he liked to be liked. He found it difficult to discipline colleagues with whom he'd been on first name basis for years. Moreover, as a performer himself, he had known the immense loneliness of the artist on stage, with only his own gifts and resourcefulness to see him through and so Metropolitan artists found Johnson a sympathetic general manager. In 1939 one of his key moves was to take on as an assistant, Frank St. Leger whom he had known as accompanist, coach and ultimately as a friend long ago in Florence. He quickly proved to be an able trouble-shooter for his boss.

He was an impresario who eagerly welcomed young American singers, one who chose to continue the Saturday afternoon opera broadcasts and support the continuance of the annual Spring tours in Canada and the United States. He also helped to organize the Opera Guild. Constantly on the lookout for fresh talent, he would travel often to Europe. In April, 1937 when Rosa Ponselle retired, Johnson journeyed to Prague and signed a true przie in Croation soprano Zinka Milanov.

In addition to several Americans, Johnson brought Canadians Raoul Jobin and Pierette Alarie to the fore. His detractors would point to too few new productions, catch-as-can casting and other ills but he did hold the Met fabric together during World War II despite such problems as stars being stranded in Europe, plus much more. He still believed in premières, however, and gave eight, including two world premières The Man Without a Country by Walter Damrosch (1937) and The Warrior by Bernard Rogers (1947).

On 10 March, 1940 the National Broadcasting Company presented an operatic program, featuring Met artists Bruna Castagna, Leonard Warren, Licia Albanese and Frederick Jagel with Frank St. Leger conducting an orchestra of thirty-two NBC musicians, and Edward Johnson, not so reticent as Gatti, acting as a lively master of ceremonies. That year through a successful $100 million drive, the Metropolitan Opera Association was able to buy the theatre and property from its shareholders. As for his attitude to the media, in contrast to Gatti-Casazza's resigned paternalism and Bing's icy disdain, Johnson regarded the press as valued fellow artists.

After retiring from the Met, this true-blue Canadian returned to Canada to live in his father's rustic house in Guelph, but he remained on the Board of Directors of the Juilliard School of Music and the Naumburg Foundation in New York. As well he stayed on the board of the Royal Conservatory of Music in Toronto and was made a Companion of the Order of the British Empire in recognition of his services to music. In 1958 Johnson's arthritis became more intense, but he kept going. A man of the theatre, first, last and always, he was on his way to the Guelph Memorial Gardens to attend a performance by the National Ballet of Canada when he died from a heart attack on 20 April 1959. Lasting tributes appeared. Besides the Edward Johnson School, the Edward Johnson Music Foundation and the annual Spring Festival, all in Guelph, there is the Edward Johnson Building at the University of Toronto that was dedicated in 1962. Not only a worthy internationalist he was above all a Canadian with sterling qualities. And, like his Dad, a bit of a character too!

BIBLIOGRAPHY
Ruby Mercer: "The Tenor of His Time - Edward Johnson of the Met" Clarke, Irwin & Company, Ltd. Toronto/Vancouver, 1976
Ronald Davis: "Opera in Chicago" Appleton - Century, New York, 1966
Irving Kolodin: "The Metropolitan Opera, 1883-1966" Alfred A. Knopf, NY, 1966
Quaintance Eaton: "Opera Caravan" Farrar, Straus and Cudahy, New York, 1957
Quaintance Eaton: "The Miracle of the Met" Meredith Press, New York 1968
Paul Jackson: "Saturday Afternoons at the Old Met" Amadeus Press, Portland, 1992
Frances Alda: "Men, Women and Tenors" AMS Press. New York 1971
William H. Seltsam: "The Metropolitan Opera Annals" H. W. Wilson Company, 1947
Arthur Bloomfield: "50 Years of the San Francisco Opera" San Francisco Book Company, San Francisco, 1972
Edgard de Brito Chaves, Jr: "Memórias e Glórias de un Teatro. Sessenta Anos de História do Teatro Municipal do Rio de Janeiro" Companha Editora Americana, Rio de Janeiro, 1971
John Briggs: "Requiem for a Yellow Brick Brewery," a History of the Metropolitan Opera Little, Brown and Company, Boston/Toronto 1969
Richard Smith: "Shophar sho good, early American performances of The Apostles," The Elgar Society Journal, July, 2003, Vol. 13, No. 2, p. 27-36
Robert C. Marsh: "The Annals of the Ravinia Opera," Four Parts in Opera Quarterly.
Charles Mintzer: "Rosa Raisa," Northeastern University Press, Boston.

Acknowledgements: I wish to express my heartfelt gratitude to Michael Bott in Bermuda and to our editor Larry Lustig for sending much pertinent data...Michael, by a dozen or so letters, furnished details of the three Chicago tours and much more while Alfred de Cock in Belgium identified the main La Scala appearances. Archivists Gino Francesconi wrote about Johnson's lone concert at Carnegie Hall and Jack Belsom reported on a concert he sang in New Orleans in 1927. Bill Russell in Springfield, Virginia, supplied detail re the Buenos Aires visit in 1916. Much information, however, stems from Ruby Mercer's fascinating book. Though it is not without factual errors...dates, events, etc, it is recommended reading for anyone truly interested. Now out of print, a copy may exist in used bookstores or from libraries. Thanks are due as well to Linda Amichand at the University of Guelph for accessing certain of the 539 items/ entries in their Edward Johnson archive. Why not visit this archive and see for yourself what wonders it contains?

STEPPING STONES
Edward Johnson's approach to his art

Asked to identify what was involved in becoming a professional singer, Johnson replied, "First of all one needs to gain a musical education. By that I mean, many think if they have a good natural voice and take lessons, that is sufficient, but it isn't; a singer must also be a musician. He should learn the piano and have some knowledge of theory and harmony. These subjects will be of great benefit in developing musicianship. Key too are languages, acting, make up, impersonation, interpretation, how to walk and carry oneself.

You sing on the five vowels, and when you can do them loudly, softly and with mezzo voce, you have a foundation upon which to build vocal mastery.

Of course, the ear is the most important factor, our greatest ally. It helps us imitate. Imitation forms a large part of our study. We hear a beautiful tone; we try to imitate it; we try in various ways, with various placements, until we succeed in producing the sound we have been seeking. Then we endeavour to remember the sensations experienced in order that we may repeat the tone at will.

The old Italian operas cultivate the bel canto, that is - beautiful singing. Of course it is well for the singer to cultivate this first of all, for it is necessary for the voice. But modern Italian opera portrays real men and women of today, who live, enjoy, suffer; are angry and repentant. Hatred and jealousy should be expressed in the voice as well as in action and gesture; they are far from lovely in themselves, and to be natural and true to life, they will not have lovely tones in the voice. .

In taking up a new part, I vocalize the theme first, to get an idea of the music; then I learn the words. It must then be interpreted; more than this, it must be visualized. This rests largely on the singer, and gives opportunity for his individuality to assert itself.

I feel that if I have worked out a characterization, I must stick to my idea, in spite of what others say. It is my own conception, and I must either stand or fall by it.

The stage is a great teacher. Before the footlights, the singer has a constant opportunity to try out this or that effect. To win the audience, he must have accent, diction, characterization, and above all, sincerity. There's nothing that wins its way like the grace of sincerity. I give prominent place to accent and diction. Whatever fault the critics found with me, they have always conceded to me both these virtues. Then with a pleasant smile and a jaunty wave, the singer concluded the interview.