Walter Hyde - his Siegmund and Parsifal were unrivalled
by Charles A. Hooey
It was a temptation to call this "The Jekyll and Hyde Story" because of the chameleon-like way Walter Hyde expressed his art. He began singing light music and after advancing to grand opera, he portrayed an amazing variety of characters. But without malice, I decided this scenario wouldn't fly.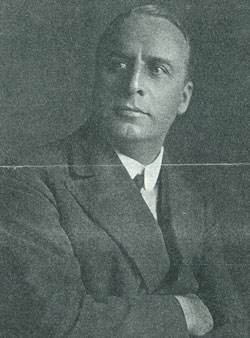 Instead, suffice it to say he was a powerful personality who truly "arrived" in style, his break-through coming in 1908 during the English Ring at the Royal Opera. The cognoscenti had expected something special from Hans Richter and Percy Pitt, but few, if any, could have foreseen that a young English tenor from musical comedy would be transformed instantly into a bona-fide Wagnerian hero.

Walter was born in the Kings Norton area of Birmingham on 6 February 1875, a third son for Henry Michael and Elizabeth Hyde, née Hiley. No doubt he was met with glee by parents, grandparents Charles and Jane Hyde and his two-year-old twin brothers, Harry and Charles. His grandfather and Henry were carpenters by trade but music was their abiding interest.

In later years, Walter set down on paper his memories. "My earliest recollection of things musical is going to church one Sunday morning with my father, who was principal tenor in the choir. I was presented to an elderly, dignified gentleman, who asked me to sing "Doh, re, mi." With all the assurance that the mature age of six could command, I stammered, `Yes, sir.' There was a touch of comedy behind all this, because the smallest surplice was much too large for my tiny body. However, it was placed upon me, and I walked up the aisle with the other members of the choir - holding huge folds of starched linen in my, then, small hands - I was a choir boy. At that early age I could read, and before I could tell the time I could read music."

No carpentry clutter for this lad, instead glorious hours spent spinning out Mozart with his father and brothers by the piano. As adults all would be tenors. "I smile sometimes when I recall that four male voices equally divided the tenor, soprano, contralto and bass roles. Ever since I can remember I have been devoted to music. I always had at the back of my mind the desire to be a public singer."

Basic schooling over, he became, in 1895 one of the first students of the newly re-organized music department of the Birmingham and Midland Institute. "I remember my first singing lesson. It was in a class with some thirty other tenors. Lessons were sometimes amusing, sometimes painful. I won't go into details, because the poor fellow who gave the lessons shot himself soon after I joined the class."

Luckier next time, he found "an invaluable friend in George Arnold Breeden who gave me my first real lessons, great encouragement, and made my life possible." After winning a scholarship at the Royal College of Music, he found several fine men on its staff. "Parry, if not a great composer, was indubitably a great man, who exercised an enormous influence on the students. With Stanford, he studied opera, and with Parratt, harmony and orchestration. "I was placed for singing with Gustave Garcia, a son of the great Manuel Garcia, and he stands out in my memory to-day as an active force in my life. He heard me sing one of Schubert's songs, then he remarked, `Well, my boy, it is not bad but it will never earn you two pence.' Garcia, though overshadowed by the fame of his father, was a fine teacher and a great help to an earnest student. As for songs, operas or scenas, he wouldn't let me touch them. At the time it was rather galling to hear my fellow students doing such works, but I felt that Garcia gave me a good solid foundation.

Student outings included Weber's Euryanthe and the Dvorak Requiem conducted by the composer. "After a few bars, Dvorak stopped, quite overcome by his own music. Dr. Hans Richter, who was in the audience, jumped onto the stage, took his baton and said, `Go on, Go on!' beating time until the rhythm was restored. It was an amazing thing to witness."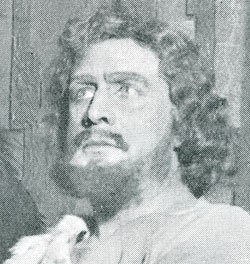 Four years of college life at an end, he gained a few early successes. Then he was summoned to Covent Garden where plans were afoot to premiere Stanford's Much ado about Nothing on 30 May 1901. His old mentor wanted him as Borachio. It deserved a better fate for its delightful music and favorite performers such as Suzanne Adams, Marie Brema and David Bispham but the English were not ready to hear their own language issue from the Royal Opera stage. He may have sung in other support roles as well. Afterwards, reaction was promising: "Get more seasoning, Walter. We'll see you again soon." That meant, in his own words, "I continued to flounder in the weary, dreary depths of musical comedy."

Nevertheless he received kudos for his efforts. In Brighton, Percy Pitt had seen him in Sidney Jones's My Lady Molly and was duly impressed. When the show moved into Terry's in London on 14 March 1903, he was still prominent. But in 1905, Hyde discovered recording and for Edison's organization, no less, he turned out a series of cylinders, including duets with another neophyte, Peter Dawson.

Now on 14 June 1905, it was "much ado about something" as Walter wed his sweetheart Emma Elizabeth Atherden in Marston Church in Solihull, a suburb of Birmingham. On hand were his parents, brother Charlie, likely as "best man," and the bride's parents, George and Olive Atherden. "Esme" was a singer too, a soprano who sang Messiah that year in Hull. In time they would have two children, a son who was named "Walter," naturally, and a daughter called "Joan."

Late in 1906, Hyde became a saviour for composer Liza Lehmann when she oversaw the London premiere of her opera The Vicar of Wakefield. As the day, 12 December, approached, all seemed in readiness at the Prince of Wales Theatre with Isabel Jay set as Olivia and Bispham as the Vicar but an exciting yet inexperienced tenor speaking in a deep Irish brogue was clearly unsuitable as the ultra-English Squire Thornhill. Walter Hyde was engaged in his stead and according to Bispham, "In the short time he learned the opera and gave a beautiful performance." As for John McCormack, he quietly filed away "the Vicar incident."

In March 1907, James H. White, an American entrepreneur who was making cylinders in London, called Walter in to partner Peter Dawson in recording the Victorian pot-boiler "Excelsior!" However, the future for cylinders was bleak and, by August, White was forced into bankruptcy. Interestingly, Hyde was accompanied to a session by Esme who recorded "Annie Laurie" and Love's sweet song."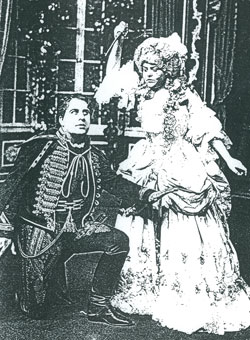 Beginning on 21 August, Hyde plied his trade at the Apollo Theatre in London in Harold Talbot's The Three Kisses as Andrea, a fisherman from Sorrento. He used his "pleasant and fairly powerful voice" to woo Marietta, tantalizingly played by Caroline Hatchard, while Walter Passmore offered mirthful diversion as Signor Garibaldi Pimpinello.

Towards year's end, he joined two other American emigrés, Louis Sterling and Russell Hunting, who were still keen on making cylinders and producing and distributing records for Odeon. Recording was flourishing as were the operas of Gilbert and Sullivan, so in anticipation of an HMS Pinafore revival, Hunting/Sterling recorded this opera on eleven cylinders in September and October of 1907 with Hyde as principal tenor.

Concurrently, he recorded for Odeon, who over the next few years let him by means of the recording horn preserve all facets of his art: songs, ballads, oratorio, opera and musical comedy. In two sessions late in 1907 as "Montague Arnold," he waxed sixteen popular songs and for Christmas, as himself, he joined Harry Dearth and two others in recording six carols. At the time, Odeon decided to make its own HMS Pinafore recording and for this wholesome task chose Walter and most of his mates from the Sterling venture. Early in 1908, they added a recording of The Mikado.

Enter Percy Pitt again. Friends, worried he was burning too much midnight oil over the upcoming English Ring, marched him off to dinner and a show. The entertainment was Paul Rubens' Miss Hook of Holland and lo and behold, Pitt spotted a nimble Mr. Hyde in better form than ever, and yet, perhaps due to his dislike of the medium, he was soon to be sacked. "I thought I was a ruined man," he confessed with a chuckle. A bit later, Pitt introduced him to Hans Richter who was forming a cast for the production at Covent Garden of The Ring in English. "I was at once engaged for Rheingold and Walküre. My appearance as Siegmund was a turning point in my life."

Agnes Nicholls, who was Sieglinde that night, much later for The Listener recalled the excitement: "What a thrill we got as the first notes of the Prelude drifted to us waiting on the stage. The first entrance of Siegmund into the hut was quite breath-taking. Hyde had made a splendid impression on us all at rehearsals and when he almost fell on to the stage at his entry, I had a great feeling of wonders to come -- and they did. Sieglinde's entrance comes very soon after this, and from that moment there was sheer delight in singing the beautiful music and playing with Hyde..."

Alfred Kalisch (OPERA Feb. 1923) thought Hyde's wonderful diction was key to his success. In `Nun, weisst Du, fragende Frau, warum ich Friedmund nicht heisse,' he claimed the German tenor spits out `nicht' harshly... "For myself, I do not think I ever heard the whole phrase smoothly vocalised, until Walter Hyde sang the part of Siegmund..."

Maintaining momentum, Richter took Hyde, Nicholls and Radford to Manchester and Leeds where they sang Act I of The Valkyrie as part of his concerts. After his early success, Hyde would be invited to sing Wagner in concert during the balance of his career. It seemed the public never tired of hearing him sing this glorious music.

The following season on 15 May he made his debut in Italian opera at the Royal Opera as a callous Pinkerton to Destinn's Madama Butterfly. Then in Gluck's Armide with Kirkby Lunn, Peter Cornelius and Robert Radford, he became a true Danish Knight who "...acquitted himself admirably, using his pleasant tenor voice with discretion and skill."

At a special Proms Concert on 14 November, he sang in Berlioz's highly charged Damnation of Faust with Mrs. Henry Wood, Robert Burnett, Francis Harford and the Hanley Glee and Madrigal Society led by Wood. Two days later in response to a Royal Command, they repeated at Windsor Castle.

Back at the Garden early in 1909, he revisited The Ring, no longer as Froh in Rhinegold but in the juicier part of Loge. MT: "Hyde gave an excellent reading of the Fire-God" and shared Siegmund in Valkyrie with Francis Maclennan." Richter was delighted with his new tenor and coached him for the role of Walther in an English-language version of Die Meistersinger that he sang on 25 January. That summer he sang twice in Walküre in German and a Butterfly with Destinn.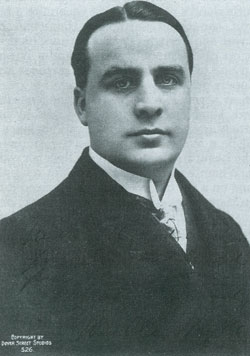 Handel at the Crystal palace was a time for rejoicing. For the 19th Festival in June, he joined newcomer Edith Evans and "veterans" Agnes Nicholls, Ben Davies, Robert Watkin Mills, Robert Radford, Clara Butt, Kennerley Rumford and Charles Santley in his final stage appearance. Next, when asked by Gustave Garcia to help introduce a star pupil, Florence Taylor, he and George Baker guided her through a concert at the Town Hall in Kensington on 29 October 1909.

For his first season at Covent Garden, Thomas Beecham made headlines on 19 February 1910 with Richard Strauss's shocker, Elektra. Everyone left the theatre in a mental haze. In contrast, three nights later Beecham wheeled out Delius's delicate romance, A Village Romeo and Juliet with Hyde as Sali, the Romeo of the piece. Beecham loved the opera and gave it his all, but what chance did it have with Strauss occupying every thought? On 8 March, he paid homage to a past musical giant, Sir Arthur Sullivan, by reviving Ivanhoe that had been unheard for nineteen years; now it went ahead with Hyde in the title part and Percy Pitt waving the baton.

" After that I crossed the water to sing with the Metropolitan Opera Company, first at New York, later in a tour of the Middle West." Actually upon arrival, he was shuffled off to Baltimore on 22 March to sing Siegmund in Die Walküre with Johanna Gadski and Olive Fremstad. He repeated the role in New York on 26 March as his only appearance on the Metropolitan Opera stage. He did stay on to share in the Spring Tour that followed. After he sang Pinkerton in Madama Butterfly in Brooklyn with Farrar and Scotti, the company entrained for Cleveland, Chicago, St. Paul and St. Louis. No doubt an English tenor portraying an American naval officer in Japan, singing in Italian, raised an eyebrow or two, as did an incident in Chicago on 28 April. In Die Walküre as he reached to draw the sword from the tree much to his horror, it sagged backwards. Scrambling along the sloping trunk, he withdrew it precisely in time with the music. The audience erupted in feverish applause.

Back home, "...I began my work with Sir Thomas Beecham, and after that, I was in all of his enterprises. What a man! Nobody has done so much for music and particularly opera here in England as Sir Thomas...And what a tongue! The caustic comments at rehearsals! ...If only a fiftieth of his witticisms could be recorded!"

His appearances included the "Opera Comique" season at His Majesty's Theatre in London. In Edmond Missa's Muguette, a work based on Ouida's novel, Two Little Wooden Shoes, John Coates sang the part of Lionel at the first three performances with Hyde in the remaining five. When the maestro added a mini-Mozart festival, Hyde sang Ferrando in Cosi Fan Tutte in a four act version with English lyrics by Rev. Marmaduke Browne and dialogue by Percy Greenbank. Some arias were omitted, as was the brief duettino for Ferrando and Guglielmo, but other ensembles were complete in every detail. Hyde had reason to remember the occasion for just before his main aria, his moustache began to sag. Unfazed, he removed it and continued singing, proudly proclaiming afterwards that, "The beauty of Mozart's music was not disturbed by laughter."

His other contribution was "a very capable performance of Toni" in Clutsam's new opera, A Summer Night, unveiled on 23 July, with Beatrice La Palme and Harry Dearth. Four days later, the Gramophone Company engineered Beecham's first recordings with Hyde, Caroline Hatchard and others. Coates was TB's busiest Hoffmann that season but it was Hyde who recorded selections from that opera and Fledermaus. Now an HMV recording artist, Hyde would continue so until 1922.

That autumn, Beecham for the first time took charge at Covent Garden and, as an ardent believer in French opera; he opened on 3 October with Ambroise Thomas's Hamlet. He spread the full company in costume across the stage for the National Anthem; then handed the baton to Luigi Camilieri. The fine cast included Whitehill as an outstanding Hamlet, Mignon Nevada, Zélie de Lussan, Robert Radford and Walter as Laertes. He recalled, "I had just delivered an outburst of fine frenzy and drawn my sword upon Hamlet, only to have the latter stand dumb, and whisper, `I've left my sword in the dressing room.' I immediately sheathed mine and together we stood dumbfounded. After a painful pause, he enveloped me in his cloak, and said, `Let's Quit!' And quit we did leaving the orchestra to their melancholy fate." Hi-jinks or no, it was a decided flop. In this land of the immortal bard, what chance did it have? Surely he secured more positive results on 23 October, singing Lohengrin's Farewell and "Un aura amorosa" from Cosi Fan Tutte at a Garden concert.

Four nights later, he was Don Ottavio in Don Giovanni with De Luca, Cecily Gleeson-White and Radford, then Hoffmann, Toni in A Summer Night (24 Nov.), Erik in Der Fliegende Hollander (25 Nov.) and Gounod's Faust (14 Dec.) with Maggie Teyte. Another time, he had no fewer than three Marguerites. "The artist advertised to sing was suffering from laryngitis, but went on to sing the opening phrases, but she couldn't! Another had to be found. To keep the opera going, a girl from the chorus sang the Garden Scene. By this time another 'principal' arrived, and so finished the opera."

Early in 1911, Walter joined Ernst Denhof, erstwhile Edinburgh-based impresario as he went about thrusting Wagner's Ring upon neighbouring communities. Thus, from 28 March to 14 April, he sang Loge and Siegmund in Leeds, Manchester and Glasgow.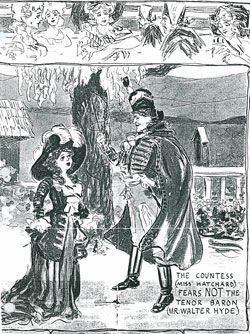 Returning to London, he faced lighter fare on 19 May at the Whitney Theatre in the title role in Baron Trenck. The Baron was a rapscallion in Victorian times, but now he was a lovable scamp to a bewitching Countess Lydia, played by Caroline Hatchard. Sewell Collins in Illustrated Sporting and Dramatic News depicted a brocaded soldier brandishing his whip, "ready to give all comers a good Hydeing" but the Countess could tame him. Present too were Marie George and Walter Passmore to turn marital discord into laughter.

" At the end of 1911, I went again to America, and for nearly two years I toured in light opera and concerts." In New York, he found the Sherwood Forest transported to the New Amsterdam Theatre for a revival of Reginald De Koven's Robin Hood on 6 May 1912. Hyde appeared as Robin with Bella Alten as Maid Marian and Florence Wickham as Alan-a-dale. The show had an eight-week run, followed by a six-week hiatus, before it reopened at the Knickerbocker Theatre for seven weeks between 12 August and 28 September. On tour, Hyde eventually reached the Princess Theatre in Toronto, Canada, where for the week of 31 March 1913, he interacted with new female leads, Bessie Abott and Henrietta Wakefield.

" It was pleasant to be back in England after so long. A tour in the provinces followed with Denhof, and there I sang most of the Wagnerian tenor parts" On 19 September, "there was the first performance in English of Debussy's Pelléas and Mélisande, produced at Birmingham, I was the first English Pelleas." Later The Musical Times noted that "Hyde was not quite as `stagey' as at Birmingham and Miss Freeman was not entirely free of nervousness. (Presumably they improved.) It meant, I remember, extraordinarily hard work for us all. In one week I sang Loge and Siegmund, Siegfried in Twilight of the Gods and in Mastersingers." This grueling experience took place in Manchester and in Edinburgh. He also sang his Ring roles in Leeds, Walther in Birmingham, Sheffield and Newcastle and Tamino in The Magic Flute, twice in Birmingham and in Liverpool and Newcastle.

He slipped away to London on 13 November to join an all-star effort "to save the Crystal Palace," his contribution being "O Vision Entrancing" from Goring Thomas's Esmeralda. Albani emerged from retirement for "Ombra mai fu;" Pauline Donalda gave the Jewel Song from Faust, Carrie Tubb the Oberon aria and "Il Bacio," Ben Davies the aria from The Martyr of Antioch and Harry Dearth "Ho, Jolly Jenkin" from Ivanhoe.

While on the continent early in 1914, Hyde visited the Budapest Opera to sing Lohengrin, he thought in German, but later wrote, "Naturally I knew no Hungarian, but they were extraordinarily liberal in the matter of language. I was allowed to sing in English, in Italian, in Chinese if I wanted to - in any tongue on earth, except German." He did not at that time know the role in English. Their solution was to switch to Mastersingers so Hyde could go in English. There was talk of a contract for three years in Munich but this became a casualty of the approaching conflict.

" During the war, I joined Miss Lina Ashwell's `Firing Line' concert party - an experience I would not have missed for anything." In the autumn of 1914, he entertained for a time at the Torquay Pavilion and on 24 November sang music by Parry, Bax and Berlioz at a Royal Philharmonic Society concert, but opera predominated. "I had rather interesting operatic experiences in the provinces with the Moody Manners Opera Company and, if anyone thinks an opera singer's life is all cakes and ale, I should like him to have been in my shoes when I had to learn the parts of Don José, Romeo, and Samson in about four days apiece. The first two I sang without a single stage rehearsal, I remember. Rehearsing is a matter of some difficulty on these occasions, and I recall that at Swansea I was once driven from pillar to post before I found refuge for a little quiet work in the gallery bar."

He never knew that in Liverpool he had a pair of staunch fans in Margaret Robinson and her daughter Frances. From their programmes, we know he visited with Moody Manners on New Year's Day 1915 to sing in Auber's Fra Diavolo and on 9 February 1916 as Romeo with Muriel Gough as Juliet. That May, Moody-Manners wound up its affairs so Hyde joined the HB Phillips Company. In Liverpool on 31 January 1917, he intended to sing Canio in Pagliacci but fell ill, so the Robinsons were treated to the histrionics of Frank Mullings.

Eventually he caught up with his friend Beecham in Manchester, "We produced Bizet's Fair Maid of Perth in which I was the tenor." He was Rothesay when the opera was given its first performance in England, not on 24 April as planned, because soprano Mignon Nevada had overworked her vocal cords, but on 4 May when Miriam Licette had the honour of singing Catherine Glover. When the opera reached London on 8 June with a revitalized Miss Nevada, it became a pleasant musical interlude amidst the clang and clamour of every day opera. "Then I added to my list--not, I must say, with any passionate love for it--the part of Johnson in the Girl of the Golden West." At Drury Lane on 31 May 1917, he was first to sing this opera in English with Jeanne Brola as Minnie.

That autumn at Drury Lane, he sang in Rimsky-Korsakoff's Ivan the Terrible (or Maid of Pskov) on 22 September during the work's first airing in English. It was a lively affair, thanks to Rimsky's striking use of glorious folk melody. Robert Parker sang Ivan while Walter was Mikhail, the lover of Princess Olga. Goossens, Sr. conducted.

Quizzed as to his favourite part, Hyde mused, "On the whole, Loge perhaps. It is a pleasant change to have a chance to be a character quite off the lines of the usual sort of operatic hero. Tenors in opera are so often such arrant sentimentalists, or else fools, or else such cads as Pinkerton. After all, Loge is a 'somebody'. Everybody defers to him, and he can even afford sometimes to be rude to Wotan - a delightful privilege. And he is not a slave to feminine whims. How tired I do get of the ultra-emotional nincompoops who are always helplessly dragged about the stage at the skirts of their various mistresses! Loge, by the way, I never found an easy part to memorize, and every time I sing it afresh, I discover something new in it to study."

With opera his life both in London and on tour in leading provincial centres, he would sing current roles and gladly tackle new ones when asked. Of course, as a thoroughly English tenor, he welcomed the comfort of oratorio. By 1909, he was much sought after for the important Hereford and Birmingham festivals and appeared regularly at such events up to and including the Leeds Festival of 1928.

In Manchester on 9 March 1918, he expected to sing selections from Handel's Solomon but when the music failed to arrive; Beecham led his first (and only) Elijah with Hyde joining Caroline Hatchard, Margaret Balfour and Norman Allin. Consequently, the chorus was under-rehearsed and uneven. On 6 June, he sang at a "Festival of Italian Music" which Isidore de Lara had arranged in aid of Italy's Red Cross. Then on 11 June, during Beecham's Summer Season at Drury Lane, he sang Phoebus in J. S. Bach's Phoebus and Pan. It was a nifty romp that pitted the two against each other in a song contest that was really a parody of Bach confronting his antagonists. He nearly created an opera and Beecham was just the man to nudge it the rest of the way.

Three nights later Hyde sang Siegmund in The Valkyrie, "...before an audience that not even Drury Lane has often seen. (MT) It was stated that the demand for seats was so great that the house could have been sold three times over." With Beecham conducting the opera there for the first time, "Mr. Hyde surely never sang better than he did on this occasion." Four additional performances capitalized on the success. In July the previous year, Hyde recorded "Winterstürme" in English, a gem certainly worth hearing.

At the urging of the Ministry of Information, Beecham presented "An American Night" at the Palace Theatre in London on 22 September 1918 with Hyde to sing "O Vision entrancing," a song by Easthope-Martin and share the 5th Act trio from Faust with Miriam Licette and Frederick Ranalow.

He did his best on 19 March 1919 at an ill-attended Cramer Ballad Concert in Birmingham but Beecham had his troubles too. Alfred Heather, a brilliant Pedrillo in Seraglio, had taken a lead in a revival of The Beggar's Opera, so on 3 April, the mighty Siegmund assumed this comic role under Beecham's guidance. But when Hyde sang Pedrillo on 9 March, 1920, The Times found the singers "tired ...both tenors, Mr d'Oisly and Mr. Hyde appeared to be more or less in the same case, and the latter is certainly not well suited by the comic part of Pedrillo. It was depressing to hear him make remarks which should have been jokes but were not, and he and Mr. Norman Allin fidgeted about the stage trying hard to put up some attempt at action where there was nothing to be done." The sluggishness may have been Goossens Jr.'s fault for no such complaint was heard when Beecham led.

With the war over, London's opera scene came alive, thanks to Beecham's efforts. He recalled a nucleus of foreign artists, sprinkled in a few homegrowns and opened at the Garden on 12 May 1919 with a novelty, Nail, Isidore de Lara's foray into exotic orientalism. Although championed by Beecham and a fine vehicle for New Zealand soprano Rosina Buckman, it failed to please. The chameleon Mr. Hyde made Muezzin "most effective in the story-teller's solo, unaccompanied except for the rhythmic beat of a drum."

For a long season beginning on 3 November, Hyde was more prominent with no fewer than eight roles. Interest ran so high, Wagner's Parsifal was offered thirteen times. Frank Mullings was first to sing the guileless fool in English on 17 November, but "at later stages Walter Hyde took the part with all the conviction so admirable an artist could give to it." "Parsifal," he stated, "is one of the most difficult parts of all to enact. The stage manager cannot help you here. Parsifal must all be felt, and to my mind only by feeling it deeply can it be tackled at all."

He stepped up too in Boris Godounov on 3 December as "an admirable Dimitri, distinguishing himself with Miss Edna Thornton, the Marina, in the curiously Italian-opera-like duet. The performance was the best the Company has given of any of its operas." "Djamileh is the real Bizet, and those who know Carmen can fully appreciate its charm." Twenty-six years earlier French singers sang it in this same place, and even then it proved too "small" for the Garden. It suffered the same fate now though well done by Ancrum, Millar and Hyde. It may have fared better on tour, possibly doing so in Manchester where the company now adjourned for two months.

Back at the Garden, Hyde re-offered his Parsifal on 24 February, following the next evening by The Fair Maid of Perth, then Pedrillo and Sali in A Village Romeo and Juliet. But, with time running out due to his financial woes, TB sent his charges in late September to Birmingham, Edinburgh and Glasgow where on 4 December, the enterprise sadly came to an end. Walter probably took part; Beecham did not.
----//---
His opera ticket cancelled for the moment, Hyde tackled a variety of music. With the Musical Society of Kirkcaldy on 23 March 1921, he sang in Coleridge-Taylor's Hiawatha with Mabel Munson, Charles Tree and a 250 voice choir. Then, for the Bradford Old Choral Society he gave back-to back concerts in celebration of their Centenary. On 26 October, he joined Caroline Hatchard in a scene from Gounod's Romeo and Juliet and an excerpt from Act III of Meistersinger with Frederick Ranalow. The next day in Hiawatha's Wedding Feast, "he supplied a masterly version of the song of love and longing as the gentle Chibiabos. His vocalization is rather masterful than gentle, but except for some lack of warmth his work was as flawless as that of the chorus. Mr. Hyde was also heard to splendid effect in the Mendelssohn music (Hymn of Praise) notably in his association with Miss Hatchard."

After Beecham bowed out, Walter and other alumni huddled to discuss how to go about resuscitating the venture, the British National Opera Company (BNOC) being the result. Hyde was appointed a director along with Norman Allin, Frederic Austin, Agnes Nicholls and Aylmer Buesst with Percy Pitt as artistic director. Three businesses came forth with cash and expertise to get BNOC off and running.

When they first visited Covent Garden, Walter teamed with Miriam Licette in Louise on 1 May. Two nights later, he began a series of Parsifals, earning "praise for his fine singing and telling acting in the difficult role...the chief virtues were a certain quietness and serenity, though there was no lack of authority." At the final performance, he shared the emotion of the great Kirkby Lunn's farewell.

During its second Covent Garden visit, the BBC invited BNOC to permit several of its operas to be broadcast. On 8 January 1923, Mozart's The Magic Flute became the first of eleven such events with Walter Hyde as Tamino. He returned on the 18th to present his signature role, Siegmund in The Valkyrie. His place in musical history was assured.

Then with Mignon Nevada, he shared a pet project of Percy Pitt, presentation of Offenbach's The Goldsmith of Toledo. Although it received a fine effort, it was coolly received. On 11 May Hyde sang the first of four Taminos, then he took part in the first production of The Ring since the war. He was acknowledged in OPERA as "our most elegant tenor... a fine voice, a personality, a clever actor - he has just given us a wonderful Loge. He is one of the most popular of living English singers." At the Garden during a month begun on Boxing Day, Walter sang Tannhäuser, Die Walküre and Magic Flute, but perhaps his most satisfying moments came when he abandoned Pedrillo to sing Belmonte in Il Seraglio.

He was the tenor in Messiah that followed on Good Friday in Royal Albert Hall with Ruth Vincent, Edna Thornton and Norman Allin. In May at the Garden, he was a vainglorious troubadour in Gustav Holst's The Perfect Fool. Edna Thornton is the mother of an addle-pated son (Raymond Ellis) who is always asleep. Coming upon a scoundrelly wizard (Robert Parker), exhausted after brewing a love potion to win the fair Princess (Maggie Teyte), she snatches it and arouses her son to drink, just as the Princess arrives seeking a suitor. As the Fool continues to languish, Hyde pleads his case but is rebuffed. The Fool stirs as the Princess glances his way...and instantly she falls in love! The Fool uses his power to vanquish the wizard and save the populace while the Princess looks on, breathless, her glistening eyes glued upon him...but he yawns and drifts back to sleep.

That season Hyde sang in Debussy's Prodigal Son, in Louise with Leah Rusel-Myre, Tamino in The Magic Flute, as Siegmund and Loge twice and as Phoebus in Phoebus and Pan. Apparently he did little with Verdi's music except in March, 1917, when he sang "Miserere" from Il Trovatore with Edith Evans at the Royal Albert Hall, and at this venue in January, 1924, when he and Gladys Ancrum performed the Act I finale of Otello.

In Manchester on 18 October 1923, after a matinee Tamino, he returned that evening to offer "a delightfully humorous characterization as the lovesick boatswain" in The Bo'sun's Mate. The composer, Dame Ethel Smyth, had come to Manchester to conduct and ensure it went with a swing and "entrain" which made it very enjoyable. On the last night in Glasgow, the ovation was magical... "Staid city men hurrahed like schoolboys when told by Hyde of an early return visit."

Hyde was truly special, a fact Julian Kimbell (MT December 1923) tried to explain: "Mr. Hyde in fact has sung in everything from the lightest of operettas alongside sparkling Miss Isabel Jay, to the grandest of music dramas, where one never dreams of making love to anyone less imposing than an Amazon... What, when Mr. Hyde sings, first commands admiration is the perfect poise of the voice and its freedom from all disconcerting gaps between registers. He is not two tenors in one, strong here, weak there, light and heroic within the course of a single phrase. He does not depend on a few ringing high notes to dispel the memory of many rank bad ones. His scale is even, the notes strung from top to bottom with rare equality. He may not surpassingly excite the masses by pealing high notes. The pleasure gained from his singing is not pre-eminently sensuous. Above all, he is a singer of taste, of conscience, of a finely judged and measured art.. he brings to (opera) today in England a skill that every connoisseur must esteem."

At the Garden on 11 January 1924, a new challenge awaited, the London premiere of Rutland Boughton's Alkestis. As Admetus, he receives from the Gods a gift that will spare him when his time to die arrives, if a true love offers to go in his stead. The moment comes and his wife Alkestis (Clara Serena), duly sacrifices herself. Filled with remorse, Admetus drifts off but soon awakes to welcome the Hero Herakles (Robert Parker) who takes his plight to heart. He wrestles with Death (Frank Mullings) for the life of Alkestis and is victorious. The couple is reunited.

Two weeks later, as Act II of Siegfried surged to a close, the Brünnhilde, Florence Austral, took ill, so Hyde, Miranda and Radford hastily served up Act I of Die Walküre to save the show. More Wagner ensued with Parsifal and then as Samson, he brought the temple crashing down upon Edna Thornton in a fitting finis to his time at Covent Garden.

He sang on but at provincial venues. With BNOC at the Olympia Theatre in Liverpool, he helped premiere Sir Alexander MacKenzie's one-acter St. John's Eve on 16 April 1924. "Walter Hyde, as Dan the poacher, was very vigorous and sang as well as he has ever sung, and William Michael as the tinker was a humorous contrast..." The music was variously received, some saying it lacked characterization, while others contended it attained a level near Verdi's Falstaff.

That summer when BNOC held forth at His Majesty's Theatre, Londoners had a first taste of Pelléas and Mélisande in English and the sight of Walter pursuing Maggie Teyte. Once again the BBC was in action. Wireless owners heard parts of four operas and a complete St. John's Eve with Hyde as Dan.

When BNOC visited Liverpool in February 1925, the Robinson ladies saw their favourite as Pelléas in pursuit of Sylvia Nelis (18th) and in Alkestis (5 March). Hyde went on to join Carrie Hatchard in Elgar's Apostles to thrill friends of the Hanley North Staffs Choral Society.

Having burst upon the operatic scene in Wagner, Hyde now in the twilight of his career, fittingly wound down with music by the German master. In 1926 in Manchester, he sang in the Paris version of Tannhäuser, and according to the Guardian: his "Tannhäuser (was) more human and more acceptable than on any previous occasion" and Rachel Morton "was not an Elizabeth aloof and sainted, but one profuse in the blushes and smiles of love." In Edinburgh, he sang Parsifal on 21 October. When he returned a year later, he found the marquee emblazoned "The Dusk of the Gods" with himself as Siegfried. Then at Golders Green on 29 November, he sang Siegmund in Valkyrie with Miss Morton under Aylmer Buesst.

He and Edna Thornton bowed out as Samson and Delila before reporter Arthur Carton: "her voice was still glorious, as was Walter Hyde's. They were really splendid and today would be absolute stars." BNOC continued until its finances evaporated in 1929 at which point the Royal Opera formed an English Company to extend touring for three seasons.

Finally it was time to say `adieu.' For the momentous event he chose the 1928 Leeds Triennial Festival. On Opening Day, 3 October, he sang in Handel's Ode for St. Cecilia's Day with Florence Austral, Carl Dolmetsch (lute) and the L.S.O. On the last morning with the Boys' Choir of Leeds Parish Church augmenting the Festival Chorus, he intoned Berlioz's Te Deum with Beecham, appropriately, guiding matters.
---//---
After his amazing stage run, Hyde settled in as vocal teacher at the Guildhall School of Music and Drama in London to counsel a parade of outstanding talents: Gwen Catley, David Lloyd and Alexander Young, Geraint Evans and bassos Norman Walker, Owen Brannigan, Richard Standen and the late nonagenarian John Freestone. He recalled: "I studied with him for about two years, starting in 1945 when I was still in the army. He was an excellent teacher...really aristocratic in his behaviour and very much the professional...always beautifully groomed and a fine figure of a man. He was most courteous to me and I enjoyed my lessons with him immensely. He could where necessary be very cutting. I sent a pupil of my own to him. The young man was rather conceited and told me that Hyde said, "Do not look on the floor when you are singing. There are no pennies there as yet." Dora Labbette also did not "hit it off" so no sessions resulted.

Walter Hyde died in London on 11 November 1951 at New End Hospital in Hampstead. Coincidentally, his frequent stage partner, Caroline Hatchard took her last breath in that same hospital on 7 January 1970. Now the hospital too is gone.

Since Walter Hyde, how many English tenors have sung Siegmund in London, Baltimore, New York and Chicago?
---//---

SOURCES: British Players and Singers - Walter Hyde, by H. Julian Kimbell, The Musical Times, December 1, 1923.
" I REMEMBER" by Walter Hyde, OPERA, Vol. 1, No. 5, May, 1923 and from other issues of OPERA 1922/3 (not today's OPERA).
" Music and I" - a series of talks with notable musicians, No. 6 Walter Hyde. Early 1920s.
TWO CENTURIES OF OPERA AT COVENT GARDEN by Harold Rosenthal.
Annals of the Metropolitan Opera CD-ROM 1883-2002.
" Music in England 1885 - 1920" by Lewis Foreman, Thames Publishing, 1994.
" Walter Hyde" - liner notes for the Cheyne CD.
" True artist and True Friend' - a biography of Hans Richter by Christopher Fifield, Clarendon Press, 1993.
" Before the Met: The Pioneer Days of Radio Opera" by Jim McPherson, The Opera Quarterly, Vol. 16, No. 1, Winter 2000.
" Sir Thomas Beecham, Bart, C.H. A Calendar of his Concert and Theatrical Performances" by Maurice Parker, with Supplement to same by Tony Benson. I am indebted to Tony for examining the text, thus helping to avoid factual errors.

I first learned of Hyde's North American adventures from the now sadly departed Jim McPherson. I still miss his cheery letters and always-valued guidance. I am grateful too to those mentioned in the text and especially to Paul Campion in London for revealing Hyde's family situation, also to Mike Langridge for filling gaps in the discography through his book listing British Odeon Records. Other help came from Dennis Foreman, Ewen Langford, John Robinson, Norman Staveley, John Walker, Graham Oakes and Denham Ford in Great Britain and Curtis Bars in Winnipeg for his computer savvy. A hearty thanks to all!



A Singer's Philosophy - Walter Hyde on singing
from The Musical Times, December 1923

First of all I would emphasize the paramount importance of clear diction. I am convinced of the great service done to me by my experience in light opera, where the music does not pretend to be all-in-all and diction is three parts of the battle. The value of diction in more serious music is not so much to explain clearly the story or the argument, as to embrace the sheer melodic interest of the phrase. By diction I do not only mean the clear-cut utterance of individual words, but also the broad intelligible sweep of a whole sentence, in the act of which the entire colouring of the voice is affected. Remember, beautiful diction means beautiful tone. And then there must be cultivated a feeling for pathos and humour, qualities which, of course, materially affect the primary tone. It is the faculty for this cultivation which lifts a great artist above his fellows.

To come to technical details, I could of course fill pages, but it is not so easy to sort out my ideas simply. Let me try a definite illustration. How do I feel when I stand to sing, say Walther's Prize Song? In my mind I foresee a phrase from beginning to end, and it tells me just how I can end as I began - that is, with supported tone and wide-open throat. I hold it to be just as great a mistake to take in too much as to take in too little breath. It is experience that tells the singer how much, and that is one of the reasons why the training of a voice is such a long job. Such exercise of technique ought to be quite automatic.

Having taken my breath, I lock it for a moment to make sure none has escaped, and then, starting on the song, release it gently but firmly. Thereafter I strive to bow on my breath much as the violinist does on his instrument, increasing or decreasing the breath-pressure or "support" as the notes go up or down, but always bearing in mind the line the music is to take for a bar or so ahead, so as to aim at continuity instead of a succession of choppy notes. This gives a sense of command, and enables me to clip the final consonant with the throat still wide - a condition most important in good singing.

Too much nonsense is talked about the registers of the voice. The phrase of course is sometimes useful, but it is thoroughly bad for the idea to arise that the different registers mean, as it were, separate compartments or different processes. I think singers mostly are not much concerned with the existence of these differences.

I think also very grave mistakes are often made by singing teachers in their recommendation of experimental methods and fanciful principles for the placing of the voice here and there. There seems to be no specific place on which to focus tone, so long as I take reasonable care to enunciate clearly. Otherwise I like simply to feel that I am making my whole body a definite vibrating element. To go back to this question of breath command - it is not only so important in itself, but it is of direct assistance against nervousness. And who has not been a victim of nervousness? In oratorio the orchestra is behind you, in opera in front of you. Such different conditions are disconcerting, and I used once to be embarrassed by them all. My breath in those days would play me all sorts of tricks. But now with the experience I have won, I can manage to hide my nervousness however much of it there is in my heart of hearts - and this may be an encouragement to younger singers.