Caroline Hatchard - A voice without equal
by Charles A Hooey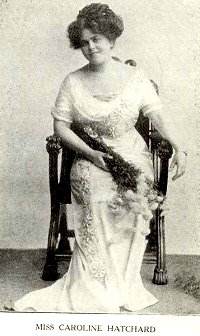 With permission from the York Symphony Orchestra


"Der kleine Taumann heiss'ich..." and with those words, "I'm called the little Dew Man," Caroline Hatchard sang her way into Royal Opera legend. Those Garden faithful present for Hansel Und Gretel on 12 May, 1907 would have witnessed their country's first home-grown and trained soprano debut....with just a hint surely of dew in her eyes.

Thus began Caroline Hatchard's long and distinguished career involving all facets of music. Pleasure derived from a record of hers triggered research into her life; this translated into a biography for 'The Record Collector', but as the RC caters to international readers, much of her effort in English music was omitted. That aspect is offered here.

When "Caroline Gertrude" was born in Portsmouth on 12 October, 1883, she became the fourth of five daughters that Lilian and George Hatchard would have, and with no sons. As they watched their girls mature, they realised something unusual was happening. Four were decidedly musical, whereas they, the parents, were just as decidedly not! Especially gifted was Carrie whose amazing voice dazzled everyone.

The Hatchards were quite enlightened, so once she reached her seventeenth year and liked opera, they cast Victorian constraints aside and sought out well-off friend, Albert Holly, so she could enrol at the Royal Academy of Music in London. Arriving on 24 September, 1900, she found a lively lot of aspirants, including would-be composers, Arnold Bax, Hubert Bath, Eric Coates, Montague Phillips and York Bowen; all would no doubt influence her own love of English music.

She studied at the Academy for five years under Agnes Larkcom, a much revered teacher whose fierce demeanour belied a desire to see her charges succeed. After earning both the Rutson and Melba Prizes, she became Academy darling and lead soprano in RAM concerts usually at Queen's Hall.

Professionally, Henry Wood was first to spot her talent, and had her sing Mozart and Sullivan on his Proms Concert of 7 September, 1904. She recorded "Orpheus with his lute" in 1911, making it a likely first recording. In her thirteen Proms, she sang well known arias and songs by Henry Bishop, Guy d'Hardelot, Ernest Newton, Coningsby Clarke, Constance Lambert, Florence Aylward, Arnold Bax, John Alden Carpenter and others, each time augmenting her credentials.

* ".. among English singers for light and flexible music." as Samuel Langford wrote about Caroline in The Creation

At those Queen's Hall concerts, she sang music by Liszt and her principal, Sir Alexander Mackenzie, but it was music by Hubert C, Bath, her scholarly colleague, that pleased her especially. On 26 June, 1905, she and soprano Zelie Pelluet sang Psyche's Departure, a cantata Bath fashioned from a poem of Mrs. Hemans. Then of a concert on 15 December, The Musical Times wrote, "Another pleasing performance was Miss Hatchard and Mr. John Bardsley's rendering of the charming Dream Scene from the Principal's Rose Of Sharon."

After graduating, she sang concerts and oratorio until late in 1906, when she joined the cast of Les Merveilleuses or The Wonder Women, a musical that had played at Daly's Theatre since October. As Mariette she sang with Louis Bradfield on several occasions until the show closed in May. Her success attracted Covent Garden and they signed her.

Now the stage was set for her Dew Man, the Shepherd in Tannhauser and later, roles in Armide, La Traviata and Faust as the Royal Opera relished its prize. Auburn-haired, slim and svelte with vivacious smile, she was truly a hit.

At season's end, she took to musical comedy again at the Apollo Theatre on 21 August as Pervenche in The Three Kisses to banter with smoothies, both Walters, Hyde and Passmore.

Towards year end, she appeared in the Ninth Patron's Chamber Concert in Bechstein (now Wigmore) Hall in another piece by Bath, his Four Rossetti Sonnets for Voices, Pianoforte and String Quartet "… the text had been well chosen, and the spirit of the lines pervades the melodious, imaginative and admirably-written music." With Bath at the piano, Caroline, Fielding Roselle, Maurice d'Oisly and Cecil Pearson sang.

Now across her path strode Frederic Cowen, a prolific Victorian composer and bon vivant, whose Rose Maiden, as his last flowering of youth, was dedicated to soprano friend, "Tietens." As Cowen hoped, it worked itself quickly into the hearts of English choral societies. Caroline sang The Maiden in The Three Towns on 19 February, 1908 with perfectly balanced support from the Bodwin Philharmonic Society Choir, led by A. H. Baker. Cowen, she encountered again in Bradford on 11 February, 1916 as they presented Verdi's Requiem.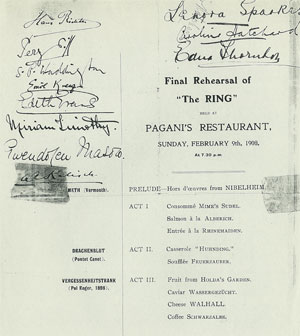 January, 1908 saw the Royal Opera launch its monumental Wagner Ring cycle in English and amongst the predominantly English cast, Caroline held her own in four roles.

That autumn she joined Peter Dawson, Palgrave Turner and Albert Watson as Madame Liza Lehmann's Concert Party to tour, singing Lehmann's music exclusively. In 1885, Liza Lehmann began a career as a concert soprano and was doing well but, after nine years, she switched to her first love, composing. A wise move obviously for her first major piece in 1896, In A Persian Garden, was sensationally received. It became the prime work as the group set out to visit colourful ports of call such as Exeter and Torquay. In Plymouth, Caroline gave a sympathetic rendering of "I sent my soul" and "Each morn a thousand roses brings," imparting deep feeling into the closing line, "but where leaves the rose of yesterday?" An encore, "If no one ever marries me" truly amused audience members, especially those who knew she was soon to wed. (In Collins CD of Lehmann music soprano, Janice Watson sings it beautifully.)

After reprising her Ring roles at the Garden early in 1909, she went to Kettering on 22 April to join bass Charles Knowles in Hero And Leander by Dr. Harford Lloyd. Parry's popular Blessed Pair Of Sirens rounded out the evening.

Unquestionably she had laboured well and true for the Royal Opera, but always in support roles. Why were there never leading parts for her? It really was no secret. The fickle public wanted to hear foreign artists in these roles. It is sad to think prejudice could rule such matters. In a more advanced and wiser time, her unique talent would have been recognised, nurtured and her voice enjoyed for many years.

After the Royal Opera repeated its Ring in 1910 at the Edinburgh Festival, Caroline decided to make a change. She cast her lot with young, up-and-coming Thomas Beecham, who promised key roles, first with his Opéra-Comique Company and then on tour. Beecham first let her shine on 24 July, 1910, as the saucy colleen Kitty in Stanford's opera Shamus O'Brien, a drama set during the turmoil that ensued after the Irish Rebellion of 1798. It concerned a volatile patriot and his efforts to avoid capture...and he succeeded, thanks to Kitty. Hamish MacCunn conducted.

That summer, she sang Olympia in Offenbach's Tales Of Hoffmann on twenty-two occasions, took part in the English Premiere of Richard Strauss's Feuersnot and sang in a single outing of Mozart's Impresario. On tour, she sang Olympia and Antonia in Tales Of Hoffmann and Rosalinda in Fledermaus.

In Huddersfield on 3 March, 1911, she sang in Sullivan's Martyr of Antioch, a clash of faith (and will) that caused sparks to fly between a Christian Margarita (Caroline) and pagan Roman Olybius (Alfred Heather). Phyllis Lett and Herbert Brown sang alongside Carrie with the Huddersfield Choral Society all conducted by Sir Henry Coward. Then, in Baron Trenck which opened at the Whitney Theatre, Aldwych on 19 May, she became a bewitching Countess Lydia, at her wit's end over the constant dallying of her rapscallion lover, Trenck (Walter Hyde). The press said she "acts interestingly, but her voice, admirably and so easily used by turns for comedy, tenderness and passion, would win its way anywhere."

For a Balfour Gardiner concert in Queen's Hall on 13 March, 1912, "the two Carries," Hatchard and Tubb, teamed with the London Choral Society to sing Enchanted Summer by Arnold Bax. In this magical setting of Shelley's Prometheus Unbound, the orchestration evoked memories of Debussy while the vocal writing enriched its orchestral fabric. In the end, it proved both fanciful and intriguing.

On 28 March she sang in the Norwich Cathedral.. Verdi's Requiem with ominous portent for anyone bound next for Southampton, 300 KMs away and passage aboard … the Titanic.

She attended a special concert on 22 June that year to celebrate the Official Opening of the Royal Academy of Music's new building on Marylebone Road. She paid homage to her harmony master, Dr. John McEwen, by singing three of his songs: "Brevity," "Song of Autumn" and "Love's But a Dance."

In September of 1913, she joined the provincial opera tour Ernst Denhof was organising. As is well known, this venture ran into grief at the outset but thanks to the resourceful TB, it was able to resume and become a smash success and part of opera lore. Caroline sang Sophia in Strauss's Rosenkavalier, Queen of the Night in Magic Flute by Mozart, the Forest Bird in Siegfried and Eva in Mastersingers.

The exotic, richly textured music of Samuel Coleridge-Taylor entered her days early in 1914 when she appeared in excerpts of Hiawatha and A Tale Of Old Japan in Bournemouth. In 1911, the composer had become enthralled by the vivid musical colouring he had instilled in a poem of Alfred Noyes that he declared, "We'll have a motor car yet, Jess, from A Tale Of Old Japan." Sadly, it was not to be; he died in 1912, aged 37. Caroline never forgot C-T's music and in 1931, chose Hiawatha as her farewell in Liverpool.

The first of five trips north to Hull on 6 March, 1914, brought that City's music followers out to hear her premiere Persephone by local composer H. Ernest Nichol. Conductor Walter Porter also performed his own "To Night."

Belgian organist Gabriel Pierné proudly conducted the English Premiere of his new work, The Children's Crusade on 15 December, 1914 in Liverpool. It concerned religiously-deranged children in The Middle Ages who insisted on taking perilous journeys to the Holy Land. Caroline found the high lying music of Alain tailor-made to her voice, while Harrison and Radford were ideal in their assignments.

The British public wanted her to sing oratorio; consequently she sang endless Messiahs and Elijahs, Bach's Mass In B Minor and St. Matthew Passion, Handel's Judas Maccabeus, L'allegro, Israel In Egypt and Acis and Galatea and The Creation by Haydn. There was diversion as Margarita in Faust in 1916 and Micaela in Carmen in 1918.

Beecham decided she would make a sensational partner for Frank Mullings in The Critic, an opera Stanford based on Sheridan's comedy. Indeed, when it opened at the Shaftesbury Theatre on 14 January 1916, she enjoyed jousting with her "fierce-looking and bulky lover, Don Whiskerandos." Walter Sichel, veteran patron and Sheridan devotee, wrote, "Your Tilburina is infinitely the best I have ever seen and you preserved so delicately (and demurely) the boundary-line between pathos and bathos. Bravissima!"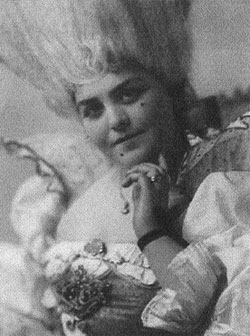 In terms of Elgar's music, she sang in King Olaf and The Apostles but perhaps she is best remembered for her inspired rendition of his war trilogy, The Spirit Of England, which she first sang in Manchester on 15 December 1917 and then throughout Britain in subsequent months.

In the 1920s, she brought life to music by lesser known British composers. In Barry on 2 May 1920, she tackled a double bill comprising The Martyrs, a cantata of admired organist and choirmaster, John Maunder, and The Galley Slave by Welsh composer David Jenkins, who enjoyed slipping glorious Welsh choral music into his hymns and cantatas. Solos were by Caroline, Sydney Coltham, David Brazell and the Male Voice Choir. Then in Bolton on 1 February, 1922, she created "a strong impression" in The Annunciation by Alick MacLean, with compadres Rachel Hunt, William Hayle, John Booth, the Choral Union and Hallé, led by Thomas Booth.

In Huddersfield, Choral conductor Henry Coward mounted the podium on 3 March, 1922 to present Sir Hubert Parry's Judith. He drew glorious music from the Choral Society, Caroline, John Perry, Muriel Brunskill and Horace Stevens. Parry's followers loved his traditional melodies but cooler heads rated it little more than "second-rate Mendelssohn." Caroline drew praise for her exquisitely-phrased solos.

A frequent participant in complete performances of Sullivan's The Golden Legend, she included the glorious finale in a concert at the Brighton Dome on 30 December, 1922, causing a critic to observe, "..the ripe emotional beauty .. with Miss Hatchard's wondrous voice thrilling always sweetly, sometimes ecstatically, (shone) through the richness of its choral and orchestral expression. Here was Sir Arthur Sullivan at his best."

In 1925, Dame Ethel Smyth's much-neglected Mass In D was lovingly presented in Albert Hall with Caroline, Astra Desmond, Archibald Winter and Herbert Heyner with Malcolm Sargent conducting. She sang the Mass again in November in Sheffield under Coward with Roy Henderson and Joseph Green.

The Mass In D assumed special status in Albert Hall on 24 November, 1928, as the central piece in a Grand Gala on behalf of "the Cause of Women." Although Her Majesty Queen Mary was present, the star of the occasion was clearly Dame Ethel herself, basking in so much unexpected acclaim. Caroline sang with Astra Desmond, Parry Jones and Stuart Robertson while Dame Ethel conducted or was it Sargent? In fact both may have had a hand. "..especially notable was Miss Caroline Hatchard's rendering of the 'Benedictus' with concomitant chorus." The audience roared its approval while critics applauded its "religious fervour, individual musical merit and clever orchestration." The Musical Times said "It is clear the work is winning its way by its own power."

Scotland welcomed the delightful Carrie on 6 February, 1924 to sing Elgar's King Olaf in Caird Hall, Dundee with John Booth, Robert Burnett, the Choral Union and the Scottish Orchestra. Then, with composer David Stephens conducting, they sang his new cantata Sir Patrick Spens.

As a radio pioneer, she sang first in a concert broadcast from Birmingham on 5 November, 1924. Then, she became a key person in early radio when a new technique was explored on 29 August, 1926 . Britons tuning in heard the Band, Drums and Fifes and Bugles of the Lancashire Fusiliers in a Von Suppé Overture from Dover and then, from the studio, the pure, dulcet tones of Caroline Hatchard, sparkling in a Bach aria and songs by Stanford, Bantock, Scott and Sullivan.

The following year in a broadcast of The Water Lily by her old ally, now "Sir" Frederic Cowen, she sang Ina, the Egyptian Princess, who appears in a dream to Sir Galahad (Geoffrey Dams) as "a lovely face in the heart of a water-lily." En route to rendezvous with him, her ship is sunk by a capricious magician, Merlin (Roy Henderson) and she is presumed lost. Merlin however, relents, rescues Ina and restores her to Galahad's side in time for a rapturous finale. Braithwaite led a group of lively Cardiff musicians.

(A CD from Marco Polo serves up Cowen's best known orchestral music but his vocal works continue to languish.)

Like any English soprano worth her salt, Caroline sang Polly in John Gay's The Beggar's Opera as on 8 March 1928 with the Halifax Choral Society. The next day in Newport, she took part in a broadcast of Parry's War And Peace with Dorothy d'Orsay, Parry Jones, Thorpe Bates and the Choral Society, led by Arthur Sims. Part way through, she sang "Blow, trumpets, blow, solemnly, sadly blow" to show the war tailing off and then immediately, "Ring the tidings far and wide!" as a prelude to peace. She added Sullivan songs for good measure. A second performance went ahead a week later.

As her career wound down, The Early Spring Sun, a new work for solo, chorus and orchestra by Dr. Harold Lake was performed by the Plymouth Madrigal Society on 27 February 1929, and was well received. Caroline was the soloist.

In retrospect, by responding so loyally to the entreaties of provincial England, Caroline had neglected the musical establishment in London. Consequently, they remained blissfully unaware of her accomplishments which no doubt results in the uninformed opinion of her worth today.

When she sang in Manchester, which was often, the Guardian's severe but much respected critic Samuel Langford was usually present. He knew talent and often expressed himself in superlatives. For a Brand Lane Concert, he wrote of her as having, "the most full-throated altissimo voice," whereas for a Messiah on 5 December 1926, he wrote." It was one of those fortunate evenings when we may think the voice of Miss Caroline Hatchard the only soprano voice in England..."

When it came to making phonograph records, her dislike was unshakeable as she firmly believed the quaint process could not possibly capture her voice in realistic sound. Nonetheless she was enticed into the recording studios in 1909-1911 and again 1921-1923 to cut a total of 27 discs, of which only 21 were released. As for the others, all multi-singer efforts, their whereabouts is not known.

The discs represent her art and reflect her love of British music: right in the forefront are lovely songs by Löhr, Clarke, Lehmann and Sullivan, two songs from The Arcadians, an aria from Haydn's Creation, a song from Sir Edward German's Tom Jones and perhaps her finest, "Sweet Bird" from Handel's L'Allegro - this heartfelt version surpasses Melba's in overall beauty. There are three Gilbert and Sullivan arias and for mainstream crowd, operatic arias by Offenbach, Delibes, Verdi, Thomas, Meyerbeer and Donizetti ..and, finally, a Tosti gem. Sixty minutes of pure delight.

Despite her reservations, these discs played at proper speed reveal a luscious lyric soprano with an easy, even coloratura extension and interpretations that are well defined and always musical. Be prepared for some of the most beautiful sounds ever to emerge from a female throat.

But the 78 rpm discs are exceedingly rare. Cassette copies may be obtained from specialist dealers but hopefully a CD will be issued soon. Her legacy lives on in grandson, Roger Langford, a baritone singing opera, oratorio and in concert.

Had she chosen that route, it is likely that Caroline would have conquered the world's operatic stages. Instead she was content to accept the cheers of provincial England and then travel home to enjoy traditional family life with husband Robert and their two sons. If there were regrets, she never spoke of them. She knew she had devoted much time and energy to English music and to her, that was just fine. She was in her eighty-eighth year when she died on 7 January 1970.

© Charles A. Hooey

"A VOICE WITHOUT EQUAL" - HITS THE OPERATIC TRAIL

by Charles A. Hooey

Welcome once more to the fascinating world of Caroline Hatchard. In previous articles I described how, this glorious soprano from Portsmouth was seen to excel in British music; now she sings opera superbly on tour for Thomas Beecham. A fresh look at this event reveals the vital part these two artists played in its ultimate success.

Just four years free of college, Caroline was riding the coat-tails of the young marvel Beecham as he sought to kindle an interest in opera amongst fellow Brits. A company, cast in the image of the famed Opéra-Comique in Paris would do the job, he thought. With an attractive love story, music of an eminently tuneful and graceful nature, and romantic and humorous situations without count, how could he lose?

He launched his enterprise on 12 May 1910 within the cosy confines of His Majesty's Theatre in London, the opera being Offenbach's LES CONTES D'HOFFMANN in a sparkling new English-language version by Edward Agate. It was popular instantly. SHAMUS O'BRIEN followed, then FEUERSNOT, THE IMPRESARIO and others, all thoroughly inventive affairs. Not all paid their way though, then family coffers looked after overruns.

As he explained to THE MUSICAL STANDARD, "the summer season was throughout an English season, with all-English artists and an all-English chorus, with the exception, I think of two members...I have maintained from the beginning, and I maintain still, that the day has long gone by for talking of British artists in a semi-apologetic tone because they happen to be British-born. I contend that there are in the United Kingdom a great number of men and women who possess remarkable talent.." One of the truly blessed was Caroline Hatchard whose Olympia in HOFFMANN had been a particular delight to everyone for weeks on end.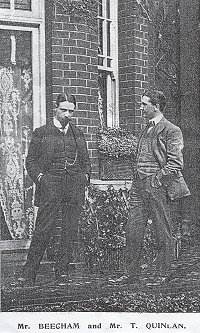 When those words appeared on 3 September, Beecham already was extending his dream into the provinces with a team that would present two "tuneful lightweights," as he called them, HOFFMANN and DIE FLEDERMAUS. The latter was known at first as THE BAT, but soon it became "A VIENNESE MASQUERADE" and then it was dropped, HOFFMANN being given exclusively. Six evening and one or two matinee performances were meted out weekly in thirteen cities during the autumn segment with fourteen more after Christmas. (For details see the Chart.)

Some cities experienced one or both for the first time. Other travelling companies had come and gone but none such as Beecham's, 100 person strong with 40 in the orchestra, had provided music of finer quality and precision. With his heavy commitment at Covent Garden and elsewhere, he could not take part personally although at one point he may have conducted. As his manager, he chose Thomas Quinlan. If any singer attained stardom during this time, it was surely Miss Hatchard for she pleased as Olympia and as Rosalinde. While so many reviews proclaiming the same message may seem a tad tedious, the point is this: Can there be any doubt about Caroline's greatness as a singer?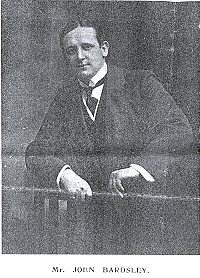 Her regular tenor partner was old friend John Bardsley. They had studied together at the Royal Academy of Music, where in July 1903, she was awarded the Melba Prize for sopranos, he the Maas Memorial Prize. At the outset as both Hoffmann and Eisenstein, Bardsley was the company workhorse along with Hamish MacCunn who conducted both operas. MacCunn soon relinquished FLEDERMAUS in favour of Howard Carr, a promising young composer who wielded a baton for a living.

Their escapades began in Blackpool on 5 September 1910, good words preceding their coming. "This tour has been awaited expectantly by all opera lovers throughout the country, and Blackpool audiences receives the first visit." And, as to their expectations for Caroline, THE GAZETTE NEWS expounded: "The difficult role of the doll in `THE TALES OF HOFFMANN' is taken by Miss Caroline Hatchard, an operatic soprano who is fast winning fame, and who has sung in important roles in Grand Opera at Covent Garden as well as in the Beecham operas. Miss Hatchard began as a concert singer at the age of sixteen, but her success in opera has been so great that she has now by all intents abandoned the concert platform. The range of her voice is very exceptional for a soprano, being from low G to D in alt, with sustained passages of great beauty in each portion of the compass."

On a perfect evening holidayers streamed into Her Majesty's Opera House, anticipating the wonders of a Beecham-inspired opera. MacCunn stepped up to conduct THE TALES OF HOFFMANN with a cast that resembled London's.

Hoffmann John Bardsley Giulietta Edith Evans
Nicklausse Ruby Gray Antonia Beatrice La Palme
Dr. Mirakel Charles Magrath Crespel Frederick Ranalow
Coppelius Charles Magrath Spalanzani M. R. Morand
Dapertutto W. J. Samuell Schlemil Cecil Pearson
Olympia Caroline Hatchard 3 Servants H. Scott Russell

The following day, newspapers were full of praise, with THE HERALD AND FYLDE ADVERTISER leading the way: "John Bardsley made a splendid Hoffmann now the merry roisterer and now the passionate lover...Beatrice La Palme's portrayal of the tragic Antonia was a striking performance.. Caroline Hatchard's presentation of Olympia, the automaton, was the essence of daintiness, and her 'Song of the Heart' was enthusiastically encored. It was a song of trills and cadenzas, light and blithesome, and it showed off a sweet voice to perfection. Her stiff doll-like movements were remarkably realistic...Edith Evans' Giulietta is played with an appropriate abandon and passion, and her singing is quite what one expected from such a gifted artist." Of Caroline THE TIMES wrote, "Miss Hatchard, about whom a North Pier audience raved on her appearance there, sang the florid music beautifully, and went through the traditional doll-like movements without a smile." William Samuel, or "W J" as he preferred, possessed a gorgeous high baritone that he used with exceptional skill, more than usual in such a youthful artist. His singing of Dapertutto in Blackpool gave him the role for the duration.

The next evening THE BAT took flight with much the same crew and MacCunn again at the helm.

Eisenstein John Bardsley Orlofsky Ruby Gray
Rosalinde Caroline Hatchard Alfred Alfred Heather
Dr. Falke Frederick Ranalow Blind H. Scott Russell
Frank M. R. Morand Ivan Cecil Pearson
Adele Beatrice La Palme Frosch Montague Alliston
Molly Gladys Ancrum

In THE HERALD's view, "Strauss's intensely diverting comic opera "DIE FLEDERMAUS" (THE BAT)..afforded three hours' ceaseless amusement and enjoyment to a large and enthusiastic audience. The music throughout is charming, full of captivating melodies, and the fun is most infectious. As an entertainment for a seaside holiday crowd, it is one of the best."

An immense welcome greeted their arrival in Belfast on 12 September..first the press lauded Beecham: "..a ray of hope for those who love the art so well .. has been provided by Mr. Thomas Beecham who, quite recently, has pluckily taken up the task of popularising good comic opera and musical plays." To THE NORTHERN WHIG: "Mr. Beecham has not set himself to excel in production or to present the most advanced modern work, so much as to reveal the beauties of comparatively little-known masterpieces that have lain neglected whilst other pieces perhaps of less merit but more on the vogue enjoyed brilliant success...he introduces to Belfast for the first time the TALES OF HOFFMANN, which was presented with signal success last night. The presentation was beyond all praise, and it was a real joy to have light opera, interpreted with such elaboration, by a magnificent orchestra, and a chorus composed exclusively of tried artists."

THE IRISH NEWS AND BELFAST MORNING NEWS recognised that Caroline "had a very exacting part both as regards singing and acting as the doll, Olympia, but her impersonification was all that could be desired. Her voice is of a delicious, rounded quality, and though the range required for the part was of astonishing greatness, she never seemed to strain in the slightest. The spasmodic automatic motions of the doll were splendidly done." To THE NEWS-LETTER "The part of Olympia is one which calls for talent of a high order, because of the restraint which is imposed on the artist, who has to do her best to convince the audience, as well as Hoffmann, that she is nothing more than a mere piece of mechanism created by the wily old Spalanzani. Miss Caroline Hatchard, who filled the role, has a voice which is remarkable for its purity and evenness. She has a marvellous register, but even more important is the flexibility of the voice and the effective manner in which she uses it to give meaning and vitality to the works she sings."

In turn, THE EVENING TELEGRAPH saw her "as a most clever and delightful doll. Her lovely voice had the right impersonal, colourless quality - all of a piece with the mechanism that would run down and the oil-can that lubricated the stiff joints - such pretty joints too. The facial immobility and fixed stare of the eyes were well kept up. All the unreal reality of the part was there. Her song was encored and the easy, fluent vocalism fully deserved that." Such was the extent and warmth of Belfast's reception.

Moving on to Dublin they read in THE MAIL: "Nothing could have been more perfect than Miss Caroline Hatchard's Olympia--she was, as one might say on this side of the water, the doll to the life. Her frizzy bright hair, her wide staring blue eyes, her waxen arms, and expressiveless face gave extraordinary effect to this unusual and fascinating part. It would be no compliment to say that Miss Hatchard sang with expression, for she did not. She is too fine an artiste to give expression in music which is intended to be machine-made. Her vocalism, however, was beautifully clear, and her pronunciation splendid."

THE FREEMAN'S JOURNAL felt "The Olympia of Miss Caroline Hatchard will always remain in one's memory as a remarkable impersonation, for she had a curious task to grapple with as the mechanical doll. She has a great register and much flexibility of voice. The staccato method of her singing and the admirably simulated suggestion of mechanical movement should no doubt have convinced Hoffmann of his blunder in falling in love with her were it not for these marvellous spectacles...(Even) the genuine tapestry furniture, quite correct for the period, was supplied by a well-known Dublin firm."

The Company then moved to south-east London to begin a two week stint at the Kennington Theatre on 26 September. What happened here is anyone's guess as the theatre was heavily bombed in World War II, all records being lost or dispersed.

Quinlan's hardies appeared next in Manchester on 10 October where Samuel Langford of THE GUARDIAN, so often severe as scion of musical scribes in the mid-west, was perhaps hearing Caroline for the first time. Over the next sixteen or so years until his death, he would remain her most fervent admirer. He simply loved to hear her sing. This time he wrote, "Miss Caroline Hatchard, as the mechanical doll supposed by the hero Hoffmann to be the daughter of the scientist Spalanzani, although she gave away many points of good singing to preserve the illusion of mechanism, sang in a delightful way. We do not know just how many times her famous song was encored, but the oftener she was `wound up' the higher the pitch of enthusiasm to which the audience was wound up also." In FLEDERMAUS, "Miss Caroline Hatchard sang and acted conscientiously" with Wilson Pembroke as Eisenstein. Adele was now sung by Kate Anderson replacing Beatrice La Palme and Carr conducted.

The company opened in Glasgow with HOFFMANN at the King's Theatre on 17 October: "Last night's audience was certainly of encouraging size and encouraging also was the reception it gave to Offenbach's interesting opera." With French-Canadian Miss La Palme, now departed to other climes, Edith Evans sang both Antonia and Giulietta.

On to Edinburgh, where "Mr. Thomas Beecham .. has made a name for himself.. (as) a man who spends money on his opera schemes, by which the public benefits.." As for the opera itself, THE EVENING NEWS wrote: "One of the most remarkable parts was that of the mechanical doll ... played and sung `a merveille' by Miss Caroline Hatchard, known already to Edinburgh audiences as one of the charming Rhine Maidens in Wagner's `RING.' She acted and looked the part of the automaton to perfection, and sang her difficult florid music with a convincingly mechanical accuracy."

When they came to Liverpool on 7 November, THE DAILY POST reported, "Miss Hatchard was distinctly clever as Olympia, the automaton. Notwithstanding the limitations placed upon her in the matter of movement, Miss Hatchard sang with the greatest sweetness and ease whilst her doll-like gestures and make-up were wonderfully good."

After approving the change of name to A VIENNESE MASQUERADE, THE POST went on, "Miss Caroline Hatchard sang herself into immense popularity in the role of Rosalinde, von Eisenstein's wife." THE ECHO added: "Of course Eisenstein makes love to his wife, who is masked, and Mr. Wilson Pembroke and Miss Caroline Hatchard, in their respective roles, sing a very pretty duet. Miss Hatchard has great histrionic abilities, as well as a beautiful voice and her Rosalinde is another triumph foreshadowed by her Olympia in Offenbach."

The press was lined up and waiting when they reached Newcastle. First Beecham was lauded for resuscitating forgotten works and for introducing others not previously heard; here both were new. In THE TALES OF HOFFMANN on 14 November, Alfred Heather sang Hoffmann and Cecil Pearson performed as both Crespel and Schlemil.

First, THE DAILY JOURNAL spoke out: "Miss Caroline Hatchard easily won all hearts by her beautiful and flexible singing as the doll, and she executed the decorative cadenzas with conspicuous taste and fluency. A finer performance, to be sure, could not reasonably be desired." For the other: "The performance was sparkling, and once more revealed a company strong at all points. There was nothing perfunctory in the acting. Miss Caroline Hatchard "played the indignant Rosalinde with archness and prim propriety, and sang with much beauty. As her demure and ambitious maid, Adele, Miss Kate Anderson was an emphatic success.."

Two days later THE DAILY CHRONICLE offered a reaction:

"Miss Caroline Hatchard sang the music with singular purity of voice, while her actions as the automaton were highly approved." As to the Strauss, "It seems almost incredible that even `THE WALTZ KING' could cram so much melody into a single work. It is melody fitting to the character of the story, and much of it is of a haunting kind. On occasion it rises to something more durable and earnest as, to give one instance, the song for the soprano beginning `Sweet Song of Homeland,' which Miss Caroline Hatchard rendered with splendid fire and emotional effect ...(she) again displayed the purity of her voice and played the part of Eisenstein's wife consistently and well.. Wilson Pembroke, as the debonair Eisenstein, evidently relished the enjoyable work which fell to his share and accordingly was quite satisfactory." So much for Newcastle.

During the week of 21 November in Leeds, "Miss Caroline Hatchard was a creditable exponent of the Automatum figure," and her mechanical aria was admirably sung, although this writer was not in the mood for an encore. He did note that both make-up and by-play were well devised. "The Rosalinde of Miss Caroline Hatchard and the Adele of Miss Kate Anderson, were both delightful impersonations, and they used their vocal powers to admirable purpose."

Moving on, THE GUARDIAN found Caroline, "whom Nottingham audiences have frequently heard with enjoyment, charming as the doll Olympia".. and a tall and stately Gladys Ancrum sang pleasantly as the vivified picture of Antonia's Mother. Onwards to Birmingham, the company settled into the Prince of Wales Theatre on 5 December, where "Miss Caroline Hatchard as Rosalinde sang brilliantly, and was very resourceful in her change of styles in the three acts."

On 12 December Quinlan's group arrived at the Theatre Royal in Brighton to conclude the first phase. Caroline was still in fine fettle according to THE HERALD. "Notwithstanding the immobile expression that is forced upon her, Miss Hatchard makes an extremely pretty doll, and through the hamperings of her fixed stare and mechanical movements she contrives to convey her sense of comedy with singular success. She has, moreover, one of those pliant, flexible voices that are exactly suited to the execution of the florid music that is allotted to the automatum, and she masters to perfection the effective little device of letting her voice `run down' as she periodically collapses into the arms of the solicitous assistant. Miss Hatchard's long sustained performance is an admirable exhibition, alike of vocalisation and comedy, and presently when the time came for her to receive the prolonged plaudits of the audience, she showed how extremely graceful and winsome she can be when she is able to cast off the expressionless rigidities of the doll."

"And Madame Von Eisenstein, plump, pretty, and singing admirably in the person of Miss Caroline Hatchard, has lively passages with her faithless husband, and makes herself quite the belle of the ball...What the dancers do in movement (dancing the czardas), so does Madame Von Eisenstein in song, and with rhythmic swaying of body, with action symbolic of the stress of changing emotion expressed in the music, she bursts into wild, untamed song, swiftly alternating crooning melancholy with rapturous abandon, with barbaric, unformed rhythms and pealing head-notes, reiterated and prolonged. Miss Hatchard has sung this trying composition with tremendous energy and abandon, and the audiences have insisted on an encore. The singer has bravely responded; but few people would like to go through such an ordeal twice in one night.

In another vein Miss Hatchard has done some charming work, when coquetting with her husband, she has danced around the stage, eluding his grasp, to a florid musical setting of laughter. Her singing has been of the daintiest. For Miss Hatchard indeed the performance is all round a triumph." With this uplifting effort, she ended her participation as the company stood down for Christmas.

After a two week respite, they resumed at the Grand Theatre in Swansea on 2 January. Bardsley was back, hailed by his boss Quinlan, "as one of his luckiest and most profitable `finds.' In voluptuous love, in rousing tavern ballad, in comedy and in tragedy, he was magnificent." Caroline's replacement Bridget Shannon "was extremely clever as Olympia.. her singing was delightful" - pleasant enough and effective but never up to Miss Hatchard's supreme level.

On 3 January, THE CAMBRIA DAILY LEADER heaped praise upon the organiser: "the son of the St. Helen's manufacturer is a strange figure in an artistic London. All around him are men engaged in the eternal race, contriving, fighting for wealth, selling genius and cleverness for it, compounding with the world for its price. That is, of course, quite right, but think of this music-possessed man coming into the market with his great ideas and his tremendous ideals, burning with the mission of conquering philistine, material London! Think of Mr. Beecham, sweeping aside the vexatious details that narrow the grandeur of the producer's dream, refusing to be disheartened by the little things, the trivial considerations -- and money matters surely are just these to him --that limit the outlook of other conductors. Think of this modern apostle of music setting out upon the quixotic task of conquering fashionable London, and bringing it to a realisation of the beautiful in art! Out to lose money if only he can effect his purpose! Is it not heroic?" He ended with a familiar Beecham fillip, "Get an elephant to stand on one foot on the top of the Nelson Column and you will draw a much larger crowd than twenty-five SALOMEs." It is unclear if he was simply bemoaning the dearth of paying customers or baiting prospective ones!

THE LEADER added, "Local interest mainly centred around Mr. W, J. Samuell, who appeared as Dapertutto, a magician, in the second story, and Crespel, Antonia's father, in the last tale. It is offering no empty compliment to say that Mr. Samuell more than justified the promise of three years ago, when he left Swansea to take up his studies in earnest. He sang the immensely difficult song, `As Jewels Divine,' with dramatic effect, and his stage appearance was most favourable. Mr. Samuell has before him a great future, and his progress will be watched with increasing interest by his friends."

While they were performing in Fulham, Cecil Chisholm gushed over Beecham in THE BOURNEMOUTH GRAPHIC, "One thing is certain. Mr. Beecham's effort is unparalleled in our operatic history. Thanks to one man alone London has during the past year seen over 200 more performances of Opera than it usually does. What is better still, most of these Operas have been sung in English. And the artistic standards consistently attained had been immeasurably higher than that of any other English Opera Company." Also acknowledged was TB's mighty service in training so many young artists.

With TALES OF HOFFMANN the sole offering, Seth Hughes, a recent Pinkerton with the Moody-Manners Company, joined Bardsley and Heather in singing the poet's role. Fred LeMaistre also came on board to fill the role of Spalanzani.

On 6 February in the Leicester Opera House, the Company fared badly competing with Nellie Melba who sang all week at Temperance Hall. But next in Wolverhampton, the audience had a feast as .. "the orchestra, under Mr. Howard Carr, drew the plaudits of the house, and the `Barcarolle' was encored."

Thus it continued .. personnel changes were to be expected as singers tired or left. THE SOUTH WALES ECHO reported on new blood in HOFFMANN at Cardiff, "Last night Mr. Alfred Heather and Miss Kathleen Maureen were the two principals to appear in each Tale, and their work throughout was as delightful as it was arduous. Mr. Heather's beautiful tenor voice we have before had opportunities of admiring, and seems to have broadened. The purity was as pronounced as ever, the breadth of tone was greater, and the robustness seems to have increased; whilst his acting was excellent. Miss Maureen created a highly favourable impression. Next to these two artistes, "Mr. Charles Magrath and Mr. W. J. Samuell had the heaviest work of the principals. Mr. Magrath, in two sinister parts, one impregnated with a strong comic element, the other much like that of Svengali in `TRILBY,' was magnificent alike in singing and acting. ..Miss Vera Courtenay was a Carmen-like representative in Tale II; and Miss Bettina Freeman a brilliant exponent of `Antonia' in Tale III; and all three ladies sang delightfully." Bettina, an American, had become quickly a favourite in London. Caroline had sung Antonia too, as she revealed to son Ewen but evidence has yet to surface.

After a time in Hull and a return to Manchester, they arrived at the Lyceum Theatre in Sheffield where, on 10 March Beecham is believed to have conducted HOFFMANN. Courtenay and company held forth on 21 March at the New Theatre in Cardiff where more praise was heaped upon local hero Samuell, "..the intensely dramatic interpretation of the magician Dapertutto... as a picture of medieval malignity, it has surely never been surpassed." Sadly, this promising baritone had only a half dozen years to live.

The following week in Plymouth, time was running out as singers began to jump ship. Marie Manette now sang Nicklausse, Gladys Ancrum was Giulietta and S. Suravitch, who had sung Hermann earlier, was now Crespel. And so in Portsmouth early in April, the laughter, the excitement, the thunderous applause, it all came to an end.

During this tour Caroline firmly established herself in the hearts and minds of provincial music-lovers. They welcomed her back again and again. Then she confirmed her good standing as a member of the Denhof-Beecham undertaking of 1913. This was her life. She was never a part of the rat-race atmosphere of London or anywhere else. This in no way denigrates her worth as a singer, but more than anything else, explains her unfortunate neglect today. Adding to her mystique are reports of newly-discovered recording activity.

Thanks are extended to Derek Johnston in Colchester who generously went ahead to contact libraries in all of the cities visited, and to those who responded. If any reader can widen our perception, please feel free to do so. I also am grateful to Dennis Foreman in Nottingham and to Tony Benson for producing the chart showing the 27 visits, and for triggering my interest in the first place.

At this juncture, further kudos for Beecham are hardly necessary but the few words by and about him simply show his beneficence at work and how his efforts were welcomed. . © Charles A. Hooey


THE BEECHAM OPERA COMIQUE TOUR, 1910/1911
1910
*Sept. 5 Her Majesty's Opera House, Blackpool
*Sept. 12 Grand Opera House, Belfast
*Sept. 19 Theatre Royal, Dublin
* Sept. 26 & Oct. 3 Kennington Theatre, London SE
Oct. 10 Theatre Royal, Manchester
*Oct. 17 & 24 King's Theatre, Glasgow
*Oct. 31 Lyceum Theatre, Edinburgh
*Nov. 7 Royal Court Theatre, Liverpool
Nov. 14 Theatre Royal, Newcastle upon Tyne
*Nov. 21 Grand Theatre, Leeds
*Nov. 28 Theatre Royal, Nottingham
Dec. 5 Prince of Wales Theatre, Birmingham
*Dec. 12 Theatre Royal, Brighton

1911
*Jan. 2 Grand Theatre, Swansea
Jan. 9 Grand Theatre, Fulham
*Jan. 16 Theatre Royal, Bournemouth
Jan. 23 Gaiety Theatre, Dublin
Jan. 30 Grand Theatre, Southampton
Feb. 6 Opera House, Leicester
*Feb. 13 Grand Theatre, Wolverhampton
Feb. 20 Grand Theatre, Hull
Feb. 27 Princes Theatre, Manchester
Mar. 6 Lyceum Theatre, Sheffield
Mar. 13 Princes Theatre, Bristol
*Mar. 20 New Theatre, Cardiff
*Mar. 27 Theatre Royal, Plymouth
Apr. 3 Theatre Royal, Portsmouth

* - centres who supplied information.

Visits were week-long, the dates shown being the Mondays. From details in THE STAGE.

Personal Details

When Caroline Hatchard became a student at the RAM in 1900 she lodged with a family in Streatham, South London where she met Nora Langford (later to become Venning through marriage) who introduced her to brother Robert, whom Caroline eventually married. At the time she was only seventeen and Robert was around 21. They married August 4th 1908. Robert Langford was a Civil Servant working for the Ministry of Agriculture and Fisheries, later becoming private secretary to the Minister, Mr Hudson, who was to become Lord Halifax. RL was also secretary to the Board of Agriculture.

Upon their marriage they soon moved from Highgate to a house in Golder's Green near the then new tube line. Their first son was born in 1915 and second (Ewen) in 1923. Two years later the family moved to Belsize park (where Ewen still lives) as it was nearer the Royal Academy of Music and to Whitehall. Robert Langford retired in 1940, his last post being Chief Press Officer to the ministry. He was a keen golfer and a book collector embracing prints and china. He died in 1946 aged 66 and Caroline died in 1970 at the age of 87.

Len Mullenger from notes supplied by Ewen Langford.