Sing to me Maurice, Dear!
by Charles A Hooey
Actually, this was not such an unusual request for both Maurice d'Oisly and his wife, Rosina Buckman, were professional singers, and splendid ones too. Their stories began on opposite sides of the world over a century ago. It is appropriate to begin with the first arrival.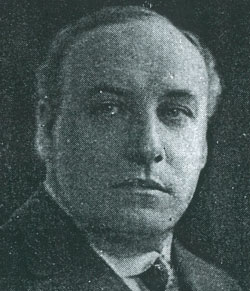 Rosina saw the light of day in Blenheim, New Zealand on 16 March 1881, as second of eventually eight children of Henrietta and John Buckman. The urge to sing ran deep in this family's blood. Though a busy building contractor by day, John often lifted his fine baritone in song after-hours whilst his wife loved to sing with the hymns she played on the church organ. Neither could have been much surprised by their daughter's early affinity for singing. Rosina amused her mother no end by humming happily even before she could speak, and by her progression to little songs at eighteen months. Oceans away in Tunbridge Wells, England, the d'Oislys produced a son on 21 November 1882. They called him Maurice.

As Rosina continued to make headway, her parents made it clear they opposed her singing for a living. 'Our daughter on stage? Never' Near her sixteenth birthday, the family moved to the farmer district of Apiti where she was able to study singing in Palmerston North and practise her art in the area. A turning point came in a performance of Haydn's Creation when she revealed such infinite poise and skill her parents had to relent. "We could not keep her home. Her voice was for the world". In 1898 Rosina sailed for England.

She trained for two years in Birmingham with noted choral conductor, Dr Swinnerton Heap, but when he died in 1900, she switched to celebrated voice tutor George Breeden. Although he soon pronounced her an opera singer pure and simple, she objected, pointing to a pile of unopened concert invitations. Confused and beset by the testy climate, she was at a loss, but her folks had the remedy. "Here are the funds, dear. Please come home". She left in 1904.

To begin his education, Maurice studied at Wellingborough Grammar School before moving on to flourish at the College de Bois in France with Maurice Noel. Suitably prepared, he went to London's Royal Academy of Music to study pianoforte with Tobias Matthay and singing under Frederick King.

The invigorating climate of New Zealand quickly dispelled Rosina's woes and she resumed singing. When she sang an operatic aria as an encore, a clamour resulted. Perhaps Breedon was right after all! In September 1905, Alfred Hill's A Moorish Maid, scheduled for Wellington, was jeopardized when star Lilian Tree took ill. Someone recalled that Rosina had sung an aria from this opera and felt she could succeed in the complete work; in no time, she became La Zara, leader of a gang of Riffs to earn the wildest acclaim of her brief career.

Now targeting opera, she sought seasoning in Australia in concerts and in works such as The Lily of Killarney and Les Cloches de Corneville. By 1908, she was singing Leonora in Trovatore and Marguerite in Faust with a company in Sydney, and Maritana the next year at the Criterion Theatre. In England, no surprise, Maurice was breaking new ground too.

He sang Froh in Rhinegold at Covent Garden on 16 January 1909 in a first revival of their English Ring, following on 25th with David in an uncut English language version of Die Meistersinger. Then, when Saint-Saëns' previous banned Samson Et Dalila reached English stage on 26 April 1909, he sang the Philistine Messenger. Another role was De Cossé in Gli Ugonotti, Meyerbeer's glittering spectacular opera, with Tetrazzini, Destinn, Journet, Zenatello and Scotti.

By 1910, Rosina saw a rosy future with J C Williamson who had just formed a company to give Puccini's six year old masterpiece Madama Butterfly, its first life in Australia and New Zealand. She would be a great Cio-Cio-San but was content on 26 March 1910 to give 'an adequate representation' of Suzuki in Sydney during the Australian premiere. Williamson decided to risk adding Carmen and La Boheme to bring in an extra shekel or two, and in Melbourne Rosina was able to sing Micaela in Carmen.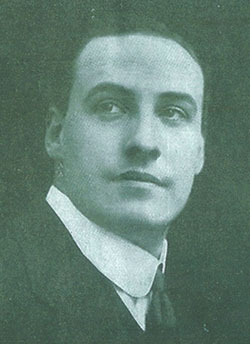 Maurice had caught the eye of a British dynamo, a brilliant conductor, just two years his senior. Thomas Beecham was then solidifying his position as a pillar at Covent Garden. He likes Maurice's lovely voice and diligent approach and saw him tying in nicely with his plans, especially in Mozart. For now, he offered parts in two of the most spectacular premieres England would see that century.

Richard Strauss's Elektra came first on 19 February 1910. In this grisly show, Maurice sang the brief but harrowing role of Aegisthus, Elektra's oppressor. Next he became a natural Azael in Debussy's L'Enfant Prodigue on 28 February.

He was both versatile and busy:
5 March - Aegisth in Elektra, sung in German
7 March - Melot in Tristan Und Isolde, also in German
8 March - Maurice de Bracy in Sullivan's Ivanhoe, in English
9 March - Azael in L'Enfant Prodigue, in French
11 March - Ivanhoe again
Flip-flopping in three languages in a single week may have defeated many young tenors but for this one with bona fide French credentials, all was fait accompli!

That autumn he sang another Aegisthus on 4 October, Nando in Tiefland on the 5th and Walther, a minstrel knight in Tannhauser on the 6th. In November he sang Melot and the Sailor in four performances of Tristan Und Isolde and the Steersman in Der Fliegende Hollander. The second British premiere, Strauss's Salome, arrived on 8 December, with Maurice as Narraboth, the first on stage asking the Page, 'Wie schön ist die Prinzessin Salome heute Nacht!' (How beautiful is the Princess Salome tonight). Its stunning success was due to Aino Ackté, Ottile Metzger, Ernst Kraus and Clarence Whitehill, not to omit Beecham and Strauss. Maurice added Jacquino in Fidelio with Cecilie Gleeson-White. Beatrice La Palme, Joseph O'Mara and Whitehill, with Pitt conducting.

Australian diva, Nellie Melba, who had yearned to tour her native land in opera finally realized her dream in 1911, in association with Williamson. She provided much of the funds, sang three times weekly, and generally poured heart and soul into the venture with John McCormack as principal tenor. Rosina sang roles usually the domain of mezzos: Suzuki, Frasquita in Carmen, Martha in Faust, Musetta in La Boheme and 'cleverly made up as an old nurse' in Romeo and Juliette. Her work had Melba raving. "She is a genius ... going to do big things ... will be right at the top of the tree" after Flora in La Traviata, the press observed, 'the Australian [sic] held her own in the foreign aviary.' She seemed to have found her home in grand opera after being 'too florid in style on the concert stage' for far too long.

Afterwards, McCormack toured New Zealand with Rosina as both fellow artist and guide. Often thrilled by her singing, he urged her to try England again. She knew it was good advice but before deciding she sought Melba's opinion Her reply was quick "Go by all means." So in July 1912 Rosina returned to England to resume her rise to fame.

Maurice continued to sing support roles at the Garden when needed and when not, sang with orchestras in Glasgow, at the Ostend Kursaal in Belgium and with the Hallé in Manchester. On 29 May 1911 once again he hopped first on stage in the UK premiere of Puccini's La Fanciulla Del West, as the miner Harry, his cheery 'Hello! Hello!' beginning the action for Destinn, Amedeo Bassi, Dinh Gilly and conductor Campanini. Puccini was a keen observer.

Now Herr Ernst Denhof came on the scene, an impresario in a high starched collar from Edinburgh, who aimed to reveal the beauty and mystery of German opera by offering it in English. Maurice took the stage at the Grand Theatre in Hull in Mastersingers on 26 February 1912, the local press speaking in praise - 'we scarcely expect or deserve, even in fine opera, so brilliant and flexible a tenor as the Apprentice David as Mr Maurice d'Oisly. His attitude towards his many inconspicuous chances was one of 'qui vive!' None of them dwindled in his hands.' The next night in Flying Dutchman he changed focus, 'the unhappy Erik pours forth his soul of passion unavailing, and Mr Maurice d'Oisly imparted to his appeal to Senta to the story of his vision, and to the Cavatina, Is that fair day? Both poignancy and pathos. His sweet and regulated tenor never showed fray or strain.' In this, the first Elektra in English on 29 February 1912, he sang 'the wretched interloper Aegisthus, had little to do, the little is indelible in the memory.' He followed up with more, in Manchester, Liverpool, Leeds, Glasgow and Edinburgh.

He found quite different fare in Bradford on 1 March. In the first performance in Yorkshire of the oratorio, The Veil, by Sir Frederic Cowen, conductor of the Choral Society, his presence was a definite bonus. Maurice sang with Jenny Taggart, Gwladys Roberts and Herbert Brown while choir and orchestra aided and abetted nicely. He then chose to join Irishman Thomas Quinlan in touring England, beginning at the Grand Theatre in Hull on 12 October 1912. During three months, he sang Rudolf in La Boheme and Hoffmann.

Beecham was quick to engage the exciting new talent from New Zealand bringing Rosina on 7 November to a Mayor's Invitation Concert on his home turf in St Helens. She sang the jewel song from Faust, softly sighs from Der Freischutz, two Maori songs and as an encore, The Cuckoo by Liza Lehmann.

Early in 1913, Maurice took on Elgar's timeless Dream Of Gerontius for the Chesterfield Musical Society with Helen Blain and Greeves Johnson, an effort deemed 'almost uniformly successful'. Soon after on January 28, came 'a most successful concert by the combined Municipal Choir and Orchestra, who must be very cordially commended for the excellent display in A Tale Of Old Japan (Samuel Coleridge Taylor) and The Wedding Of Shon Maclean (Hubert Bath). The capital performances which both works received were a testimony to the ability of Mr (Dan) Godfrey'. Soloists were Ada Forrest, Effie Martyn, Maurice d'Oisly and Julien Henry, 'an extremely efficient quartet'.

Touring seemed like a good idea to Rosina that autumn but her choice proved unfortunate. This time Denhof was in over his head. At his third stop, a frightening financial shortfall caused him to throw in the towel. Beecham would have none of this, took steps to reorganize and soon resumed the tour, leaving poor Ernst out in the cold. Under Beecham's guidance Rosina's Isolde quickly blossomed.

His touring urges unspent, Maurice quickly accepted Quinlan's next call. After a stop in South Africa, they came to Melbourne, Australia where Maurice got his feet wet as David in Masteringers. This remote land must have seemed a tenor's paradise for he was asked to sing the Duke (Rigoletto), Cavaradossi (Tosca), Julian (Louise), Des Grieux (Manon Lescaut), Faust, Radames (Aida), Almaviva (Barber Of Seville), Rudolf (La Boheme), Pinkerton (Madam Butterfly) and Manrico (Il Trovatore), inevitably with Jeane Brola and William Samuell, although Felice Lyne sang Rosina in Barber, Louise and Manon Lescaut with Australian firsts. There was more of the same in Sydney. Coming home, they embarked for Canada, land in Vancouver, then by rail eastwards to Winnipeg. Maurice's splendid efforts were described in an early issue [Hillandale News, no 235, Autumn 2001, p.380 - The Night the Camels Came, by Charles A. Hooey (and George Woolford).]

Rosina decided to check on Royal Opera offerings and for her interest was handed the role of a Flower Maiden in the premiere in England on 2 February of Wagner's Parsifal. A minor role but it was gruelling enough with fourteen, five hour-long performances. She also took on Helmwige in Die Walkure. In the regular season she sang Musetta in Boheme with Melba and Caruso and with Martinelli and Edvina on 26 July in Zandonai's Francesca Da Rimini, another 'first'.

At home again on 3 November, Maurice sung 'highly finished performances of part-songs' with Caroline Hatchard, Lucy Nuttall and the Wakefield Choral Society under Percy Bligh. Though depleted by war service, these concerts were a welcome tonic and their mixture of beautiful singing and floating melodies played by the violin of Miss Hilda Lett.

In mid-1914, war closed the nation's main opera house at Covent Garden, depriving Londoners of their revered cultural pastime. A successful fourteen week season at the Shaftesbury Theatre in the Spring of 1915 helped fill the void, and although Beecham had no connection with it, he felt encouraged. He decided to launch his own enterprise, a new company would sing in English and be based at the Shaftsbury. To his banner flocked many fine singers, including Rosina, not in support roles now, but as leading dramatic soprano in her own right.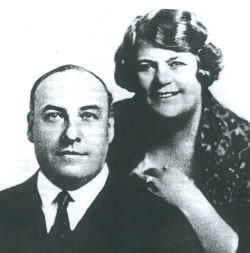 The first season began on 2 October with Gounod's Romeo And Juliet, made memorable by lovely Miriam Licette. Maurice and William Samuell had been giving concerts in different parts of London and soon gravitated to the new action. One night Rosina entered as Butterfly to find a strange tenor. It was Maurice, of course, filling in ... creating a meeting that surely would have made Puccini smile! Later on Maurice joined Jeanne Brola and Samuell in Tosca. The poor baritone would be gone two months later, a victim of typhoid. Audiences arrived in droves eager to forget for a while the horrors of war.

Pleased, Beecham tacked on extra weeks and introduced Stamford's The Critic and The Boatswain's Mate by Ethel Smyth. In the latter, Rosina as Mrs Waters, 'achieved remarkable success' with Courtice Pounds and Frederick Ranalow, the composer conducting. HMV recorded highlights. Rosina also became one of Hoffman's loves when Offenbach's opera was given on 24 February.

After finishing at the Shaftesbury on 26 February 1916, Beecham switched to the Aldwych Theatre. There on 15 April, Maurice sang Tamino in The Magic Flute while zeppelins hovered overhead, causing consternation. Did Beecham like Maurice's Mozart? Apparently so, for the tenor began studying the role of Belmonte in Il Seraglio.

In the midst of this conducting marathon, Beecham managed to pour much energy into finalizing plans for his first venture beyond London. No surprisingly, as a Lancastrian, he choose to open at the New Queen's Theatre in Manchester on 9 May 1916 with Boris Godounov. It was sung in French as Belgian bass-baritone Auguste Bouilliez did not know the Tsar's role in English. Maurice was fine both as Prince Shuisky and the Idiot, and equally so the next evening as Phoebus in J.S. Bach's pithy comedy Phoebus And Pan. On the 18th he was singing Rudolf in La Boheme when London called 'Gervase Elwes is ill. We need you to sing tomorrow evening in The Dream Of Gerontius' (Columbia recorded excerpts with Maurice, Clara Butt, Henry Wood and the New Queen's Hall Orchestra). In Manchester he did Tamino while Rosina offered Isolde and Mrs Waters. Beecham's now 'national' forces were The Beecham Opera Company or 'BOC'.

Back at the Aldwych in mid-June, Beecham presided over the first wartime performance of Tristan And Isolde with Rosina, Mullings, Autran, Heming and Radford. Ernest Newman regarded the soprano's work 'as the most perfectly finished study this splendid artist has ever given us ... in variety of facial expression in particular it was beyond praise'.

Maurice tried out his Belmonte in Il Seraglio Beecham led on 24 July 1916 as a benefit for the six children of Enrique Granados and wife, lost when the liner Sussex was torpedoed. Other singers were Mignon Nevada, Bessie Tyas and Robert Radford. Another loss that year was Paolo Tosti who died in Rome. His good friend Isidore de Lara much renowned for his wartime concerts, gave one in memoriam at Steinway Hall in London. He recalled the event later, 'I left the hall very sadly, and after a few steps found myself singing the last bars of Good-bye that Rosina Buckman had sung with great feeling'.

This was a time to wave flags and to savour band concerts. Imagine the excitement at the Palladium on 10 September 1916 when Maurice, Caroline Hatchard, George Baker, Margaret Balfour, Tom Kinneburgh and Robert Radford patriotically rendered music accompanied by E Stretton and his Royal Artillery String Band!

Beecham, busy enough as conductor, still managed to keep tabs on his opera company through Donald Baylis, his inestimable assistant. To their original tour list of Manchester, Birmingham, Glasgow and Edinburgh, they added Sheffield, Leeds, Bradford and Blackpool.

That Spring, his touring over, Beecham settled into the vast confines of the Theatre Royal in Drury Lane, forsaking the cosier Adwych. He struck gold with Charpentier's Louise on 1 June, Maurice singing with Miriam Licette, Pitt conducted. Miriam was often Maurice's partner in Mozart but that June Rosina dominated as Aida (5th), Leonora in Il Trovatore (9th), Isolde (12th) and Marguerite in Faust (30th), her usual partners being Mullings, Thornton and Allin.

Rosina Buckman was singing Madam Butterfly when a special task loomed in Birmingham.. Could she give Elgar's complete Spirit Of England its world premiere in the Town Hall on 4 October 1917? Indeed she could and did. 'Her fine voice soared above choir and orchestra in her moving delivery of the noble music'. Two nights later, Maurice sang Turiddu in Cavalleria Rusticana at a Manchester Proms under rather strange circumstances. The orchestral parts had failed to arrive, so Beecham, unfazed, sat down at the piano to accompany the action. The concert ended with orchestral music and duets from Faust and La Boheme sung by Maurice and Kingsley Lark. Maurice concluded the year with the Royal Carl Rosa Opera.

As BOC cruised through 1918, things remained fairly static for both singers, Maurice active with his Mozart, Rosina busy with Cio-Cio-San, Isolde, Marguerite in Faust, Mrs Waters in the Smyth opera but adding one new part - Elizabeth in Wagner's Tannhauser with Mullings. At a Manchester Proms on 30 September 1918, Rosina and Maurice sang in a concert performance of Cavalleria Rusticana, then she sang Mimi's aria from La Boheme and Three Shakespearean Songs by Eric Coates while Maurice added three French songs.

Beecham tried The Boatswain's Mate again on 19 March 1919, but 'The Times' was lying in wait. 'indeed the orchestral music, with its bustling vitality, its clean and cheery tunes, and its wonderfully deft use of a single instrument to outline an idea, is the chief joy of the whole opera. There are many places where one feels a little sorry for the singers. Dr Ethel Smyth for all her feminism, is strangely unsympathetic to the women's voice, and Rosina Buckman, skilful singer though she is, can give us little musical pleasure from the part of the shrill-voiced widow.'

Rosina stayed in London, freshening her roles for her coming season at Covent Garden while Maurice accompanied Beecham to Manchester for three weeks in May. There, the tenor dusted off his roots to sing ... an unusually varied series of modern French works, including Duparc's Extase, Puget's Chanson de Route and Chaminade's Sombrero'.

Who better to reopen Covent Garden post-war than Sir Thomas Beecham? And there he was on 12 May 1919, giving Puccini's La Boheme with Nellie Melba and Tom Burke. He had asked four sopranos to share ten performances, the others being Margherita Sheridan, Jeanne Brola and Rosina. She now stood equal to Melba. Her Cio-Cio-San nearly broke the heart of Neville Cardus: 'her evocation of the part was quite marvellous for she was an enormous woman physically. Yet she was the only Butterfly in my experience who acted and played on the plane of the miniature according to the prompting of Puccini's music. Her tremulous, sadly hopeful tones, as in Act Two she made herself look pretty - or prettier - to please Pinkerton on his return, the way she needed a little more carmine to hide the trace of tears - her art elevated and purified Puccini's score of all sentimentality.

At this time, Beecham presented Isidore de Lara's new opera, Nail. The composer had been inspired by Emma Calvé's tales of the dress and oriental ways of courtesans of the desert, she saw in 1905. She dreamed of portraying 'Ouled-Nail' if only de Lara would provide the opera. De Lara did just that based on a libretto by Jules Bois but in the premiere in Paris, Calvé was nowhere to be seen. Her new husband could no abide her as a courtesan! Rosina had no qualms in assuming the role for Beecham's English premiere on 18 July 1919. Its quasi-oriental music struck many as tedious, disappointing the composer. 'Some of the critics not enthusiastic over my musical aesthetic, considered the scenery far superior to the music'. Covent Garden's Grand Opera continued to flourish as BOC visited Manchester and Bradford where on 4 July Maurice sang Fenton in Falstaff.

Artistically, Rosina had reached a pinnacle but greater excitement was coming - her man was popping the question! Matchmaker Beecham abruptly ended their loving soliloquy with news of more opera. With the Garden available, he had devised a double-pronged season to run from 3 November to 20 December 1919, and after a break to continue from 24 February to 10 April 1920. Rosina would sing Nail, Isolde and Elizabeth in Tannhauser, while Maurice would be busier as David in Mastersingers (acclaimed on 10 March). Shuisky in Boris Godunov, sharing Turiddu in Cavalleria Rusticana with Frederick Blancy, singing Belmonte in Seraglio, Fenton in Falstaff, Pinkerton in Butterfly and in Stravinsky's Nightingale with Silvia Nelis, Edith Clegg and Austin.

Widening her musical boundaries, Rosina sang Hector Berlioz's Damnation Of Faust on 20 November during the centenary of the Halifax Choral Society. Rosina, John Coates, Charles Tree and F H Bentley and conductor C H Moody displayed 'renewed youth in a very praiseworthy performance'.

While Sir Thomas set up shop briefly in Manchester between his two Garden sessions, Rosina begged off to join Sir Henry Wood at Queen's Hall on 18 January 1920. She sang Ritorna vincitor from Aida and two songs by Graham Peel. Six days later, again with Wood, she sang at a regular Saturday concert, Where art thou, father dear! From Dvorak The Spectre's Bride. Was she thinking of her own papa far away?

In Manchester, Nail had a special onlooker. De Lara had come, fully aware of British resistance to new works, so was surprised to fins a large crowd blocking his way into New Queen's Theatre. 'During the performance, Rosina Buckman received news of her father's death, and behaved most courageously, and in spite of her great bereavement sang magnificently ... I feel I owe her a deep debt of gratitude.'

To augment Easter celebrations in Edinburgh, Maurice joined Caroline Hatchard, Margaret Balfour and Captain Herbert Heyner in a Good Friday performance of Elijah. 'Mr Greenhouse Allt showed fine dramatic instinct in his interpretation ... His tempi were not traditional, but fully justified themselves by the effects he obtained.'

That summer Rosina treated Covent Garden devotees to her Cio-Cio-San and Mimi. Maurice's assignment was David in The Mastersingers but he was able to visit Nottingham on 16 November and Sheffield the following night to sing at two Wilson Peck concerts. In scenes from Mastersinger, 'Caroline Hatchard, Edith Clegg, Maurice d'Oisly and Frederick Ranalow admirably sustained the various roles. To lessen the lack of stage action, Ranalow explained dramatic situations from time to time ... but most would have preferred a staged version. In December, after Carmen in Glasgow Beecham dissolved his company.

The d'Oislys then took to itinerant concertising. In the Birmingham Town Hall on 18 January 1921, they sang with Edna Thornton and Jean Vallier, a basso from Paris, perhaps feeling just a bit upstaged by the violin playing of 10 year old wizard in knee breeches from Serbia, Milan Yovanovitch Bratza.

In Sheffield, 'everything was encored and the audience was obviously happy.' In April 1921, the d'Oislys, Edna and Peter Dawson formed An Operatic Party under Wilfred Stephenson's management. When they teamed with pianist Marie Hall in Hull on 13 February 1922, The Daily Mail observed, 'Miss Buckman has quite a large corner in the hearts of Hull music-lovers', while praising her beautiful voice, personality and the sheer delight of her artistry.

In 1922 opera was restored when the National Opera rose from the ashes of Beecham's effort. The d'Oislys appeared sporadically in the provinces for they were preparing to visit Rosina's homeland. In Blenheim on 23 June, the largest number of people ever known to be in His Majesty's Theatre refused to leave wave after wave of applause as Rosina poured out many encores.

Back in England in the summer of 1923, they rejoined BNOC at Covent Garden, where on 11 June Rosina renewed acquaintance with Mrs Waters in The Boatswain's Mate. Audiences still awaited her aria with the utmost pleasure, even though the Press still gave the opera short shift. She sang Aida four times, including the season finale on 30 June with Mullings as Radames, Thornton as Amneris and Radford as Ramfis. She also sang in the Proms Concert with Arthur Cranmer on 3 September, Isolde's narration to Brangane elevating matters nicely.

In 1924 HMV asked her to record Cio-Cio-San with Tudor Davies as Pinkerton. Normally he enjoyed singing with her except near the end of Tosca after he is 'killed' by the rifle volley. In her grief she would flop upon him, her huge weight driving every ounce of air from his lungs and causing his 'dead' legs to rise. In February 1925, she nearly came to grief in the Olympia Theatre, Liverpool, as Isolde. Her gown suddenly caught fire but a quick-witted dresser leapt to smother the flames with her coat, leaving a scorched and shake Rosina to complete a searing portrayal of her own.

In September she combined work at BNOC with an occasional stint for Stephenson as celebrity soloist, one of thirty who visited fifty towns until mid-April 1926. Wilfred liked her, observing 'Rosina Buckman - such a lovely name and such a lovely artist'. One of these programmes came at Queen's Hall, Hull on September 1925. A month later on 24 October with BNOC, Maurice offered an infrequent Hoffman at King's Theatre in Edinburgh. After singing yet another Cio-Cio-San in Birmingham in mid-December, Rosina came across a review that claimed she was drifting away from opera, that her voice was still splendid, but it could not divert attention from her ample girth. She chose to vacate the opera stage but continued concerts and recordings.

A chance to sing Beethoven's music could not be denied: she sang Missa Solemnis at a Memorial Concert in Royal Albert Hall on 24 March 1927 with Muriel Brunskill, Parry Jones, Norman Allin, Royal Philharmonic and Royal Choral Society. On 13 August, she had the rare honour of singing in the first Promenade Concert to be broadcast on BBC She touched all bases, Wagner, Schubert, Quilter and Parry.

Early in 1930, both singers ceased singing to begin teaching at the Royal Academy of Music in London, Rosina also tutoring a few students privately. She tried to pass on her deeply felt convictions that the most important aspects of singing, apart from getting the notes right, were totally clear diction, expression and dramatic mood.

But the performing world would not let Maurice go he sang music of contemporary English composers Herbert Murrill and Brian Easdale at the Wigmore Hall on Wednesday, 1 July 1931, with special care to the former's self-portrait. Then he appeared as Franz Schubert in Lilac Time, a musical based lightly on the composer's life. Surprisingly, it enjoyed a healthy run, starting in a brief revival on 26 December 1932 at the Globe Theatre in London with Percy Heming as Shober and Rose Hignell as Lili. Maurice next sang his role at the Alhambra Theatre, London on 23 December 1933 with Derek Oldham and Helen Gilliland. He accompanied the show to the Empire Theatre in Liverpool for a week from 12 November 1934 and returned on 28 October 1935 with Oldham and Myrtle Stewart. His final run came at the London Coliseum with Charles Mayhew and Mrs Gilliland starting on 29 July 1936.

With war imminent, they pondered the future. They had dodged bombs at Aldwych in 1916, so a repetition seemed just too daunting. They sought and found quiet times in North Wales. Before leaving, Rosina discharged a few students into Caroline Hatchard's capable hands. When asked Maurice gladly donned uniform and proceeded to entertain the troops.

Once hostilities had ended, they returned to London only to find unhappiness. Rosina took ill and suffered great pain before she passed away on 30 December 1948. Maurice lived on not quite six months until he succumbed 18 June 1949.

They left much on disc, as is revealed in their discographies, so begin your search, or listen to Maurice as Gerontius and to Rosina easing through She wandered down the mountainside on ASV CD 530. So ends this rather special love story.