From Russia with love … the story of Philip Brozel
By Charles A. Hooey
In a 1908 article he was referred to as 'A male Tetrazzini' because, like the Italian songstress who had triumphed in London, Philip Brozel also ventured far a-field, traveling from Britain to Vienna to be praised to the skies.

He was born Feodor Brozel in St. Petersburg, Russia, probably in 1866. Soon, as a young lad of Jewish background, he felt uneasy during the oppression of the times and in the late eighties, under threat of conscription, he set out for England, his ambition being to become a great singer. He had been singing in the chorus of the Petersburg Opera and expected to have enough money for the journey, but due to the failure of the impresario, he received no salary. Young Brozel was forced to start out with nothing but his fare to Hamburg.

In that city, he suffered severely from cold and hunger until one day he happened to stagger to the lighted door of a home and fell fainting on the threshold. Luckily, when the door opened, he found friendly folk of his race who took him in, revived him, and when he recovered, paid his fare to London.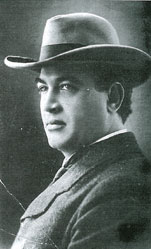 And so Brozel arrived in what was to him 'the promised land.' He would come to love England for its freedom and the warm-hearted people he found there. With the help of a compatriot, he found employment at a clothier's warehouse in the East End, and started saving for a term's instruction at the Guildhall School of Music. To his simple outlook, he thought this would suffice to make him a star in the operatic world. At the Guildhall, his singing professor, struck by the beautiful timbre of his voice and artistic temperament recommended him for the Royal Academy of Music. In this move, he was supported by Mr. (later Sir John) Rutson, a wealthy patron of the arts, to whom many young aspirants were indebted for help and encouragement. With Rutson's encouragement and financial support Brozel went to the Royal Academy of Music in 1890. Rutson also provided him with £1 a week to help with living expenses. Of this sum the lad dutifully sent 10s every week to aid his widowed mother in Russia.

At the Academy, Brozel at first studied with Alberto Randegger, whose methods did not entirely suit; nor was he satisfied with his progress under the professor to whom he went next. By chance he heard of Wilkinson, a teacher not in great favour with the authorities, but a brilliant instructor withal. This remarkable man, who had discovered the power of his voice on the ranches of Australia, had gathered his knowledge of the art of voice production during a long and eclectic period of study among the professors of Italy. Brozel at once recognized Wilkinson as a master among masters, and under him he pursued his studies unofficially, while continuing (diplomatically) with his regular professor, who, in time, wondered at the sudden, striking prowess of his pupil.

As his studies progressed, he distinguished himself by earning bronze and silver medals and the Evitt prize. There were opportunities to perform too, one being on 25 March, 1893, when he and fellow RAM students presented Lortzing's once popular opera Zar und Zimmermann, or in this instance, in English, Peter the Shipwright. Brozel 'sang the tenor music with some taste, and his perpetual transports of jealousy were fairly amusing. His pronunciation of English is very imperfect, but for that matter, it was scarcely worse than that of some of his companions who had not the excuse of foreign extraction.' Then the students gave a concert in St. James Hall a few days before Christmas when Brozel 'was heard to good advantage singing the cavatina from Gounod's Roméo et Juliette.'

Deciding it was time to sample the professional stage, he went to Hull where on 21 February 1894 he sang with the Vocal Society in St. John's Eve by Frederic H. Cowen. This reaction appeared in the local newspaper: "The tenor gives a good vocalist more than fair opportunity; there is one song permitting high notes - if you have got them, and Mr. Brozel does, will have them in greater proportion if he gains facility in reaching the coveted ground." As for the work itself: "Apart from picturesque phrasing and one or two delightful bits of instrumentation, notably a rustic dance, there is little to remark upon in Mr. F. H. Cowen's old English idyll, `St. John's Eve.'" Later in the concert, Brozel sang `The sailor's grave.' "… we have indicated Mr. Brozel's excellence; he has some clever, resonant notes, altogether a useful tenor."

When, while still a student, he sang Canio in Pagliacci, Sir Augustus Harris of Covent Garden heard him and was duly impressed. Thus, one morning in May, 1894, when the singer called on the impresario with Nellie Melba and others present, he was offered £10 a week to join the company. Beforehand he had been counseled, `Whatever Harris offers, ask more,' so he replied, `How can I live on £10 per week?' (He had been living on 10s!) Sir Augustus responded with an offer of an additional £5. And so he was engaged. Covent Garden was about to give Pagliacci with tenor De Lucia who was proving cantankerous, and so Brozel, a few days later, sang Canio on the Royal Opera stage, with Melba as Nedda.

TWO SEASONS AT COVENT GARDEN
During the 1895 Royal Opera season, he sang Canio again and in a novelty as Frederic Cowen's Harold was regarded. Given on 8 June 1895, Harold was a grand opera in English that Cowen considered his best (even better than Thorgrim) and the Royal Opera certainly gave it luxury treatment. The theatre was full and the Prince and Princess of Wales (later King Edward and Queen Alexandra) honoured the composer by being present. "The artists were as good as I could possibly wish for," Cowen wrote, "including as they did Albani, Brozel and David Bispham." The latter, in the title part, wrote, "Nobody seemed to think of it as an innovation for everyone could understand the words as we sang them, which was a rarity in the classic precincts of Covent Garden." But, in fact, the audience objected to hearing their own language sung on the Royal Opera stage and after one further performance, Harold was withdrawn.

At that time, Adelina Patti was bidding farewell as Zerlina in Don Giovanni so Brozel sang Ottavio on 24 and 28 June 1895 with Victor Maurel as the Don. He was also Siegfried when it was given in English for the first time. During Harris's lifetime, Brozel (now at a handsome salary) sang at the Garden with great success, and he made his name rapidly. However, that season with Patti would be Brozel's last with the Royal Opera for, no longer with Harris's support, he decided he would henceforth sing in English with touring opera companies in Britain. His principal effort came as a member of the company run by husband and wife Charles Manners and Fanny Moody, and occasionally with the Carl Rosa Company. Thus, with Moody-Manners, he returned to Covent Garden from 12 October to 9 November to sing three times in Carmen and Faust and twice in Pagliacci.

In September that year, Brozel made his first appearance in one of conductor Henry Wood's Promenade Concerts at the Queen's Hall, London to offer the Flower Song from Carmen. Wood later would proclaim that he had taught Brozel his Wagner. Further appearances with Wood at the Proms followed.

When the Carl Rosa Company revived Romeo and Juliet in English at the Garrick Theatre on 19 January, 1897, Philip sang Roméo with Alice Esty as Juliet, Charles Tilbury as the Friar and Eily Heenan as Stephano with Claude Jaquinot conducting. Faust was given four times with Esty and Brozel the lovers at the first three with Alec Marsh (Méphistophélès) and Louise Kirkby Lunn (Siébel). He also appeared in Carmen and Tannhäuser. On 23 October 1897, he created the title role in Scotsman Hamish MacCunn's opera Diarmid with libretto by the late Duke of Argyll. One of several works written at this time based on Gaelic mythology, it was considered a success at its introduction, but was soon forgotten. Then in June, 1898, Brozel went along when the Carl Rosa Company was summoned to perform for Queen Victoria at Balmoral. Her Majesty paid the tenor a gracious compliment, "You are Russian, yet your English is better than an Englishman's."

Later that year he sang Tristan in English in London with Lucille Hill as Isolde, Kirkby Lunn as Brangäne, Arthur Winckworth as King Marke and Charles Tidbury as Kurwenal, Hamish MacCunn conducting. It may have been the first performance of the opera in English. When he reprised the role in Liverpool early in 1899, Rita Elandi was Isolde and Lampriere Pringle King Marke, the others being the same. Richard Eckhold conducted.

Concurrently, Brozel took part in a series of concerts, including a Wagner series of especially high order organized by Robert Newman, with the Queen's Hall Symphony Orchestra conducted by Henry J. Wood. They combined a symphony by Beethoven with vocal and orchestral excerpts from Wagnerian operas. On 27 November 1899, Brozel appeared with Madame Lucille Hall and Madame Kirkby Lunn. He also performed Wagner with Marie Brema, David Ffrangçon-Davies and Olga Wood.

For a series of Sunday Afternoon Orchestral Concerts at Queen's Hall, Brozel with cellist W. H. Squire delighted listeners on 1 January 1899. The first performance of Glazounoff's Symphony No. 6, Op. 58 was also given. Then, Brozel sang at Saturday Concert at the Crystal Palace on 31 March 1900 with the backing of Adele Verne at the piano and Maud MacCarthy with her violin. Similar entertainment was provided on 9 and 23 April.

AT THE METROPOLITAN OPERA IN NEW YORK, BAYREUTH, LONDON
That autumn, Brozel steamed off to the USA where Henry W. Savage with the support of Met manager Maurice Grau, was presenting a season of English opera at the Metropolitan Opera, beginning on 1 October 1900. The next night Tannhäuser was given with Brozel in the title role, Rita Elandi as Elizabeth, William Paull, making his American début as Wolfram, William H. Clarke as Hermann and Selma Kronold as Venus. A second known role was Phoebus, when another novelty, Goring Thomas's Esmeralda, was presented on 19 November. In the cast as well were Grace Golden (Esmeralda), Lempriere Pringle (Claude Frollo), William Paull (Quasimodo), Grace Van Studdiford (Fleur-de Lys), Leslie Walker (Chereuse), Harry Davies (Gringoire) and F. Boyle (Clopin). Other operas included Faust, Tannhäuser, Mignon, Carmen, Romeo and Juliet, Cavalleria Rusticana and Pagliacci, Martha, The Mikado and possibly Aida, although it is not known in which Brozel sang. After the season at the Met ended on 15 December, the company went on tour to Boston, Pittsburgh, Washington and other cities in the eastern US, returning to the Met on 8 April, 1901. As for Brozel, he had departed early as he was needed in England.

There, on 5 April, Good Friday afternoon, he was heard in an orchestral concert of 19th century music with particular emphasis on the music of Wagner and Tschaikovsky. Accepting an invitation from Frau Wagner, he participated in the Bayreuth Festival at the end of July 1902. When Wagner's beautiful early opera Der Fliegende Hollander opened the festival at the end of July, it was performed in one act, the change of scenes occurring during the entr'acte music without lowering the curtain. The cast was mostly from the Berlin Opera, with the exception of the Steersman (with a most difficult song to sing), in which Philip Brozel appeared. He also served as one of the four squires in Parsifal.

Rejoining Moody-Manners in time for its Autumn Season at Covent Garden he sang on opening night (25 August) as Don José to Zélie de Lussan's Carmen. Two nights later he was Canio in Pagliacci, a performance made notable for the Beppe of promising American tenor Francis Maclennan. Richard Eckhold conducted. He went on to sing Manrico in Il Trovatore, and the title roles in Lohengrin, Tannhäuser and a single performance of Tristan with Blanche Marchesi as Isolde. He also sang Siegfried in mid September, when, according to The Times, 'the chief honours must go to Mr. Philip Brozel, who filled the part of Siegfried in a manner that left little room for criticism. His singing was as good as it always is, and he flung himself into the spirit of the Schmiederlieder with splendid vigour, while his acting had more warmth and brightness than usual. Brünnhilde was sung by Mme. Fanny Moody.'

In November 1902, he re-appeared on Wood's Promenade concerts on the 1st and 3rd November with Kirkby Lunn and W. A. Peterkin as fellow vocalists and W. E. James, a bassoonist. Returning on 8 November with Evangeline Florence, Kirkby Lunn and Peterkin they joined an extensive list of instrumentalists during this, the last night, given for Newman's benefit.

The next year, still with Moody-Manners, he repeated his roles, singing Canio on 30 March with Anna Hickisch, William Dever, George A. Fox and Dan Thomas with Eckhold conducting. As usual it was paired with Cavalleria Rusticana, in which Blanche Marchesi starred with Maclennan. On another occasion, Brozel sang with the Nedda of Zélie de Lussan who, somewhat later, as a tempestuous Carmen, had a gay time seducing him. He also sang in Tannhäuser with Moody and Esty, as well as in Siegfried with Moody and in Tristan and Isolda with Marchesi. In November 1902, he appeared in four more of Henry Wood's Promenade concerts with such artists as Muriel Foster, Kirkby Lunn, Evangeline Florence and Joseph Lycett.

YEARS ON THE EUROPEAN CONTINENT
In 1903, he decided to accept an engagement from Angelo Neumann in Prague to offer his usual roles. Then, moving on to Munich, he stayed for almost a year, combining performances with study sessions with Felix Mottl. In 1905 an opening appeared at the Stadttheater in Mainz so he signed for a two year stay. In addition to his Wagner, he sang Jean in Meyerbeer's Le Prophète and Herod in Salome. As well on 15 April 1906, he created the title role in Die Liebesgeige (The Hunchback of Cremona), by English composer Alick MacLean. During his time at Mainz, he would go off to sing in Frankfurt, Cologne (Lohengrin), Hanover (Tristan) and Berlin (Radames in Aida). As well, he took part in three Wagner Festivals in Budapest, garnering many plaudits for his endeavors. Late in 1906 was engaged by the Vienna Hofoper (later Staatsoper), mainly as a stand-in for Slezak and Schmedes when neither was available. He had success as Lohengrin, Die Meistersinger and other Wagnerian roles. On 24 April, 1907 he appeared as Canio. Then, he had "a veritable triumph in 'Die Judin' ('The Jewess'), Halevy's famous opera. It is an almost unheard-of occurrence for a foreigner to be recognized as a singer of genius, but the way they cheered and bravoed Mr. Brozel after his big scene was quite unparalleled, and he has had the finest reception of any singer this season." At one point, he slipped away to sing at one of Hans Richter's concerts at the Town Hall, Birmingham, returning the next day to Austria to fulfill further engagements, including performances as Otello.

Meanwhile, back in England, Moody-Manners had missed his brilliant participation, and made him an offer he could not refuse. He was not in particularly good form when he returned on 17 August, 1908, it being claimed that he "has a pure, if rather colourless, tenor voice, (and) he is far from either looking or acting the perfect Lohengrin. His gestures are wooden, his movements lack breadth, and the whole performance is deficient in passion and dignity." A week later, he was back as Tristan with Enriqueta Crichton as Isolda. "Mr. Philip Brozel always seems to want an act or two before he finds himself. If he was rather a stiff lover, he woke up towards the close, and sang Tristan's ravings less 'plummily' than usual and in a manner that showed his fine voice at is best." Then the tenor had an opportunity to give Londoners the role of his recent Vienna success, as reported in the London Times on 31 August, 1908. 'Mr. Manners is to be commended for reviving this opera, which is undoubtedly one of the best of its kind. The performance was, in most respects quite satisfactory ... Of the chief actors, Mr. Charles Manners as Cardinal Brogni, and Mme. De Vere Sapio as Rachael, were both excellent; Mr. Philip Brozel, as the Jew, was handicapped by his make-up, but he sang the music well…' On 28 September, he sang in Lohengrin again this time with Clementine de Vere Sapio as Elsa, with Mary Louise Rogers, Charles Magrath and William Dever with Eckhold as conductor. In a later Lohengrin he appeared with Marchesi and Fanny Moody. As well, he sang in Samson and Delilah as well in his usual roles.

That year, P.T.O in The Musical Times, provided an interesting appraisal of the tenor: "Of a particularly powerful, but at the same time, a singularly sympathetic personality, Philip Brozel is as striking off stage as he is on. Simplicity, sincerity and strength are the chief characteristics of the man, as they are of the artist, while an air of mystery, almost Irvingesgue in its intensity, lends a particular fascination to his personality, and is perhaps accounted for by his foreign origin, naturalised Britisher though he may be. Mr. Brozel, like many Russian 'intellectuels'[sic] whose souls are fired by a love of freedom, left his native land for the free shores of England."

Visiting Hull on 4 November, he sang Radames in Aida "with all the strenuousness of former days and revealing all his old skill in voice management. A good deal of the effect of the [whole] performance was due to Mr. Brozel's fervent singing. No man could have made the part more dramatically exciting." Two nights later in Die Meistersinger, "In the part of Walter we had a tenor no less renowned from Mr. Philip Brozel - a tenor of the `heroic' type, who since he last sang in Hull has developed distinct Teutonic characteristics. Mr. Brozel's voice last night seemed to be wanting in some of that sympathetic quality which distinguished it formerly, but apart from this he gave a reading of the part thoroughly in accord with Wagnerian tradition. It certainly cannot be charged against him that he lacked resoluteness and dramatic vigour, nor that he failed to carry the part through with dignity. His singing of the trial songs early in the opera, his delivery of the music in the conversation with Sachs in Act II, was notably good, while in the scene of the contest he made a great impression by the passion which he imparted to his delivery of the Prize Song."

Back in London, he appeared in the title role of Wagner's Rienzi on 27 August 1909. As reported in The Times, "The work of Mr. Philip Brozel, Miss Kate Anderson and Miss Bessie Weir in these three principal parts was deserving of all praise. Perhaps Mr. Brozel looked more like a potentate rather than the energetic leader of a popular cause, but in all other respects his understanding of the part was complete; and his voice served him well in the climaxes, though it sounded tired in the long passages of merely declamatory recitatives."

He stayed with Moody-Manners until the main company was disbanded in 1910. For his last appearances, he alternated with Joseph O'Mara as Manrico in Verdi's Il Trovatore and was heard on 7 April 1910 with De Vere Sapio, Rogers, Harry Brindle and Charles Moorhouse under the baton of Cuthbert Hawley.

Meanwhile, Thomas Beecham, amidst much controversy, was preparing to première Richard Strauss's Salome in English at Covent Garden, and since Brozel had sung Herod in Germany, of the ten performances given, he sang twice, on 25 and 31 December 1910. In the Times it was noted on 2 January, 1911 that, "The evening began with a vigorous performance of Strauss's Ein Heldenleben, after which the conductor and the first violin were loudly and deservedly applauded. This was followed by the now familiar Salome, in which Aïno Ackté and Mr. Whitehill repeated their triumphs and were worthily supported by a Herod (Mr. Brozel) who was a very great improvement on his predecessors." Elly Petzl-Demmer was Hérodias. Justifiably, Beecham glowed with pride at his accomplishment.

Afterwards, Brozel remained with Beecham for a series of elaborate concerts at the Palladium when he appeared each day at 2:30 and 8:00 in Act II of Tannhäuser with other music as part of a varied bill with Edith Evans as Elisabeth, Lewys James Wolfram and Harry Reynolds, the Landgrave. Beecham conducted both performances on the first day, 30 January. Midway through the second week, excerpts from Carmen replaced Tannhäuser.

A curious development followed. After singing Tannhäuser at the Palladium, Brozel was dismissed by Beecham due to disappointment with the tenor's performance. Brozel, taking offence, launched a defamation suit against Beecham and his organization. There were differing accounts at the hearing, depending on whether a witness was speaking on behalf of the plaintiff or the defence. However, other singers, Edith Evans in particular, spoke favorably about Brozel. 'We all sang out of tune. That was owing to the very high pitch. It was most unusual and only used at the music-halls.' Unfortunately The Times did not follow up by reporting the outcome of this intriguing suit.

Although occasionally he performed as a guest at German festivals until 1920, the severe strain of singing so much Wagner ultimately weakened his constitution and forced a premature retirement. Though offered a professorship at the Royal Academy of Music (of which he became a Fellow), he preferred to give instruction privately. And so, he opened a singing academy called the Philip Brozel Conservatoire where he provided instruction in operatic singing, acting and voice culture at Cleveland Lodge at St. Margaret's-on-Thames, later part of Richmond. Thus, he functioned until his last illness.

At the beginning of Brozel's career, Jean de Reszke received him very kindly, and had given him valuable advice. De Rezke remained ever the younger singer's ideal. There was some resemblance between their voices, and this was especially noticeable in such roles as Lohengrin and Tristan. Of these operas, Brozel preferred to any, the princely character of Lohengrin above all, as it appealed to his imagination. But Brozel was never more successful than as Canio, for which he was, in appearance and temperament, particularly suited and in the opinion of not a few, he was its best exponent.

Philip Brozel's voice had true tenor quality, and was characterized by a peculiar sweetness not to be forgotten. His style was without affectation or mannerisms, and always in perfect taste. He was an intellectual interpreter of the great masters of opera, an enthusiastic student of everything that is finest in his art, and a most conscientious and energetic worker.

With his brother Alec at his side, Philip Brozel died in Twickenham of heart-related ills on 23 December 1927 at a comparatively early age of 61. His death was undoubtedly a shock to those who remembered him as one of the best-known and most popular tenors of his day.

Postscript: Apparently Philip Brozel did not make phonographic records as it is for this reason Mr. Hymos's story appeared in The Record Collector's "Ones who Got Away" series. Does anyone know if examples of his singing actually survive?

SOURCES
'Philip Brozel (The Ones who Got away)' by Henry Hymos, The Record Collector Vol. 51, No. 1, March 2006

'My Art and My Friends' by Frederic Cowen, London, Edward Arnold, 1913

ACKNOWLEDGEMENTS
I want especially to thank Larry Lustig, Editor of The Record Collector for using his computer acumen to extract Brozel reports from the Internet, mostly from the Times and Musical Times. Also I appreciate the assistance of Bill Russell in Springfield, Virginia, Christian Springer in Vienna and David Barker in Australia.