paid for
advertisements

<!- Forgotten to FEb 2023-->
FOGHORN Classics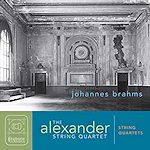 Brahms String Quartets

All Foghorn Reviews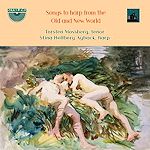 Songs to Harp from
the Old and New World

all Nimbus reviews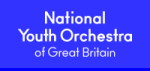 Follow us on Twitter
Editorial Board
MusicWeb International
Founding Editor
Rob Barnett
Editor in Chief
John Quinn
Contributing Editor
Ralph Moore
Webmaster
David Barker
Postmaster
Jonathan Woolf
MusicWeb Founder
Len Mullenger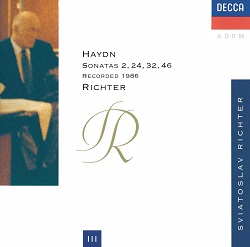 Support us financially by purchasing from

Joseph Haydn (1732-1809)
Piano Sonata in B minor, Hob XVI: 32 (1776?)
Piano Sonata in D major, Hob XVI: 24 (1773)
Piano Sonata in A flat major, Hob XVI: 46 (1767-8)
Piano Sonata in B flat major, Hob XVI: 2 (between early 1750's and early 1760's)
Sviatoslav Richter (piano)
rec. live, 1984-86
Presto CD
DECCA 436455-2 [75]

Richter admitted to his difficulty in identifying with Mozart's music, whereas his Haydn performances reveal an instinctive affinity. "Mozart – an age-old problem, I really can't get to grips with him and am afraid that I'm not convincing when I play him." (Notebooks and Conversations). This contrast is intriguing and, I think, not easily explained.

The superb Sonata in B minor (a rare key in Haydn's music) draws from Richter a strongly characterised performance, from the grim opening movement, a relaxed central minuet in B major and B minor trio section (a reversion to the prevailing sombre tone), and finally a Presto in which Richter drives home the obsessive hammering rhythms with admirable muscularity. Some pianists are more gentle in Haydn but here Richter's weightier touch reminds us that Beethoven was only a generation away. Some of Bruno Walter's Haydn recordings are equally arresting in this respect.

The second work on the disc is in D major, not D minor as stated in three places in the booklet and repeated on the disc itself. There are other oddities such as the absence of the various recording dates. Richter takes a very bright tempo for the opening Allegro, which includes a surprisingly powerful development section. This is brilliant playing, infectious and bursting with rhythmic vitality. The other two movements are both quite short - a D minor Adagio of considerable pathos but also rhythmic variety, which receives a lovely, poised performance, and a final Presto. Here Haydn is typically unpredictable, the syncopated main theme leading to material of strongly contrasting character, although it is actually a variant of the same theme. This is a terrific piece. Why on earth is it generally assumed that the only masterpieces among Haydn's sonatas (about sixty in total) are the few late examples which are regularly performed? There are many riches to be found among this neglected body of work. Several great pianists, including Brendel, Schiff and Hamelin, are committed advocates, but Richter also conveys his total belief in this music. Again from his Notebooks and Conversations: "Dear Haydn, how I love you! But other pianists? They're rather lukewarm towards you. Which is a great shame."

The A flat major Sonata is another outstanding work of wide expressive range, totally individual in character. Richter reveals all the subtlety, delicacy and unpredictability of the opening Allegro moderato, then the intimacy of the Adagio. Here the challengingly slow tempo is beautifully sustained. "Historically informed" listeners may carp, but for me Richter, like many a great musician, rewards ones concentration. The final Presto is sparkling but not at all superficial – but then, does this word ever come to mind when listening to Richter?

Finally the B flat major Sonata (Hoboken XV1: 2) has a first movement which initially seems lightweight, but this impression is soon dispelled by Haydn's infinite wit and subtlety. The wonderful Largo is a gem of profound beauty, a quality which Richter fully realises. The final minuet, poised and elegant, has a syncopated trio in B flat minor. Here Richter's understatement is highly effective. To sum up, I would urge readers to buy this CD – admirers of Richter, lovers of Haydn, or anyone else. Surely there can be few music-lovers who believe in the lingering stereotype of Richter as a severe or forbidding artist. The many-sided, all-encompassing Richter is evident here, as great an interpreter of Haydn as one could wish for.

These performances are live, with applause retained. Jeremy Siepmann's booklet notes are more generalised than specifically useful. However, he does perfectly express the diversity of Richter's approach to Haydn when he writes "The uncompromising 'intellectual' acerbity which he brings to one movement or sonata my be quite absent from another ..."

Philip Borg-Wheeler


Performance details
Hob XVI: 24, 32 : 13 July 1984 Cuivilliés-Theater Munich
Hob XVI: 2 : 13 May 1985 Grand Hall of Moscow Conservatoire
Hob XVI: 46: 25 May 1986 Teatro Bibiana Mantova – with post-concert corrections.

---
| | |
| --- | --- |
| | |
Donate and keep us afloat
New Releases


<!- cpo end March 2023 --> all cpo reviews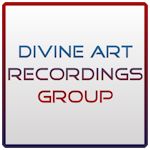 Click to see New Releases
Get 10% off using code musicweb10
All Divine Art reviews
<! apr 12 months Nov 22 - Oct 23 -->