paid for
advertisements

<!- Forgotten to FEb 2023-->
FOGHORN Classics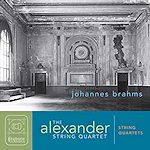 Brahms String Quartets

All Foghorn Reviews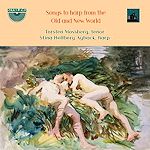 Songs to Harp from
the Old and New World

all Nimbus reviews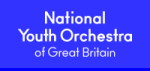 Follow us on Twitter
Editorial Board
MusicWeb International
Founding Editor
Rob Barnett
Editor in Chief
John Quinn
Contributing Editor
Ralph Moore
Webmaster
David Barker
Postmaster
Jonathan Woolf
MusicWeb Founder
Len Mullenger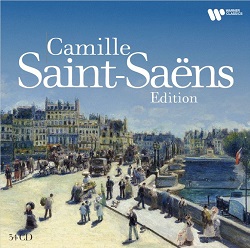 Support us financially by purchasing from
Camille SAINT-SAËNS (1835-1921)
Camille Saint-Saëns Edition
rec. 1904-2020
Mono/stereo
WARNER CLASSICS 9029674604 [34 CDs: 36 hours]

2021 was the centenary of the death of Camille Saint-Saëns, marked by the Warner label with this thirty-four CD box set, the 'Camille Saint-Saëns Edition'. Although a generous collection, it is not complete: what we have here is taken from Warner's back-list, 'the largest catalogue of Saint-Saëns.'

Parisian-born in 1835, Saint-Saëns was the foremost French composer of his generation. I have been collecting his recordings and researching him for several decades. A child prodigy, this multi-talented composer progressed to become an organist of renown, a concert pianist and a conductor. Enjoying one of the longest careers in music history, he began writing music from an early age and his composing career spanned an impressive seventy years. When he started composing, Meyerbeer, Schumann and Berlioz were all still active and Wagner's Ring cycle would not receive its first performance for another twenty-five years. He composed seemingly without effort, once declaring 'I live in music like a fish lives in water. I produce music like an apple tree produces apples.' He died in Algiers in 1921 aged eighty-six, at which time Stravinsky's controversial ballet The Rite of Spring was already eight years old, and Schoenberg and Webern had already begun developing their radical twelve-note serial music.

Throughout his long life, Saint-Saëns wrote in most genres, including a substantial body of orchestral and concertante works, and numerous chamber music, sacred and secular choral works -most of which are rarely heard - military band music, numerous melodies, some of which are orchestrated, and works for solo piano and for organ. It is evident that Saint-Saëns was drawn to the theatre, for which he wrote thirteen operas; however, only his third opera, Samson et Dalila, has gained a place in the repertory. In addition, there is incidental music for several plays, the ballet Javotte (1896) - and he even wrote a film score.

A considerable number of recordings of Saint-Saëns substantial output has accumulated in the record catalogues over a century of recording history. Around the period of the Franco-Prussian War and The Great War. he was the single most famous and admired living French composer, yet today in terms of actual concert performances he remains a composer whose fame now largely rests on just a small number of works. His best-known work is probably Le cygne (The Swan) an enchanting piece for solo cello from Le carnaval des animaux which is predominantly played as a standalone movement in its various transcriptions and adaptations. In live performance, from my own experience the most likely of the orchestral works to be heard are the Symphony No. 3 'Organ', Op. 78; Danse macabre, Op. 40 and Le carnaval des animaux. Of the concertante works, probably the most admired is the Piano Concerto No. 2, Op. 22, certainly one of my favourites, and also the Violin Concerto No. 3, Op. 61 and Cello Concerto No. 1, Op. 33. In the opera house, Samson et Dalila is the only Saint-Saëns opera that will normally be encountered but it does not now seem to appear in the top hundred opera listings I have seen and evidently its popularity is not what it once was.

A renewed interest in Saint-Saëns' music was undoubtedly assisted by the fiftieth anniversary of his death in 1971 and the one hundred and fiftieth anniversary of his birth in 1985, yet there are still numerous, relatively unknown works that the curious listener might wish to explore; examples which springs to mind include Ivanhoé, a cantata based on Walter Scott's classic novel which has been recorded and takes almost an hour in performance, and from his large body of sacred choral works, the Messe, Op. 4, Messe de Requiem, Op. 54 and the oratorios La terre promise (The promised land), Op. 140 and Le déluge (The Flood), Op. 45. I wonder how many people know these works or have even heard of them - and there are many more such examples. Of those mentioned only the Messe, Op. 4 is contained here and that is a version without orchestra.

In this centenary year, a number of new releases and reissues are trumped by this Warner 'Camille Saint-Saëns Edition'. There is a number of historical recordings here, including several by Saint-Saëns himself at the piano, commencing with piano rolls from 1904. From those early recordings, this collection travels through to some of the younger generation of artists on the scene today, many of whom are French, such as Renaud Capuçon (violin), Gautier Capuçon (cello), Bertrand Chamayou (piano), Frank Braley (piano), Philippe Jaroussky (countertenor) and Edgar Moreau (cello).

There are also many recordings by distinguished instrumental soloists from previous generations including Alfred Cortot (piano), Jascha Heifetz (violin), Paul Tortelier (cello), Aldo Ciccolini (piano), Maurice Duruflé (organ), Mstislav Rostropovich (cello), Maurice André (trumpet), John Ogdon (piano), Jacqueline Du Pré (cello) and Itzhak Perlman (violin). A roster of eminent conductors is featured, too, notably André Cluytens, Sir John Barbirolli, Charles Munch, Carlo Maria Giulini, Michel Plasson, Jean Martinon, André Previn, Louis Frémaux, Vladimir Ashkenazy, period instrument specialist Christophe Rousset and in recent years the highly regarded conductor Lionel Bringuier.

Included too are famous singers from past generations, such as Lily Pons (soprano), Enrico Caruso (tenor), Hélène Bouvier (mezzo-soprano), Jon Vickers (tenor), Maria Callas (soprano), Victoria de los Ángeles (soprano), Dietrich Fischer-Dieskau (baritone), Christa Ludwig (mezzo-soprano) and several artists no longer singing professionally: José Van Dam (bass-baritone), Felicity Lott (soprano), Ann Murray (mezzo-soprano) and Natalie Dessay (soprano), who has retired from opera roles. Typical of the high-quality performers on the set is soprano Véronique Gens, an artist I much admire, who made her debut in 1986 and continues to maintain her highly distinguished reputation.

As mentioned earlier, this is not the complete works. It is, however, a substantial collection containing over thirty-six hours of the complete music from the Warner Classics recorded catalogue. Some of the works are different recordings of the same work and either whole or part adaptations. I'm not sure that there are any startling omissions, but some I find noteworthy are mentioned under the category headings.

Beginning the collection are the orchestral works, notably the enduringly popular Symphony No. 3 'Organ', certainly a favourite work of mine. Chosen here is the recording from 1970 in Paris, played impressively by organist Marie-Claire Alain with the Orchestre National de L'O.R.T.F. under Jean Martinon. In addition to the 'Organ' Symphony there are Jean Martinon's recordings of Saint-Saëns' remaining four earlier Symphonies in A major, E-flat major, A minor and F major 'Urbs Roma'.

As one might expect, we have the four symphonic poems Danse Macabre, Phaéton, La Jeunesse d'Hercule and Le Rouet d'Omphale all recorded in 1971 under Pierre Dervaux in Paris. The orchestral version of The Carnival of the Animals is conducted by Louis Frémaux with pianists Brenda Lucas and John Ogdon from 1971. Present, too, are recordings with Jean-Jacques Kantorow conducting the Suite for Orchestra and Spartacus overture in 1993 and 1995 in Paris. A new work to me and one I'm delighted to discover, is La foi, three symphonic tableaux, Op, 130 taken from his incidental music for the play La foi conducted by Michel Plasson in 1995 at Toulouse. Not included in the collection are some of the lesser-known, single-movement orchestral works such as the Rhapsodie bretonne, Op.7b; Sarabande et Rigaudon, Op. 93; Jota aragonese, Op. 64 and Orient et occident, Op. 25. Surprisingly omitted as a single work, is the popular Danse bacchanale, Op. 47 from Samson et Delila.

The concertante works of Saint-Saëns, even those little-known, shorter, single movement pieces, have always greatly appealed to me. Although the violin or cello were not Saint-Saëns' instruments, he certainly wrote marvellously for them. Of the three violin concertos, the renowned Violin Concerto No. 3, Op. 61 is the one almost always played. The other two Violin Concertos Op. 20 and Op. 58 are here too, all three played by soloist Ulf Hoelscher under Pierre Dervaux. There is also a historical recording of the Violin Concerto No. 3, Op. 61 played by soloist Henry Merckel. In the shorter single movement works for violin and orchestra, are the Romances, Op. 37 and Op. 48, the Morceau de concert, Op. 62, Caprice andalou, Op. 122 and the Prélude pour Le déluge, Op. 45 the soloist is Ulf Hoelscher. Much admired, are the standard virtuosic showpieces for violin and orchestra, the Introduction and Rondo Capriccioso, Op. 28 written for Pablo de Sarasate and the Havanaise, Op. 82. Renaud Capuçon is the violin soloist on these two recordings from 2000 under Daniel Harding.

Of the pair of cello concertos, included is the Cello Concerto No. 1, Op. 33 with two splendid recordings, one played by Mstislav Rostropovich under Carlo Maria Giulini in 1977 and a historical recording from 1947 with soloist André Navarra under Jean Fournet. Although it's not played too regularly, I am surprised the Cello Concerto No. 2, Op. 119 is not included and neither is the late Suite for cello and orchestra, Op. 16 bis which is more widely known in its original version for Cello and Piano, Op. 16. Recorded in 1974 is the Allegro Appassionato for cello and orchestra, Op. 43, with cellist Paul Tortelier, conducted by Louis Frémaux. The two Romances for cello and orchestra, Op. 36 and Op. 67are most enjoyable works, but they are not included. A work that deserves to be played more often is La muse et le poète for violin, cello and orchestra, Op. 132. It is an attractive work, outstandingly played here by brothers Renaud Capuçon and Gautier Capuçon under Lionel Bringuier.

The piano and organ were Saint-Saëns' own instruments, and he wrote several concertante works for piano. As I expected, his set of Piano Concertos No's 1-5 is included here, as are the Allegro appassionato, Op. 70, Rhapsodie d'Auvergne, Op. 73, 'Wedding Cake' Caprice-valse, Op. 76 and 'Africa' fantasy, Op. 89. The piano soloist is Jean-Philippe Collard with the Royal Philharmonic Orchestra under conductor André Previn in works recorded 1985-87 at Abbey Road, London.

Flautist Clara Novakova is soloist in the Romance for flute and orchestra, Op. 37 and the Odelette for flute and orchestra, Op. 162, and she partners clarinettist Richard Vieille in the Tarantelle for flute, clarinet and orchestra, Op. 6 all charming works recorded in 1993. There are exceptional performances from horn soloist Radovan Vlatković in the Romance for horn and orchestra, Op. 36 and Morceau de concert for horn and orchestra, Op. 94 that he recorded in 1995 in the Salle Wagram, Paris. From the same 1995 recordings sessions, Marielle Nordmann is soloist in the delightful Morceau de concert for harp and orchestra, Op. 154. In these concertos soloists Novakova, Vieille, Vlatković and Nordmann are accompanied by Ensemble Orchestral de Paris under Jean-Jacques Kantorow.

Written to honour the Allied victory in the First World War, is the Cyprès et lauriers for organ and orchestra, Op. 156. In this fascinating work, the sorrowful opening movement Cyprès, written for solo organ, is played by Matthias Eisenberg on the Eugène Puget organ at Notre-Dame de la Daurade, Toulouse. Enitled Lauriers the second movement is scored for orchestra with the solo organ and noticeably prominent brass is played by Orchestre du Capitole de Toulouse under Michel Plasson, recorded in 1997.

Chamber music is an area of composition where I sense strongly that Saint-Saëns felt especially at home. In what comes a across as a labour of love, Saint-Saëns wrote chamber works throughout his career, leaving over forty; this collection includes twenty-seven of them. Saint-Saëns' Piano Quintet from 1855 is an early work that establishes his credentials as a chamber music composer of note and a work that deserves to be heard more often. Rather in the tradition of German Romanticism, particularly Schumann, the piano is foremost in the score in the manner of a concerto instrument. Recorded in 1970 in Paris, this exuberant work is given by the Groupe Instrumental de Paris with Jean Laforge in the piano part.

Completed in 1881, the Septet for trumpet, two violins, viola, cello, double bass and piano, Op. 65 was written for Émile Lemoine founder of the Parisian music society La Trompette. Highly regarded by many commentators, the unusual scoring can take a while to appreciate fully. On this 1977 Paris recording, trumpeter Maurice André is accompanied by Alain Moglia, Gérard Jarry, Serge Collot, Michel Tournus, Jacques Cazauran and Jean-Philippe Collard. Amongst Saint-Saëns' best-known chamber works are his pairs of violin sonatas and cello sonatas. A brilliant showpiece, the first Violin Sonata, Op. 75 is a passionately Romantic work recorded here by Renaud Capuçon and Bertrand Chamayou in 2020 at Soissons. More classical in approach than his first, yet no less engaging, is the good humoured Second Violin Sonata recorded here by Olivier Charlier and Jean Hubeau in 1987 at Radio France, Paris.

Written for the newly founded Société National de Musique, the Cello Sonata No. 1 came after the France defeat in the Franco-Prussian war. It might be said to reflect the fear and uncertainty over the social and political turmoil occurring throughout France and his grief following the recent death of his influential relative Charlotte Masson. A much-admired work, the Cello Sonata No. 2, Op. 123 would be an ideal choice for chamber recitals. In a score displaying the emotional range of the now seventy-year-old composer, each movement feels special in its own way. The chosen recordings of the Cello Sonatas are played by Roland Pidoux and Jean Hubeau in 1991 at Radio France, Paris.

In his attempt to widen the wind repertoire, in the final year of his life Saint-Saëns produced three beautifully written woodwind works. The Oboe Sonata, Op. 166 is played here by Nicholas Daniel and Julius Drake, the Clarinet Sonata, Op. 167 with Sabine Meyer and Oleg Maisenberg, and the Bassoon Sonata, Op. 168 by Dirk Meijer and Jan Van Liere.

Written almost thirty years apart, Saint-Saëns' two Piano Trios works are a pair I hold in high regard. The Piano Trio No. 1 in F major, Op. 18, has a youthful ebullience and lyricism in the manner of Mendelssohn and was one of his earliest successes. Recorded in 1978 in London, this is glorious playing from Yan Pascal Tortelier (violin), Paul Tortelier (cello) and Maria De La Pau (piano). A rather serious work of his maturity, the Piano Trio No. 2 in E minor, Op. 92 is regarded by many as a masterwork, and I have to agree. In this recording from 2020 in Soissons, it is impressively played by Renaud Capuçon (violin), Edgar Moreau (cello) and Bertrand Chamayou (piano).

Saint-Saëns wrote two String Quartets works divided by some twenty years, yet both are products of the composer's full maturity. The first, written when he was in his mid-sixties, the String Quartet No. 1 in E minor, Op. 112m is an elegant work with a highly Romantic character was greeted as a tour de force of the French quartet repertoire. Of the two I especially admire the delightful String Quartet No. 2 in G major, Op. 153 a lively and warmly expressive work. Both works are performed here by Quatuor Viotti recorded in 1984 in Paris. From 1875 the Piano Quartet in B-flat major, Op. 41 is a polished and colourful work and when premiered in Paris, violinist Pablo Sarasate was playing with Saint Saëns on piano. Quatuor Kandinsky with pianist Claire Désert recorded the work contained here in 1993 in Laon. This is actually Saint-Saëns' second complete Piano Quartet as his very early Piano Quartet in E major, Op. posth a teenage work written in 1851-53 is not included here.

The Caprice sur des airs danois et russes, for flute, oboe, clarinet and piano, Op. 79 written in 1887, is a delightful work adroitly combining Danish and Russian themes that contrasts the piano with woodwind instruments. Recorded in 1991 at Radio France, Paris, the players are Thomas Prévost (flute), Jacques Vandeville (oboe), Robert Fontaine (clarinet) and Victoria Postnikova (piano). Included is The Carnival of the Animals in its chamber version scored for pairs of pianos and violins, a viola, cello, bass, flute (& piccolo), clarinet, harmonica and xylophone. The recording used here was recorded in 1976-77 in Paris.

In my view, most of the major chamber scores are included in this collection which contains another eleven chamber works that I haven't mentioned. Although they are certainly not essential omissions, I would have liked the inclusion of the early Piano Quartet in E major, Op. posth and the Romance for flute and piano in D flat major, Op. 37 (1871) part of the composer's short series of Romances. Real curiosities for their unusual scoring, that I didn't really expect to be contained in the collection, are the Sérénade in E flat major for piano, organ (or harmonium), violin and viola (or cello), Op. 15; the Barcarolle in F major for violin, cello, harmonium (or organ) and piano, Op. 108 and in addition the composer wrote a later version, the Barcarolle for violin, viola, cello and piano.

Saint-Saëns wrote many solo instrumental works, almost all for his own instrument the piano. In addition to his those, he also wrote for left hand piano, piano four-hands and two pianos.

Of those solo piano works included here. most notable are the recordings of the Six Études, Op. 52 and the Six Études, Op. 111 played by François-René Duchâble in 1979 at Paris. Aldo Ciccolini plays the neo-baroque Six Études for piano left hand, Op. 135 recorded in 1971 also at Paris. My pick of the remaining solo piano works here are the renowned Allegro Appassionato, Op. 70 and Valse nonchalante, Op. 110 played by Bertrand Chamayou from 2017 at Paris. There is also the Valse Mignonne, Op. 104 and Valse gaie, Op. 139 with soloist François-René Duchâble from 1979 at Paris. Surprisingly not included in the collection are the sets the Album, Op. 72; Suite in F major, Op. 90 and the Six Fugues, Op. 161 and also the Thème varié, Op. 97. A change of tack now and also a CD premiere is the Fantaisie for harp, Op. 95, such a refreshing solo work and so beautifully played by soloist Marielle Nordmann from 1981 at IRCAM, Paris.

A new work to me and one that I'm delighted to hear is the Scherzo for two pianos, Op. 87 from 1889. Played here by Lilya Zilberstein and Akano Sakai, the Scherzo is a live recording from 2008 at the Lugano Festival. Debussy transcribed the following four Saint-Saëns works for two pianos: the Introduction et Rondo Capriccioso, Op. 28 (originally for violin and orchestra), the Caprice on the Airs de ballet from Alceste by Gluck, both recorded by Jean-François Heisser and Georges Pludermacher in 1993 in Paris, the Symphony No. 2, Op. 55 and the Airs de ballet from the opera Étienne Marcel. Jean-Pierre Armengaud and Olivier Chauzu recorded both transcriptions live in 2017 in the Église Saint Pierre Saint Paul, Evry, Paris.

A distinguished organist, Saint-Saëns served at Saint-Merri and notably at the famous Église de la Madeleine, Paris, from 1857-77. In 2013, I reviewed a set of the complete his organ music and wrote his 'organ music is revealed as consistently varied and inventive, often atmospheric, frequently spiritual, colourful and frequently memorably melodic.' My view hasn't changed and for those unfamiliar with Saint-Saëns' organ works there are rewarding discoveries to be made. What we have here on two CDs is organist Daniel Roth playing Saint-Saëns' complete solo organ works in 1978, in the Église Saint Salomon-Saint Grégoire de Pithiviers. Roth is using the organ by Jean-Baptiste Isnard, restored by Aristide Cavaillé-Coll and later by Robert Cattiaux. Adeptly played, these recordings are here being made available on CD for the first time, newly remastered by Studio Art & Son, Annecy. From Saint-Saëns' organ works, I find especially gratifying his Trois Rhapsodies sur des cantiques bretons, Op. 7, the Trois Fantaisies and the two books of Trois Préludes et Fugues, Op. 99 and Op. 109.

Of Saint-Saëns' vocal and choral and sacred works including, only a few are included here. It seems that he wasn't a devout Catholic, although he wrote much sacred music and was said to relish the atmosphere in church where he undertook his regular organist duties. He wrote some twenty sacred choral works, including the early Messe, Op. 4 (1856), the Oratorio de Noël, Op. 12 (1858) and the under-rated Messe de Requiem, Op. 54 (1878). There is also the oratorio The Promised Land, Op. 140 (1913) in both the English version and the later French version La terre promise. There are around thirty sacred works for voice including a Pie Jesu (1885); Panis angelicus (1898) and other motets and canticles. From his body of sacred works the only one included here is the Messe, Op. 4 a 1988 recording from Lausanne Cathedral conducted by Michel Corboz. This version of the Messe is an arrangement by Léon Roques for soloists, choir and two organs, without the orchestra. In the secular choral category Saint-Saëns wrote around forty works notably the cantata La gloire de Corneille, Op. 126 (1906); Macbeth (1858) and Nuit persane, Op. 26bis (1891). Included here are the Two Choruses for mixed chorus a-cappella, Op. 68 (1882) and the Saltarelle for men's chorus a cappella, Op. 74 (1885).

Responding positively to texts primarily by prominent French writers, notably Victor Hugo, Saint-Saëns made a valuable and significant contribution to the French mélodie. I estimate that he wrote around one hundred and fifty for the voice with accompaniment, predominantly for the piano. Here are eighteen mélodies sung by several soloists, including Violons dans le soir for voice with violin and piano sung by countertenor Philippe Jaroussky and Une flûte invisible for voice with flute and piano sung by mezzo-soprano Christa Ludwig. Included too are two performances of the Pastorale a duet with piano. The first Pastorale is sung by baritone Dietrich Fischer-Dieskau and soprano Victoria De Los Ángeles, and the second is performed by soprano Felicity Lott and mezzo-soprano Ann Murray, a pairing who also sing the duet El Desdichado (Bolero). Saint-Saëns orchestrated some twenty-five of his mélodies and just one of those orchestra songs is included here, Le Rossignol et la rose, a vocalise sung by soprano Natalie Dessay with the Berliner Sinfonie-Orchester under Michel Schønwandt from her 1998 album Vocalises.

Of his thirteen operas, the only complete one included in this collection is his admired third opera Samson et Dalila, Op. 47 of which there are two separate recordings. From 1962 in Paris, the first is conducted by Georges Prêtre, with Dalila sung by Rita Gorr (mezzo-soprano) and Jon Vickers (tenor) as Samson. The second recording is a historical account from 1946 conducted by Louis Fourestier that I comment on in the Historical Recordings section below. Provided too are four separate extracts from Saint-Saëns operas. Maria Callas sings Dalila's Act I aria Printemps qui commence and from Act II both Amour! Viens aider ma faiblesse! and Mon coeur s'ouvre à ta voix accompanied by the Orchestre National de la Radiodiffusion Française under Georges Prêtre. Callas sings beautifully with outstanding expression in these arias from her collection Arie da opere francesi recorded in 1961 in the Salle Wagram, Paris. French soprano Véronique Gens is represented with the Air de Catherine d'Aragon - Ô cruel souvenir! from Act IV the grand opera Henry VIII. The aria is taken from Gens' collection Les Héroïnes Romantiques - Tragediennes 3 with the period instrument orchestra Les Talens Lyriques conducted by Christophe Rousset. Recorded at IRCAM, Paris, in 2010, Gens is in stunning form, displaying affecting emotions in Catherine d'Aragon's key scene and aria.

Often when works become popular, their potential for transcription for various instrumentations can be seen, and here a pair of CDs comprise of Saint-Saëns' works played in adaptations different from the original. A few of these eighteen transcriptions and arrangements have been prepared by Saint-Saëns, with the remainder by other composers. For example, the famous musical suite Le Carnaval des animaux, where each movement mimics the sounds and characteristics of a different animal or animals, is recorded here in 1976/77 using Saint-Saëns' original chamber sized scoring for pairs of pianos and violins, with viola, cello, bass, flute (and piccolo), clarinet, harmonica and xylophone. From 1971 there is a recording of Saint-Saëns' orchestral version played here by the City of Birmingham Symphony Orchestra under Louis Frémaux. Often Le carnaval des animaux is performed with narrations of humorous verse such as the text by American poet Ogden Nash. Here, a further recording from 1986 is given in an arrangement for orchestra with additional songs by Carl Davis and Hiawyn Oram. The widely-admired movement Le cygne is heard in this collection eight times. Of course, it is contained in the three recordings of Le carnaval des animaux in the versions for chamber, orchestral and orchestra with additional songs. There are also recordings here of Le cygne in various arrangements and transcriptions - for violin and piano by Jascha Heifetz, cello and orchestra by Paul Vidal, solo piano by Leopold Godowsky, trumpet and piano by Mikhail Nakariakov, and violin and piano by Jascha Heifetz.

I especially enjoy in this section Saint-Saëns' two separate arrangements, one for solo harp and one for solo piano, of the J.S. Bach's Tempo di Bourrée movement from the Partita for Solo Violin No. 1, BWV 1002. There is also a recording of the Introduction et Rondo Capriccioso, Op. 28 using Sergei Nakariakov's arrangement for trumpet and orchestra. Splendid, too, is the arrangement of Danse macabre for organ and orchestra by Edwin Lemare.

This Warner collection contains a substantial group of historical mono recordings on the final eight CDs that range from 1904-57 in total. I have read that between 1904 and 1919, when he was in his mid-eighties, Saint-Saëns made some fifty piano rolls and seventeen phonograph records. As a listener brought up on digital recordings, I would not normally reach for old recordings; nevertheless, this was an enjoyable task.

Certainly, the most interesting of the historical recordings is CD No. 27. Saint-Saëns uses a Duo-Art reproducing piano performing six of his own works and one by Chopin, all on piano rolls. These rolls, perforated in 1908-17, have a remarkably impressive sound quality. On the same CD, the earliest of the historical group are the gramophone acoustic recordings of which five from 1904 sound as poor as I expected, and I doubt I will revisit them. Nevertheless, the next six works from 1919 have a noticeably improved sound. The remaining CDs of the historical recordings category contain works that are almost all second recordings here, many of which I have already mentioned above. Noteworthy is the historical 1946 Paris recording of the grand opera Samson et Delila headed by Hélène Bouvier (mezzo-soprano) as Dalila and José Luccioni (tenor) in the role of Samson conducted by Louis Fourestier. The now seventy-five-year-old sound is of a remarkable quality for its age, and I have little difficulty listening to it. Worthy of mention is the singing of Bouvier and Luccioni which is top drawer, as is the remaining cast and chorus.

This collection contains a number of works recorded more than once. Most of these I have already referred to in the above sections Transcriptions & Arrangements and the Historical Recordings. However, I think it might be worthwhile mentioning them again. In addition to three complete recordings of Le carnaval des animaux there are also recordings here of five arrangements of Le cygne for various combinations. There are four versions of the splendid Havanaise for violin and orchestra, Op. 83 two played by renowned virtuoso Jascha Heifetz and also two chamber transcriptions. Three recordings of the Introduction et Rondo Capriccioso for violin and orchestra, Op. 28 with Jascha Heifetz as soloist in two recordings and there is also a recording of the transcription for two pianos prepared by Debussy. There are also three recordings of the Piano Concerto No. 4, Op. 44 including two historical recordings; three of the Prélude for 'Le déluge', Op. 45 for violin and orchestra including two historical transcriptions of for violin and piano, and three of the Rhapsodie d'Auvergne for piano and orchestra, Op. 73 including two historical transcriptions for solo piano, one of which is a very short extract.

There are two recordings of the popular Symphony No. 3 'Organ' and both are well worth hearing. From 1970, there is the recording played by organ soloist Marie-Claire Alain with the Orchestre National de L'O.R.T.F. under Jean Martinon. From the historical section the 1954 Salle Gaveau, Paris recording with Maurice Duruflé as organ soloist with the Orchestre du Théatre des Champs-Elysées under Ernest Bour. The Symphony No. 2, Op. 55 is given in two recordings too, one of which is a transcription for two pianos prepared by Debussy. There are two recordings of Samson et Dalila. From 1962 at Paris, there is Georges Prêtre conducting Samson et Dalila. The second recording of Samson et Dalila is a historical account from 1946 conducted by Louis Fourestier. Of the three Violin Concertos it is No. 3 in B minor, Op. 61 which is by far the most often performed. Of the two recordings here the first is from 1977 played by soloist Ulf Hoelscher with the New Philharmonia Orchestra under Pierre Dervaux. A second is a historical recording from 1935 played by soloist Henry Merckel with Orchestre de I'Association des Concerts Pasdeloup under Piero Coppola.

Additionally, there are two recordings each of the Cello Concerto No. 1, Op. 33; Dance Macabre, Op. 40; Élégie No. 1, Op. 143; Muzurka No. 1, Op. 21; Phaéton, Op. 39; Piano Concerto No. 1, Op. 17; Piano Concerto No. 2, Op. 22 (plus a short extract played by the composer); Piano Concerto No. 3, Op. 29; the Piano Concerto No. 5 'Egyptian', Op. 103 and Le Rouet d'Omphale, Op. 31. In the orchestral song Le Rossignol et la Rose from Parysatis, R 312 of the two recordings one is from 1997 sung by soprano Natalie Dessay and a second sung by the great Caruso in the historical recording from 1929. There are also two recordings of The Septet, Op. 65 a much-admired chamber work. The Symphony No. 2, Op. 55 is presented in two recordings, one of which is a transcription for two pianos prepared by Debussy. Both the Valse mignonne, Op. 104 and Valse nonchalante, Op. 110 are recorded twice. In 1979 François-René Duchâble recorded the Valse mignonne and in 2017 Bertrand Chamayou recorded the Valse nonchalante. As mentioned above, Saint-Saëns is the piano soloist in the historical recordings of those two works from 1915-16.

This collection contains recordings that have been remastered at various times. The remastering details are given in the contents section for this review, taken from the recording information given on the rear of each of the thirty-four individual card sleeves. The information seems largely accurate with just one or two ambiguities, which is not surprising for such a large collection. It seems that most of the non-digital recordings presented here have already been remastered. Especially for this collection, new remasterings have been carried out by Studio Art & Son of Annecy, including the Symphony No. 3 'Organ' conducted by Ernest Bour in 1954 and the Suite Algérienne, Op. 60 under Louis Fourestier in 1952. The remaining new remasterings have created a number of CD premieres, specifically, the complete solo organ works played by Daniel Roth, the Études for piano, Opp. 52 and 111, the Mazurka No. 3, Valse mignonne and Valse gaie performed by François-René Duchâble, and the Fantaisie for harp, Op. 95 played by Marielle Nordmann. Worth pointing out on CD 15 is the momentary flaw in the sound that affects track 8 at point 01:56.

All thirty-four CDs have individual card sleeves contained in a sturdy card box. The front cover of each sleeve is illustrated by an image of a famous painting by a French master Monet, Degas, Renoir et al. For such an important centenary release the booklet is rather modest but it does contain a helpful essay by musicologist Marie-Gabrielle Soret, a conservator at the Bibliothèque nationale de France, a renowned specialist in French music and Saint-Saëns biographer. To locate each work on the CDs, there is a helpful alphabetical index.

This 'Camille Saint-Saëns Edition' is a rewarding release. Of course, in a number of the works I have my own particular favourite recordings that are not in the collection, nevertheless, there isn't a performance here that I haven't enjoyed, and many performances are outstanding. I doubt I will return to CDs 27-29 forming part of the historical recordings section, owing to the limitations of the sound quality. However, from a historical perspective I'm glad to have heard those recordings, especially the Saint-Saëns piano rolls.

Enthusiastic collectors of Saint-Saëns will surely have a number of these recordings in their collection. Nevertheless, for the vast majority of those who respond to this music, there is so much to explore. For admirers of French music and Saint-Saëns in particular, I would describe this substantial 'Camille Saint-Saëns Edition' from Warner Classics as essential.

Michael Cookson


Contents
CDs 1-4 – Orchestral Works
CDs 5-10 – Concertante Music
CDs 10-16 – Chamber Music
CDs 17-19 – Instrumental Music
CDs 19-20 – Instrumental Music – Complete Solo Organ Works
CDs 21-24 – Vocal & Choral Music – Inc. Opera
CDs 25-26 – Transcriptions & Arrangements
CDs 27-34 – Historical Recordings

For a detailed listing of contents, see here.


---
| | |
| --- | --- |
| | |
Donate and keep us afloat
New Releases


<!- cpo end March 2023 --> all cpo reviews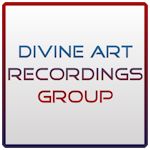 Click to see New Releases
Get 10% off using code musicweb10
All Divine Art reviews
<! apr 12 months Nov 22 - Oct 23 -->