paid for
advertisements

<!- Forgotten to FEb 2023-->
FOGHORN Classics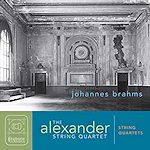 Brahms String Quartets

All Foghorn Reviews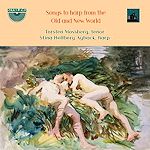 Songs to Harp from
the Old and New World

all Nimbus reviews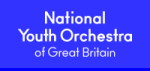 Follow us on Twitter
Editorial Board
MusicWeb International
Founding Editor
Rob Barnett
Editor in Chief
John Quinn
Contributing Editor
Ralph Moore
Webmaster
David Barker
Postmaster
Jonathan Woolf
MusicWeb Founder
Len Mullenger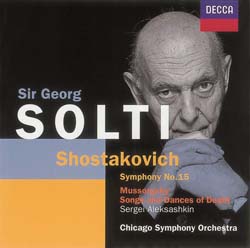 Support us financially by purchasing from

Modest MUSSORGSKY (1839-1881)
Khovanshchina Prelude [5:00]
Songs and Dances of Death (orch. Shostakovich) [19:17]
Dmitri SHOSTAKOVICH (1906-1975)
Symphony No. 15 in A major, Op. 141 [40:19]
Sergei Aleksashkin (bass)
Chicago Symphony Orchestra/Sir Georg Solti
Rec. 20 – 29 March 1997, Orchestra Hall, Chicago
Presto CD
DECCA 458919-2 [64:56]

Georg Solti came late in life to Shostakovich but on the other hand he delved enthusiastically into his symphonies and recorded almost half of them, the last only a few months before he died. When it is now reissued in harness with Mussorgsky's Songs and Dances of Death and the prelude to Khovanshchina it is a worthy tribute to one of the greatest conductors of the 20th century. He naturally chose to record the song cycle in Shostakovich's orchestral arrangement and it is only a pity that he didn't opt for Shostakovich's re-orchestration of the Khovanshchina as well. There is nothing wrong with Rimsky-Korsakov's colourful instrumentation of course, and it is ravishingly played by the Chicagoans, but it would have been a valuable tribute to Shostakovich – in particular since he wrote the song arrangement at the same time he corrected proofs of his Khovanshchina version. It was at the request of Galina Vishnevskaya that he arranged the song cycle and she premiered the work in 1962. On the present disc it is the bass Sergei Aleksashkin who sings them and he is certainly idiomatic in every respect but I can't help feeling that he could have radiated a little more charisma. He is more workman-like, where others, like Boris Christoff, Kim Borg and even Dmitri Hvorostovsky, have greater personality. Of these only Hvorostovsky recorded the Shostakovich version, which he did twice: in 1993 and 2004 (review). Both are very good and can be recommended with emphasis. Still it's good to have Aleksashkin with excellent support from Sir Georg and the Chicago Symphony.

But it is the somewhat enigmatic symphony which is the principal reason for acquiring the disc. Shostakovich, who by the early 1970s suffered from bad health, began sketching what was to be his last symphony early in 1971, but he had problem with his right hand and could only use a pen for short periods. He has stated that the symphony was clear in his mind and only had to be written down but obviously he struggled with the finale. The intension was that the finished symphony would be premiered in the autumn 1971 but Shostakovich suffered a second heart attack and was hospitalized and the premiere was postponed until 9 January 1972 when his son Maxim conducted it in Moscow. It was recorded in connection with the premiere and that record has ever since been my reference version. The close bonds between father and son have meant that, for me, this is the genuine thing. In the youthfully burlesque opening allegretto with the playful flute solo followed by the grumpy bassoon and then the brass with the galloping theme from the William Tell overture, Shostakovich Junior is spirited, eager and alert while Sir Georg is mellower and more timid. There seems to be a generation gap here between Shostakovich in his early thirties and Solti in his early eighties. It may also have something to do with the recordings: the Chicago sound is more integrated, more homogenous, while Das grosse Rundfunk-Sinfonieorchester der UdSSR, as the orchestra is titled on my old German pressing LP is less sophisticated and, actually, more alive . Tempo-wise they are very close throughout and I have nothing but praise for the important soloists, not least the beautiful cello solo in the second movement. On the Shostakovich recording the soloists are listed but on Solti's they are anonymous. The nobility and tragedy depicted in the second movement is well brought out by both conductors. The short third movement, a scherzo in all but name, is over in no time and then the moving final movement, which reportedly caused the composer a deal of trouble, with its Wagner references – the Fate Motif from Der Ring des Nibelungen and Siegfrieds's Funeral March – fatal and foreboding of the final extinction and leading to the concluding diminuendo with ticking percussion, which gives me a perverse association to Bernard Herrmann's spectacular music to the duel with the skeleton in the film The Seventh Voyage of Sinbad. In Shostakovich's symphony the final pages are rather a Dance Macabre, and here again Maxim Shostakovich is more distinct in focusing on the percussive elements. (A quite different association is the finale of Shostakovich's last string quartet, number 15, finished in June 1974 and premiered in November the same year. Five of the six movements are indicated Adagio, while the penultimate movement is Funeral march: Adagio molto. The finale, Epilogue. Adagio fades away diminuendo. The Borodin Quartet used to play it in darkness with only candle lights illuminating the music stands, put them out and leave the stage in total darkness and total silence. Death was often present in Shostakovich's late works.)

Georg Solti's reading of Symphony No. 15 is a deeply moving experience that should appeal to many listeners. That I slightly prefer Maxim Shostakovich's premiere recording is partly for nostalgic reasons, but partly also for those details I have accounted for above. The sonic quality of the Solti recording is from Decca's top drawer, but Maxim's recording is also surprisingly good considering its age. It doesn't seem to be available on CD, but he re-recorded it again, together with all the other symphonies in Prague for Supraphon in 2006 in connection with the 100th anniversary of his father's death.

Göran Forsling


Information received

Since this review appeared we have been informed that Maxim Shostakovich also recorded the Fifteenth Symphony with the LSO for Collins in the 1990s. That recording was coupled with music from The Gadfly.
---
| | |
| --- | --- |
| | |
Donate and keep us afloat
New Releases


<!- cpo end March 2023 --> all cpo reviews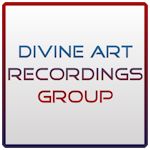 Click to see New Releases
Get 10% off using code musicweb10
All Divine Art reviews
<! apr 12 months Nov 22 - Oct 23 -->