paid for
advertisements

---
100th birthday of Mieczyslaw Weinberg on December 8, 2019.
Renate Eggbrecht has recorded all 3 violin Sonatas
All Troubadisc reviews
FOGHORN Classics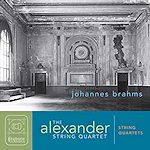 Brahms String Quartets

All Foghorn Reviews


Follow us on Twitter
Editorial Board
MusicWeb International
Founding Editor
Rob Barnett
Editor in Chief
John Quinn
Seen & Heard
Editor Emeritus
Bill Kenny
MusicWeb Webmaster
David Barker
Postmaster
Jonathan Woolf
MusicWeb Founder
Len Mullenger
Discs for review may be sent to:
Jonathan Woolf
76 Lushes Road
Loughton
Essex IG10 3QB
United Kingdom

jonathan_woolf@yahoo.co.uk
---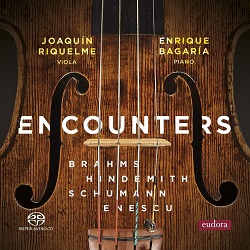 Support us financially by purchasing from
Encounters
Johannes BRAHMS (1833-1897)
Sonata in F minor, Op. 120 No. 1 (1894) [23:20]
Paul HINDEMITH (1895-1963)
Viola and Piano Sonata, Op. 11 No. 4 (1919) [17:36]
Robert SCHUMANN (1810-1856)
Adagio und Allegro, Op. 70 (1849) [8:46]
George ENESCU (1881-1955)
Concertstück (1906) [9:40]
Joaquín Riquelme (viola - Domenico Busan, 1781, Venice)
Enrique Bagaría (piano - Steinway & Sons)
rec. 5-6 February, 2019, Sala Narciso Yepes, Auditorio Centro de Congresos Víctor Villegas, Murcia, Spain
Download of the DSD256 (11.289MHz) surround (five-channel) file from NativeDSD
EUDORA EUD-DR2102 SACD [59:28]


This recording is an example of the increased sonic resolution available with downloads, beyond what one can get on a disc, even on a higher-resolution disc, such as an SACD. The sound quality is indeed magnificent, with one possible caveat, which I'll get to later in this review.

The Spanish musicians here may be less known in the English-speaking regions of the world, but, on the basis of this recording, they reveal themselves to be top-flight artists. Violist Joaquín Riquelme was born in Murcia (in the southeastern region of the country), and has been a full member of the Berlin Philharmonic Orchestra since 2010. Pianist Enrique Bagaría hails from Barcelona, and has appeared with such conductors as Valery Gergiev and Vasily Petrenko. The performances heard on this album have evidently been prepared with care, and it's obvious that Riquelme and Bagaría are on each other's wavelength as to interpretation.

One of the first things one notices in the Brahms Sonata is the beautiful, almost luscious tone quality of both instruments. For this kind of tone quality to be conveyed to a listener via a sound recording, three things are required: the instruments themselves must be capable of producing such sounds, the players must be capable of finding these sounds and bringing them to light, and the engineers must have the ability to capture and transmit what the musicians have created. All three of these requirements are consistently heard on this recording.

It may seem strange to talk about tone quality as the most noticeable aspect of a given performance, but tone quality is an element which is (or can be) omnipresent throughout the performance, and the rich tones in this performance lend it an impression of outstanding refinement and polish. In fact my only quibble with the Brahms is that Bagaría sometimes seems reluctant to observe some of the staccatos which Brahms calls for, especially at the ends of slurs or phrases, and particularly in the last movement. I feel that tilting the articulation more towards staccato (or at least non-legato where possible) can help lighten the texture in the denser portions of the work. On the other hand, the rubato and expressive, unmarked tempo modifications are carried out with noticeable unanimity, often producing a fervent ardency in the performance.

If you haven't heard Hindemith's Viola Sonata, Op. 11 No. 4, and you think you know the composer's style, be prepared for a shock when discovering this work. Unlike most of the composer's later music, this Sonata inhabits a late Romantic world – no chords built on fourths here! (Sometimes, you see it listed as having been composed in the key of F major, but, past the first couple of bars, very little of the work is written in that key. It ends in E-flat minor, as befits Hindemith's progressive tonality plan.) It's also a work which demands the utmost in sympathetic understanding and rhythmic coordination between the two players, which Riquelme and Bagaría have in abundance. Even in the slow first movement (Fantasie), there are pitfalls in the sometimes "irrational" divisions of the larger beats. Again, Riquelme and Bagaría keep their ensemble exact, and, in the following two movements (two sets of variations played without a pause between them), the two performers characterize the different variations (for example, the capriciousness of the second movement's Variation II) with gratifying sophistication.

Written for valve horn (not natural horn) Schumann's Adagio und Allegro is surely more suited to that instrument, but one can't blame string players (cellists and violists) for wanting to get in on the action. The Allegro movement, with its virtuosic demands on both players, is absolutely thrilling here, and it's understandable that Schumann allowed for alternative performances of this work by string players too. In the preceding Adagio, the rise and fall of the phrases is projected by Riquelme and Bagaría with a sensitivity informed by the music's smoldering and yearning.

Enescu's Concertstück is written in the composer's more "international" (i.e., French) style, with none of the folk inflections of his Romanian-tinged music. Despite its origin as a test piece for the Paris Conservatory's viola competition, it also stands as a worthy composition for the concert stage too. As in the Hindemith Sonata, there is a large amount of give and take demanded of the performers here in addition to its myriad technical demands as a conservatory test piece. The booklet notes suggest that Chausson's Poéme was the inspiration for this work, and indeed there's an evident connection between these two works. At one point, about halfway through (starting the "animé" section), I thought that Bagaría might have miscalculated and attacked his fortissimo octaves and chords too enthusiastically. But, no, Riquelme gets such a rich powerful sound from his viola that he holds his own here. It goes without saying that the shifting moods of this work are communicated by this duo with both alertness and refinement.

I've mentioned a possible caveat with the sound on this recording, which does capture the burnished tone quality of both instruments extraordinarily well. This five-channel incarnation is, however, very unusual in that the level of the sound in the center and surround channels is far lower than what one hears on most other surround recordings. When I first heard it, I thought something was wrong, so I wrote to the producer and recording engineer, Gonzalo Noqué, to ask about it. He replied that he has a perhaps very singular philosophy of how a multi-channel recording should sound, which he was happy to share with me. In general, he has not been happy with the localization and imaging of other multi-channel recordings, and one point he made in particular was that he uses cardioid microphones for the surround channels, pointing away from the instruments, so that no direct sound is picked up in these channels. (He tries to capture only the sound of the hall itself.)

As for the center channel, Noqué believes that its presence is a holdover from films, and is not needed for a purely musical recording, where the "phantom" center channel is produced by carefully balancing the right and left channels. Not only is the center channel not needed, but he says that its audibility can collapse the very image on the playback. (As he says, "you are basically fixing what is not broken!") However, he also mentioned that he did create the mix on this recording with spot microphones, with the viola having two spot microphones, "panned" hard left and center, thus producing the instrument center left.

So what is the result of these preferences for a solid, specific fontal image on this recording? As I hear it, the placement of the instruments is extremely precise and stable, and I don't care too much that the level of the center channel seems far below that of the left and right channels. With respect to the surround channels however, I feel that the level is just too low to expand the walls of my living room as I like, and I've heard other recordings in which the surround channels are clearly capturing the reflected sound, rather than the direct sound, but which are recorded at a higher enough level that I have more to work with if I want to modify what I hear with the volume controls according to my own tastes. Other listeners may certainly feel differently, but I can almost convince myself that I'm hearing a two-channel recording, rather than a five-channel recording, even though the center and surround channels are evident at their extremely low levels. I suspect Mr. Noqué may take that observation as a complement, and I have no argument about the excellent image stability. I hope I've described the sonics of this recording adequately so that you may know what to expect if you're interested.

Overall, these are fine performances, recorded in excellent sound, but with distinctive convictions on the part of the producer/engineer, which some listeners will like more than others do.

Chris Salocks

Note
Hybrid SACD from Amazon UK, download up to 24/192 stereo from Presto. DSD surround only from NativeDSD.


---
| | |
| --- | --- |
| | |
Donate and keep us afloat
New Releases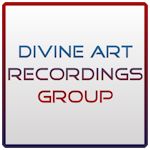 Click to see New Releases
Get 10% off using code musicweb10
All Divine Art reviews
Recordings of the Month
June 2022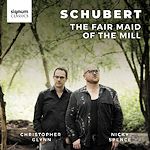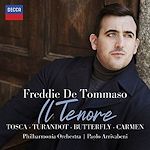 May2022