paid for
advertisements

<!- Forgotten to FEb 2023-->
FOGHORN Classics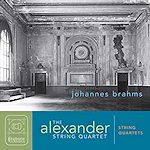 Brahms String Quartets

All Foghorn Reviews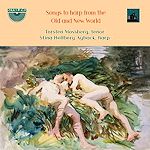 Songs to Harp from
the Old and New World

all Nimbus reviews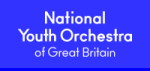 Follow us on Twitter
Editorial Board
MusicWeb International
Founding Editor
Rob Barnett
Editor in Chief
John Quinn
Contributing Editor
Ralph Moore
Webmaster
David Barker
Postmaster
Jonathan Woolf
MusicWeb Founder
Len Mullenger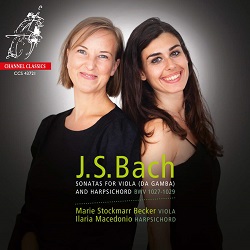 Support us financially by purchasing from
Johann Sebastian BACH (1685-1750)
Sonata No. 1 for viola da gamba and harpsichord in G major (BWV 1027) [13:49]
Sonata No. 2 for viola da gamba and harpsichord in D major (BWV 1028) [15:00]
Sonata No. 3 for viola da gamba and harpsichord in G minor (BWV 1029) [15:48]
Marie Stockmarr Becker (viola)
Ilaria Macedonio (harpsichord)
rec. 25-29 February 2020, Garrison Church, Copenhagen, Denmark.
CHANNEL CLASSICS CCS43721 [44:37]

There is much to be said for transcribing Bach's music for cello or viola da gamba for the viola. The mellow lower tones of that instrument can easily be heard as similar to the cello, and those lyrical higher lines can be taken with a kind of relaxed ease which have a different kind of stress on the cello. The Bach Suites for cello have successfully been recorded on the viola, and as these sonatas are less challenging in a technical sense there is no reason they shouldn't work in this higher but still mellifluous register.

Booklet notes written by the musicians make the argument that violists in Bach's time might well have taken up this repertoire, with "repertoire for the viola da braccio (directly translated 'arm viola' to distinguish it from the viola da gamba, 'leg viola') [being] very sparse in the baroque period." It is known that J.S. Bach had an affection for the viola, though its use as a solo instrument was rare in his day. There is a viola version of these sonatas published by G. Henle, and Bärenreiter marks their edition as 'für Viola da gamba (viola) und Cembalo', so we're all set and there should be no controversy.

This is a superbly balanced recording, with good presence for the harpsichord and plenty of detail from both instruments while allowing them to blend nicely. The viola has plenty of passages where it is an equal and accompanying partner to the keyboard, and these effects work here as well as I've heard anywhere. Tempi are conventional, with briskness not taken to extremes, allowing for bounce and 'swing' in the Allegro movements. Both of these musicians are early music schooled, so the viola part is mostly, though not entirely vibrato free. Note shaping and sensitive phrasing account for expression in something like the opening Adagio of BWV 1028, intonation is impeccable, and some slight vibrato comes in to add emphasis on crucial notes. Ornamentation in the harpsichord is restrained, allowing transparency in the texture where the music demands it.

All in all these are highly satisfying performances, and you don't need to be a viola enthusiast to appreciate them. I did an online hunt for alternatives for these sonatas played on viola but came up empty-handed, which was a surprise. I'm sure there must be some out there. My most recent encounter with this repertoire on CD has been with the excellent recording by Hille Perl and Michael Behringer on the Hänssler label (review). With generally tighter timings this makes you realise that the Channel Classics recording has a slightly lower energy - not enough to make the music dull, but giving it quite a different impression at times. Going back to that Adagio from BWV 1028, you can imagine it as a slow walk in a pretty garden with Perl and Behringer, while Stockmarr Becker and Macedonio are quite funereal in comparison. These are both legitimate approaches, and it depends if you want more of a physical connection over perhaps a more cerebral one. I like the lyrical flow of Perl and Behringer, but can also admire the more searching expression in Stockmarr Becker and Macedonio's playing, and as I say, there is no shortage of energy and life in their faster movements so there is still plenty of contrast.

Duration for any recording for just these three sonatas will always put it into that EP category so I'm not going to complain about playing time, other than that this appears to be a full-price release so just be aware of what you are buying. The CD is presented in a slim gatefold sleeve with a nicely documented booklet.

Dominy Clements

Note
It has been pointed out by a reader that there are other recordings with viola, including Nobuko Imai & Roland Pöntinen on Philips, and Josef Suk & Zuzana Růžičková on Praga.

---
| | |
| --- | --- |
| | |
Donate and keep us afloat
New Releases


<!- cpo end March 2023 --> all cpo reviews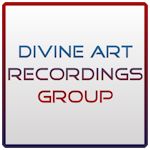 Click to see New Releases
Get 10% off using code musicweb10
All Divine Art reviews
<! apr 12 months Nov 22 - Oct 23 -->