paid for
advertisements

<!- Forgotten to FEb 2023-->
FOGHORN Classics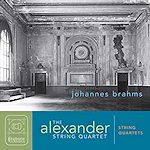 Brahms String Quartets

All Foghorn Reviews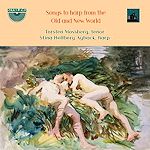 Songs to Harp from
the Old and New World

all Nimbus reviews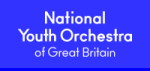 Follow us on Twitter
Editorial Board
MusicWeb International
Founding Editor
Rob Barnett
Editor in Chief
John Quinn
Contributing Editor
Ralph Moore
Webmaster
David Barker
Postmaster
Jonathan Woolf
MusicWeb Founder
Len Mullenger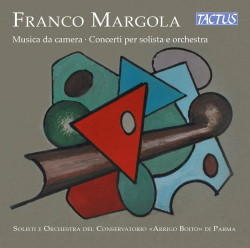 Support us financially by purchasing this from
Franco MARGOLA (1908-1992)
Chamber Music & Concertos
rec. 2012/13, Parma, Italy
Notes in Italian and English.
Sung texts/translations not provided, but accessible on the Tactus website.
TACTUS TC901390 [79:36 + 79:04]


It occurs to me that one might very economically indicate the stylistic diversity of art music in the Twentieth Century by pointing out that Olivier Messiaen and Franco Margola were exact contemporaries, both born in 1908, both dying in 1992 - to be precise, Margola was born (October 30) just under six weeks before Messiaen (December 10). Perhaps the only thing the two had in common was that each developed his own distinctive musical idiom, staying faithful to his own sensibility and vision. But where, for example, Messiaen wrote many works of huge proportions, in terms both of length and instrumentation (such as Des Canyons aux étoiles, Turangalîla Symphony), Margola was essentially a miniaturist (in works like Quatro Bagatelle or Adagio for mandolin and piano). Messiaen's music drew on many influences outside the western classical tradition, while Margola's stayed very much within that tradition, so much so that it makes sense to call him a neo-classicist. Messiaen was a profoundly religious composer, Margola a purely secular one. Many more such contrasts might be enumerated. But what the two have in common, and why I find them both interesting and – in their different ways admirable – is that they were determined to be true to themselves, resisting all mere fashion and modishness. Messiaen was obviously the far greater composer; he was an innovator in ways that Margola neither wanted to be, nor was perhaps capable of being. But being (by any reckoning) a 'minor' composer doesn't make Margola a 'bad' composer. His craftsmanship and his gift for melody, for example, deserve greater recognition than they have generally received.

Born in Brescia, Margola studied violin at the Istituto Musicale 'Venturi' in that city. As a young man he was already attracted towards to that current of Italian musical thought that put renewed emphasis on the instrumental, rather than the operatic, tradition. In Brescia one of his teachers was the violinist (and schoolfriend of Toscanini) Romano Romanini (1864-1934), in whose honour the city of Brescia was later (in 1979) to establish the famous Violin Competition held triennially. Wishing to study composition, Margola moved to Parma; there he worked with Guido Guerrini (1890-1965), Carlo Jachino (1887-1971) and Achille Longo (1900-1954). No doubt all three influenced Margola, but it is of Longo that I, at least, am most often reminded of when listening to Margola's music. All three of the composers who taught Margola shared a suspicion of the avant-garde of the day, while also disliking the sentimentality of the late nineteenth century.

Margola's music never entirely left behind the values he imbibed in his years as a student in Parma (1927-1933). Such values were reinforced when he came to know both Alfredo Casella and Ildebrando Pizzetti and to be encouraged by both.

Except for a few early experiments in vocal music, such as the five unremarkable songs which open the first of these CDs, Margola's energies as a composer were devoted almost entirely to instrumental music, most of it in the idioms of the Italian neoclassicism which established itself in the interwar years. Italian neoclassicism, it should be borne in mind, was as much interested in the baroque as in the classical. Margola's neoclassicism is well-represented in his Trio no.2 in A, for violin, cello and piano – a piece which grew directly from the encouragement of Casella. Indeed, Casella gave a good many performances of the work with his 'Trio Italiano' (made up of Casella, violinist Alberto Poltronieri and cellist Arturo Bonucci).

A few years later, another friendship was also important for Casella and his work. Born, like Margola, in Brescia, Arturo Benedetti Michelangeli (1920-1995) was another significant musician who thought well of the older man's work, giving premieres of a number of Margola's compositions, notably the Concerto for piano and orchestra in C sharp minor, Op. 30.

Back in Brescia after the formal end of his studies in Parma, from 1936 Margola taught at the Conservatorio there. He established a string orchestra which he intended should put before audiences "le fulgide pagine dei nostri settecentisti" (the splendid pages of our eighteenth-century composers), as well as some contemporary compositions. In 1940 Margola was appointed to a post at the Liceo Musicale 'Antonio Laudamo' in Messina. His time in Sicily does not seemto have been a happy experience, however, and by 1944 (perhaps earlier) he was back in Brescia. One day, in July 1944, as he made his way to the post office in Brescia "he was caught in a German roundup and transported to the Mühldorf concentration camp in Germany" (quoted from the booklet essay by Ottavio de Carli). There he had to carry bags of cement and coal, chop wood and clean locomotives. He was held prisoner until late in October 1944.

Once back in Italy, he returned to composition and to teaching. He taught at the Bologna Conservatory (1950-52), then at the Conservatory in Milan (1952-57), specializing in harmony, counterpoint and fugue. He later taught at conservatoires in Rome and Cagliari, and from 1963 to 1975 he was back in Brescia (teaching 'advanced composition'). He died, near Brescia, in March 1992.

After the war Margola's music was unfashionable and it got fewer performances by the best musicians (though Michelangeli remained faithful to him), or in the major venues. As Renzo Greti recognized in his book Il Linguaggio Musicale di Franco Margola (Milan, 1994): "Margola belongs to an unfortunate generation, squeezed between the Generazione dell'Ottanta [Casella, Alfano, Malipiero, Respighi, and Pizzetti] and the composers born in the twenties (Maderna, Nono, Berio, etc.) who, benefiting from the indisputable advantage of beginning to write after World War II, in a more open and favorable social environment, directed their work on very different tracks. [...] [Critics] were not able to recognize in musicians such as Margola the specific historical function of consolidating and bringing forward the new attention that Italian musicians had directed to instrumental music, giving it again a principal role and rescuing it from the dominion of opera." (I have quoted this passage as translated by Federico Bonacosa in his Doctoral essay of 2009 – Franco Margola's Chamber Works with Guitar – presented at the University of Miami).

But Margola was, by all accounts, happily absorbed in his teaching and was much loved and respected as a teacher; many of the works he wrote after the Second World War were premiered by students. He was, and is, held in particular respect at the Conservatorio 'Arrigo Boito' di Parma and these discs grew out of a conference – Franco Margola (1908-1992) "La semplicità ritrovata": Tavola rotunda e concerti dedicate alla figura del compositore – held there in December 2012.

Of the music on these two discs, much is decidedly slight – but even the slightest, such as 'Tre duettini concertanti, for bassoon and contrabassoon' has a kind of thoughtful charm. A work such as the 'Trio no.2 in A, for violin, cello and piano', written in the mid-1930s, is of greater substance. Its three movements engage one's interest from beginning to end and, as is characteristic of Margola, each is modest in length (I. Allegro vibrato e vibrato [6:30]; II. Molto sostenuto e vibrato [8:22]; III. Vigoroso con fuoco [6:20]). But ideas are developed and the instrumental interplay is quite sophisticated. The central movement has a greater emotional depth than most of Margola's compositions do. The Concerto for piano and orchestra in C sharp minor, Op. 30 was premiered by Michelangeli on February 12, 1944 at the Teatro Communale in Florence (in a performance conducted by Mario Rossi). While Robert Cappello is not, naturally enough, a pianist of the order of Michelangeli, he serves the music well in this recording. Ottavio de Carli characterizes the concerto aptly in his booklet essay, pointing out that Margola did not seek "the extreme, blatant theatricality that the genre had ended up by acquiring in late Romanticism" (though he comes quite near to this at points in the first movement). Rather he creates a "balanced composition" (de Carli) in which there is a pleasing equilibrium between soloist and orchestra. Margola the neo-classicist is never far away and it is typical that there should be clear allusions to Bach in the lovely second movement ('Sereno e cantabile'), as well as to Ravel's Piano Concerto in G. Absolute originality was rarely uppermost in Margola's mind – he didn't confuse newness with quality.

Margola's Kinderkonzert No. 1 was apparently premiered by Lipatti in Bologna in June 1954. Michelangeli gave several performances of the piece in 1955, in Venice (within the XVIII Festival Internazionale di Musica Contemporanea). Milan, Brescia, Naples and Palermo. On these discs we don't hear the piece in its original form, but in a version for harpsichord and strings, which Margola made in the 1970s at the urging of Maria Teresa Garatti, harpsichordist of I Musici. Heard in either version – the original piano version, played by pianist Ruggero Rocco and I Solisti Aquilani, conducted by Vittorio Parisi can be heard on a 2013 release from Bongiovanni (GB 5147) – the Kinderkonzert is an attractively warm and good-humoured piece. The present recording, featuring harpsichordist Francesco Buccarella (who, with unusual aptness, is the son of Maria Teresa Garatti!) is a colourful account marked by some nicely judged tempi and a natural sounding grace.

Of the chamber miniatures on these discs, my own particular favourites include the 'Quatro Bagatelle, for flute, oboe and clarinet', four short pieces (Andante mosso – Scorrevole – Baldanzoso – Presto finale) full of balanced ensemble writing for the three instruments; there is a delightful fluency to the second movement and a bubbly self-confidence in the third and fourth. The five short movements of Impressioni 1967, for violin, viola, cello and guitar, are nicely characterized – not least the third 'Inno' (Anthem) and the fifth 'Canto di battaglia'. All five pieces are relatively simple, engagingly lucid in theme and structure. They are vivified by the way in which Margola uses the guitar, in different passages, as soloist and accompanist. 'The Sonata for Three Guitars' is an attractively varied set of three miniatures (Ricercare (Moderato) – Tranquillo Assai – Allegretto spigliato). The counterpoint in the first movement clearly remembers Bach; while the second is surely influenced by French 'impressionism' and the third is pure neoclassicism. The instrumentation in the chamber pieces recorded as part of this anthology is so various that though Margola's range as a composer, is not great, there is no risk of boredom.

Some of these performances were recorded in front of an audience in the Auditorium del Carmine del Conservatorio "Arrigo Boito" in Parma, in connection with the previously mentioned conference of December 2012. Others were recorded in the same venue, without an audience, in 2017. In both cases the quality of the recorded sound is perfectly satisfactory.

I have not sought to make any excessive claims for Franco Margola. He is not an important figure who has been hitherto forgotten, no sort of lost 'great'. He is, however, an accomplished craftsman, whose love of music shines through almost everything he wrote and who was true to his own vision at all times. He has a not insignificant place in the history of Italian music in the twentieth century. Discs such as these and a few other recent issues from Italian companies are making possible a fairer assessment of Margola. That, it seems to me, is a very good thing!

Glyn Pursglove

Contents
CD1
1.Poi che 'l cammin, for voice and piano (1932) [2:10] (1)
2.Possa tu gingere, for voice and piano [3:06] (1)
3.Alle Termopoli, for voice, horn and piano [1:53] (2)
4.Le memoria e l'oblio, for voice, horn and piano [2:18] (2)
5. Sulla tomba di Anacreonte, for voice, horn and piano [2:05] (2)
6-9. Quatro Bagatelle, for flute, oboe and clarinet dC 126 [3:40] (3)
10-12. Tre duettini concertanti, for bassoon and contrabassoon dC 221 [3:29] (4)
13-18. Sei duetti, for two flutes d C 184 [6:58] (5)
19-23. Impressione 1967, for violin, viola, cello and guitar (1967) dC 151 [6:05] (6)
24. Per arpa dC 337 [3:00] (7)
25-27. Tre pezzi (Piccola suite), for piano four hands dC 144 [4:04] (8)
28-30. Sonata, for three guitars . dC 281 [7:19] (9)
31-35. Cinque annatazioni, for string trio dC 222a [10:21] (10)
36. Toccata, for piano (1938-39) dC 55 [3:28] (11)
37. [Compito di composizione], for violin and piano [4:14] (12)
38-40. Kinderkonzert no. 1, for harpsichord and strings (piano version, 1954) (harpsichord version, 1976) dC 106a [13:32] (13)
CD2
1-2. Sonatina a sei, for winds and piano dc136 (1961) [7:37] (14)
3-5 Trio no.2 in A, for violin, cello and piano dC 37 (1934-5) [21:12] (15)
6-7: Concerto for bassoon and orchestra dC 223 [16:40] (16)
8. Concerto for trumpet, strings and percussion dC 178 [9:15] (17)
9. Concerto for piano and orchestra in C sharp minor, Op. 30 dC 73 (1943-4) [23:58] (18)

(1) Eiko Koizumi (soprano), Raffaelle Cortesi (piano).
(2) Eiko Koizumi (soprano), Carlo Baroni (horn), Raffaelle Cortesi (piano).
(3) Giordano Olivieri (flute), Gabriele Mendolicchio (oboe), Enrica Savigni (clarinet).
(4) Evelina Le Rose (bassoon), Giulio Alessandro Bocchi (contrabassoon).
(5) Giordano Olivieri, Laura Ghisotti (flutes).
(6) Alberta Steffani (violin), Marco Toscani (viola), Enrico Contini (cello), Walter Pezzali (guitar).
(7) Carlotta Gambarelli (harp).
(8) Massimo Guidetti, Raffaelle Cortesi (pianos).
(9) Erik Storari, Davide Tortorelli, Andrea Zanichelli (guitars).
(10) Alberta Steffani (violin), Marco Toscani (viola), Enrico Contini (cello).
(11) Raffaelle Cortesi (piano).
(12) Emma Parmigiani (violin), Pierpaolo Maurizzi (piano).
(13) Francesco Buccarella (harpsichord), Ensemble da Camera del Conservatorio 'Arrigo Boito' di Parma / Pierpaolo Maurizzi.
(14) Anna Mancini (flute), Fabrizio Oriani (oboe), Massimo Ferraguti (clarinet), Luca Reverberi (bassoon), Carlo Baroni (horn), Raffaelle Cortesi (piano).
(15) Luigi Mazza (violin), Michele Ballarini (cello), Pierpaolo Maurizzi (piano).
(16) Luca Reverberi (bassoon), Orchestra del Conservatorio 'Arrigo Boito' di Parma / Franco Fusi.
(17) Ivano Ascari (trumpet), Orchestra del Conservatorio 'Arrigo Boito' di Parma / Franco Fusi.
(18) Roberto Cappello (piano), Orchestra del Conservatorio 'Arrigo Boito' di Parma / Giovanni Veneri.

Catalogue numbers (e.g. dC 126) refer to Ottavio de Carli's Franco Margola: Catalogo delle opera (Brescia, 1993).



---
| | |
| --- | --- |
| | |
Donate and keep us afloat
New Releases


<!- cpo end March 2023 --> all cpo reviews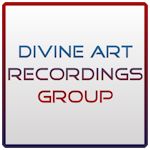 Click to see New Releases
Get 10% off using code musicweb10
All Divine Art reviews
<! apr 12 months Nov 22 - Oct 23 -->