paid for
advertisements

<!- Forgotten to FEb 2023-->
FOGHORN Classics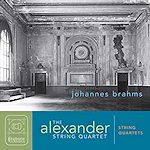 Brahms String Quartets

All Foghorn Reviews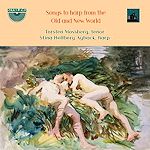 Songs to Harp from
the Old and New World

all Nimbus reviews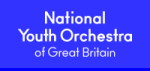 Follow us on Twitter
Editorial Board
MusicWeb International
Founding Editor
Rob Barnett
Editor in Chief
John Quinn
Contributing Editor
Ralph Moore
Webmaster
David Barker
Postmaster
Jonathan Woolf
MusicWeb Founder
Len Mullenger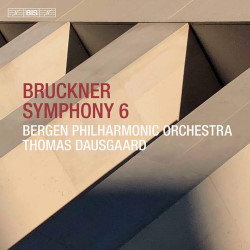 Support us financially by purchasing this from
Anton BRUCKNER (1824-1896)
Symphony No. 6 in A major WAB 106 (1879-81 version, ed. Nowak)
Bergen Philharmonic Orchestra/Thomas Dausgaard
rec. 2018, Grieghallen, Bergen, Norway
BIS SACD BIS-2404 [52:48]

The question of the correct speeds for the first subject in the opening movement has been a fertile ground for debate (see my review of Rattle's recording and the subsequent debate on the Message Board).

Bruckner's marking for the first section is "Majestoso" but that is hardly specific. Various conductors, like Rattle in his recent BPO recording, have been criticised for taking the opening too fast – or too slow; hence another friend and critic has written "I am mindful of Klemperer's reading with the BBC Symphony Orchestra (available on Testament), where he took the opening measures so slowly that the articulation was lost completely." Karajan's speed in this first movement is sometimes cited as a rare example of a miscalculation on his part in Bruckner, even though for many Brucknerians, normally he can do no wrong. Obviously, what it cannot be is too jaunty and raw, but overall timings are not necessarily key to the success or otherwise of this movement; it is also a question of the relationship of the tempo set at the beginning proportional to the speed of the recapitulation and coda.

Dausgaard's chosen tempi for that first movement are decidedly on the swift side but there is plenty of precedent for that among other recordings; the question is, it too disproportionately too fast?
Certainly, his opening is nervy, urgent and, to borrow a word from another fellow-Bruckner-lover who finds fault with Karajan's approach, "jumpy" and I find that its excitement is generated at the expense of gravitas but is at least consistent and all of a piece and there is considerable heft in the timpani. Furthermore, the development is indeed "considerably slower" as Bruckner stipulated and skilfully managed, although it can reasonably be argued that Dausgaard's return to the default faster tempo is premature and should have been delayed until after the third theme. Nonetheless, the renewed propulsion of the recapitulation is exhilarating.

The Adagio is beautifully phrased and although I miss something of the sheer weight of string tone we hear from orchestras such as Karajan's BPO or Steins' VPO, the serenity of the coda is ideally judged. Bruckner's Scherzos rarely fail to be well executed or to make an impact and so it proves here – and there is some noble-toned brass-playing in the Trio before a splendidly robust conclusion. Some might feel that Dausgaard is again rather zippy here, but he is in fact a little slower than the Karajan. He handles the tricky, ever-modulating, shape-shifting finale is deftly and does not make the mistake of injecting any hint of bombast into proceedings but instead keeps the concatenation of several disparate themes fluid and refined, building confidently to the satisfying but unusually understated ending of what remains the least played of Bruckner's mature symphonies.

The sound of this recording, made in the Grieg Hall, Bergen, is warm and resonant. I enjoyed this considerably more than Rattle's recent recording with the LSO; Dausgaard manages to confer more coherence and integrity upon his recording and provides more excitement by virtue of his deft management and taut control of transitions, tempo and phrasing. There seems to be two major and polarised types of Bruckner interpretation in the ascendant these days: the slow and stately versus the swift and sassy. This recording falls into the latter category and definitely conforms to Bruckner's assertion that among his symphonies, "Die Sechste ist die keckste".

Ralph Moore

Previous review: Stephen Greenbank

This review reproduced here by kind permission of the Bruckner Journal for whom it was originally written.

---
| | |
| --- | --- |
| | |
Donate and keep us afloat
New Releases
<!- Bridge end Sept 2022 -->


<!- cpo end Sept 2022 --> all cpo reviews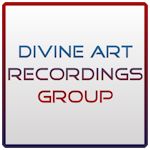 Click to see New Releases
Get 10% off using code musicweb10
All Divine Art reviews