paid for
advertisements

<!- Forgotten to FEb 2023-->
FOGHORN Classics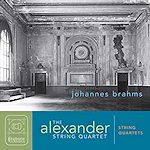 Brahms String Quartets

All Foghorn Reviews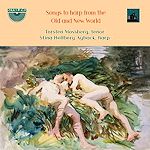 Songs to Harp from
the Old and New World

all Nimbus reviews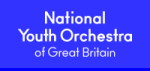 Follow us on Twitter
Editorial Board
MusicWeb International
Founding Editor
Rob Barnett
Editor in Chief
John Quinn
Contributing Editor
Ralph Moore
Webmaster
David Barker
Postmaster
Jonathan Woolf
MusicWeb Founder
Len Mullenger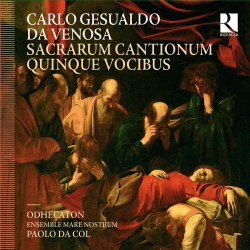 Support us financially by purchasing this from
Carlo GESUALDO DA VENOSA (1566-1613)
Sacrarum Cantionum quinque vocibus, Liber primus (Naples, 1603)
Details after review
Odhecaton
Ensemble Mare Nostrum/Paolo Da Col
Liuwe Tamminga (organ)
rec. (Sacrarum Cantionum) October 2013, Venosa, Abbazia della SS. Trinitą; (Organ pieces) October 2013, Molfetta, Chiesa di San Bernardino. DDD.
Texts and translations included
RICERCAR RIC343 [63:27]

I've mentioned this recording before, first in connection with a Delphian recording by the Marian Consort, where the music is sung unaccompanied (DCD34176 – Autumn 2016). I referred there to my colleague Johan van Veen's review of the Ricercar on his website, where he expressed a preference for the music without accompaniment; the vocal ensemble Odhecaton here are accompanied by cornett, harp, lute and theorbo, and the viols of Ensemble Mare Nostrum.

I agreed with that preference again in Summer 2018/1, where I also recommended a Gimell recording of Gesualdo's Tenebrę Responses and four of these Cantiones, also unaccompanied (CDGIM015). On reflection, I think we were both a little too hard on Paolo da Col and his team. The instrumental support on Ricercar may not be authentic but it's not over-intrusive in the main, and the music is performed with intensity by an appropriately small group of singers. (It may well be that the small choir was accompanied in the intimate venue of the ducal chapel.) Whichever recording you choose, this music is less heated than you may expect from Gesualdo but much of it is still passionate, especially those works penitential in nature, as befits the composer's bad-boy image. Incidentally, the choice of cover painting from that other bad boy of the renaissance, Caravaggio, is very apt. The outstretched arm of the Virgin Mary draws the eye into the picture, a regular feature of Caravaggio's work.

Of course, with Gesualdo's notoriously intense music – the Cantiones only a little less intense than his madrigals – the power lies in the voices and any accompaniment has to be unobtrusive. In the opening O vos omnes, from the Good Friday liturgy, the voices are unaccompanied – or so lightly accompanied by the viols as to be unobtrusive – and that's true of some of the other pieces.

In Venit lumen tuum (track 6), the viol accompaniment is a little more obtrusive, as is the theorbo, but even here the effect is to support the voices. Even so, the effect is to take the edge off the vocal part and the text – 'thy light has come, Jerusalem' – is slightly dampened by the instruments.

The next track, Illumina faciem tuam – let Thy face lighten upon Thy servant – illustrates the more extreme accompaniment which will really divide opinion, with a prominent part for the cornett weaving itself around the voices and obscuring the detail of the higher parts. I know that many listeners will enjoy the effect but, for me, the tracks where this happens are spoiled.

Another case in point occurs on track 9, Maria, Mater gratiæ, and on most of the tracks thereafter. If you like the very popular ECM recordings with Officium, where Jan Garbarek's saxophone winds around the Hilliard Ensemble in early renaissance music, you will probably enjoy the effect on this Ricercar recording, but I have to admit that those Officium recordings leave me cold. Worse than cold, in fact; I feel wrung out. On Ricercar, I soon found myself looking forward to the next of the organ pieces which break up the programme.

For me, then, this recording is a mixed blessing: some of the tracks are very beautiful, but others – the majority – are over-decorated. My preference for the Delphian remains undiminished, even as I listened to the opening track, Ave Regina. They also give this piece a little more time to expand, which I think is to its advantage. Odhecaton field an all-male ensemble, with counter-tenors on the top line, and their overall size is larger – 12 voices against the Marian Ensemble's six – and, again, the greater clarity of the smaller group is an advantage. In some places, Odhecaton are reduced to a small ensemble, but with instruments. Again, you will either love that, or find it dispiriting. My own reaction definitely leans in the latter direction.

Ricercar give you a little more music for your money and the organ interludes are especially enjoyable, but go for the Delphian. Alternatively, there's a fine bargain offering from Jeremy Summerly and the Oxford Camerata, where the music is given even a little longer to breathe (Naxos 8.550742). That can be downloaded in lossless sound for as little as £3.79. Best of all is the recording by the Tallis Scholars of four of these pieces alongside the Tenebræ responses for Holy Saturday (CDGIM015). It's a great shame that they have not recorded the whole book. Two of the pieces are also included on their valuable 2-for-1 album Renaissance Radio (CDGIM212: Recording of the Month – review).

Before deciding, I suggest that you sample some of the tracks on Ricercar and again on one of the unaccompanied recordings. Whichever you choose, you may wish to go on to the recording of the second book, for 6 and 7 voices, as recorded by VocalConsort Berlin and James Wood (Harmonia Mundi HMC902123 – DL News 2013/4). Released to acclaim in 2013, that's now download only – target price for lossless, with pdf booklet, £9.99. The eclassical download now comes with the booklet, missing when I reviewed it in 2013, but the Brexit-afflicted exchange rate means that the US$ price for 16-bit there is now less attractive for UK purchasers. At $18.67, the 24-bit, however, is more attractive.

Brian Wilson

Contents
Carlo GESUALDO O vos omnes [2:46]
Giovanni Maria TRABACI Consonanze stravaganti* [2:07]
Carlo GESUALDO Domine, ne despicias deprecationem meam [2:15]
Sancti Spiritus, Domine [1:45]
Exaudi, Deus, deprecationem meam [2:30]
Venit lumen tuum [2:29]
Illumina faciem tuam [2:58]
Giovanni de MACQUE Intrata d'organo* [2:57]
Carlo GESUALDO Maria, Mater gratię [3:01]
Precibus et meritis [2:21]
Ave, dulcissima Maria [3:50]
Dignare me laudare te [1:46]
Ave Regina cœlorum [3:02]
Luzzascho LUZZASCHI Ave Maris stella [1:53]
Carlo GESUALDO Hei mihi Domine [2:57]
Tribulationem et dolorem [3:10]
Peccantem me quotidie [3:53]
Reminiscere miserationum tuarum [3:14]
Tribularer si nescirem [3:26]
Laboravi in gemitu meo [2:11]
Deus, refugium et virtus [2:35]
Giovanni de MACQUE Consonanze stravaganti* [2:20]
Carlo GESUALDO O Crux benedicta [3:01]

* Molfetta, Chiesa di San Bernardino, organ di Giuseppe Rubino, 1767.

---
| | |
| --- | --- |
| | |
Donate and keep us afloat
New Releases


<!- cpo end March 2023 --> all cpo reviews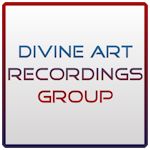 Click to see New Releases
Get 10% off using code musicweb10
All Divine Art reviews
<! apr 12 months Nov 22 - Oct 23 -->