paid for
advertisements

<!- Forgotten to FEb 2023-->
FOGHORN Classics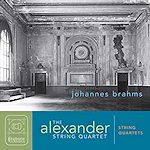 Brahms String Quartets

All Foghorn Reviews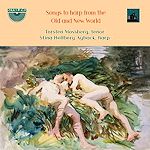 Songs to Harp from
the Old and New World

all Nimbus reviews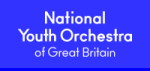 Follow us on Twitter
Editorial Board
MusicWeb International
Founding Editor
Rob Barnett
Editor in Chief
John Quinn
Contributing Editor
Ralph Moore
Webmaster
David Barker
Postmaster
Jonathan Woolf
MusicWeb Founder
Len Mullenger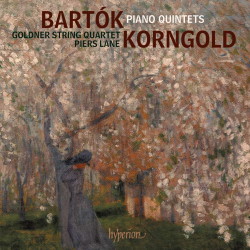 Support us financially by purchasing this from
Bela BARTOK (1881-1945)
Piano Quintet in C major Sz23 (1903-4) [38.45]
Erich Wolfgang KORNGOLD (1897-1957)
Piano Quintet in E Major Op.15 (1921) [34:14]
Goldner String Quartet
Piers Lane (piano)
rec. 2018, Potton Hall, Dunwich, UK
HYPERION CDA68290 [73:00]

Bartok's 1903 Piano Quintet reveals him to be still under the thrall of earlier composer's ideas about what constituted "Hungarian" music – the 19th Century, semi-popular style with which he had grown up. He had not yet undertaken the close studies of village singing and dancing in the outbacks of Hungary and Romania, that were to so radically affect his style.

The work follows Liszt by thematically integrating several ideas over its full length, and Bartok has tried to move beyond Brahms by greatly fusing the aforementioned semi-popular style within a Brahmsian form. Of course, Brahms had already done this to some extent, but Bartok wanted to go further. The last two movements, adagio and vivace affairs, correspond to the 18th Century verbunkos dance model of consecutive lassu (slow) and friss (fast) sections.

The artists on this recording relax beautifully into the adagio third movement, and the lovely performance of the filigree decoration is appropriate for the emotional heart of the work, eventually leading to the vigorous csardas style of the last movement.

Anyone who has been put off Bartok by his later percussive, barbaric style of composition, need fear no such issues here, the work being thoroughly tonal and melodically approachable. The performance is appealing and I have enjoyed it very much.

Erich Wolfgang Korngold was only a year or two older than Bartok when he completed his Piano Quintet, but stylistically they were miles apart, as well as twenty years in time. Bartok was still to evolve into his mature style whereas the astonishing wunderkind Korngold had already created Violanta and Die Tote Stadt. The two men were to mature into stylistically very different musicians, and until very recently Korngold was often sneered at as being a film composer and not much else – "more corn than gold", sneered a New York critic, following the first performance of the lyrical Violin Concerto. Fortunately, these days, a supreme melodic gift coupled with a degree of technical expertise granted to few no longer disqualify a composer from appreciation.

The quintet begins with a Viennese richness, as an expansive, upward leaping and intensely romantic theme contrasts with a much simpler second subject. The string parts are extremely difficult and the piano writing comes from the hands of a virtuoso pianist composer, who actually gave its first performance. The adagio second movement is truly the heart of the piece, wherein Korngold allows his melodic genius to bloom wonderfully via a set of variations on the theme of the third song of his Abschiedlieder: 'Mond, so gehst du wieder auf' (Moon, so you rise again). This is one of his most luxuriant melodic inspirations, and he also uses the first song 'Sterbelied' (Requiem), particularly in the fifth variation. Towards the end of the movement, the textures strain towards the orchestral, and I could not help but feel that were it form part of an opera, this music would accompany an impassioned love scene as it rises to an almost overwhelming intensity and then fades to silence as if all passion is spent. The finale opens in declamatory style, followed by a violin cadenza which quickly segues into a merry theme. Variations abound as the music moves from one brilliant sequence to another.

The work is an extraordinary example of Korngold's genius, manifesting at the age of 24, but then Violanta and Die Tote Stadt date from his 17th and 23rd years … quite astounding, really.

I have thoroughly enjoyed the performances given here – the playing is beyond reproach and the recording is beautifully balanced in a natural acoustic. As usual, Hyperion's presentation is first-class.

Jim Westhead

Goldner Quartet: Dene Olding violin, Dimity Hall violin, Irina Morozova viola, Julian Smiles cello.

---
| | |
| --- | --- |
| | |
Donate and keep us afloat
New Releases


<!- cpo end March 2023 --> all cpo reviews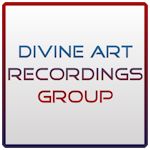 Click to see New Releases
Get 10% off using code musicweb10
All Divine Art reviews
<! apr 12 months Nov 22 - Oct 23 -->