paid for
advertisements

---
100th birthday of Mieczyslaw Weinberg on December 8, 2019.
Renate Eggbrecht has recorded all 3 violin Sonatas
All Troubadisc reviews
FOGHORN Classics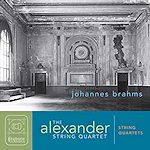 Brahms String Quartets

All Foghorn Reviews


Follow us on Twitter
Editorial Board
MusicWeb International
Founding Editor
Rob Barnett
Editor in Chief
John Quinn
Seen & Heard
Editor Emeritus
Bill Kenny
MusicWeb Webmaster
David Barker
Postmaster
Jonathan Woolf
MusicWeb Founder
Len Mullenger
Discs for review may be sent to:
Jonathan Woolf
76 Lushes Road
Loughton
Essex IG10 3QB
United Kingdom

jonathan_woolf@yahoo.co.uk
---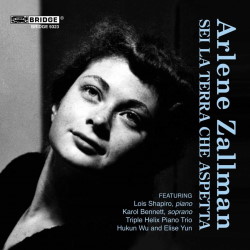 Support us financially by purchasing this from
Arlene ZALLMAN (1934-2006)
Sei la terra che aspetta
rec. 1998-2008
Texts and translations included
BRIDGE 9323 [59:12]


I bought this CD in a local charity shop, before the COVID 19 lockdown put a stop to such browsing. I am always tempted by a CD of music by a composer whose name I don't know or a book by a poet I am unfamiliar with. In the case of a poet, I can stand in the shop and read a couple of poems to decide whether or not it is worth even the modest price asked; in the case of a CD one has to go more or less on instinct. When I saw that this was a disc which included settings of texts by Ezra Pound and which took its title from a poem by Cesare Pavese (both of these being poets I am interested in) I had no hesitation in buying it. It has proved a happy purchase. I have taken a liking to the work of this eloquently economical composer. The recordings here were made between 1998 and 2008 and the disc itself carries the information '(P) and (C) 2010', so this is by no means a recent release but a later check online has revealed that it can still be purchased.

Zallman was a graduate of Juilliard. After she had obtained a Master's degree, in 1959 she received a Fulbright Scholarship which enabled her to spend two years in Florence, studying with Luigi Dallapiccola. Back in the USA, she taught at Oberlin College Conservatory and Yale, before becoming Professor of Composition at Wellesley College (a private liberal arts college for women), in Massachusetts, a post she held until her death. In the last 18 years of her life she spent part of each year in Italy. A note by one of her daughters, Minna Proctor, in the booklet of this CD, talks of visiting her in "her little house, high in the Tuscan hills, outside Arezzo". The back cover of the booklet carries a photograph which, in tiny print, carries the identification 'Strada in Casentino'. The Casentino is a beautiful valley, through which the youthful Arno flows on its way to Florence and Pisa. I explored it a little a few years ago while staying near Arezzo. What I remember of Strada in Casentino is a beautiful Romanesque church, and a lovely piazza in the centre of the town. Spending part of each year here must have been a constant source of inspiration for Zallman.

The list of her compositions published by the Association For the Promotion of New Music confirmed two things I had surmised after listening to the CD: first, that she seemed to have a preference for working on a small scale, both in terms of length and in the use of chamber ensembles rather than large orchestras and, secondly, that she did indeed have a good knowledge of a range of poetry; in addition to the settings on this CD (which, as far as I can see is the only commercial recording of her music) she has set texts by Gerard Manley Hopkins, Emily Dickinson, Shakespeare, Salvatore Quasimodo, Sergio Corrazzini and Giuseppe Ungaretti and anonymous poems from the medieval carmina burana. She has also set work by Giacomo Leopardi ('Il sabato del villaggio'). This list confirms that she was a woman of considerable discrimination and taste when it came to poetry. A number of her purely instrumental works also seem to have had their inspiration in poetry. It is interesting (and perhaps revealing) that in the notes she provided for this CD, Zallman quotes the words set by Marenzio in 'Alma che fai che pensi', though her variations are for solo piano.

Everything on this disc strikes me as the work of a composer very surefooted in her craftsmanship. There is a certainty of judgement regarding tempi and dynamics and a sense of structure which is unpedantic yet exemplary; nor is there any doubting the skill with which she sets poetry. Her craftsmanship is informed by a pervasive lyricism which may be a function of her own personality and/or her love of things Italian, including its music. In the booklet note referred to above Minna Proctor writes "My mother used to claim that she was fifty percent Ukrainian, fifty percent Polish and a hundred percent Italian. She'd loved Italy since she first went there to study with Luigi Dallapiccola … His influence resonated … in her love of Italian language and ways; its poetry and rhythms". Although Dallapiccola's influence can sometimes be heard in Zallman's music (particularly, as Proctor suggests, in 'Nightsongs') it is the wider Italian 'presence' that does much to characterize her music. In this context, it is interesting but not surprising, to learn that Minna Proctor collaborated (as librettist) with her mother, in the last few years before her death, on an opera based on a short story 'Il re in ascolto', by Italo Calvino, the great Italian creator of fictions, which was performed at Harvard in 2005. (The same story inspired Luciano Berio's 'Un re in ascolto' of 1984).

Of the works on this disc, two seem most representative of Zallman and the nature of her work: 'East, West of the Sun' and 'Nightsongs'. In each of these Zallman does not set a single poem, or even several poems by the same poet. What she does in each work, is to select a few poems by different authors (often from different times or cultures) and arrange them in a sequence of her own devising. Her creativity is thus evidenced in the organizing of the poems as well as in her music. An obvious analogue would be with what, say, Britten does in the Serenade for Tenor, Horn and Strings (which sets poems by Charles Cotton, Tennyson, Blake, Ben Jonson and Keats, along with the anonymous 'Lyke-Wake Dirge') or Nocturne (the texts of which are by Shelley, Tennyson, Coleridge, Thomas Middleton, Wordsworth, Wilfred Owen, Keats and Shakespeare); or, indeed she might have had in mind the example of her teacher Dallapiccola, whose 'Canti di prigioni' sets a prayer by Mary Queen of Scots, verse by Boethius and a passage from a meditation by Savonarola. In 'East, West of the Sun' (for soprano soloist, flute, chamber choir and small instrumental ensemble), Zallman sets, in order, one of Ezra Pound's translations from The Classic Anthology by Confucius, an ancient Greek epigram translated by Dudley Fitts, another of Pound's 'Confucian' translations, a further epigram from the Greek Anthology, again translated by Fitts, a third of Pound's Chinese translations and, finally, an Aztec Song, taken from William Brandon's The Magic World; American Indian Songs and Poems (1971). In doing so, Zallman has created a sequence on 'origins', made up of foundational texts. Since the fifth century BCE the anthology – the Shih King or Shih-ching put together by Confucius (or so tradition says) – has preserved more than 300 poems/odes which offers a vision of an ideal Chinese civilization and a selection of texts which have done much to shape Chinese attitudes across the centuries. The Greek Anthology, as we now know it, derives from a compilation made in Byzantium c.900 CE. It incorporates poems preserved in anthologies produced in Ancient Greece as long ago as the fourth century BCE. The Greek Anthology has exerted a profound influence on European culture for many centuries. In the third text drawn on by Zallman – William Brandon's anthology named above – her attention turns to American origins. 'East, West of the Sun' has a delicate clarity which doesn't preclude some moments of power (even then, however, Zallman's characteristic restraint is evident). The harmonies are often a little unexpected, the chromaticism unaggressively expressive. 'Pan' is particularly beautiful, the two short stanzas of the poem eliciting rather different musical idioms from the composer. Through this sequence, the high voices of the Wellesley Chamber Singers (Wellesley being, after all, an all-female college) are precise and expressive and are perfectly completed by Zallman's instrumental writing. In 'Epithalamium' (an especially fine translation by Pound), the flute of Kathy Boyd and the voice of soprano of Bess Connors complement one another very attractively, with strings and percussion hinting at the Chinese origins of the text. 'East, West of the Sun' is an impressive piece of work, subtle and beautifully crafted, culminating in an Aztec Song (translated from one of the Nahuatl family of languages) about sleep and dreaming; in this last respect it is related to 'Nightsongs'.

In 'Nightsongs', Zallman's creativity regarding texts is especially bold. In this beautiful and economical 'cycle' – for soprano, flute and clarinet – Zallman sets three poems (or part)-poems by Joseph Eichendorff, 'Mondnacht' (readers may remember this poem from its setting by Robert Schumann; Zallman sets only the first quatrain of the poem, however), 'Nachts' and 'Wünschelrute'. So far, so conventional. However, halfway through the second (and last) stanza of 'Nachts' she suddenly inserts a passage from the long poem 'The Country of Marriage' by the American poet Wendell Berry, before returning to the remaining lines from 'Nachts'. When I first listened to 'Nightsongs', not yet having digested the CD booklet, I was naturally rather startled, and somewhat puzzled by this turn of events. Further thought and attention revealed that the 'Nachts' and 'The Country of Marriage' were closely linked in terms of imagery. Here are the lines which open the second stanza of 'Nachts':

O wunderbarer Nachtgesang:
Von fern im Land der Ströme Gang,
Leis' Schauern in den dünklen Bäumen

And now the lines by Berry:

I dreamed of you walking at night
along the streams of the country of my birth
warm blooms and the nightsongs
of birds open around you as you walk.
You are holding in your body
the dark seed of my sleep.

and, finally, the closing lines of 'Nachts', to which Zallman's cycle then returns:

Wirrst die Gedanken mir
Mein irres Singen hier
Ist wie ein Rufen nur aus Trämen.

What was initially puzzling, now makes sense. The night wanderer in Eichendorff's song is persuasively identified with the speaker in Berry's poem and the switch from German to English and then back again seems as one listens, to enact both the metamorphic fluidity of dream narratives and the permeability of the boundaries between dream and imagination and between the sleeping and waking worlds. The whole effect, which I now find far more beautiful than puzzling, is somewhat typical of Zallman's subtlety. So too is her music, in which the flute and the clarinet provide atmospheric commentaries on the words of the soprano; Zallman's writing here stretches tonality to breaking point and beyond, but the use of atonality never compromises her lyricism and it wouldn't, I think, trouble even those who make a point of not listening to anything 'modern'.

In addition to these two impressive sets of songs, Zallman's Piano Trio (which is not without its nods to the classical age), gets an intelligent and committed performance by the Triple Helix Piano Trio. Their pianist, Lois Shapiro, also opens the CD with Zallman's variations on Luca Marenzio's villanella 'Alma, che fai'. As Zallman points out in her useful note on this charming piece, she treats the variation form with a certain structural wit. She writes:

"The piece … is divided into two distinct parts. The first half features a gradual unfolding of Marenzio's three-voiced composition, phrase by phrase. The opening phrase is the only one that is presented exactly as Marenzio wrote it. The subsequent phrases are taken from the melody of the uppermost voice-part, always with the original pitches and rhythm, but cast in new surroundings. In between fragments of the unfolding theme are the variations that hypothesize alternative ways of continuing the open gesture … Part Two features several autonomous variations that are stylistically rather far removed from the character and mood of the original. By the time the listener hears the original villanelle, as it occurs at the very end of the piece, I would like it to seem familiar, though it's never actually been heard before".

Without access to scores (either of Marenzio or Zallman) it has taken quite a few attentive listenings to discern these 'structures' of Zallman's, but the effort was certainly worthwhile and I have come to appreciate and enjoy the wit and inventiveness of this work.

The work which gives the title to this CD was apparently written (for cello and piano) after some friends 'challenged' Zallman to 'set' a poem, but omit the vocalist. She chose a poem by Cesare Pavese which begins "Hai un sangue, un respire" (You have a blood, a breath) and ends with the line "Sei la terra che aspetta" (You are the waiting earth). Pavese's poem, if I understand it rightly, explores the closeness of love and death, of the human individual and the natural world. The poem considers the life of a beloved woman, from the time when she was a small girl to the prospect of her death. In Zallman's non-verbal 'setting' of the poem, piano and cello are interwoven intricately together – Zallman's notes tell us that she conceived of the relationship between the instruments as one of mutual embrace rather than dialogue. Out of that mutual (and musical) embrace there is created a quiet affirmation of the value of passion.

As mentioned earlier, I had no knowledge of Arlene Zallman's music when I invested the princely sum of £1.00 in this CD. I have found her to be a subtle composer who, though she works, it seems, on a small scale, can tackle substantial questions. Jane Austen compared her writing of a novel to the painting of a picture with a "fine brush" on "a little bit (two inches wide) of ivory". That analogy, on the evidence of this CD, might equally be applied to Zallman's work as a composer. In discussing her work, I have found myself spending more time than I usually would in a piece for this website, on the words she set. This was, I think, unavoidable and perhaps necessary if her music was to be understood sympathetically. Her daughter, Minna Proctor, writes (in the booklet for this CD) that "[her] mother was passionate about words. They were her muse". When the late Boris Ford complied his book Benjamin Britten's Poets (1994), the result was a fine anthology of poetry, since Britten was a very good judge of poetry. I feel sure that a gathering of all the poetry Zallman set would also make for a rewarding anthology. I am not, of course, suggesting that Zallman was as significant a composer as Britten. Apart from anything else, I have only this one CD of her work by which to 'judge' her. She couldn't, so far as I can see, be compared to Britten in terms of the range of genres she used, or, indeed, in terms of the sheer quantity of the two composers' output but in the arts quality matters as much, or more, than quantity, and I am not sure that in works like 'East, West of the Sun', 'Nightsongs' and perhaps 'Sei la terra che aspetta' she didn't produce music which can be sensibly compared (as regards quality) with that of Benjamin Britten. It is extraordinary and sad that no recording of Zallman's music was issued during her lifetime (this one appeared posthumously) and that, as far as I can discover, there has been no further CD in the ten years since this one was issued.

Glyn Pursglove

Contents
1.Variations on the Villanella Alma che fai? by Luca Marenzio (1993) [11:58]
Trio 1999 'Triquetra' [14:42]
2.Largo, Allegro [4:51]
3.Lament – In memoriam, Andrea Lanini [5:06]
4.Scherzo & Trio [4:32]
East, West of the Sun (1996) [13:40]
5.Town Life [1:51]
6.Pan [2:39]
7.Three Strophes with negligible Variations [00:54]
8.Epitaph of a sailor [2:02]
9.Epithalamium [1:45]
10.The Game Keeper: Model Conservation or it Lacks Point [1:17]
11.Nahuatl: Aztec Song [2:50]
12.Sei terra che aspetta [7:21]
13.Nightsongs [10:52]


Performers:

Track 1: Lois Shapiro (piano).
Tracks 2-4 Triple Helix Piano Trio – Lois Shapiro (piano), Bayla Keyes (violin), Rhonda Rider (cello).
Tracks 5-11: Bess Connors (soprano), Kathy Boyd (flute), Jenny Tang (pianist), Wellesley College Chamber Singers and Instrumental Ensemble / Brian Hulse
Track 12: Hekun Wu (cello), Elise Yun (piano).
Track 13: Karol Bennett (soprano), Leone Buyse (flute), Michael Webster (clarinet).


---
| | |
| --- | --- |
| | |
Donate and keep us afloat
New Releases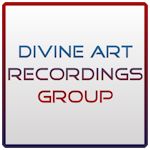 Click to see New Releases
Get 10% off using code musicweb10
All Divine Art reviews
Recordings of the Month
May2022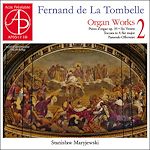 April2022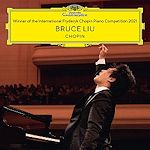 Chopin Bruce Liu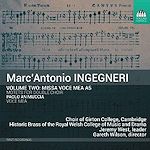 Ingeneri Volume 2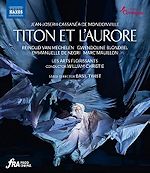 Mondonville - Titon et L'Aurore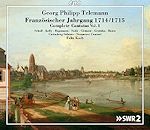 Telemann - French Cantatas 1