paid for
advertisements

---
100th birthday of Mieczyslaw Weinberg on December 8, 2019.
Renate Eggbrecht has recorded all 3 violin Sonatas
All Troubadisc reviews
FOGHORN Classics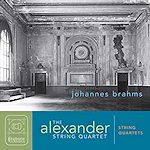 Brahms String Quartets

All Foghorn Reviews


Follow us on Twitter
Editorial Board
MusicWeb International
Founding Editor
Rob Barnett
Editor in Chief
John Quinn
Seen & Heard
Editor Emeritus
Bill Kenny
MusicWeb Webmaster
David Barker
Postmaster
Jonathan Woolf
MusicWeb Founder
Len Mullenger
Discs for review may be sent to:
Jonathan Woolf
76 Lushes Road
Loughton
Essex IG10 3QB
United Kingdom

jonathan_woolf@yahoo.co.uk
---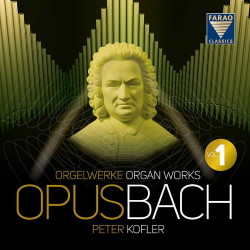 Support us financially by purchasing this from
Johann Sebastian BACH (1685-1750)
Organ Works - Volume 1
Peter Kofler (organ)
rec. 2017-2019, Rieger organ of the Jesuit church St. Michael in Munich
FARAO CLASSICS B108110 [5 CDs: 234:23]

Billed as Volume 1, this marks the starting point of Peter Kofler's "OpusBach" project, an enticing journey to set down the complete solo organ oeuvre of Johann Sebastian Bach. It promises to be as enticing as it is innovative in that it frees itself from the shackles of the more traditional cycles. Elsewhere, the approach has generally been to record on instruments the composer was familiar with, such illustrious names as Trost, Silbermann, Trautmann or Hildebrandt, in places closely associated with him – Naumberg, Freiberg, Grauhof or Störmthal – in an attempt to achieve authenticity. Kofler takes a different standpoint. Bach was an innovator, eager to embrace the latest developments, especially in instrument building. He was also a trailblazer when it came to equal temperament, and took a keen interest in the development of the fortepiano. So, the choice of a modern organ for this project seems justified. The instrument is the recently reorganized four-manual Rieger organ, housed in the Jesuit church of St. Michael in Munich.

There is reasoned thinking behind the layout of this initial volume. On CD 1, to commemorate Felix Mendelssohn's legendary Leipzig Bach recital, Kofler gave an almost identical recital at St. Michael's, mirroring Mendelssohn's programme work for work with the exception of the Passacaglia BWV 582; for that, he substituted the chorale partita "Sei gegrüßet, Jesu gütig", a chorale followed by eleven variations. He felt that this work showcases the instrument's "diverse sound spectrum". CD 2 focuses on Advent and Christmas. CDs 3 and 4 replicate, to a large extent, two live recitals Kofler gave for a Bach project at the Essen Philharmonie. The final disc offers the listener a flavour of the organist's contribution to the Dutch project "All of Bach". So, there has been no structuring by chronology or types, rather the symmetry of each disc has been a significant concern. Each CD resembles "a highly varied, multifaceted concert program".

Each of the five discs offers a variety of genres, with preludes and fugues generally at the beginning and end, a significant work in the centre, and chorales placed around these. It is a successful approach, and it helps maintain interest. There is so much here to admire that I will just single out some of my particular highlights.

The set opens with the magnificent Prelude and Fugue in E Flat Major BWV 552, with its five-voice triple Fugue, popularly called "St. Anne", because its subject resembles an English hymn tune with that name by William Croft. It is a magnificent edifice, demonstrating the grandeur and splendour of the Rieger organ. I have always been an ardent fan of the trio sonatas. Christopher Herrick's version on Hyperion is at the top of my list. The inclusion of the C major BWV 529 in this set aroused my interest. The outer movements sparkle with geniality and high spirits. Kofler's choice of flute-like registrations in the slow movement adds some pleasing contrast. The reverential solemnity of Nun komm, der Heiden Heiland BWV 659 has a transcendental quality. It is lovingly phrased, with the melody delicately picked out. I got to know the Fantasia and Fugue in C minor BWV 537 by way of Sir Edward Elgar's orchestral transcription which, I must say, works very well. The solemn Fantasia does not try to impress, indeed it is rather understated. It is perfectly counterbalanced by the gusto of the fugue. On a much smaller scale, sample the relish with which Kofler dispatches Machs mit mir, Gott, nach deiner Güt BWV 957 from the Neumeister Chorales. The articulation is superb.

The booklet includes an interview, in German with English translation, the organist gave to Matthias Keller. He explains his philosophy behind the project and various aspects of the recording process, including his choice of registrations. Included are the full registration specifications of the instrument. I have nothing but high praise for this release, and enthusiastically look forward to the next instalment.

This is an auspicious start to what promises to be a compelling cycle.

Stephen Greenbank

Contents
CD 1 [69:11]
Preludes and fugues BWV 552, 543
Chorale prelude BWV 654
Chorale partita BWV 768
Pastorale BWV 590
Toccata and fugue BWV 565


CD 2 [67:58]
Preludes and fugues BWV 536, 550
Trio sonata BWV 529
Eighteen Leipziger chorales BWV 659-661
Chorale prelude BWV 740
Concerto BWV 596
Canonic Variation BWV 769

CD 3 [76:07]
Prelude and fugue BWV 545
Neumeister chorales BWV 1112-1116
Allabreve BWV 589
Trio sonata BWV 528
Fugues BWV 579, 575, 577
Schübler chorales BWV 645-650
Kirnberger chorales BWV 699, 738, 722, 704, 729
Canzona BWV 588

CD 4 [71:20]
Preludes and fugues BWV 548, 541
Chorale partitas BWV 767, 766
Trio BWV 583
Fantasia and fugue BWV 537
Neumeister chorales BWV 1117-1120, 957

CD 5 [73:47]
Concerto BWV 594,
Kirnberger chorales BWV 730, 731, 741, 714, 717, 711, 715
Prelude and fugue BWV 539
Eighteen Leipziger chorales BWV 657, 658
Fantasias BWV 573, 570, 572
Orgelbüchlein BWV 639-644

A technical note from the producer Martin Fischer
This is the first ever organ recording using high-resolution Auro-3D technology, a consequent advancement from earlier surround formats like 5.1, 7.1 or 2+2+2. Thus the space of the church interior is authentically reproduced not only in its horizontal dimensions, but also in its vertical acoustics, its special height. A sound experience that provides fascinating transparency even on a conventional stereo CD. Various high-resolution multichannel formats are available for download on the website opusbach.de.

---
| | |
| --- | --- |
| | |
Donate and keep us afloat
New Releases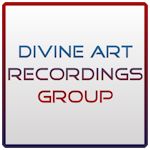 Click to see New Releases
Get 10% off using code musicweb10
All Divine Art reviews
Recordings of the Month
June 2022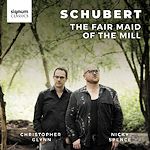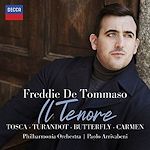 May2022