paid for
advertisements

---
100th birthday of Mieczyslaw Weinberg on December 8, 2019.
Renate Eggbrecht has recorded all 3 violin Sonatas
All Troubadisc reviews
FOGHORN Classics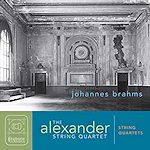 Brahms String Quartets

All Foghorn Reviews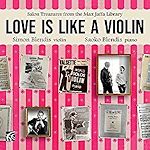 Salon Treasures from the Max Jaffa Library


Follow us on Twitter
Editorial Board
MusicWeb International
Founding Editor
Rob Barnett
Editor in Chief
John Quinn
Contributing Editor
Ralph Moore
Seen & Heard
Editor Emeritus
Bill Kenny
MusicWeb Webmaster
David Barker
Postmaster
Jonathan Woolf
MusicWeb Founder
Len Mullenger
Discs for review may be sent to:
Jonathan Woolf
76 Lushes Road
Loughton
Essex IG10 3QB
United Kingdom

jonathan_woolf@yahoo.co.uk
---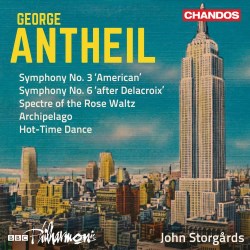 Support us financially by purchasing this from
George ANTHEIL (1900-1959)
Symphony No. 3 'American' (1936-41: revised 1948) [24.47]
Symphony No. 6 'after Delacroix' (1947-8) [26.12]
Archipelago (1935) [6.01]
Hot-Time Dance (1948) [4.33]
Spectre of the Rose Waltz (1946, re-orchestrated 1947) [4.53]
BBC Philharmonic/John Storgårds
rec. 2018, MediaCity UK, Salford, UK, 2018
CHANDOS CHAN10982 [66.52]


Chandos's fascinating Antheil series continues with two of the composer's symphonies both, not inappropriately, considering his Hollywood connections, quite cinematic in character and atmosphere.

His Symphony No. 3 'American' (Mervyn Cooke, in his erudite notes for this album, explains the tortuous convoluted history of the numbering of this symphony) was inspired by Antheil's travels across America exploring its wide-ranging geographical and cultural contrasts. The opening Allegro movement suggests the 'steely' side (in Antheil's own words) of New York. The music is all bustle and business. This is a hard-edged, hard-bitten, no nonsense sound portrait of a go-getting, unconquerable, cosmopolitan city: there is a certain seediness occasionally implicit, but it is eclipsed by a soaring pride as high as the skyscrapers – the sort of pride in New York that Vaughan Williams showed in his London Symphony No. 2. There is humour too and the sort of jazz that readily recalls Gershwin. There follows, in the second Andante movement, an antithesis in the gently unfolding portrait of New Orleans with its Creole culture. This is softer, more pliable music, nostalgic and introspective. Jazzy, but muted, one wonders if it is partly funeral music, that is before the tempo becomes more upbeat and the utterances more positive and life-affirming with a humorous and dance-orientated centre. The third movement takes us to San Antonio. Antheil gave it a descriptive title of 'The Golden Spike' – which was the piece of metal that symbolically completed the tracks laid down for the First Continental Railroad in 1869. Antheil used music from his abandoned score for the Cecil B. De Mille epic film, Union Pacific. The final movement 'Back to Baltimore' is another busy urban portrait and a huge proud tribute to American accomplishment – implying, perhaps, 'Look where we've come from…' The portrait suggests not only the strong naval attachments to the area around Baltimore but also something of the more historical American connections including the original American Indian cultures. Storgårds and the BBC Philharmonic enter into the colourful and highly atmospheric characteristics of the symphony with impressive spirit and commitment.

Storgårds continues to invest authority and assurance in his reading of Antheil's Symphony No. 6 'after Delacroix': the inspiration for the first movement of this symphony being that painter's famous picture, 'Liberty leading the people' in which the allegorical Liberty, brandishing the French tricolour flag strides triumphantly over a battlefield strewn with corpses during the July revolution that ousted Charles X who reigned in France from 1834 to 1840. The intent of Antheil's music was to encapsulate the emotions engendered 'by the smoke of battle, courage, despair and hope, all marching into the future.' The extension to this historic French episode is of course an overt reference to American heroism, when Antheil includes an unadorned musical quotation at the point of those memorable title words of the anthem, The battle cry of freedom.

However, contemporary criticism after the 1949 première of the work's pomposity and bombast might well be echoed today.

Not surprisingly much of the opening movement's orchestration is given to trumpets and trombones. And unsurprisingly, the scoring is dense and violent, occasionally smoky jazzy; sometimes discordant. Apparently a significant proportion of this opening movement began life as a concert overture entitled Heroes of today which he dedicated to 'all the living heroes of all countries and to his close friend and scientific collaborator, Hedy Lamarr (*see footnote to this review). The second movement, marked Larghetto, is a poignant, elegiac creation, in contrast, with brass now muted and strings mournful. The third movement is joyous and jazzy; dizzyingly abandoned with dance rhythms dominant: there is something of an atmosphere of circus or fairground.

In concluding my comments about these two Antheil Symphonies, Mervyn Cooke states that Antheil's Fourth Symphony met with success – perhaps Chandos has a recording of it planned for a near future release in this series?

Hot Time Dance is alternatively known as American Dance Suite No. 1 or Election Dance. Not that there is much evidence of hot jazz rhythms, the hotness seems to refer to the heat from election night bonfires that Antheil remembered from his youth. In fact there is quite a sense of political lampooning here; the jolly music might suggest circus clowning, its grotesque character, to my mind, could easily fit in with a Laurel and Hardy film. Archipelago, is a dazzling Rhumba that has all the catchy syncopated rhythms of Latin and Central American music. The influence of Darius Milhaud is evident and it is also strongly reminiscent of Constant Lambert's Rio Grande. Ben Hecht's low budget film noire for Republic Studios, Spectre of the Rose (1948) seems to have been an oddity: a mix of murder, mayhem and the world of the ballet. Whatever, Antheil's Spectre of the Rose waltz for the film is arresting and appropriately bordering grotesque - not far removed from Ravel's La valse in pointing up the twisted mindset of the lead male ballet dancer who may or may not have killed one wife and may or may not have similar designs for his second wife. Again Storgårds relishes all the colour and drama implicit in these intriguing, diverse scores.

Another colourful and intriguing Antheil album of interest to film music aficionados and the adventurous.

Ian Lace

Previous review: Rob Barnett

Footnote: Hedy Lamarr and George Antheil developed a frequency-hopping technology in 1941 which they intended for use in warfare against German torpedoes. This technology ultimately led to the secure wi-fi, GPS and Bluetooth now used by billions of people around the world.


---
| | |
| --- | --- |
| | |
Donate and keep us afloat
New Releases
<!- Bridge end Sept 2022 -->


<!- cpo end Sept 2022 --> all cpo reviews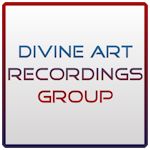 Click to see New Releases
Get 10% off using code musicweb10
All Divine Art reviews
Recordings of the Month
July 2022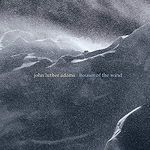 John Luther Adams
Houses of the Wind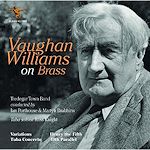 June 2022