paid for
advertisements

<!- Forgotten to FEb 2023-->
FOGHORN Classics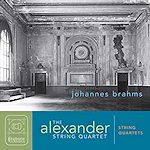 Brahms String Quartets

All Foghorn Reviews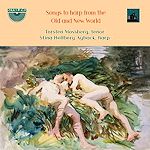 Songs to Harp from
the Old and New World

all Nimbus reviews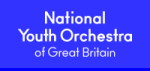 Follow us on Twitter
Editorial Board
MusicWeb International
Founding Editor
Rob Barnett
Editor in Chief
John Quinn
Contributing Editor
Ralph Moore
Webmaster
David Barker
Postmaster
Jonathan Woolf
MusicWeb Founder
Len Mullenger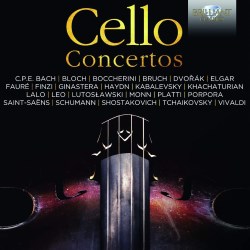 Support us financially by purchasing this from
Cello Concertos
rec. 1990s-2016
BRILLIANT CLASSICS 95782 [15 CDs: 955 mins]


After reviewing the Brilliant box sets of the Romantic Piano Concertos, Horn Concertos and Flute Concertos, I am more than happy to move to a box set of string concertos, especially as the solo instrument involved is the cello, which as a solo instrument, I have always found superior to the violin. I think that I have always liked the more sonorous tone of the cello over its little cousin, and there are plenty of instances in this set where the deeper voice shines through to prove itself worthy of star billing. I think that with a box set like this we will all have a favourite work that we look for, but sadly due to constraints of time and licencing, some are not included; yet this is still a well-conceived and constructed set which displays the cello in some wonderful works.

The set opens with one and a half discs of Vivaldi, some ten concertos in all; these are taken from the four-disc set of the complete cello concertos (95082), a set that is well known to me, as after reviewing the Vivaldi Opp. 1–12 set and being impressed by the musicians that took part in the recording, I went out and bought the cello concerto set on the back of the performers' performance, and I was not disappointed. Francesco Galligioni takes his obvious skill and ability and blends it well with the ensemble to produce a lovely recording. I would have found it difficult to choose just ten concertos to highlight the art of Vivaldi, but the producers have chosen well. We get the Concerto in F RV410 with its lovely slow movement and the wonderful Concerto in A minor RV418; I could highlight more, as these Vivaldi recordings certainly set the standard for the other recordings to follow.

The other half of disc two is taken up with the music of two further composers, Nicola Porpora and Matthias Georg Monn, both of whom are represented by their only cello concertos. Porpora was highly regarded as a composer of opera, as well as a vocal coach. His ability to mould the melodic line is clear in the slow opening of his Cello Concerto with the cello soloist certainly getting the starring role. On the other hand, Monn, one of those great 'what could have been composers', is more associated with instrumental music including sixteen symphonies and a number of concertos, including this Concerto in G Minor, which is not to be confused with the Concerto in D that Schoenberg arranged from his keyboard works. Again, it is obvious from the first movement Allegro moderato that Monn was a master of the melodic line, something that is carried over into the lugubrious slow movement.

In Giovanni Benedetto Platti and Leonardo Leo, we have composers who do not feature that much in my collection, just a single disc of each, with neither containing the cello concertos. The Platti disc opens with a world premiere recording of the A Major Concert which opens with a frothy Allegro before moving into the more lilting music of the Largo e cantabile, but I think it fair to say that here as in the three concertos the solo cello does not really have a starring role; yes the instrument is evident, but it is playing alongside the orchestral line and not really having a chance to shine. The other two works on the disc are his elegant arrangements of Corelli's Op. 5 Sonatas Nos. 1 and 3. Here, although Platti retains the violin as the dominant instrument, there is a place for the solo cello, this is due to his employer, the Prince-Bishop of Bamberg and Würzburg having a cellist brother. The disc of Leo comes from a 2 CD set of his six cello concertos (93681) and at 37 minutes is a little on the short side, rom could easily have been found for a concerto or two from the second disc. A leading exponent of the Neapolitan School, Leo is best remembered for his church music, and it is a disc of this that I have, whilst his instrumental music displays a sort of transitional quality, with its baroque fugal sections and the more galant style associated with the early classical period. The disc contains some very interesting music, which is wonderfully performed by Julius Berger and the Südwestdeutsches Kammerorchester Pforzheim.

I am on more familiar ground with the concertos of C.P.E. Bach, since I already have a couple of recordings of them by Anner Bylsma and Ophélie Gaillard who sadly only performs two of the three concertos. Raphael Wallfisch, as always, displays some wonderful solo playing. If I have a problem with this recording it is with the Scottish Ensemble, they can be at times a little too big and heavy, this is especially so when compared to Gaillard and her Pulcinella Orchestra, which makes it even more of a shame that she didn't record the B flat Concerto on the disc I have, although I believe that there is a second disc that includes it, which is on my wish list.

When it comes to 6th CD we are presented with a disc of music by one of the finest cellist-composers of all time, Luigi Boccherini. This first disc taken from the wonderful 3 CD set of his complete cello concertos (92618). I have a lot of music by Boccherini including this set which I have enjoyed since its release in 2006. He is a composer who was championed by Brilliant at a time when he was virtually a one hit wonder, for which they must be thanked, with this set appearing later on their Boccherini Edition (94386), a comprehensive 37-disc set. He really displays his own ability as a cello virtuoso in writing these concertos which contain some challenging solo writing, whilst the addition of the two horns in the First and Ninth Concertos add an extra sonority to the music.

When it comes to Haydn, we get a disc that is present in Brilliant's box of the complete concertos (94866), and also, I imagine, in their Haydn Edition; however the recording was originally issued by Berlin Classics and includes the doubtful Concerto in D HobVIIb:4, with the two other recordings I have sticking with the two authenticated concertos. Steven Isserlis is excellent on Hyperion (CDA68162), although he does present his own cadenzas. I also quite enjoy Truls Mork's recording on Virgin Classics (VC 5 45014 2). However, this recording by Jan Vogler is also very good, and it shows that Ludwig Güttler is as adept as a conductor as he is as a trumpeter. The added bonus of the spurious D Major Concerto is a real boon, especially when you remember that it was originally seen as the authentic Concerto in D and that it was the concerto now thought to be by Haydn that was deemed to be by a different composer, possibly Anton Kraft.

It is quite a leap in style from the concertos of Haydn to our next composer, Robert Schumann, whose Cello Concerto is considered to be the first great cello concerto of the romantic period. I do have a couple of other excellent recordings, those by Anne Gasinel (V 4897) and the more recent version by Jean-Guihen Queyras in the Harmonia Mundi series of the three Schumann concertos and piano trios (HMC 902197), both of which I would prefer over this version, mainly due to its quiet, slightly recessed recorded sound; there are times, indeed, when the orchestra sounds too far away from Julius Berger. No problems with the sound of the rest of the disc however, with a good recording of the Saint-Saëns Cello Concerto No. 1, the Fauré Élégie and Bruch's Kol Nidrei, all of which receive a good performance from Timora Rosler, but why have the Saint-Saëns as a single track? However, the version of the Saint-Saëns by Johannes Moser (CD 93.222) would be my choice of the Concerto, and not just because he offers the composer's complete music for cello and orchestra, but for the fact that he offers a more nuanced performance as well.

It is not often that you get two versions of the same work in a box-set like this, but that is exactly the case here with Tchaikovsky's Variations on a Rococo Theme. First, we have a live performance of the composer's original version of the work; this is followed by the better-known version of the work, the version for which the dedicatee of the piece, Wilhelm Fitzenhagen, who was the composer's friend and had given the premiere, asked Tchaikovsky to make changes to the order of the variations and to remove one completely. This was done to make the work tighter and more attractive to the audience; however, in listening to both versions in more depth, I must say that I prefer Tchaikovsky's original idea and it is easy to see why this version is becoming more popular. Between the two versions are three short works for cello and orchestra including a version of what was his most popular piece during his lifetime, the Andante cantabile from his First String Quartet, a piece that was so popular that Tchaikovsky was asked to make various arrangements for different combinations, including this version for cello and strings; he became so tired of being asked to perform or arrange the piece so frequently that it has been suggested that he came to dislike it intensely. The performances by István Várdai are, if not the best, are still very good and enjoyable. This disc also includes the first of the two cello concertos by Dmitry Kabalevsky, with the second of them appearing on the final disc. Somewhat overshadowed by his compatriots Shostakovich and Prokofiev, Kabalevsky was a leading exponent of 'socialist realism' and as such is more conservative in his musical style; that being said, these two concertos are still very interesting and attractive, I especially like the 'Largo, molto espressivo' of the earlier G minor Concerto No. 1.

Disc ten offers one of the most popular of all cello concertos, that by Antonín Dvořák, along with his Silent Woods and his Rondo in G minor. My preferred performance of these works have for a while been those by Miloš Sádlo (SU 3965-2), a recording which also offers the A Major Concerto, and remains so, despite a good performance by Zara Nelsova; the recording just sounds a little dated however, that being the main problem with this recording, which has been licenced from VOX. These works are coupled with an excellent Ernest Bloch's Schelomo, one of the finest performances in the whole set, with Alexander Kniazev and the Russian State Symphony Orchestra under Evgeny Svetlanov in sparkling form.

We now come to the English disc which offers both the Elgar and Finzi cello concertos. For many people the Elgar Cello Concerto is associated with a single performer, Jacqueline du Pre, and her two highly personal and nuanced recordings – but there are other recordings, not least by Steven Isserlis (CDA 68077) and Paul Watkins (CHAN 10709), both of whom display their individuality and personality in their recordings. Naxos turned to Maria Kliegel (who they have billed as 'the most recorded cellist' for their recording) and that is what is included here. The performance is good but not quite up there with the very best; it is not as powerful as du Pre or as inspired as Isserlis or Watkins, any of which I would place before this fine but safe recording. When it comes to the Finzi Concerto we once again turn to a Naxos recording, although this time more successfully. This is a work I got to know through Raphael Wallfisch's wonderful recording for Chandos (CHAN 8471), a recording that remains a firm favourite. The Cello Concerto is often regarded as Gerald Finzi's masterpiece and here Tim Hugh gives a performance that is very very good, it holds your attention well with his playing in the slow central movement being very fine. It might not topple Wallfisch, or the recent recording by Paul Watkins (CHSA 5214), but it is not that far behind them.

We come now to the concertos that for many people are the finest examples of the twentieth century cello concerto, those by Dmitri Shostakovich. I have always found Mstislav Rostropovich's approach to these two concertos a little too muscular, although I wouldn't be without them, especially his recording of the Second (SU 4101-2), whilst the performance of Heinrich Schiff with the composer's son, Maxim Shostakovich, is one of the most intense versions I know. Here Alexander Ivashkin's playing is excellent, he has an excellent touch and the right balance of both power and intensity, making his playing stand out from many more eminent recordings; he is backed up by some wonderful playing by the Moscow Philharmonic Orchestra under Valery Polyansky, making this recording a leading contender and one of the finest recordings included in this set.

I got to know the Cello Concerto of Édouard Lalo through André Navarra's mid 1960's LP recording with Charles Munch, which I have since purchased on Apex (2564 60709-2). I have also enjoyed the recording of Ori Epstein from a few year ago (ALPHA 233) on a recording which presented all of Lalo's concertante works. By comparison, I find that Maria Kliegel's recording, originally for Naxos, fails to hit the spot. It is with the first and longest movement that any performance of this Concerto either sinks or swims, and I am afraid that Kliegel seems to lack a little bit of insight when compared with the other recordings I have, and she doesn't fare much better in the other movements either. Strangely, the Lalo is coupled with the modernist vision of the single movement Cello Concerto of Witold Lutosławski, with the solo cello being pitted against the often abrasive brass. This is a wonderful recording with Andrzej Bauer showing that he is more than capable of holding his own against the Polish National Radio Symphony Orchestra.

The two concertos by Alberto Ginastera are new to me, so I was interested to here these two concertos. They come from Ginastera's later and more austere period and are less memorable that his earlier music; they could be even described as frantic and almost aggressive at times. However, they sit well with the Lutosławski, with the cello often pitted against the orchestra. These two concertos will take some work, but with repeated listening they do grow on you. The performance of Mark Kosower is excellent whilst the Bamberger Symphoniker gives an equally committed performance under Lothar Zagrosek – give them time.

The final disc offers two twentieth century concertos, the first is Dmitry Kabalevsky's Second Cello Concerto, discussed above, whilst the second offers the E minor Concerto of Aram Khachaturian. This is a work that I first came across on a two-disc set entitled Aram Khachaturian: Composer – Conductor – Pianist (SU 4100-2), whilst I enjoyed Sviatoslav Knushevitsky's performance, sadly the recorded sound leaves a lot to be desired on that recording, this led to my purchasing Raphael Wallfisch's excellently performed and recorded version for Chandos (CHAN 9866). Here Dmitry Yablonsky also gives an excellent performance of this Cello Concerto, a work which whilst it doesn't have the instant impact of the Violin Concerto, does make a lasting impression and is a fitting conclusion to this set.

Whilst we all have our favourite cello concertos that we would have liked to have seen included on a set like this (I personally would have liked to see the underrated Cello Concerto of William Walton) this is a comprehensive set that sees concertos drawn from most eras in performances which are at least good. The booklet notes are pretty basic, with only a short paragraph on each composer and the sound is good. This is a fine introduction to the art form that is the cello concerto, with some leading performers and performances included.

Stuart Sillitoe

Contents:
Antonio VIVALDI (1678-1741)
Cello Concerto in D minor, RV405 [8:45]
Cello Concerto in G minor, RV417 [9:36]
Cello Concerto in D Major, RV403 [7:06]
Cello Concerto in F major, RV 410 [10:34]
Cello Concerto in A minor, RV420 [10:32]
Cello Concerto for piccolo cello, strings & continuo in G major RV 414 [9:26]
Cello Concerto in G minor, RV416 [9:30]
Cello Concerto in A minor, RV418 [10:10]
Cello Concerto in C minor, RV401 [9:13]
Cello Concerto in G major, RV413 [9:40]
Francesco Galligioni (cello), L'Arte dell'Arco
rec. Padua, Italy, 2014
Nicola PORPORA (1686-1768)
Cello Concerto in G major [18:52]
Adriano Fazio (baroque cello)
Cappella Neapolitana, soloists
rec. Centro Sud, Castelbuono, Italy, October 2016
Matthias Georg MONN (1717-1750)
Cello Concerto in G Minor [20:22]
Adriano Fazio (baroque cello)
Cappella Neapolitana, soloists
rec. Centro Sud, Castelbuono, Italy, October 2016
Giovanni Benedetto PLATTI (c. 1697-1763)
Concerto for Obbligato Cello in A Major, D-WD 654 [13:58]
Concerto Grosso in D Major, D-WD 538 (after Corelli's Sonata, Op. 5, No. 1) [11:07]
Concerto for Obbligato Cello in D Minor, D-WD 657 [14:08]
Concerto Grosso in C Major, D-WD 539 (after Corelli's Sonata, Op. 5, No. 3) [11:15]
Concerto for Obbligato Cello in D major [12:45]
Stefano Veggetti (cello), Cordia Ensemble
rec. Kiens, South Tyrol, Italy, August 5-7 2011
Leonardo LEO (1694-1744)
Cello Concerto No. 2 in D Major [14:16]
Cello Concerto No. 1 in A Major [11:32]
Sinfonia Concertante in C Minor [11:25]
Julius Berger (cello), Südwestdeutsches Kammerorchester Pforzheim/ Vladislav Czarnecki
Rec. Kirnbachhalle, Niefern-Oschelbronn, Germany, May 29-31 1999
Carl Philipp Emanuel BACH (1714-1788)
Cello Concerto No. 1 in A minor, Wq. 170 (H432) [24:17]
Cello Concerto No. 2 in B flat major, Wq. 171 (H436) [24:09]
Cello Concerto No. 3 in A major, Wq. 172 (H439) [19:15]
Raphael Wallfisch (cello), Scottish Ensemble / Jonathan Morton
Luigi BOCCHERINI (1743-1805)
Cello Concerto No. 2 in D major G479 [16:12]
Cello Concerto No. 7 in G major, G480 [15:58]
Cello Concerto No. 4 in C major, G477 [13:23]
Cello Concerto No. 9 in B flat major, G482 [19:08]
Enrico Bronzi (cello), Accademia I Filarmonici
Joseph HAYDN (1732-1809)
Cello Concerto No. 1 in C major, Hob. VIIb:1 [26:04]
Cello Concerto in D major, Hob.VIIb:4 [20:27]
Cello Concerto No. 2 in D major, Hob. VIIb:2 (Op. 101) [23:51]
Jan Vogler (cello), Virtuosi Saxoniae / Ludwig Güttler
Robert SCHUMANN (1810-1856)
Cello Concerto in A minor, Op. 129 [22:03]
Julius Berger (cello), Sudwestfalische Philharmonie / Florian Merz
Camille SAINT-SAËNS (1835-1921)
Cello Concerto No. 1 in A minor, Op. 33 [18:07]
Gabriel FAURÉ (1845-1924)
Élégie in C minor, Op. 24 [6:31]
Max BRUCH (1838-1920)
Kol Nidrei, Op. 47 [8:29]
Timora Rosler (cello), Zilina Chamber Orchestra / Dwight Bennett
Pyotr IlyichTCHAIKOVSKY (1840-1893)
Variations on a Rococo Theme, Op. 33, TH 57 (Live) [18:37]
6 Morceaux, Op. 19, TH 133 No. 4. Nocturne (version for cello and strings) [4:39]
Pezzo capriccioso in B Minor, Op. 62, TH 62 [6:50]
String Quartet No. 1 in D Major, Op. 11 II. Andante cantabile (arr. cello and string orchestra) [6:51]
Variations on a Rococo Theme in A Major, Op. 33 (arr. W. Fitzenhagen for cello and orchestra) [18:24]
István Várdai (cello), Pannon Philharmonic Orchestra / Tibor Bogányi
Dmitry KABALEVSKY (1904-1987)
Cello Concerto No. 1 in G minor, Op. 49 [19:11]
Alexander Rudin (cello), Moscow Philharmonic Orchestra / Igor Golovchin
Antonín DVOŘÁK (1841-1904)
Cello Concerto in B minor, Op. 104 [36:51]
Waldesruhe (Silent woods) for cello and orchestra, Op. 68 No. 5 [5:01]
Rondo in G minor for cello & orchestra, Op. 94, B. 181 [6:08]
Zara Nelsova (cello), Saint Louis Symphony Orchestra / Walter Susskind
Ernest BLOCH (1880-1959)
Schelomo [24:50]
Alexander Kniazev (cello), Russian State Symphony Orchestra / Evgeny Svetlanov
Edward ELGAR (1857-1934)
Cello Concerto in E minor, Op. 85 [30:49]
Maria Kliegel (cello), Royal Philharmonic Orchestra / Michael Halasz
Gerald FINZI (1901-1956)
Cello Concerto, Op. 40 [37:22]
Tim Hugh (cello), Northern Sinfonia / Howard Griffiths
Dmitri SHOSTAKOVICH (1906-1975)
Cello Concerto No. 1 in E flat major, Op. 107 [28:29]
Cello Concerto No. 2 in G minor, Op. 126 [36:22]
Alexander Ivashkin (cello), Moscow Philharmonic Orchestra / Valery Polyansky
rec. 1997
Édouard LALO (1823-1892)
Cello Concerto in D minor [28:13]
Maria Kliegel (cello), Nicolaus Esterházy Sinfonia / Michael Halász
Witold LUTOSŁAWSKI (1913-1994)
Cello Concerto [23:41]
Andrzej Bauer (cello), Polish National Radio Symphony Orchestra / Antoni Wit
Alberto GINASTERA (1916-1983)
Cello Concerto No. 2, Op. 50 [34:36]
Cello Concerto No. 1, Op. 36 (1978 version) [34:17]
Mark Kosower (cello), Bamberger Symphoniker / Lothar Zagrosek
rec. Bamberg Congress Hall, Bavaria, Germany, April 21-25 2009 and March 17-18 2010
Dmitry KABALEVSKY (1904-1987)
Cello Concerto No. 2, Op. 77 [29:18]
Alexander Rudin (cello), Moscow Symphony Orchestra / Igor Golovschin
rec. Mosfilm Studio. Moscow, Russia, January 1996
Aram KHACHATURIAN (1903-1978)
Cello Concerto in E minor [32:30]
Dmitry Yablonsky (cello), Moscow City Symphony Orchestra / Maxim Fedotov
rec. Studio 5, Russian State TV & Radio Company KULTURA, Moscow, Russia, October 20-25 2007.

---
| | |
| --- | --- |
| | |
Donate and keep us afloat
New Releases


<!- cpo end March 2023 --> all cpo reviews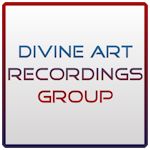 Click to see New Releases
Get 10% off using code musicweb10
All Divine Art reviews
<! apr 12 months Nov 22 - Oct 23 -->