paid for
advertisements

<!- Forgotten to FEb 2023-->
FOGHORN Classics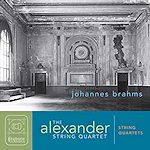 Brahms String Quartets

All Foghorn Reviews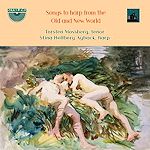 Songs to Harp from
the Old and New World

all Nimbus reviews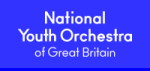 Follow us on Twitter
Editorial Board
MusicWeb International
Founding Editor
Rob Barnett
Editor in Chief
John Quinn
Contributing Editor
Ralph Moore
Webmaster
David Barker
Postmaster
Jonathan Woolf
MusicWeb Founder
Len Mullenger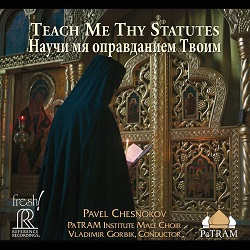 Support us financially by purchasing this from
Pavel CHESNOKOV (1877-1944)
Teach Me Thy Statutes
Blagoslovi, dushe moia, Gospodi (Bless the Lord, O My Soul), All-Night Vigil, Op. 9 No. 18 [3:07]
Blazhen muzh (Blessed is the Man), All-Night Vigil, Op. 44, No. 2 [5:02]
Svete tikhij (Gladsome Light) [2:46]
N´ne otpushchayesh´ (Lord, Now Lettest Thou Thy Servant Depart) [3:26]
Hvalite imia Ghospodne (Praise the Name of the Lord) [3:01]
Blagosloven yesi, Ghospodi (Blessed Art Thou, O Lord) [7:50]
Voskreseniye Hristovo videvshe (Having Beheld the Resurrection of Christ) [2:56]
Voskres Iisus ot groba (Jesus Has Risen from the Tomb), Op. 44 No. 8 [00:57]
Velikoye slavosloviye (The Great Doxology), Op. 44 No. 9 [9:09]
Blagoslovi, dushe moia, Gospodi (Bless the Lord, O My Soul), Op. 40 No. 1 [3:17]
Slava … Yedinorodn´y S´ne (Glory … Only Begotten Son), Op. 9 No. 2 [2:31]
Heruvimskaya pesn' (The Cherubic Hymn), Op. 37 No. 1 [8:21]
Milost mira i Tebe poyem (A Mercy of Peace and We Hymn Thee), Op. 9 No. 10 [7:13]
Dostoyno yest' (It is Truly Fitting) [3:23]
Spaseniye sodelal yesi posrede zemli (Salvation is Created), Op. 25 No. 5 [4:07]
PaTRAM Institute Male Choir/Vladimir Gorbik
Soloists: Mikhail Davydov (Blessed is the Man), Vladimir Krasov (The Great Doxology)
rec. July 2016, Church of the Apostle and Evangelist John the Theologian, Saratov Orthodox Theological Seminary, Russia
Reviewed as a 24/192 download from Reference Recordings (See DSD update below)
Pdf booklet contains sung texts in Russian (Cyrillic & transliterated) and English
REFERENCE RECORDINGS FR-727 SACD [67:14]

There are few more thrilling experiences than the sound of Russian sacred music, especially when it's sung by native choirs. That said, it's been my pleasure to review a number of first-rate US and European groups in this repertoire. Witness Charles Bruffy's Phoenix and Kansas singers in Grechaninov's Passion Week and Rachmaninov's All-Night Vigil from the Netherlands Radio Choir under Kaspars Putniņš, both of which were Recordings of the Month. (Indeed, the former was one of my top picks for 2007.) And then there's Craig Hella Johnson's Conspirare in The Sacred Spirit of Russia, which features several pieces by Chesnokov.

Teach Me Thy Statutes, the first in a projected series from the Patriarch Tikhon Russian American Music Institute (PaTRAM), features their male choir, directed by Vladimir Gorbik. Given that this ensemble is made up of professional American and Russian singers, one could say this album represents the best of both worlds, an impression amply confirmed by a quick dip into this download. Factor in a truly authentic Russian venue, and the presence of Soundmirror's Blanton Alspaugh, John Newton and Mark Donahue, and the auguries for this new release are very good indeed.

So, who was Pavel Chesnokov? A Russian composer, conductor, choirmaster and pedagogue, he's credited with more than five hundred choral works. The vast majority, of a sacred nature, were all written before the Revolution, which curtailed such endeavours. Alas, there are relatively few recordings of his music, sacred or secular, apart from a handful of items buried in generic or themed collections. In that respect, this all-Chesnokov programme, part of Reference's FRESH! series, appears to be a very welcome first.

In his enthusiastic 'Conductor's Notes', Gorbik points out that the fifteen pieces presented here, composed for the Divine Liturgy and several versions of the All-Night Vigil, are among Chesnokov's best-known works. If, like me, much of this music is unknown to you, the quiet radiance of the opening Psalm, Bless the Lord, O My Soul, signals that we're in for something rather special. This may be an arrangement for male voices by another hand – there are a few here – but there's no doubting the simple beauty of this lovely setting. It's also clear that this acoustic – warmly expansive, with no muddying echo – is perfect for such repertoire.

And it just gets better, the Op. 44 setting of Blessed is the Man is graced with a fine contribution from bass-baritone Mikhail Davydov. If, as Gorbik maintains, the soloist needs to be feeling but not flamboyant, Davydov succeeds admirably. What a full, steady tone this man has, and how rapt the answering 'Alleluias'. The soundstage, like the voices, goes very deep, so vital in conveying choral heft and the feel of a large, votive space; there's plenty of nuance and detail, too. Really, this is a remarkable recording: even the humble 16-bit version I sampled first sounds mighty impressive. I look forward to hearing the DSD version very soon. (See upodate at the end of this review.)

Gorbik controls and calibrates his forces with great care, the music of Gladsome Light rising and falling – breathing, if you like – in a most thrilling fashion. And what a wonderful sense of supplication they bring to Lord, Now Lettest Thou Thy Servant Depart, the close profoundly moving in its soft simplicity. (Goodness, if you can listen to that and not be stirred, then you're hard-hearted indeed.) It helps that the programme is well planned, so the resonantly monastic sound of Praise the Name of the Lord, originally written for mixed choir, is in strong contrast to what's gone before.

Different again are the Pascha (Easter) pieces, Having Beheld the Resurrection of Christ and Jesus Has Risen from the Tomb, both of which are filled with a palpable sense of renewal. And that's the nub of it: Chesnokov patterns this ancient, unchanging fabric with glowing threads of gold, the choir singing with a burnished beauty that's wondrous to behold. We modulate once more, this time to the glorious peaks and panoplies of The Great Doxology, which Gorbik describes as 'a true masterpiece of twentieth-century Russian sacred music'. It's the most varied and vigorous work here, baritone Vladimir Krasov's sonorous solo rising magically from the mix.

As if that weren't enough, Gorbik follows with the Op. 40 setting of Bless the Lord, O My Soul, which he labels 'one of the real gems in Chesnokov's creative output'. Then again, all these pieces deserve to be more widely heard. And I was struck by the choir's peerless blend, here and in Glory … Only Begotten Son; ditto the music's subtle rhythms, its timeless cadences an enduring comfort. Also, I must commend Soundmirror for their consistent, utterly musical balances, and for capturing, without apparent artifice, the acoustic signature of this magnificent church.

There's still more to discover in the remaining tracks, the choir so virile in The Cherubic Hymn and A Mercy of Peace and We HymnThee. The latter goes extremely deep, a rock-solid foundation for the domed space above. And what better way to end than with Salvation is Created? Is there nothing this choir can't do, no challenge to which they can't rise? Of course, so much credit is due to Gorbik's inspiring leadership, his devotion to, and affinity for, this music laid bare in every bar. In short, a fine start to what promises to be a most valuable and rewarding project.

Intensely beautiful singing and sound; quite simply, choral albums don't come much better than this.

Dan Morgan

Update: I have listened to the stereo DSD128 download from NativeDSD and, as expected, it sounds magnificent. Indeed, this album now tops my shortlist of the year's best so far.




---
| | |
| --- | --- |
| | |
Donate and keep us afloat
New Releases


<!- cpo end March 2023 --> all cpo reviews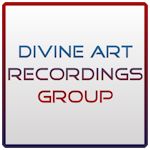 Click to see New Releases
Get 10% off using code musicweb10
All Divine Art reviews
<! apr 12 months Nov 22 - Oct 23 -->