paid for
advertisements

<!- Forgotten to FEb 2023-->
FOGHORN Classics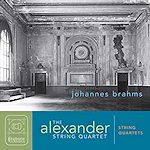 Brahms String Quartets

All Foghorn Reviews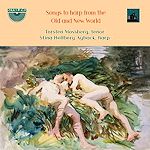 Songs to Harp from
the Old and New World

all Nimbus reviews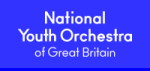 Follow us on Twitter
Editorial Board
MusicWeb International
Founding Editor
Rob Barnett
Editor in Chief
John Quinn
Contributing Editor
Ralph Moore
Webmaster
David Barker
Postmaster
Jonathan Woolf
MusicWeb Founder
Len Mullenger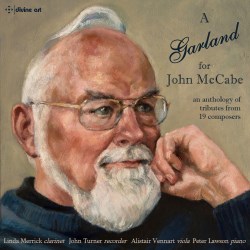 Support us financially by purchasing this from
A Garland for John McCabe
Linda Merrick (clarinet)
John Turner (recorder)
Alistair Vennart (viola)
Peter Lawson (piano)
rec. 2017, Carole Nash Room, Royal Northern College of Music; Carole Nash Hall, Chetham's School of Music; Cosmo Rodewald Concert Hall, Manchester University.
DIVINE ART DDA25166 [79:35]

In an overview of this new CD, the John McCabe website states that, 'The concert of pieces composed in memory of John McCabe and performed on 29th October 2016 as part of the Rawsthorne Day at the Royal Northern College of Music, was an entire success. Thanks to the efforts of recorder player [and Manchester music 'impresario'!], John Turner, who took part in the performances, both at the McCabe celebration and also in the evening, 13 works were performed, all relating in some way to John. Some were written utilising letters of his name, some took off from his particular musical loves, while others referred to non-musical interests.'

On this CD, another six works have been added to those thirteen numbers. They are all written for some combination of recorder, clarinet, viola and piano and the generational spread includes a wide range, from Memento for solo piano by Gerard Schurmann (born 1924) to the attractive Little Passacaglia for recorder and piano by William Marshall (born 1992). This latter work is based on a 12-note series used by McCabe in his Bagatelles (1964) and is the most 'advanced' work on this disc.

A glance at the batting order (McCabe was a great cricket fan) reveals a prodigious and diverse group of composers. I do not intend to comment on all nineteen tracks; I will just mention six pieces that especially caught my eye (or ear):

Peter Dickinson's A Rag for McCabe, for the complete ensemble, opens tentatively before dropping into a 'classical' 16-bar ragtime tune. It is a 'light hearted celebration of McCabe's personality and achievement.'

The late Malcolm Lipkin (died 2017) has contributed In Memoriam John McCabe, a thoughtful miniature for clarinet, viola and piano. There is a tiny quotation from one of Haydn's piano sonatas, reminding the listener that McCabe recorded what is for many the definitive versions of Haydn's Piano Sonatas.

The funereal Exequy for solo viola by John Joubert, born in 1927, is one of the most moving pieces on this CD. The composer has allowed himself nearly six minutes, longer than most of these pieces, to develop a heartfelt tribute.

I loved Martin Ellerby's Lake District-inspired piece for viola and piano, Nocturnes and Dawn (Patterdale). Perhaps I am biased, as this village at the foot of Ullswater, one of McCabe's favourite haunts, is also my favourite part of the National Park. Listeners who know McCabe's music, will recognise that the title is a translation of Notturni ed Alba, which is one of his most successful and well-known pieces. The piece includes a musical cipher on the name McCabe – HCCABE - as well as another Haydn quotation.

Returning to the 'senior' composer on this CD: Gerard Schurmann's Memento for solo piano is in a sub-minimalist style, illuminated by some delightful dissonances, achieved by juxtaposing major and minor chords. The piece conveys a deep 'sense of loss and sadness.'

The final work on this CD alludes to John McCabe's enjoyment of a 'wee dram' o' the malt. 'Edradour' is the smallest traditional distillery in Scotland, and, in many connoisseurs' eyes, one of the best. Gary Carpenter's eponymous piece for the full ensemble is delightful and comes without a hint of a Hielan' tune or tartanry.

The performances by all the artists are convincing, competent and thoroughly engaged. I was impressed by the CD sound, which is clear and well-balanced.

The liner notes are excellent: after an introduction by the composer's widow, Monica McCabe, each work is given a brief, but helpful, introduction by its composer. There are the usual biographies of the performers. The rear cover includes a good photograph of the composer towards the end of his life, and his portrait is on the front cover.

This is altogether a charming 'Garland' for John McCabe. Do not expect all these works to be masterpieces, but they are all well-crafted and highly memorable. I am not sure what will happen to them next; I would like to think that performers will include them in their own recital programmes. It may be that their brief nature, their ephemerality and their instrumental requirement will prevent this from happening. That would be a pity, as there is much here to delight, enchant and call to mind one of the most important and best of 'modern' composers. I believe John McCabe would have been delighted with this heartfelt tribute from his friends, fellow composers and former pupils.

John France


Contents
Peter DICKINSON (b.1934) A Rag for McCabe (recorder, clarinet, viola, piano) [1:53]
John JOUBERT (b.1927) Exequy (viola) [5:49]
Edward GREGSON (b.1945) John's Farewell (recorder, piano) [2:09]
Robert SAXTON (b.1953) A Little Prelude for John McCabe (recorder, clarinet, viola, piano) [2:09]
Howard SKEMPTON (b.1947) Highland Song (recorder, clarinet, viola) [2:34]
Elis PEHKONEN (b.1942) Lament for the Turtle Dove (clarinet, piano) [6:19]
Robin WALKER (b.1953) And will you walk beside me down the lane? (recorder, clarinet, viola, piano) [5:03]
Malcolm LIPKIN (1932-2017) In Memoriam John McCabe (clarinet, viola, piano) [2:56]
William MARSHALL (b.1992) Little Passacaglia (recorder, piano) [4:46]
Martin ELLERBY (b.1957) Nocturnes and Dawn (Patterdale) (viola, piano) [4:54]
Rob KEELEY (b.1960) Elegy for John McCabe (clarinet, piano) [4:36]
James Francis BROWN (b.1969) Evening Changes (recorder, clarinet, viola) [6:06]
Gerard SCHURMANN (b.1924) Memento (piano) [3:27]
Anthony GILBERT (b.1934) The Flame has Ceased (recorder, viola, piano) [4:46]
Christopher GUNNING (b.1944) Danse des Fourmis (recorder, clarinet, piano) [4:10]
David MATTHEWS (b.1943) Chaconne (clarinet, viola, piano) [4:00]
Raymond WARREN (b.1928) In Nomine (recorder, piano) [7:42]
Emily HOWARD (b.1979) Outback (recorder, clarinet, viola, piano) [2:26]
Gary CARPENTER (b.1951) Edradour (recorder, clarinet, viola, piano) [2:35]
NB: All pieces composed in 2016.

---
| | |
| --- | --- |
| | |
Donate and keep us afloat
New Releases
<!- Bridge end Sept 2022 -->


<!- cpo end Sept 2022 --> all cpo reviews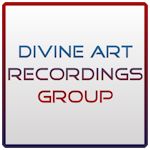 Click to see New Releases
Get 10% off using code musicweb10
All Divine Art reviews