paid for
advertisements

---
100th birthday of Mieczyslaw Weinberg on December 8, 2019.
Renate Eggbrecht has recorded all 3 violin Sonatas
FOGHORN Classics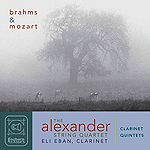 Mozart Brahms
Clarinet Quintets

New Releases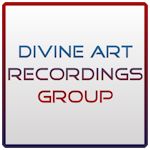 Click to see New Releases
Get 10% off using code musicweb10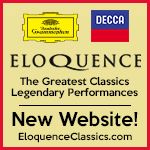 Special offer 50% off
15CDs £83 incl. postage


Follow us on Twitter
Editorial Board
MusicWeb International
Founding Editor
Rob Barnett
Editor in Chief
John Quinn
Seen & Heard
Editor Emeritus
Bill Kenny
MusicWeb Webmaster
David Barker
Postmaster
Jonathan Woolf
MusicWeb Founder
Len Mullenger
---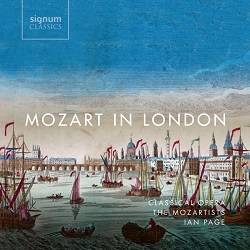 Support us financially by purchasing this from
Mozart in London
Ana Maria Labin Anna Devin, Rebecca Bottone, Martene Grimson, Eleanor Dennis (sopranos); Helen Sherman (mezzo); Ben Johnson, Robert Murray (tenors);
Steven Devine (harpsichord);
The Mozartists/Ian Page
rec. live, February 2015, Milton Court, London. DDD.
Performed on period instruments (A=430Hz)
Texts included.
Reviewed as 24/96 download with pdf booklet from hyperion-records.co.uk.
SIGNUM SIGCD534 [77:24 + 67:06]

Some ambitious projects are currently afoot, and this is one of the most ambitious, rivalled only by the recently begun complete keyboard works of Bach performed by Benjamin Alard, launched with a super-budget 3-CD set entitled The Young Heir and examining the influences of his predecessors and contemporaries (Harmonia Mundi HMM902450-52). In a sense, this mid-price 2-CD Signum programme of music by the eight-year-old prodigy, newly arrived in London, then at the height of musical activity, and by the musicians whom he met there might also be labelled The Young Heir. It was in London that he met some of the influneces on his music and composed his first symphonies and his first aria.

These recordings, made live over a weekend in February 2015, are the first fruits of what is planned as an ambitious 27-year Mozart 250 project. As with Alpha's similar series of the Haydn symphonies with Giovanni Antonini, I regret that I shall not be around to see its completion.

Complete sets of Mozart symphonies have, of course, been released before, ranging from one on period instruments directed by Jaap ter Linden on Brilliant Classics 94295: Recording of the Month – review – to a recent reissue of Karl Böhm's classic recordings, the first complete recorded set, on 10 CDs plus blu-ray audio (DG 4835171, target price £45).

The only comparable series linking Mozart with other composers of his time, however, comes from Chandos, a highly recommendable series of recordings by the London Mozart Players and Matthias Bamert, Contemporaries of Mozart (available separately on CD or download, or on two USBs – here – here – or complete on one USB). Those who have invested in that series, wholly or in part, will be pleased to learn that nothing on the new Signum recording duplicates anything from it.

The Signum 2-CD set comes at an attractive price, typically less than £20, but some dealers are asking more for the 16-bit download than for the CDs, and even more for 24-bit. Hyperion offer 16-bit for a reasonable £15.49 and 24-bit for £23.25, both with the pdf booklet. Subscribers to Naxos Music Library can stream there, also with pdf booklet.

While the three Mozart symphonies recorded here are truly remarkable for an 8-year-old, it must be admitted that they are pretty ordinary fare. Not until the symphonies numbered in the 20s, especially No.25, do they begin to challenge those of Haydn, whose whole symphonic output, even the early works, needs no apology. They do, however, receive very attractive performances which make a strong case for them, challenging Jaap ter Linden (above). Even if you have the very inexpensive Brilliant box, the other works on the new Signum release, vocal and orchestral, many of them recorded for the first time, are well worth having.

Even those works which exist in rival versions have not exactly been over-recorded. The Abel symphony which rounds off the programme, formerly attributed to Mozart as his Symphony No.3, K18, can be found on only one other current recording, an attractive complete set of the Op.7 symphonies from la Stagione Frankfurt and Michael Schneider (CPO 7779932 – review – Autumn 2017/3).

Strongest of all the influences on the young Mozart was Johann Christian, the 'London' Bach, whose Harpsichord Concerto in D, Op.1/6, is included. Anthony Halstead's complete recording of the six concertos of Op.1 with the Hanover Band on CPO (9992992) is now download only, or part of a 6-CD set of JC's complete keyboard concertos (9999302 – review). The early harpsichord concertos are not as striking as JC's later concertos for the fortepiano and the one offered by Ian Page, with Steven Devine as soloist, will probably be enough for most. If I marginally prefer Halstead's slightly faster interpretation of the allegro assai opening movement, as heard from Naxos Music Library, and Page's and Devine's more forceful account of the finale, a charming set of variations on the English National Anthem, there's very little in it.

If you are wondering why Ian Page and his team have omitted Mozart's Symphony No.2, it's now ascribed to his father Leopold. 'Symphony No.3' is included at the end of CD2, here properly ascribed to Abel. Mozart's symphony K19a, however, is included; it was discovered in 1981 and so had to be slotted into this awkward numbering in the Köchel catalogue. It isn't an alternative version of No.4, as some websites would have you believe.

Much of the music here consists of excerpts from operas by Arne, JC Bach, Abel and others, several of these receiving their first recordings, and Mozart's first concert aria. Page has already revealed his prowess in well-received recordings of Mozart's operas and vocal works, including Mitridate – review – Il Sogno di Scipione – review – Il Re Pastore – review and Apollo et Hyacinthus – review. It's not surprising, therefore, that the performances here are all first-rate.

Those who choose the download are in danger of potentially being led astray by the information for tracks 8-10, the JC Bach Concerto, here labelled as if it were three concertos. More problematical is that MusicBee, my preferred player from the CD, and the Sony Walkman will play the tracks in the wrong order unless you shorten the information in the 'artist' column to just 'Ian Page: the Mozartists'. Do it very carefully, having backed up the music. It's a common problem and arises from download providers trying too hard to give us all the information.

Short applause is retained at the end of each CD; it's hardly likely to upset all but the most avid haters.

The recording, especially in 24/96 format, is very good. A fine booklet of informative notes rounds off a most enjoyable set of recordings, placing Mozart's earliest music in context of the London which he visited aged eight.

Brian Wilson

Contents
CD1
Wolfgang Amadeus MOZART (1756-1791) Symphony No.1 in E-flat, K16 [12:09]
Thomas ARNE (1710-1778) 'Sleep, gentle Cherub!' [3:01] and 'O torment great' from Judith † [3:46]
'Amid a thousand racking woes' [4:47] and 'O too lovely' from Artaxerxes [4:35]
Johann Christian BACH (1735-1782) Harpsichord Concerto in D, Op.1/6 [11:09]
'Non so d'onde viene' from Ezio † [8:26]
'Confusa, smarrita' from Berenice † [5:56]
Thomas ARNE 'O Dolly' from The Guardian Outwitted† [2:35]
Egidio DUNI (1708-1775) 'To speak my mind' from The Maid of the Mill † [1:02]
Samuel ARNOLD (1740-1802) 'Hist, hist!' from The Maid of the Mill † [1:54]
Wolfgang Amadeus MOZART Symphony No.4 in D, K19 [9:02]
Giovanni Battista PESCETTI (c.1704-1766) 'Caro mio bene, addio' from Ezio † [9:02]

CD2
Wolfgang Amadeus MOZART Symphony in F, K19a [11:26]
Johann Christian BACH 'Deh lascia, o ciel' from Adriano in Siria † [2:09]
'Cara la dolce fiamma' from Adriano in Siria [6:22]
George RUSH (fl.1760-1780) Overture to The Capricious Lovers † [5:18]
'Thus laugh'd at, jilted and betray'd' from The Capricious Lovers † [2:37]
William BATES (fl.1750-1780) 'In this I fear my latest breath' from Pharnaces † [2:41]
Wolfgang Amadeus MOZART Concert Aria, 'Va, dal furor portata', K21 [6:14]
Davide PEREZ (1711-1778) 'Se non ti moro a lato' from Solimano † [9:28]
Karl Friedrich ABEL (1723-1787) Symphony in E flat, Op.7/6 [12:01]
† first recordings.




---
| | |
| --- | --- |
| | |
Donate and keep us afloat
Recordings of the Month
January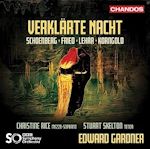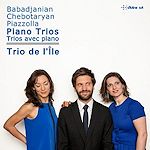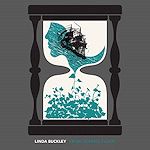 Linda BUCKLEY
From Ocean's Floor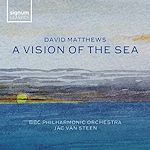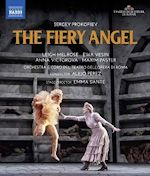 December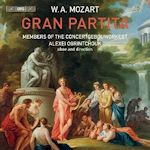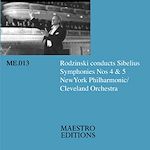 Rodzinski Sibelius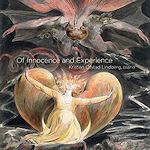 Of Innocence and Experience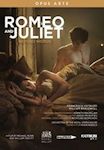 November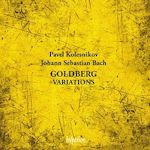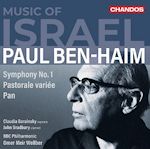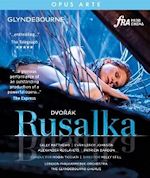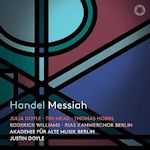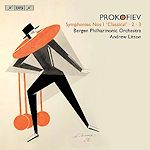 Symphonies 1, 2, 3