paid for
advertisements

<!- Forgotten to FEb 2023-->
FOGHORN Classics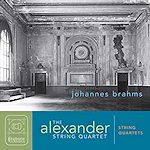 Brahms String Quartets

All Foghorn Reviews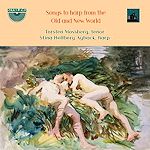 Songs to Harp from
the Old and New World

all Nimbus reviews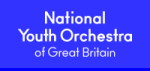 Follow us on Twitter
Editorial Board
MusicWeb International
Founding Editor
Rob Barnett
Editor in Chief
John Quinn
Contributing Editor
Ralph Moore
Webmaster
David Barker
Postmaster
Jonathan Woolf
MusicWeb Founder
Len Mullenger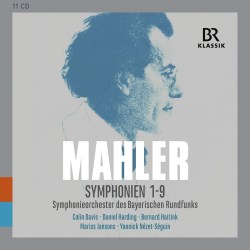 Support us financially by purchasing this from
Gustav MAHLER (1860-1911)
Symphonies 1–9
Chor des Bayerischen Rundfunks,
Symphonieorchester des Bayerischen Rundfunks/Mariss Jansons (2, 5, 7, 9), Bernard Haitink (3, 4), Sir Colin Davis (8), Daniel Harding (6), Yannick Nézet-Seguin (1)
rec. 1996–2016 Herkulessaal (1), Philharmonie (2-9), Munich
No sung texts or translations
BR-KLASSIK 900714 [11 CDs: 690:03]

Mahler famously said "A symphony should be like the world - it must embrace everything." Today it's hard to fathom that for several decades after the composer's death his symphonies experienced a lukewarm response. Nowadays, in an era of incomparable richness, performances of his symphonies are commonplace with an extensive choice of recordings available in the catalogues, including many complete sets.

As this cycle of the complete Mahler's symphonies 1–9 from the magnificent Symphonieorchester des Bayerischen Rundfunks has progressed, I've been impressed by the general consistency and dedication of the performances. All the symphonies are recorded live at the Philharmonie, Munich over a ten-year period (1996–2016), except for the First Symphony which was produced at the Herkulessaal. In May 2011, I attended one of the Philharmonie, Munich performances of the Second Symphony - 'Resurrection' - that is recorded here; it was a stunning experience. Not surprisingly, the lion's share of the symphonies was recorded under the Bavarian orchestra's current chief conductor Mariss Jansons (Nos 2, 5, 7 & 9), augmented by guest conductors: two from Bernard Haitink (Symphonies 3 & 4) and one each from Yannick Nézet-Seguin (No. 1), Daniel Harding (No. 6) and Sir Colin Davis (No. 8). Only the recording of the Fourth under Haitink seems not to have been previously released either on CD or DVD/Blu-ray.

A groundbreaking work, the much revised First Symphony was at one point described by the composer as a symphonic poem in two parts and later titled 'The Titan'. Mahler removed the original Blumine movement (not performed here) and dispensed with the title. Jansons did record and release the First Symphonyª with this orchestra at the Herkulessaal in 2007 but here the label has elected to use Yannick Nézet-Séguin's recording from June 2014. It makes quite an impression. Nézet-Séguin's delivers, quite simply, one of the finest performances of the symphony I have encountered either on disc or in concert performance. Notable is the opening movement, where Nézet-Séguin and his Bavarian players take the listener on a dawn journey to a shimmering woodland glade that teems with the sights and sounds of nature. Beautiful warmth and a pastoral air provide a convincing evocation of the mystery of nature. Nézet-Séguin's conclusion is a moving experience, vivid and weighty and ending in jubilation.

The original issue has been reviewed for MWI by myself and by Dan Morgan, who chose it as a Recording of the Month.

The Second Symphony - 'Resurrection' - is Mahler's prismatic statement on mankind, redemption and rebirth. The performance from 2012 under Jansons is throughout of an elevated quality, compelling and intensely satisfying. The voices of soprano Anja Harteros and mezzo-soprano Bernarda Fink combine with the magnificent playing and singing of the Bavarian orchestra and chorus. The results are remarkable, from climaxes of sonic proportions to the high strings playing the softest pianissimo. In the final section, with the earth-shattering climax, Jansons holds things together marvellously. A DVD issue of this performance is reviewed here.

Recorded in 2016, Haitink presides over a quite magnificent rendition of the awe-inspiring Third Symphony, a paean to the natural world and colossal in scale. Taking a firm grasp on the proceedings, this interpretation from Haitink is beautifully paced with especially well-chosen tempi. The Bavarian radio orchestra furnish the music with unerring concentration and an excellent depth of expression. I savoured the lovely body to the strings, while highly expressive woodwind and magnificent brass uphold the orchestra's reputation with credit. Outstanding is the conclusion of this gigantic structure which, in Haitink's hands, is simply stunning. There are more passionate and dramatic recordings around than this from Haitink but few with as much sincerity and sense of total engagement, or as gloriously played. For more detailed comments, see my review of the separate issue.

Conductor Bruno Walter, who served as Mahler's assistant in both Hamburg and Vienna, observed the Fourth Symphony was "Dream-like and unreal, indeed, is the atmosphere of the work." Bernard Haitink knows the Fourth extremely well, having first recorded it back in 1967, and it shows. In this 2005 recording by Haitink, I relish the attractive Viennese lilt to the playing that reminds me of magnificent Alpine landscapes. Designed as a series of dances, the Scherzo has a prominent role for the leader who plays a smaller violin in the manner of a village fiddler, while the clarinets at times have a slight klezmer feel. Haitink is heartfelt and tender in the slow movement, one of Mahler's most dignified and affecting creations. Remarkably effective is the forceful orchestral climax at point 17.40 that develops to a striking conclusion. The final movement of this rewarding symphony uses a setting of 'Das Himmlische Leben' (The Heavenly Life) from the 'Des Knaben Wunderhorn' collection of German folk poetry. With the child's innocent vision of heaven, Juliane Banse's superb singing praiseworthy, endearingly fresh and expressive. Without resorting to emotional excess, Haitink's well-judged speeds are a feature of this interpretation.

Possibly a love letter in music to his future wife Alma Schindler, the Fifth Symphony has gained an enduring popularity. This 2016 recording of the Fifth came as something of a surprise, since the BR Klassik label have already released a live account of the work (albeit with a limited circulation) under Jansons with this Bavarian orchestra recorded live in March 2006. An enduring audience favourite, and a work that can make a deep emotional impression, the Fifth Symphony continues to maintain a firm hold in the concert repertoire, with a profusion of choice in the record catalogues. Here Jansons responds to the multifarious moods of Mahler's Symphony, giving a majestic account that provides absorbing drama. From start to finish Jansons communicates a judicious balance between impressive emotional intensity and scrupulous attention to the overall structure of the score. I have previously reviewed the separate issue for MWI. For a more cautious opinion, see the review by Dan Morgan.

Described by Wilhelm Furtwängler as "the first nihilist work in the history of music", the Sixth Symphony is, from my experience, extremely difficult to pull off in concert. This 2014 performance from Daniel Harding, when compared to the finest accounts, comes across as if driving a prestige marque filled with the wrong octane fuel. As one expects from this outstanding orchestra, there is some beautiful playing in a rather uneven and far from cohesive account. Although a serviceable performance, the required feeling of total engagement is absent, as is any consistent degree of emotional tension. I have already expressed my reservations about this performance. Simon Thompson was rather more impressed.

Regarded as Mahler's most enigmatic symphony, the Seventh is the composer's most radical and progressive example of the form. Schoenberg was converted into a Mahlerian by the Seventh, a work he considered pivotal and which signaled the collapse of romanticism. In this highly challenging and complex score, Jansons in 2007 provided a dignified, rather straightforward account which convinces cohesively. Jansons gives focus to line and beauty of tone yet there is never any tendency to wallow excessively. In the opening movement, I sense Jansons adeptly drawing out Mahler's extraordinary textures. The martially-inflected Nachtmusik I of the second movement is infused with passion and hope and by contrast Jansons shines with the nightmarish grotesques of the Scherzo. Movement four, Nachtmusik II, has a dream-like charm, steeped in positivity. Confidently navigating the ebb and flow of the Rondo-Finale, the blissful emergence of daybreak is gloriously uplifting, celebratory in quality, leaving all difficulties behind. Gavin Dixon, reviewing the separate issue, had "mixed", but generally positive, feelings.

The grandiose Eighth Symphony - 'Symphony of a Thousand' - is Mahler's pantheistic vision of life and the universe. Here Sir Colin Davis, in 1995, inspires his vast choral and orchestral forces, such willing protagonists, to traverse this epic journey with dramatic results. Never floundering in the lush sound world or delving pedantically into detail, Davis gives a convincing reading, providing substantial drama of heightened intensity and contrasts. In this fiendishly difficult assignment Davis is inspired, holding together these massive forces remarkably well, adopting a pace and dynamics that feel ideal. Outstanding is how Davis builds such dramatic climaxes of real potency. A credit to all concerned, the Bavarian players are to be applauded for their dedication and striking performance. Davis' eight splendidly chosen soloists are an eminent group performing so excellently it almost feels wrong to single out individual singers, but I especially enjoyed the bright, expressive and potent tenor of Ben Heppner in the challenging role of Doctor Marianus. Resonant and attractive in tone, bass René Pape is outstanding in the Pater Profundus, crowning his performance with the words, O Gott! beschwichtige die Gedanken, Erleuchte mein bedürftig Herz! (O God, soothe my thoughts, enlighten my needful heart). Baritone Sergej Leiferkus (Pater ecstaticus) generally sings well despite some slight unsteadiness. Another highlight is soprano Elizabeth Norberg-Schulz, singing the two lines of Mater Gloriosa (the Virgin Mary) with glowing and reverential beauty. Soprano Sharon Sweet excels (Una Poenitentium, formally Gretchen) and is in excellent voice, appealing and expressive, displaying her excellent high register, and soprano Alessandra Marc (Magna Peccatrix) sounds especially lovely in tone. Alto Vesselina Kasarova (Mulier Samaritana) conveys such marvellous expression and alto Ning Liang (Maria Aegyptia) demonstrates especially fine projection and expression. Clearly well prepared, the Tölzer Knabenchor, Rundfunkchor Berlin, Südfunk-Chor Stuttgart and Chor des Bayerischen Rundfunks excel providing dedicated, consistent and heartfelt singing. A performance of this symphony under Davis, with exactly the same singers and choirs, so surely the same one even if it was dated 1996 (but July 7-8 in each case), was issued by BMG and was warmly reviewed by Terry Barfoot.

Infused with musings on death, the Ninth Symphony was described by Bruno Walter as expressing "a sanctified feeling of departure." Jansons directed a memorable account in 2016, drawing stunning playing of considerable intensity from his Bavarian orchestra. As well as his usual immaculate preparation, I admired Jansons' masterly control of tempo, dynamics and scale. Notable is the Finale – Adagio, with its serene, incandescent music reflecting Mahler's intense personal introspection, interpreted here with an elevated level of inspiration and sense of total involvement. Jansons' Bavarian strings provide a blanket of sublime sound and searing strength. Everything seems almost too hard to bear with playing of such emotional intensity. This account by Jansons – a great Mahlerian in my view – is one of the jewels in my Mahler collection. My more detailed previous review is here.

All symphonies were recorded in live performance at Munich and all at the Philharmonie, with the single exception of the First, which was recorded at Herkulessaal. Overall, the sound quality is first rate, with presence, clarity and good balance. There is very little extraneous audience noise although I detected the odd editing glitch. Apart from Five and Seven, all the symphonies have had the audience applause removed at the conclusion. The accompanying booklet contains a helpful and interesting essay entitled 'Building a Universe' by Jörg Handstein, but unfortunately there are no sung texts, never mind English translations.

Mahler's symphonies constitute a massive project, so it will come as no surprise that, from the numerous cycles in the catalogue I, like many others, have found it hard to settle on one set. All have drawbacks of some kind. As a result, over the years I've often auditioned numerous recordings of each symphony to choose my favourites. However, here I'm focusing only on complete sets. The set that I especially esteem is headed by Leonard Bernstein with the New York Philharmonic from 1960/68 on CBS, now Sony (c/w Kindertotenlieder & Adagio from Tenth 1974/75). Worthy, too, is Claudio Abbado with Berliner Philharmoniker and Lucerne Festival Orchestra (No. 2), live from 1990s/2000s on Deutsche Grammophon. Although missing the Fourth Symphony but including 'Das Lied von der Erde', I admire the live cycle from Rafael Kubelik and Symphonieorchester des Bayerischen Rundfunks, recorded in 1967/82 at the Herkulessaal, Munich on Audite.

Despite some reservations concerning the Sixth Symphony, this newly released BR-Klassik cycle from the Symphonieorchester des Bayerischen Rundfunks deserves comparison with the finest sets around. With playing of such high calibre overall, it's unfortunate the set does not include performances of the Tenth Symphony (in Deryck Cooke's performing edition) and 'Das Lied von der Erde'. The Bavarian orchestra has recorded 'Das Lied von der Erde' several times over the years and I have its recordings with conductors Kubelik, Davis and Maazel. On YouTube, there is a live stream from January 2018 at Herkulessaal of an excellent live concert with the orchestra under Sir Simon Rattle performing 'Das Lied von der Erde' with soloists Stuart Skelton and Magdalena Kožená. It's a shame Rattle's live account couldn't have been included here, but it will surely be released in due course.

Michael Cookson


Contents
CD 1
Gustav MAHLER (1860-1911)
Symphony No. 1 in D major 'Titan' (1887/88, rev. 1893, 1896/98) [53.25]
Symphonieorchester des Bayerischen Rundfunks / Yannick Nézet-Séguin
rec. live, 26, 27 June 2014, Herkulessaal, Munich

CD2
Gustav MAHLER
Symphony No. 2 'Resurrection' (1888/94, rev. 1905) [80:56]
Anja Harteros (soprano), Bernarda Fink (mezzo)
Chor des Bayerischen Rundfunks (Michael Gläser – chorus master)
Symphonieorchester des Bayerischen Rundfunks / Mariss Jansons
rec. live, 13-15 May 2011 Philharmonie, Munich

CD3 & CD4
Gustav MAHLER
Symphony No. 3 (1893/96) [101.28]
Gerhild Romberger (contralto)
Augsburger Domsingknaben (Reinhard Kammer – chorus master)
Martin Anger (post horn solo)
Chor des Bayerischen Rundfunks (Yuval Weinberg – chorus master)
Symphonieorchester des Bayerischen Rundfunks / Bernard Haitink
rec. live, 16, 17 June 2016 Philharmonie, Munich

CD 5
Gustav MAHLER
Symphony No. 4 (1899/1900) [56.38]
Juliane Banse (soprano)
Symphonieorchester des Bayerischen Rundfunks / Bernard Haitink
rec. live, 3, 4 November 2005 Philharmonie, Munich

CD 6
Gustav MAHLER
Symphony No. 5 (1901-02) [73.30]
Symphonieorchester des Bayerischen Rundfunks / Mariss Jansons
rec. live, 10, 11 March 2016 Philharmonie, Munich

CD 6
Gustav MAHLER
Symphony No. 6 in A minor (1903/05) [82:27]
Symphonieorchester des Bayerischen Rundfunks / Daniel Harding
rec. live, 20-22 March 2014 Philharmonie, Munich

CD 7
Gustav MAHLER
Symphony No. 7 in E Minor (1905) [77:31]
Symphonieorchester des Bayerischen Rundfunks / Mariss Jansons
rec. live, 8, 9 March 2007 Philharmonie, Munich

CD 9 & 10
Gustav MAHLER
Symphony No. 8 'Symphony of a Thousand' [83.23]
Alessandra Marc (soprano) –Magna Peccatrix
Sharon Sweet (soprano) – Una poenitentium
Elizabeth Norberg-Schulz (soprano) – Mater gloriosa
Vesselina Kasarova (alto) – Mulier Samaritana
Ning Liang (alto) – Maria Aegyptia
Ben Heppner (tenor) – Doctor Marianus
Sergej Leiferkus (baritone) – Pater ecstaticus
René Pape (bass) – Pater profundus
Rundfunkchor Berlin /Robert Gritton – chorus master)
Südfunk-Chor Stuttgart (Rupert Huber – chorus master)
Tölzer Knabenchor (Gerhard Schmidt-Gaden – chorus master)
Chor des Bayerischen Rundfunks (Michael Gläser – chorus master)
Symphonieorchester des Bayerischen Rundfunks / Sir Colin Davis
rec. live, 7-8 July 1995 Philharmonie, Munich

[A performance with exactly the same singers, choirs and conductors was issued on RCA Victor Red Seal (BMG Classics) 09026 68348-2, but dated 7-8 July 1996]

CD 11
Gustav MAHLER
Symphony No. 9 (1909/10) [80.45]
Symphonieorchester des Bayerischen Rundfunks / Mariss Jansons
rec. live, 17-21 October 2016 Philharmonie, Munich


ª The Jansons recording is contained in a Mahler audio-biography, a 4-CD box on BR-Klassik 900901.

---
| | |
| --- | --- |
| | |
Donate and keep us afloat
New Releases


<!- cpo end March 2023 --> all cpo reviews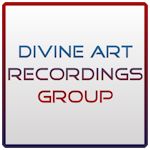 Click to see New Releases
Get 10% off using code musicweb10
All Divine Art reviews
<! apr 12 months Nov 22 - Oct 23 -->