paid for
advertisements

<!- Forgotten to FEb 2023-->
FOGHORN Classics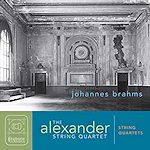 Brahms String Quartets

All Foghorn Reviews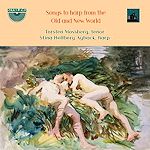 Songs to Harp from
the Old and New World

all Nimbus reviews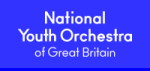 Follow us on Twitter
Editorial Board
MusicWeb International
Founding Editor
Rob Barnett
Editor in Chief
John Quinn
Contributing Editor
Ralph Moore
Webmaster
David Barker
Postmaster
Jonathan Woolf
MusicWeb Founder
Len Mullenger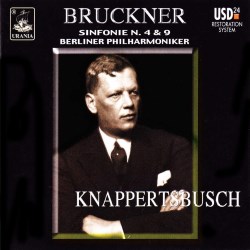 Support us financially by purchasing this from
Anton BRUCKNER (1824-1896)
Symphony No. 4 in E flat Major "Romantic" (1888 version) [60:28]
Symphony No. 9 in D minor (1903 Ed. Loewe) [55:09]
Berliner Philharmoniker /Hans Knappertsbusch
rec. live broadcast 8 September 1944, Baden-Baden (No. 4); 28 January 1950, Titania Palast, Berlin (No. 9). ADD mono
URANIA URN22.225 [60:28 + 55:09]

These famous performances sound well enough in their previous incarnations on labels such as Archipel, Preiser and as part of the issue of the RIAS recordings on Audite, but their re-mastering by Urania, using their "USD 24-bit restoration system", is little short of miraculous and cause enough - if you can find this 2 CD set affordably - to give away your previous incarnations. Urania's achievement is similar in result to what Andrew Rose at Pristine Classics achieves, infusing the recordings with new, depth, richness and detail and removing virtually all hiss without compromising the top frequencies. One scarcely notices that they are mono. The wartime performance must have been recorded for broadcast on metal tape, as there is none of the swish or crackle associated with 78's.

Furtwängler's BPO are here revealed in all their glory, playing like musicians possessed, willing to take risks which result in the occasional blip and blurp but generating enormous excitement and propulsion under Kna's flexible baton. Modern orchestras simply do not play with this kind of intensity and abandon, least of all Sir Simon's current band. Kna's beat may be typically fluent and driven but he never falls into the trap which for me typifies Jochum's Bruckner, whereby overall proceedings sound episodic and fragmented; his grip over the arcing structures of Bruckner's musical conceptions enables a wholly spontaneous-sounding, yet homogeneous, organic unity.

The climaxes and concluding minutes of each movement here in the two symphonies reveal both the composer and the performers at their most thrilling; sometimes the overall impression is one of a holy racket, a kind of transcendent ecstasy of which the likes of some modern conductors can only dream and aspire to. The Ninth sounds even better than the Fourth owing both to its later date and the broad, spacious acoustic of the Titania Palast.

Be aware that Kna stuck to traditional performing editions long after others had adopted new scholarship; thus we hear the 1888 revision of the Fourth published by Gutmann the following year, and the Lowe revision of the Ninth, published in 1903, involving some attenuation of the climax, additional flutes and bassoons and the dreaded concert ending - but the differences between the old, bastardised versions and the new, scholarly ones are sometimes exaggerated; Kna's conviction is such as to negate all objection and Bruckner remains honoured by his advocacy.

Every Bruckner aficionado needs to hear these performances in their new sonic splendour such as Urania provides here.

Ralph Moore

Note
Some sources such as the abruckner.com discography list the Symphony No. 4 broadcast as being on 10 March 1944, but the general consensus seems to indicate that it was as per the date given here.


---
| | |
| --- | --- |
| | |
Donate and keep us afloat
New Releases


<!- cpo end March 2023 --> all cpo reviews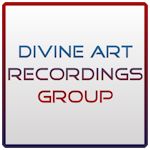 Click to see New Releases
Get 10% off using code musicweb10
All Divine Art reviews
<! apr 12 months Nov 22 - Oct 23 -->