paid for
advertisements

---
100th birthday of Mieczyslaw Weinberg on December 8, 2019.
Renate Eggbrecht has recorded all 3 violin Sonatas
All Troubadisc reviews
FOGHORN Classics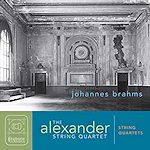 Brahms String Quartets

All Foghorn Reviews


Follow us on Twitter
Editorial Board
MusicWeb International
Founding Editor
Rob Barnett
Editor in Chief
John Quinn
Seen & Heard
Editor Emeritus
Bill Kenny
MusicWeb Webmaster
David Barker
Postmaster
Jonathan Woolf
MusicWeb Founder
Len Mullenger
Discs for review may be sent to:
Jonathan Woolf
76 Lushes Road
Loughton
Essex IG10 3QB
United Kingdom

jonathan_woolf@yahoo.co.uk
---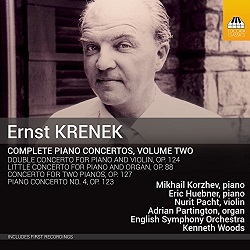 Support us financially by purchasing
this through MusicWeb
for £10.50 postage paid world-wide.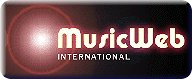 Ernst KRENEK (1900-1991)
Complete Piano Concertos Vol. 2
Piano Concerto No. 4, Op. 123 (1950)* [23:00]
Concerto for Two Pianos, Op. 127 (1951)* [16:00]
Double Concerto for Violin and Piano, Op. 124 (1950) [20:00]
Little Concerto for Piano and Organ, Op. 88 (1940) [10:00]
Mikhail Korzhev (piano)
Eric Huebner (piano)
Nurit Pacht (violin)
Adrian Partington (organ)
English Symphony Orchestra/Kenneth Woods
rec. 5-7 September 2016, Wyastone Concert Hall, Wyastone Leys, Monmouth, UK
*First recording
TOCCATA CLASSICS TOCC0392 [69:00]

Forty years ago, when I first started collecting records, a series such as this would have been almost unthinkable. In that sense, we're living in a golden age of recorded music, where niche repertoire is vigorously promoted by enterprising indies like Toccata. Not long ago I reviewed the latest release in their Ferenc Farkas cycle, just one of many Toccata projects in progress at this time. But I was particularly impressed with Volume 1 of the Krenek concertos, featuring pianist Mikhail Korzhev and the English Symphony under the zealous eye of Kenneth Woods. This conductor was also the driving force behind Avie's complete set of symphonies by Hans Gál (AV2322).

With the exception of the Double and Little Concertos, the works in this Krenek collection have not been recorded before (see Footnote). And, try as I might, I could not find a comparative version of Op. 88 anywhere. As Royal Holloway's Peter Tregear points out in his liner-notes, a decade may separate the earliest and latest pieces here, but all are products of the composer's early years in the USA. His Fourth Piano Concerto was commissioned by a Los Angeles businessman whose daughter was a pianist; she and Krenek premiered the piece in the German city of Cologne in 1951.

It's a bold work, whose energy, sparkle and unpredictability remind me of Prokofiev. Korzhev is very much in command of his keyboard, and the orchestra respond with playing of commendable edge and alacrity. As with Volume 1, engineer Ben Connellan's recording is full and forensic, without fierceness or strange perspectives. There are so many ear-tweaking sonorities here, not to mention flamboyant – but not facile – writing for the soloist in the outer movements. But, as Tregear says, what may have seemed modern to some listeners at the time was probably considered unadventurous by others. Indeed, even with its dark equivocations the often wistful Andante harks back to a world that – quite literally – lay in ruins.

A stimulating opener this, in which all parties confirm their commitment to this moreish music. The ESO are on top form – characterful woodwinds, well-blended brass and a terrific side drum – and that's just what this unfamiliar rep needs if it's to find new converts. And anyone on that road will be further persuaded by Krenek's lovely, utterly embraceable Concerto for Two Pianos, commissioned by his friend and passionate supporter Dimitri Mitropoulos, recently appointed music director of the New York Phil. He, the NYPO and pianists Jack Warren Lowe and Arthur Whittemore gave the first performance, at Carnegie Hall, in October 1953.

Korzhev is joined here by Eric Huebner, recitalist and the New York Phil's pianist since 2012. Both are easeful and effervescent in this concerto, which has a controlled virtuosity that I like very much indeed. The recorded balance is excellent, so the pianos aren't overbearing and the finer details of Krenek's pithy score are never lost. There's a telling economy of means and content here, an angular asperity that Woods and his forces capture so well. As for the ESO's lower brass, they relish the 'raspberry moments' that one associates with the Prokofiev concertos. (For unrivalled 'fruitiness', Michel Béroff's set, with Kurt Masur and the DDR-era Leipzig Gewandhaus, is in a class of its own.)

Still not persuaded? Well then, try the Double Concerto, in which Korzhev teams up with the violinist and pedagogue Nurit Pacht. Krenek seems to have had a knack for attracting the interest of wealthy men with family members who were also performers; this concerto was commissioned by George Avakian, a producer at Columbia Records, whose wife was a violinist and his sister-in-law a pianist. Both premiered the piece at Donaueschingen in October 1951, the great Hans Rosbaud conducting.

Once again, I was bowled over by Krenek's directness, which manifests itself in clear textures and material that never outstays its welcome. Indeed, Krenek also had a knack for leaving his listeners wanting more. And I daresay the concerto's sinewy sound world would have appealed to that first audience, long-used to premieres of new music. I suppose this is the most acerbic piece here, but it's no acid bath; also, Pacht's smooth, ingratiating tone and Korzhev's nicely scaled, intuitive playing make for an almost chamber-like intensity that really suits the character of the piece. A warm, very natural recording, too.

I was especially keen to hear the Little Concerto, written for piano, organ and reduced orchestra. The work was unveiled at Vassar College in May 1940, the composer conducting. In six very short movements – none lasts more than two-and-a-half minutes – this really does have the intimate feel of a chamber concert. Gloucester Cathedral's Director of Music, Adrian Partington, handles the organ part with great sensitivity, the instrument a gentle partner in this delightfully transparent enterprise. Cosseting as it may be, there's animation and point as well, Krenek's love of dance rhythms buried deep in the music's DNA.

As much as I enjoyed the first volume in this series, I have to say the second is even more to my taste. It seems everyone involved 'clicks' with these scores in a way that can only strengthen Woods's – and Toccata's – belief in this composer's attractive oeuvre. Once more, Tregear and Korzhev provide notes from both the music historian's and pianist's point of view; they also find a good balance between biographical detail and musical analysis. That said, I was a little surprised to see Northern [sic] and Southern [sic] Carolina in the text. There, that's how hard I had to look to find anything out of place in this riveting release.

Another indispensable instalment in this important series; kudos to all concerned.

Dan Morgan

Footnote
A reader has pointed out that, contrary to Toccata's notes, the Double Concerto has been recorded before (Koch Schwann 36408).
---
| | |
| --- | --- |
| | |
Donate and keep us afloat
New Releases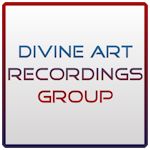 Click to see New Releases
Get 10% off using code musicweb10
All Divine Art reviews
Recordings of the Month
June 2022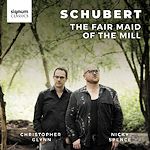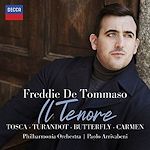 May2022