paid for
advertisements

<!- Forgotten to FEb 2023-->
FOGHORN Classics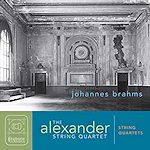 Brahms String Quartets

All Foghorn Reviews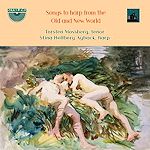 Songs to Harp from
the Old and New World

all Nimbus reviews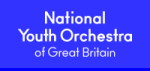 Follow us on Twitter
Editorial Board
MusicWeb International
Founding Editor
Rob Barnett
Editor in Chief
John Quinn
Contributing Editor
Ralph Moore
Webmaster
David Barker
Postmaster
Jonathan Woolf
MusicWeb Founder
Len Mullenger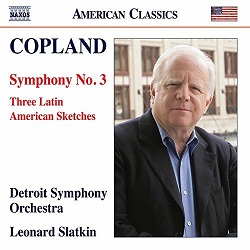 Support us financially by purchasing this from
Aaron COPLAND (1900-1990)
Symphony No. 3 (original version) (1946) [45:09]
Three Latin American Sketches (1971) [10:09]
No. 1 Estribillo [3:17]
No. 2 Paisaje Mexicano [3:23]
No. 3 Danza de Jalisco [3:28]
Detroit Symphony Orchestra/Leonard Slatkin
rec. 23-25 October, 2015 (Symphony), 10-12 October 2013 (Sketches), Orchestra Hall, Max M. and Marjorie S. Fisher Music Center, Detroit, USA
NAXOS AMERICAN CLASSICS 8.559844 [55:18]

Leonard Slatkin is a busy man, what with a Ravel cycle in Lyon – five volumes so far – and a Copland one in Detroit, of which this is the third instalment. In general, I prefer the latter; yes, I was qualified in my praise of Volume 1 –  Rodeo, Dance Panels, El Salón México and Danzón Cubano – but Volume 2, with catalogue-topping performances of Hear Ye! Hear Ye! and Appalachian Spring, is beyond criticism; indeed, it was on my shortlist of the year's best recordings in 2016.

Under Slatkin, the DSO's music director since 2008, the orchestra have recaptured something of their illustrious past, when they were led by the likes of Paul Paray, Antal Doráti and Neeme Järvi. By happy coincidence, the latter recorded Copland's Third Symphony with them in 1995. That's just one of my comparatives, which include: the composer and the LSO (Everest); Leonard Bernstein and the NYPO (CBS-Sony, not the DG remake); Yoel Levi and the Atlanta Symphony (Telarc); Slatkin and the St Louis SO (RCA); and, my wild card, Carlos Kalmar and his Oregon orchestra (Pentatone). As for the Latin American Sketches, I've chosen Copland's own recording, made with the New Philharmonia in 1972 (CBS-Sony).

Slatkin's Detroit performance of the Third Symphony is certainly a strong one, the first movement taut and tense in equal measure. The links to balletic Copland are unmistakable, and the recording – produced and engineered by Soundmirror's Blanton Alspaugh – has plenty of punch. Slatkin's rhythms are razor-sharp and spring-heeled, and he paces and phrases in a way that speaks of long familiarity with – and affection for – this iconic score. And it just gets better, the arc and spark of the second movement especially impressive. As for the DSO – woodwinds, strings, brass and the all-important percussion – they acquit themselves very well indeed.

Most important, the sheer chutzpah of this performance is audible in every bar. The third movement, in which we hear the Fanfare for the Common Man, has a sustained loveliness at the start that's most affecting; and when the jaunty, loose-limbed Copland strides forth, he does so with supreme confidence. But it's the inwardness here – with its echoes of Appalachian Spring – that makes the deepest impression. As for the fanfare, originally a stand-alone piece composed in 1942, it's a sonic treat; this is where Alspaugh's splendid recording really makes a difference. The indomitable spirit of the finale, recapping the fanfare, is exhilarating, the playing intense and unstoppable. And in case you were wondering, the bass drum and cymbals are seriously seat-pinning at the close.

That ending brings us neatly to the USP of this recording: it restores the unauthorised cuts that Bernstein made in 1947. Copland was persuaded to accept these amendments, which then appeared in the published score. That all changed in June 2015, when Boosey published the original score. The now 'elongated coda', as Slatkin describes it in his conductor's note, is most welcome. Admittedly, the changes are fairly minor, but they really do affect the shape and character of the finale. I daresay Copland fans will be delighted to hear the symphony as the composer intended it, and that the 'Bernstein version' will now fall into abeyance.

Alternative endings weren't an option in 1990, when Slatkin and the St Louis Symphony recorded the piece. That apart, how does it compare in terms of performance and sound? First off, the earlier account majors in nobility and refinement, which some may prefer to the raw energy of the newer one. The St Louis players just aren't as inspired as their rivals in Detroit. Indeed, their performance now seems too soft-edged, an impression that's reinforced by a distant, rather diffuse recording. In short, Slatkin had the letter of the score then; now he's found its spirit.

There's nothing reticent about the Levi/Atlanta performance or recording, as the symphony's bold opening so amply demonstrates. I'd say his broader, somewhat measured approach puts this version somewhere between the two Slatkins. Most damning, perhaps, is the fact that Levi seldom generates the kind of charge that so galvanises Slatkin and his Detroiters. Even Telarc's recording must yield to the Naxos one in terms of sonic reach and slam, especially where the bass drum and percussion are concerned. That, coupled with a frankly average reading, rules this one out for me.

Average is not a word one associates with Bernstein, and his yearning, vibrant account of this symphony, recorded with the NYPO in 1966, is proof of that. His trademark volatility is evident from the very start, and one senses a deep kinship with both the score and its avowed sentiments. True, he underlines and tweaks the music to suit his dramatic purpose – he even makes parts of the second movement sound unnervingly like Shostakovich – but there's an implacable 'rightness' to his reading that's as compelling now as it was then. Also, the sound is extremely vivid and there's no sign of coarseness anywhere. Throw in a feisty performance of the Symphony for Organ, with the venerable E. Power Biggs, and you have a true classic.

Talking about classics, Everest's audiophile recordings from the late 1950s and early 1960s certainly qualify. Copland's LSO account of the Third Symphony, recorded for them in 1958, has gone through a number of incarnations, not all of which appear to have preserved the fidelity of the original. According to Ian Lace, the latest version is a good one, and he warmly welcomed the return of this landmark performance. Even though I listened to an earlier transfer, I would have to agree. Simple expression is the key phrase here, and the LSO sound as supple and idiomatic as any of their rivals on record.

I only came to this recording very recently, and I'm simply astounded by both the performance and the sound. I like Copland's plainness – the antithesis of Lenny's heart-on-sleeve approach – and there's a quiet consistency here that's simply unique. True, there's some highlighting here and there, but the upside is that colours and textures are laid bare in a way that subsequent recordings can only dream about. Also, there's plenty of depth and space to the audio image, and that's a substantial bonus. But it's the sheer breadth and sincerity of this reading that makes it so special. Very different from the Bernstein, but just as indispensable.

And what about Järvi, recorded 37 years later? His is a robust, very persuasive performance and the DSO are in good shape. There's power here, but it's properly harnessed, which confirms that both the conductor and his recording team have got their priorities right. I'd half expected Järvi's performance and recording to pale next to Slatkin's latest, but hearing it in this context has convinced me otherwise. The second is electric movement – Shostakovich again – and the fanfare in the third is mighty indeed. Factor in a most desirable coupling, Roy Harris's Symphony No. 3, and Järvi joins Copland and Bernstein at the head of the field.

Before I discuss Slatkin's pairing – the Three Latin American Sketches – a few words about my wild card, the Kalmar/Oregon Third. Part of a themed programme, Spirit of the American Range, this release has received generally positive reviews on these pages. But how does it stack up in the present company? As a performance it's really rather good, and as a recording it's well up to the standards of the house. Kalmar is closer to Bernstein in terms of thrust and attack, but he doesn't build tension quite so convincingly. Not surprisingly, given the recording's provenance, the showpiece moments – the fanfare in particular – are spectacular.

There's much to admire in Kalmar's performance – what tremendous energy there is in the second movement, the bass drum as powerfully punctuating as any – but when heard alongside Bernstein, Slatkin and Järvi it doesn't leap off the page in quite the same way. That said, it's one of the better Copland Thirds, and the couplings – George Antheil's Jazz Symphony and Walter Piston's Incredible Flutist suite – make for a most rewarding programme. I plan to review the NativeDSD download in more detail soon, probably in one of Brian Wilson's regular roundups.

Copland's love of Latin rhythms is epitomised by works such as El Salón México and the Danzón Cubano. These three Sketches, composed in 1971, are no exception. Indeed, they contain clear echoes of those early pieces. Slatkin and the DSO may not be as fired up here as they are in the symphony, recorded two years later. but then these are sparer, more intimate pieces. Still, the playing is good and the restrained mood of the central Paisaje Mexicano is well caught. Things warm up a little in the Danza de Jalisco, but even then I was mildly disappointed by the performance as a whole.

Copland and the New Philharmonia, sounding very colourful in the outer sections, are to be preferred here, although the differences really aren't that great. Not the composer at his most flamboyant, perhaps, but worth hearing nonetheless. The companion pieces – Our Town, The Red Pony suite, El Salón México and the Danzón Cubano – are all excellent, though; and while the 1970s sound is a tad bright at times, it's not at all fatiguing.

The joys – and sorrows – of a comparative review are what makes them so much fun to write. In the process of these (re)-evaluations, two early hopefuls – Levi and Slatkin Mark 1 – must now be considered also-rans. However, the odds on Järvi have improved significantly, and the joint winners – Bernstein and Copland – have now been confirmed. At the outset, I was sure Slatkin Mark 2 would be among the frontrunners, and so it proves. Indeed, while some conductors grow dull with age, Slatkin just gets sharper; and that's why more Copland from this source is such a pleasing prospect.

A heady, hyper-bold account of Copland's original score, superbly recorded; go for it.

Dan Morgan

Postscript: at the time of writing – May 2017 – Bernstein's DG recording of Copland's Third Symphony only seems to be available as part of multi-volume sets, such as the one reviewed by Rob Barnett in 2004. In the UK at least, the single CD can be found online, but only at absurdly inflated prices. Resourceful downloaders might be luckier, though.
---
| | |
| --- | --- |
| | |
Donate and keep us afloat
New Releases


<!- cpo end March 2023 --> all cpo reviews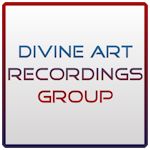 Click to see New Releases
Get 10% off using code musicweb10
All Divine Art reviews
<! apr 12 months Nov 22 - Oct 23 -->