paid for
advertisements

---
100th birthday of Mieczyslaw Weinberg on December 8, 2019.
Renate Eggbrecht has recorded all 3 violin Sonatas
All Troubadisc reviews
FOGHORN Classics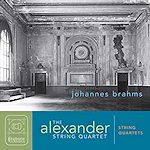 Brahms String Quartets

All Foghorn Reviews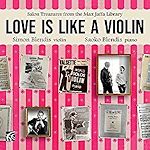 Salon Treasures from the Max Jaffa Library


Follow us on Twitter
Editorial Board
MusicWeb International
Founding Editor
Rob Barnett
Editor in Chief
John Quinn
Contributing Editor
Ralph Moore
Seen & Heard
Editor Emeritus
Bill Kenny
MusicWeb Webmaster
David Barker
Postmaster
Jonathan Woolf
MusicWeb Founder
Len Mullenger
Discs for review may be sent to:
Jonathan Woolf
76 Lushes Road
Loughton
Essex IG10 3QB
United Kingdom

jonathan_woolf@yahoo.co.uk
---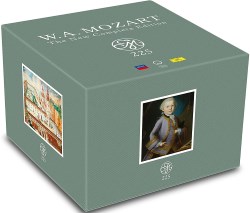 Support us financially by purchasing this from
Mozart 225
Part 1 - Why you might want it and what you get
by Michael Greenhalgh

So I took the plunge: I entered Blackwell's Music Shop in Oxford and for £299 purchased Mozart 225: the New Complete Edition produced for the 225th anniversary of Mozart's death, a collaboration between Decca, Deutsche Grammophon and the Salzburg Mozarteum Foundation (catalogue no. 4830000). I shall never again spend so much on a single purchase of CDs, but if I apply myself with reasonable diligence to listening to them I shall not only gain pleasure and enlightenment, I shall be getting good value for money. If I, eventually, listen to all 200 CDs they will have cost me £1.50 per CD. If I only listen to half of them, effectively this is only costing me £3 per CD and so on … Might you similarly be tempted? This assumes you mostly love the music of Mozart you know, are keen to listen to more and have enjoyed some features of unfamiliar works that aren't frequently performed. If you already have a fair collection of Mozart recordings you might be concerned about duplication. By this I mean Mozart 225 contains CDs you already own, not different interpretations of the same work, because different approaches are likely to shed fresh light on it. To give you more food for thought the contents section of the Mozart 225 website gives a complete list of contents and performers of the CDs and is its most useful feature. Browsing this was the major factor in my decision to purchase.

The Mozart 225 box measures 28cm square by 19cm deep and is moderately heavy. It's almost as big as my subwoofer. Where can I put it? The contents of the box form a coherent package and are best kept together. My solution for now is to put it on the medium size table of a nest of tables. Now comes the fun moment. I find two finger holes on the left and right hand sides for easy removal of the lid. Inside, the first item is a plush, protective paper envelope. I open it and a grey card has my unique number of the limited edition of 15,000 copies, my code to access on the internet sung texts and translations and links to other useful websites. Next there are 5 white cards of material you may wish to frame and display. First, a letter from Mozart to his father in 1783, with English translation on the back of the card, which includes a reference to being amazed by his Haffner symphony having 'forgotten every single note of it'. Second, the autograph manuscript of 1787 of the beginning of K520, the song Als Luise die Briefe with an enlargement of part of it on the back of the card, a procedure repeated in the third card, showing the conclusion of the same piece. These are firmly and fluently written and, even when a phrase is crossed out, the alteration is clear. You can see how speedily and efficiently Mozart was able to transfer his ideas to paper. Card 4 is the autograph, also from 1787, of K228, a canon for 4 voices written for Gottfried von Jacquin and has the interest for an English audience of an inscription in English before Mozart's signature, 'don't never forget your true and faithfull friend', the incorrect 'don't' in slightly larger writing and seeming to have been added as an afterthought. The final card is for me the most poignant. It's Doris Stock's drawing of 1789, the last portrait of Mozart. This silverprint drawing emphasises the greying and thinning of the hair. There's some darkness, a suggestion of tiredness, below the eyes. Yet there's still something of youth: enthusiasm in the face and the glint of a smile behind those large, penetrating eyes.

Next comes the first of two large hardback books, 26cm square. Like that first envelope, Volume 1's 145 pages is very much the province of the Salzburg Mozarteum Foundation, being a new, lavishly illustrated biography of Mozart by Cliff Eisen, the foremost world authority in this field. But before this gets underway there's an Introduction to M225 by Paul Moseley, boss of the project. And, after the biography, there's an index of performers on the CDs. This latter would have been better placed at the end of Volume 2, the second book of 167 pages, entitled 'The Music', considered CD by CD.

The Introduction defends the need for Mozart 225 and affirms 6 key characteristics. The defence boils down to 'it's time for a fresh look', having been 25 years since the pioneering Philips Complete Mozart Edition. This is a fair point, given that recording quality has on the whole improved and established artists have developed further in this period. We are informed 'more than two-thirds of the selected recordings are different' from the Philips edition, which also means around 30 per cent of the Philips recordings are retained. Does this mean these are simply the best, or perhaps the only, recordings of certain works? The freshness of the look is starting to look tarnished at the edges. At least this Introduction wisely avoids the term 'state-of-the-art recordings' used in the flyer folded over the box just beneath its polythene wrapper. My dictionary definition of 'state-of-the-art' is 'using the newest ideas and most up-to-date features' and, to be fair, this does apply to much of Mozart 225. But can it apply to recordings more than, say, 10 years old.? Should it apply to artists no longer performing? To take a sub genre example, if you ask me what are the state-of-the-art interpretations of Mozart's piano sonatas today I would say Christian Blackshaw on piano (Wigmore Hall Live) and Kristian Bezuidenhout on fortepiano (Harmonia Mundi). That these are not Decca or DG recordings wouldn't disqualify them because, as the Introduction points out, ASV and another 12 labels have also been included in Mozart 225. But there's no Blackshaw or Bezuidenhout here. Actual coverage of the 18 piano sonatas is 9 played by Mitsuko Uchida (recorded 1984-87) from the Philips edition, 5 played by Alfred Brendel (1999-2002), 2 by Maria João Pires (1990) and 1 each by Alicia de Larrocha (1977) and Francisco Piemontesi (2015). This final one is unquestionably a state-of-the-art recording: the first recording of K331, the sonata which ends with the famous 'Rondo alla turca' from the autograph manuscript version, only discovered in 2014. But otherwise the Philips edition seems over prominent, particularly given that Pires, like Uchida, recorded all the sonatas.

Now for those 6 key characteristics of Mozart 225. Number 1 is completeness. This collection is more complete than ever before, owing to a redefinition of completeness. Should this include works which Mozart didn't complete? Here is 'all work realistically performable, significant fragments and sketches'. Of course these are of interest, but if Mozart didn't, for whatever reason, approve them for release to the public, is it right that we should scrutinize them? I'm happier about the inclusion of unfinished works by Mozart completed by others, because others' completion is fair game for scrutiny. For the same reason I'm happy about including Mozart's arrangements of others' works, notably Handel's Messiah. This arrangement says much about Mozart's respect for Handel but more about Mozart's preferences in orchestration. The final category in adding to completeness, Mozart's arrangements of his own work, isn't a matter of controversy at all but of enrichment. Just enjoy the Harmoniemusik from Die Entführung aus dem Serail, K384, for wind band, even if those cautious scholars warn this mightn't have been made by Mozart.

Characteristic Number 2 is scholarship. Up-to-dateness is again significant here and then resultant action. An example already cited is the first recording of Piano Sonata K331 in the version recently discovered. Another is Mozart's contribution to a work written with Salieri and the unknown 'Cornetti', the song/cantata Quell' agneletto candido, K477a found in 2015, another premiere recording. Keeping up-to-date also applies to works previously considered Mozart's and now thought doubtful. As this can still be a contentious issue such works are usually retained but put into a kind of attic away from the main sequence: they take up the final 7 CDs of the collection.

Characteristic Number 3 is layout. Mozart's work is divided into 4 main genre cubes according to the function of the music. This is normal for any documentation of complete works. But genre cubes combine this with a manageable way of organizing 200 CDs for access, especially as there's a lifting tab at the side of the cube booklet at the bottom edge of every cube which allows you easily to lift the booklet out and thereby give you enough room to sift through the CDs themselves housed in individual cards. Cube 1, CDs 1-49, is chamber music which includes solo instrumental, so music for small gatherings. Cube 2, CDs 50-101, is orchestral music, for larger gatherings. Cube 3, CDs 102-152, is music for the theatre. Cube 4, CDs 153-200, is termed music for ritual or private use, but is really just 'other music' as oratorio, church, Masonic music on the one hand and songs and canons on the other are very much a shotgun wedding. Within these cubes works are presented chronologically in sub genres. The chamber music cube is presented by number of performers: solo works first, then duets, trios, quartets, quintets etc. The orchestral cube has symphonies first, then serenades, divertimenti and cassations, dances and finally concertos.

Characteristic Number 4 is performance styles, by which is meant a pluralist approach featuring both period and modern instruments in the main sequence and offering supplementary performances of key works on 30 further CDs. This acknowledges a discernible influence in recent years of historically informed performance on mainstream performance, not least on artists themselves. Two conductors, Claudio Abbado and Charles Mackerras, are noted in this respect, 'combining style and textual awareness with interpretative wisdom and technical excellence'. Abbado is found on 17 CDs, Mackerras on 10. But the conductor most featured is Christopher Hogwood, once dubbed the Herbert von Karajan of early music, with 31 CDs. The Introduction rightly wonders why the Philips edition as late as 1991 had negligible coverage of period instruments. Mozart 225 has redressed this imbalance, albeit somewhat unevenly. For instance, period instrument performances are in the majority in the symphonies and concertos but in the minority for chamber music. Other conductors strongly featured further illustrate a pluralist approach: Neville Marriner is found on 18 CDs from the Philips edition, also from which, on 17 CDs, is Leopold Hager who recorded all the early operas; yet on period instruments come John Eliot Gardiner with 16 CDs and Trevor Pinnock with 10, but there are also 10 CDs from Herbert Kegel from the Philips edition on modern instruments.

Characteristic Number 5, range of recorded interpretations, is another dimension of pluralism. Firstly, having one performer cover an entire sub genre is avoided, as for example happened in the Philips edition with Mitsuko Uchida playing all the piano sonatas, in favour of 'the maximum variety of performers in relatively close juxtaposition'. My survey of the main sequence of piano sonatas earlier demonstrates this is an overstatement. Uchida still plays 9 sonatas out of 18 and there are only 4 other pianists featured. More variety is present owing to the inclusion of further sequences of 'supplementary performances': first on period instruments, sonata K545 played on Mozart's fortepiano by Andrá​​s Schiff in 1991; then on modern instruments, termed 'classic performances', 2 sonatas played by Friedrich Gulda (recorded 1982 and 1989) and one sonata from Wilhelm Kempff (1962), Grigory Sokolov (live 2008) and Vladimir Ashkenazy (1968). But 'maximum variety' using currently available Decca and DG recordings could have been achieved by reducing the number of recordings by Uchida and Brendel to 4 each and replacing these with recordings by Clara Haskil (K280), Vladimir Horowitz (K281), Sviatoslav Richter (K282), Claudio Arrau (K283), Emil Gilels (K310) and Mikhail Pletnev (K330). Another sequence of supplementary performances in chamber music, though there are no recordings here of piano sonatas, is 'historic performances', for example Clifford Curzon and Members of the Amadeus Quartet's 1952 recording of the Piano quartet K478. Does this need to be separated from 'classic performances' other than being a warning of mono recordings? That they are mono isn't stated, neither anywhere is a distinction made in stereo recordings between digital and analogue ones. What is good is that there are cross references in the cube CD booklets from the main sequence listing to the supplementary performances.

The final characteristic, Number 6, is ease of navigation where I find things a shade cack-handed. Your entry to Mozart 225 is via an envelope of primary sources from the International Salzburg Mozarteum Foundation. But if your appetite is then whetted to know more about this key partner in the venture, who provided many of the illustrations, that information is tucked away on pages 148-9 of Volume 2, between the notes on the main and supplementary sequences of CDs. It would have been better placed after the Introduction of Volume 1 before Cliff Eisen's biography. In both Volumes there's a fondness for tossing topics of general application amid more specific material. In Volume 1, between the first section of the biography, 'Mozart on the Road, 1762-1773', and the second section, 'Salzburg 1773-1780', comes a potted history of Mozart's musical correspondence. Later, before the biography's final section, 'Mozart in Vienna, 1781-1791', we're given an illustrated tour of Mozart's portraits. Both these general topics would also be better placed before the biography. In Volume 2, after the notes on the chamber music cube, comes a résumé of sources for Mozart's life and works. After the orchestral music cube notes there's an account of performance conventions in Mozart's time. After the theatre music cube notes comes an illustrated tour of Mozart's original instruments, albeit no reference to CDs 40-41 where they can be heard. These articles would be better placed at the beginning of this volume after its opening piece on Kö​​chel and the Kö​chel Catalogue. The final piece in Volume 2, Nicholas Kenyon on the history of performing Mozart, should probably be placed there too, though it does also make a pleasing postscript.

The Introduction to Volume 1's policy matters affect the structure and use of Mozart 225 but the bulk of the volume is Cliff Eisen's biography of Mozart which deserves more attention than I can give in this overview. Suffice to say that the text is scholarly yet accessible. It's based mainly on the Mozart family letters and contemporaneous documents, liberally quoted, which gives immediacy to the surrounding description. Compositions are noted as they appear but there's also commentary throughout on Mozart's musical development, so the 'biography' provides an overview of this as well. You can of course also dip into the 3 sections I noted earlier in accordance with your listening and will then find signposts to and encouragement to compare other works. I like the way Eisen shows the development of romantic myths about Mozart's crisis time in his final year and scotches these with more positive evidence. Musically he argues that Mozart wasn 't becoming more cold and withdrawn then but developing a new aesthetic outlook.

The bulk of Volume 2, 'The Music', is a vast array in two columns of notes to the CDs. At the beginning of every broad music genre there are brief introductions in single column to that genre, festooned with illustrations from Mozart's time. These introductions are by Cliff Eisen and, as in the biography but with more specificity of comparison, stimulatingly focus on Mozart's musical development, for example how the symphony and concerto forms were transformed during his lifetime. Together with the notes on specific works by 31 contributors which detail their distinctive characteristics yet also relate them to other works you have a powerful educational package.

Beneath Volume 2 is housed 'The K book' which lists in numerical order the complete works by Mozart by their 626 Köchel ​numbers, the standard reference to them, as in the forthcoming new edition of these. 'The K book' is a smaller sized publication than the others, measuring 16cm high by 21cm wide, so it's housed in a cardboard case with a finger hole to extract it. Arrangement in columns accounts for it being wider than it is high. In the far left column is the Köchel ​number, in the next column the number of the CD (or, if appropriate, CDs) on which that work is found, in the next column the title of the work, in the next the date and place of composition, sometimes as modified by the latest research, and in the final column a reference to its series, volume and part number in the Neue Mozart-Ausgabe, the definitive collected edition of Mozart scores. Most of these are accessible through the NMA Online. 'The K book' is printed on thinner but still good quality paper than the other items for ease of flicking through. There are sometimes Kö​chel numbers but no CD numbers: this is because the K numbers were formerly assigned to works which are lost or now considered not by Mozart. There are also additional entries at the end for fragments and sketches. So if you happen to have remembered the Kö​chel number of favourite works, like K550 for Symphony 40, you can quickly discover that this is on CDs 60, 61 and 92.

Beneath 'The K book' is a sheet of protective paper with the image of a watermark used by the Mozarts while in England in 1764-65. Lift this and you have reached the CDs in their 4 cubes. And I will reach them, specifically surveying the coverage of Mozart's symphonies, in Part 2 next month.


---
| | |
| --- | --- |
| | |
Donate and keep us afloat
New Releases
<!- Bridge end Sept 2022 -->


<!- cpo end Sept 2022 --> all cpo reviews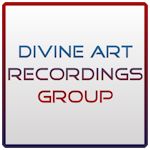 Click to see New Releases
Get 10% off using code musicweb10
All Divine Art reviews
Recordings of the Month
July 2022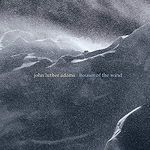 John Luther Adams
Houses of the Wind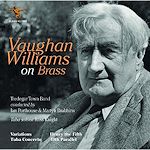 June 2022