paid for
advertisements

<!- Forgotten to FEb 2023-->
FOGHORN Classics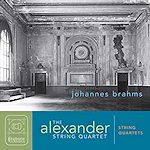 Brahms String Quartets

All Foghorn Reviews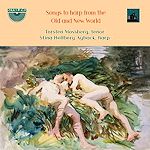 Songs to Harp from
the Old and New World

all Nimbus reviews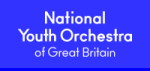 Follow us on Twitter
Editorial Board
MusicWeb International
Founding Editor
Rob Barnett
Editor in Chief
John Quinn
Contributing Editor
Ralph Moore
Webmaster
David Barker
Postmaster
Jonathan Woolf
MusicWeb Founder
Len Mullenger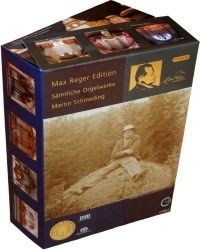 Support us financially by purchasing this from

Max REGER (1873-1916)
Complete Organ Works
Martin Schmeding (organ)
rec. 2014-2016
CYBELE RECORDS 051500 [17 SACDs: 19 hrs 24 min]

Back in April 2015 we had a taster of this edition of Max Reger's complete organ works in the first three volumes which arrived as loose card CD slipcases. The review of these includes a mild chastisement from Ingo Schmidt-Lucas of Cybele Records on my remarks about the signal test for binaural sound at the start of each disc. These separate discs can now join the rest of the collection in a complete and very chunky 17 SACD box set, which I feel privileged to be allowed to review given its chunky price. The box and book with the complete set are genuine luxury items, the glossy and nicely illustrated box reminding one of the executive version of some exclusive card game, and the 160+ pages of the booklet stuffed with text in German and English on all the pieces, the organs used and their dispositions, plenty of photos and relevant information right down to the recording techniques used. If you have been collecting the discs separately then you can send in the cover cards of vols. 9-17 and Cybele will send the box and book free of charge.

Played on 13 different organs from Reger's time, Martin Schmeding's performances can be heard on these hybrid discs through normal stereo, 5.0/1 channel surround sound and 3D binaural stereo intended for headphones. I'm normally listening on headphones anyway just to spare the family and general surroundings of my procession of weird and wonderful CDs, so the binaural effect is quite an attraction. I am aware that the different microphone set-up for each layer will result in different perspectives, though in these recordings switching between standard stereo and binaural doesn't change things vastly on a superficial level. Taking the wide contrasts of the Phantasie für Orgel über den Choral 'Freu' dich sehr, o meine Seele!' op. 30 on volume 4 as a test it is intriguing to hear the change from standard stereo – the expected 'concert' experience with the instrument spread in front of you, to the binaural effect in which the acoustic experience seems to wrap around to the back of your head as well. You really can close your eyes and imagine yourself in the church, though picking a correct volume is quite critical for true realism. The little voice test at the top of each disc helps with this.

The choice of instruments used points towards the synergy between organist and composer in this project to which Martin Schmeding allocated over two years, but also drew on a lifetime's experience with the Sauer and Walcker organs which met and still meet Reger's high demands – indeed, it was these very instruments that led to his works becoming that much more "difficult and complicated" in that he was determined to exploit their possibilities to the full. "My organ stuff is difficult, requiring a player with a sovereign and spirited command of technique. I am often reproached for writing so hard on purpose; by way of reply I can only retort that there is never a note too many." The performances make use of the newest Carus Verlag editions of the scores.

Martin Schmeding's performances all sound terrific, and while I'm inclined to take his powerful and sensitive interpretations on trust there are of course comparisons to be made. Naxos has its own complete Reger organ edition and, having the score to the Suites to hand I had a listen to Kirsten Sturm on volume 12 (8.572821). Sturm is recorded on the Sandtner Organ, St Martin's Cathedral, Rottenburg am Neckar, which wins in terms of clarity over the E.F. Walcker-Orgel at St. Annen Annaberg, Buchholz. This in turn wins in terms of sheer majesty of sound, with the opening and those spread chords in the Introduktion of the Suite in E minor Op. 16 having a tremendous effect. Timings are not a real issue, with both players working within their respective acoustic to good effect. Colour with the Walcker organ is also crucial, the contrast in the reedy upper voice for the Adagio assai introducing its own bit of spice, atmosphere more of a character trait than with Sturm on Naxos, which I would probably chose sooner for study purposes with its admirable clarity. The final Passacaglia of this work has always been a favourite, and Schmeding paces everything perfectly, delivering remarkable virtuosity without losing that essential musical line and creating jaw-dropping climaxes. Kirsten Sturm on Naxos has her very excellent qualities and there is more detail in the recording, but for sheer musical impact I'm drawn back to Schmeding every time.

With the Suite in G minor Op.92 we move to the Walcker organ in Essen-Werden which is milder in character when compared to the Buchholz instrument. This suits the detailed counterpoint in this second suite, and while there is a still bags of atmosphere there is no problem following Reger's remarkable extended lines that run like an ancient Ivy through monumental stonework. If you need convincing about Reger have a listen to the Basso ostinato movement in this suite. The sheer range and audacity of the harmonies over the repeating four notes in the bass have a stunning effect. Returning to that Naxos disc and Kirsten Sturm is a trifle slower here, almost but not quite running the risk of turning the movement into something more funereal than it deserves.

Turning to the Sonata in F sharp minor Op. 33 on volume 14 of this set takes us to the Wilhelm-Sauer organ in the Dom in Berlin. Comparison for this is volume 13 of the Naxos set (8.572906) with Christian Barthen on the 1911 Steinmeyer Organ in Mannheim. Both of these are very good performances on magnificent instruments, the grand scale of which always pose tricky recording problems. The darker colour of the organ with the opening of this sonata on the Cybele version had me worrying about fogginess, but you soon realise this is the character of the instrument as well as the thickness of Reger's writing. Schmeding once again brings out the expressive inner life of this work with skilled subtlety. Little pointers to this can be found in the central Intermezzo, with its song-like line over gently evolving harmonies and counterpoint below. There are expressive octave leaps in the melody in the third to fourth bar which Schmeding allows just a fraction of extra room, just a smidgen of articulation pointing out how a singer might deliver such a line without swooping, and giving it just the right amount of expressive weight – almost invisible, but intuitively highly effective. Barthen on Naxos is good as well, but does less – a little bit more Hindemith to Schmeding's Brahms – remembering that Reger is firmly rooted in the Romantic tradition and less close to Bach as one often imagines. Here again the work is concluded with a magnificent Passacaglia in which Martin Schmeding creates a towering architecture, pacing the music just enough more of the marked con moto than with Barthen, who adds just under a minute to the overall timing.

Looking for some more transparent organ writing I landed on the Sechs Trios für Orgel op. 47 on volume 9 recorded on the Wilhelm Sauer organ at the Michaelskirche in Leipzig. This has no doubt been chosen for its more intimate sound, and the closer acoustic suits this music very well, Schmeding enjoying the sprightly rhythmic character of many of the movements as well as the easy melodic nature of those such as the Siciliano, paced at a non-lingering Andantino. This brought back memories of Martin Welzel's Naxos recording which I reviewed back in 2006: volume 6 (8.557338) recorded on the grander Klais Organ in Trier Cathedral. Despite the vast acoustic Welzel still manages to sound playful, even if the more delicate of the faster notes inevitably tend to be washed away – he could even have afforded to be a bit more relaxed with some of the tempi, as he often undercuts Schmeding. I'm less keen on the wobbly vox humana stop Welzel uses for the Siciliano. Having rediscovered this disc I had to go back and compare the impressive Phantasie für Orgel über den Choral 'Alle Menschen müssen sterben' op. 52 Nr. 1 which has even more drama and dynamic contrast with Schmeding on the Ladegast-Sauer-Eule organ in St Nikolai in Leipzig.

Even more remarkable is the Variationen und Fuge über ein Originalthema in fis-Moll für Orgel op. 73, one of Reger's crowning tonality-stretching achievements in organ music and appropriately left as the final work of the 16 volumes of music in this Cybele set. Schmeding manages to shave nearly four minutes off Welzel's timing who in turn is no slouch in those complex variations, for each of which the Cybele disc usefully gives separate track numbers. The richness of the Leipzig instrument is less troubled by the huge acoustic on that Naxos album which has its biggest effect on complex variations such as 16 and 17 which turn a bit muddy, though the sweeter tones in Trier Cathedral have their own attraction in gentler passages.

Reger's works are not only grand and monumental, and with regard to his 'music for everyday use' I was reminded on reaching the Dreißig kleine Choralvorspiele zu den gebräuchlichsten Chorälen für Orgel op. 135a of another SACD Reger recording – that of Christoph Schoener on the MDG label (review). Schoener plays on sweeter sounding Klais and Steinmeyer organs built much more recently than the 1874 Sauer organ in Doberlug, and tends to take a swifter view of the music than Martin Schmeding's more stately readings. With the differences in the instruments such comparisons are chalk and cheese, so personal taste takes over as to which you will prefer, bearing in mind that the sound on the Cybele recording seeks to approach that for which Reger would have been composing. This 13th volume of the set is one in which there are three change of venues between the Choral Preludes and the rest of the programme, but the acoustics and tuning in each church are very well matched indeed.

I've had a further listen around to parts of some other Reger editions. Gerhard Weinberger is good on the CPO label, but I find neither his playing or the recordings as engaging as Schmeding's on Cybele. Weinberger's J.S. Bach set (review) proved less than satisfying over time for similar reasons as with Reger: his rhythmic progress has a certain undulating, mildly distorting effect which to my ears disturbs the logic in the music, a little like a novel in which there are too many words in some of the sentences. The Naxos set is good, but with numerous different players is inevitably a bit of a mixed bag. Oehms Classics has a complete edition with Bernhard Buttmann which does use an admirable variety of instruments and is well performed but looks to be expensive on CD and is probably best approached via the download route. I can't say I was wildly excited by this set but listening over streaming audio online is no comparison with having SACDs to hand. None of the versions I heard were definitively preferable to Martin Schmeding, though if you already own one or other set you'll have to look deep into your soul and that of your partner to see if another hefty collection is a viable option.

The final discussion disc from Cybele is another sonic treat, though 50 minutes of beautifully recorded and spoken German is more hypnotic than educational for non-speakers. Going through every work in a review such as this would take far too long, but rediscovering all of this magnificent music has reminded me why Max Reger retains such a fascination. Mention his name even to well-educated musicians and they will be inclined to stifle a yawn, but the tensions between the grand traditions of J.S. Bach's Baroque counterpoint and the forward-looking colourful harmonic and rhetorical world of Romanticism creates its own power, and as ever with good music the closer you look at it the more fascinating it becomes. If you can read music I would recommend buying a full set of scores to go with this box, as the mind-boggling virtuosity of both performance and composition become all the more apparent when you can follow the notated lines at work.

With Martin Schmeding's excellent performances and the Super Audio quality in Cybele's recordings one can look into these pieces very closely indeed. Enjoyable at every level, this is a set which creates vertiginous delight on its arrival, and will be one to cherish for a lifetime.

Dominy Clements

Contents
Vol. 1 [81:30]
Fantasy and Fugue on BACH, Op 46 (1900) [21:03]
Introduction and Passacaglia in D minor, WoO IV / 6 (1899) [9:29]
Symphonic Fantasia and Fugue, Op 57 (1901) [25:23]
Second Sonata in D minor, Op 60 (1901) [25:35]

Vol. 2 [62:35]
Introduction, Passacaglia and Fugue in E minor, Op 127 (1913) [30:18]
Nine Pieces, Op 129 (1913) [32:16]

Vol. 3 [71:03]
Fantasy and Fugue in D minor, Op 135b (1915/1916) [16:59]
Seven Pieces, Op 145 (1915/1916) [54:03]

Vol. 4 [66:39]
Phantasie für Orgel über den Choral 'Ein' feste Burg ist unser Gott' op. 27 (1898) [14:49]
Phantasie für Orgel über den Choral 'Freu' dich sehr, o meine Seele!' op. 30 (1898) [18:57]
Phantasie für Orgel über den Choral 'Wie schön leucht't uns der Morgenstern' op. 40 Nr. 1 (1899) [18:42]
Phantasie für Orgel über den Choral 'Straf mich nicht in deinem Zorn!' op. 40 Nr. 2 (1899) [14:09]

Vol. 5 [68:47]
Kompositionen für Orgel (13 Choralvorspiele) op. 79b (1901-1904) [20:55]
Zwölf Stücke für Orgel op. 59, Heft 1 und 2 (1901) [48:10]

Vol. 6 [79:31]
Drei Stücke für Orgel op. 7 (1892) [27:01]
Präludium und Fuge fis-Moll op. 82 Bd. IV Nr. 1 u. 2 (1912) [5:39]
Suite in e-Moll op. 16 ('Den Manen Johann Sebastian Bachs') (1895) [46:49]

Vol. 7 [68:51]
Zweiundfünfzig leicht ausführbare Vorspiele zu den gebräuchlichsten evangelischen Chorälen für Orgel op. 67, Heft 1 (1901-1902) [36:47]
Vier Präludien und Fugen op. 85 (1904) [29:40]
Postludium d-Moll WoO IV/12 (1904) [2:22]

Vol. 8 [73:49]
Zweiundfünfzig leicht ausführbare Vorspiele zu den gebräuchlichsten evangelischen Chorälen für Orgel op. 67, Heft 3 (1901-1902) [36:54]
Suite g-Moll für Orgel op. 92 (1905-1906) [28:48]
Variationen und Fuge über 'Heil, unserm König Heil!' für Orgel WoO IV/7 (1901) [8:06]

Vol. 9 [63:41]
Sechs Trios für Orgel op. 47 (1900) [17:56]
Zwölf Stücke für Orgel op. 80, Heft 1 (1902/1904) [24:09]
Zwölf Stücke für Orgel op. 80, Heft 2 (1904) [21:35]

Vol. 10 [79:23]
Zweiundfünfzig leicht ausführbare Vorspiele zu den gebräuchlichsten evangelischen Chorälen für Orgel op. 67, Heft 2 (1900-1902) [38:46]
Fünf leicht ausführbare Präludien und Fugen für Orgel op. 56 (1903) [40:35]

Vol. 11 [64:36]
Zwölf Stücke für Orgel op. 65, Heft 1 (1902) [33:46]
Zwölf Stücke für Orgel op. 65, Heft 2 (1902) [30:48]

Vol. 12 [65:31]
Zehn Stücke für Orgel op. 69, Heft 1 (1902-1903) [18:37]
Zehn Stücke für Orgel op. 69, Heft 2 (1902-1903) [21:06]
Sechs Choralvorspiele für Orgel (1893-1909) [17:42]
Präludium und Fuge in gis-Moll WoO IV/15 (1906) [8:05]

Vol. 13 [64:11]
Dreißig kleine Choralvorspiele zu den gebräuchlichsten Chorälen für Orgel op. 135a (1914) [46:52]
Romanze in a-Moll für Orgel WoO IV/11 (1904) [3:57]
Präludium in c-moll für Orgel WoO VIII/6 (1900) [1:00]
Fuge in c-Moll für Orgel WoO IV/8 (1901) [2:54]
Altniederländisches Dankgebet für Orgel WoO IV/17 (1915) [2:59]
Präludium und Fuge in d-Moll WoO IV/10 (1902) [6:26]

Vol. 14 [73:29]
Sonate in fis-Moll für Orgel op. 33 (1899) [23:23]
Monologe ('Zwölf Stücke') für Orgel op. 63, Heft 1 (1902) [24:50]
Monologe ('Zwölf Stücke') für Orgel op. 63, Heft 2 (1902) [25:15]

Vol. 15 [58:28]
Phantasie für Orgel über den Choral 'Alle Menschen müssen sterben' op. 52 Nr. 1 (1900) [15:36]
Phantasie für Orgel über den Choral 'Wachet auf, ruft uns die Stimme' op. 52 Nr. 2 (1900) [20:56]
Phantasie für Orgel über den Choral 'Halleluja! Gott zu loben, bleibe meine Seelenfreud'!' op. 52 Nr. 3 (1900) [17:17]
Liebestraum - Lyrisches Tonstück für Klavier (oder Orgel) WoO III/7 (1898) [4:38]

Vol. 16 [71:37]
Phantasie und Fuge in c-Moll op. 29 (1898) [14:47]
Monologe ('Zwölf Stücke') für Orgel op. 63, Heft 3 (1902) [23:18]
Variationen und Fuge über ein Originalthema in fis-Moll für Orgel op. 73 (1903) [33:31]

Vol. 17 [50:11]
Mirjam Wiesemann in conversation with Martin Schmeding

Recording details
Vols 1-3, 2014, Lutherkirche, Wiesbaden
Vols 4: March 2015, Bad Homburg
Vol. 6: June 2015, Annaberg-Bucholz
Vols 7-9: May 2015, Essen-Werden
Vols 9 & 10: May 2015, Leipzig
Vols 11 & 12: September 2015, Chemnitz.
Vol. 13: September 2015, Niederlausitz, Finsterwalde and Stift Neuzelle.
Vol. 14: September 2016, Berlin
Vols 15 & 16: May 2016, Leipzig.

---
| | |
| --- | --- |
| | |
Donate and keep us afloat
New Releases
<!- Bridge end Sept 2022 -->


<!- cpo end Sept 2022 --> all cpo reviews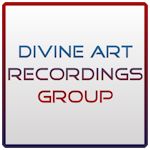 Click to see New Releases
Get 10% off using code musicweb10
All Divine Art reviews