TROUBADISC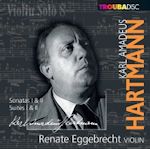 <!- December 2018 -->
colourful imaginative harmony
Renate Eggebrecht violin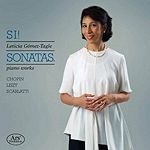 Leticia Gómez-Tagle
Chopin, Liszt, Scarlatti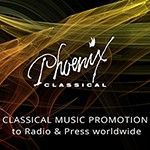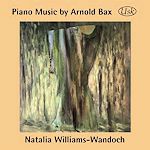 Bax Piano Music
---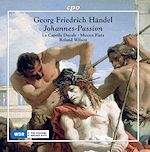 Superior performance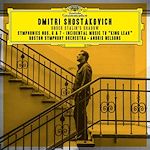 Shostakovich 6&7 Nelsons
Notable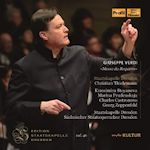 Verdi Requiem Thielemann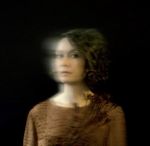 Marianna Henriksson
An outstanding recital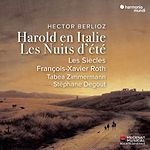 this terrific disc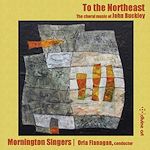 John Buckley
one of my major discoveries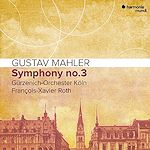 François-Xavier Roth
A game-changing Mahler 3
........................................
Bryden Thomson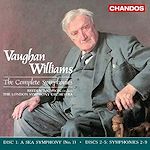 Symphonies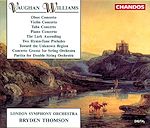 Vaughan Williams Concertos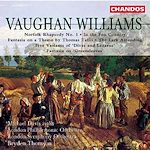 RVW Orchestral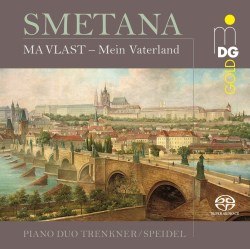 Support us financially by purchasing this from
Bedřich SMETANA (1824-1884)
Má vlast (1874-1879, arr. by the composer) [80:00]
Evelinde Trenkner and Sontraud Speidel (piano duo)
rec. Konzerthaus der Abtei, Marienmünster, Germany, 4-5 January 2016
MUSIKPRODUKTION DABRINGHAUS UND GRIMM 93019606 SACD [80:00]

I haven't passed through Praha hlavní nádraží - Prague's main railway station - for some years and I gather that it's recently been substantially modernised. In the old days, however, one of its most striking features was that, as you crossed the art nouveau main concourse, you'd hear loudspeakers on an apparently endless tape loop blasting out a few very familiar bars of music - the Vltava theme from Smetana's Má vlast. There was certainly no mistaking that you'd arrived in Prague.

Composed during a period of rising Czech nationalism, the six symphonic poems that make up Má vlast were composed as separate pieces but, within just a few years, had been linked together in perpetuity under their familiar portmanteau title. Ever since then, the score has regularly acted as a potent symbol of national identity - a fact which would no doubt have delighted the strongly nationalistic composer. When, for example, the Czech Philharmonic under Václav Talich performed it on 5 June 1939, three months after the Nazi destruction of Czechoslovakia, the Prague audience reacted not just with a roar of wild applause but with a spontaneous, defiant - and dangerously illegal - rendition of their banned national anthem. Almost miraculously preserved, given the politics and violence of the time, that concert may be heard on Supraphon SU 4065-2. Six years later, a performance of Má vlast by the Czech Philharmonic - directed this time by Rafael Kubelik - was the inevitable choice to mark the post-war restoration of the Czechoslovak Republic. And a full 45 years after that, it was Kubelik who emerged from retirement to repeat that concert in Prague, this time to commemorate the fall of communist totalitarianism and the restoration of Czech democracy (available on Supraphon 11 1208-2 031). That well nigh indissoluble link between Má vlast and national sensibilities is neatly symbolised by the fact that, when MusicWeb International reviewers were ask to recommend their favourite recordings, every nomination turned out to be of a performance led by a Czech conductor (see here).

In an age when music was arguably the preeminent form of domestic entertainment, Smetana, aiming to popularise his work beyond the confines of the concert hall, adapted all six symphonic poems for the piano. A single pianist, it goes without saying, wouldn't be able to do justice to Má vlast's rich and complex orchestral palette - and common sense might suggest that, even with two players, a great deal of the score's full orchestral detail will inevitably have been sacrificed. Given, however, that these arrangements for four hands were made by the composer himself, it is a workable assumption that, in constructing them, he retained what he himself saw as the work's essential spirit and essence.

It's true, nonetheless, that listening to the piano duo version – which I'd never done before - can be an experience that throws up more than the odd surprise. As it is the most familiar piece in the cycle, I will take Vltava as my example. It's true that, with an overall timing of 11:37, tempi here are pretty much in line with Czech performance tradition: the four recorded Talich/Czech Philharmonic performances, for instance, range in duration between 11:27 (rec. 1941, Membran International 221729-202) and 12:15 (rec. 1929, Koch International Classics 3-7032-2 H1). In other respects, however, the piano version undeniably exhibits its own distinctive features. Once past the comparatively delicate introductory section depicting the river's bubbling source (00:00-00:59), for instance, one soon begins to notice how the arrangement picks out detail that's more usually obscured or at least minimized in significance by the dominating power of a full body of strings. That unfamiliar balance can, at times, be quite disconcerting if you're more familiar with the orchestral version. Sample, for instance, the passage from 8:15 onwards where the Vltava rolls dramatically and majestically on to its final destination – not the sea, incidentally, but the picturesque Bohemian town of Mělník where it joins the mighty river Elbe. In general, I'd say that Vltava here emerges in a somewhat less mellifluous guise. Indeed, thanks to the piano's percussive quality, it becomes somewhat more spiky - and, thereby, possibly to some ears more interesting - than one is used to.

The distinctive qualities of the piano-duo version are, I think, even more striking in the concluding Tábor and Blanik. Those two are certainly less familiar than the more tuneful Vltava or From Bohemia's woods and fields. But that very unfamiliarity offers an advantage here in that, while listening to them, one doesn't always have the pervasive orchestral version playing in parallel in the mind's ear. Heard in their orchestral form, they can seem – unless, perhaps, you're a fervent Czech nationalist - to offer a somewhat weak, anti-climatic conclusion to the cycle. In the piano-duo version, however, they seem, to my own ears at least, to provide a more effective and, indeed, cathartic resolution to the cycle.

Evelinde Trenker and Sontraud Speidel are certainly no novices when it comes to performing piano-duo versions of monumental or iconic orchestral scores. Already widely acclaimed for their accounts of Bruckner's third symphony and Mahler's first, second, sixth and seventh, here they add Smetana's Má vlast arrangement to their recorded output. Especially impressive in both balance and their control of the necessarily wide dynamic range, Trenkner and Speidel offer a technically accomplished performance, recorded in superb sound, that could hardly, I suspect, be bettered. Admirers of fine pianism will certainly be delighted with this well-filled disc.

I also have to say, though, that, admirable though the performers' achievement is, I still find it difficult to warm to this arrangement. Piano transcriptions like this one certainly had a useful marketing and commercial role in the 19th century. In the 21st century, however, when we can hear, at the simple flick of a switch, the world's finest orchestras performing scores as originally envisaged, they are surely little more than interesting historical curiosities. I am delighted that they still offer accomplished artists like Trenkner and Speidel the opportunity to expand their repertoire and acquire a new vehicle to demonstrate their considerable talents. But, in the end, such arrangements actually confirm the superiority of the original versions by demonstrating that four hands, no matter how skilfully deployed, can't replicate the artistic subtleties made possible by the full and effectively deployed resources of an orchestra.

Rob Maynard

Postscript
As railway enthusiasts will already know, Prague wasn't the only railway station with its own "musical motto". Just as Czech railways blared out Vltava, the main Leningrad terminus in Soviet days used to welcome travellers with a stirring blast of Hymn to the great city from Gliere's The bronze horseman - and maybe, for all that I know, it still does. Did, I wonder, all of Eastern Europe's major cities follow a similar practice in that era?

---
| | |
| --- | --- |
| | |
We are currently offering in excess of 51,000 reviews
Donate and keep us afloat
New Releases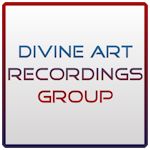 Special offer 50% off
15CDs £83 incl. postage




Follow us on Twitter
Editorial Board
MusicWeb International
Founding Editor
Rob Barnett
Editor in Chief
John Quinn
Seen & Heard
Editor Emeritus
Bill Kenny
MusicWeb Webmaster
David Barker
Postmaster
Jonathan Woolf
MusicWeb Founder
Len Mullenger