paid for
advertisements

<!- Forgotten to FEb 2023-->
FOGHORN Classics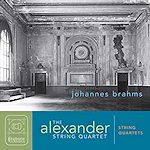 Brahms String Quartets

All Foghorn Reviews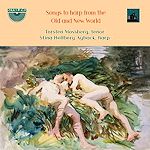 Songs to Harp from
the Old and New World

all Nimbus reviews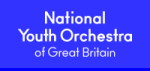 Follow us on Twitter
Editorial Board
MusicWeb International
Founding Editor
Rob Barnett
Editor in Chief
John Quinn
Contributing Editor
Ralph Moore
Webmaster
David Barker
Postmaster
Jonathan Woolf
MusicWeb Founder
Len Mullenger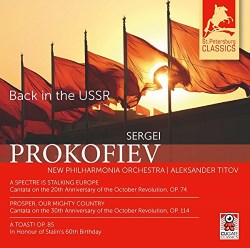 Support us financially by purchasing this from
Sergei PROKOFIEV (1891-1953)
Back in the USSR
A Spectre is Stalking Europe - Cantata on the 20th Anniversary of October Revolution, op.74 (1937) [44:13]
Prosper Our Mighty Country - Cantata on the 30th Anniversary of October Revolution, op.114 (1947) [12:56]
Zdravitsa (A Toast!) - In Honour of Stalin's 60th Birthday, op.85 (1939) [8:00]
Alexei V Emeljanov (orator)
St Petersburg Philharmonia Choir
New Philharmonia Orchestra, St Petersburg/Aleksander Titov
rec. 1997, St Petersburg
CUGATE CLASSICS CGC006 [65:14]

You will need to see past the political and historical apparatus to appreciate this. It's worth the effort. After all, Prokofiev could not help writing out of his untempered imagination regardless of the circumstances that called forth the creative spark. Still, there are whole paragraphs where it's a blessing to English-speakers that these performances are, quite rightly, sung in Russian.

The epic 20th Anniversary cantata begins with a prelude that is all brassy growls and snarls. The Philosophers movement is fiercely aspiring and suggests Prokofiev could not get the Romeo and Juliet ballet out of his head. This aspiring theme is contrasted with some Orff-like ostinati. The following Interlude is ponderous and sinister. Prokofiev was a brilliant film music composer and this section sounds like a clay golem coming to horrific life. The savagery of We are marching in close ranks prepares the way for the savagery of another Interlude and a wall-shaking brass battle. Revolution opens to haunting effect with high women's voices and the men featuring in a whispered night march. Soon the words are spat out vehemently. The next pages take us through a massive deafening blast with drum salvos before the men reappear, singing at breathless speed. Rolling horns can be heard braying en masse. Trumpets shriek and bayans (inevitably queasy-sounding folk accordions) dance (7:00). The orator shouts loud but his voice is not caught with the clarity to be found in the Chandos/Järvi version. On the other hand Titov's air raid sirens (8:30) are more imposing than on Chandos. Victory is celebrated through sweet singing which rises to a glorious glowing bloom (3:10). At 3.42 the women's voices find the high uplands of hope caught in descant with the trumpets (4:00). These are evidence that the fruity warble has not yet been expelled from Russian brass - long may it stay in the cause of individuality. Let's not have them sounding like the Chicago or Berlin benches. The pledge takes the form of a typically Slav subdued march, gloriously contained, with the poetically understated bayans putting in a fresh appearance (3.49). Part IX is called Symphony: it includes a helter-skelter rush (Romeo and Juliet and Kijé), some gawkily progressive pages and a glowing upbeat (Symphony No. 7). The final section is Constitution. It begins in forbidding mood but the women's voices rise high towards starry skies. The feet of the People stand firmly planted with a piano providing a grounding ostinato. Things come to a close with an indomitable march transformed into a rising optimistic up-blast.

The 20th Anniversary cantata was recorded first by Melodiya with Kondrashin conducting in 1965. HDTT resurrected that experience but the work was savagely cut - shorn down to 31:15, being minus ten-plus minutes of Stalin adulation. Titov has the unexpurgated work running to 44:13 while Jarvi on Chandos takes 46:32. The recent Praga disc doesn't really count as it is of extracts only and is not the 'main act'.

The last two works are shorter and are cut from slightly less glaring material. Flourish mighty land has been recorded before by Chandos and Polyansky. It's on the same disc as Zdravitsa! This 30th anniversary work occupies itself with visions of a more poetic and light-suffused land. The notes here tell us that a later text is used rather than the original; that's a pity. In any event the sentiments of this music are more intimate and one catches glimpses of poetry around the rays of the sun. Saxophones entwine the women's voices at 9:00 and there's a rocking self-hugging happiness about this music. Moments of trudging and quick-rush at 10:10 - as in tr.9 of the 20th anniversary work - move, after something that perhaps inspired Khachaturian (Phrygia Adagio from Spartacus) onwards and upwards to a dazzling choral tutti. Again the nice sense of depth in the recording catches the fullness of voices and large orchestra. Zdravitsa! is a surprisingly lower-key piece distinguished by a purposefully pecked-out march with capricious and slowly unwinding trumpets.

The recording is very impressive and capably accommodates the huge dynamic range required by the 20th Anniversary cantata.

The booklet note is in fact quite a substantial essay. The words are by Nadezhda Vasilieva. It's good that the sung words are there but it's a shame that they are given in English only. The 20th Anniversary cantata is in ten tracks so easy enough to navigate; even so there's nothing to beat having the transliterated Russian with a side-by-side English translation. That is the pattern adopted by Chandos in their various CDs cited here. The other two works are allocated a track each which is fair enough with A Toast - it's only eight minutes duration - but the other cantata would certainly have benefited from at least three tracks.

These are not the only patriotic/state products from the composer's pen. One of the very earliest Olympia CDs coupled Ballad About a Boy who Remained Unknown op. 93 (1942-3) and the Oratorio - On Guard For Peace op. 124 (1948) all conducted by Rozhdestvensky (OCD206). The Oratorio can be had, differently harnessed, on a Chandos disc though with the same conductor.

The disc is the only place you will find all three Soviet cantatas, decently documented and ardently performed and recorded, in one volume.

Rob Barnett

Footnote (from a reader)
I agree with the reviewer's positive assessment of this disc. However, I must point out that he has the titles of the works confused. This issue comes from faulty liner notes, a problem which I guess was not fixed after the previous release of this recording. In fact, Zdravitsa is the longer work at 12:56, and is followed by "Flourish mighty land" at 8:00. You can easily see this if you compare the releases of these works conducted by Rozhdestvensky and Polyansky.

---
| | |
| --- | --- |
| | |
Donate and keep us afloat
New Releases


<!- cpo end March 2023 --> all cpo reviews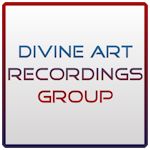 Click to see New Releases
Get 10% off using code musicweb10
All Divine Art reviews
<! apr 12 months Nov 22 - Oct 23 -->