paid for
advertisements

<!- Forgotten to FEb 2023-->
FOGHORN Classics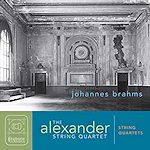 Brahms String Quartets

All Foghorn Reviews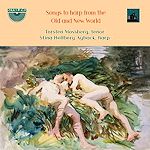 Songs to Harp from
the Old and New World

all Nimbus reviews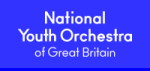 Follow us on Twitter
Editorial Board
MusicWeb International
Founding Editor
Rob Barnett
Editor in Chief
John Quinn
Contributing Editor
Ralph Moore
Webmaster
David Barker
Postmaster
Jonathan Woolf
MusicWeb Founder
Len Mullenger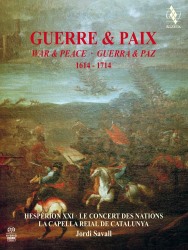 Support us financially by purchasing this from
War and Peace in Baroque Europe - 1614-1714
See below for full list of contents
Hesperion XXI, Le Concert des Nations, La Capella Reial de Catalunya/Jordi Savall
rec. 1996-2014, Collegiale de Cardona, Fontfroide Abbey and Chapel Royal of Versailles, Salzburg Cathedral
ALIA VOX AVSA9908 SACD [75:54 + 77:49]

Jordi Savall is one of those great, and all too rare, cultural polymaths who dedicates himself to a musical project with such utter commitment that the results are often things to marvel at. In recording terms, the pinnacle of his achievements have been his big project CD-Books which survey a topic or person such as Jerusalem, Don Quixote, Joan of Arc or Christopher Columbus.

This latest CD book is perhaps his most ambitious, both musically and in terms of its scope. He takes War and Peace for his theme. Sadly, that is as generic a theme as you'll find in the history of mankind, but Savall plants himself in the century that begins in 1614 with the massacre of the Jews of Frankfurt and ends in 1714 with the end of the war of Spanish Succession. However, this was also the century that saw the transition of art and culture from the Renaissance into the era of the Baroque. This gives Savall the magnificent opportunity to showcase not just a programme of music that is associated with the great milestones of European conflict, but to show developing musical styles and patterns as one era gives way to another.

Casting your eye down the track-list below reveals the scale of Savall's ambition. There is everything from Jewish laments (for the attack in Frankfurt) through to Turkish melodies to rouse the Janissaries, by way of English anthems from Britain's civil wars and a Spanish romance to commemorate the Siege of Breda. There are contributions from canonical European composers, such as Lully, Charpentier, Scheidt and Biber, but also music by people whose names have been lost. All human life really is here, as well as its full range of emotions, from the lamentation of the Frankfurt Jewish community and the sorrow of defeated Catalonia, to the ceremonial grandeur of the music for the coronation of the Holy Roman Emperor in 1710.

On top of all this, the hardback book is a serious affair, containing important essays about the music and the times, as well as discourses on more philosophical topics, such as an overview of the history of war and peace, and an analysis of that it means to be "The West". There is a message and ambition to it all, as well. The essay on War and Peace in our History concludes with the lines: "The present project wishes to send out an emphatic message to the whole world that we need to praise peace and speak out against the culture of war, a culture which, for so many years, has shaped the tragic history of mankind. We hope it will shine a light on the past, focus our minds on the events of the present and illumine the path to be followed in the future." Lofty aims for a recording project, but worthy. The book is also lavishly illustrated with paintings of contemporaries and photographs of the performers in their venues. Full texts are provided for all the sung items, and there are translations (of the texts and the essays) in English, French, Spanish, Catalan, German and Italian.

None of this would register much if the musical performances weren't good, but they most certainly are. I was left repeatedly amazed that Savall and his performers are so good at such a wider range of repertoire. The Jewish lament (CD 1, track 4) is very moving, both in its content and its performance, and the disc then embraces total contrast in the ensuing five-voice battaglia (track 5). Lope de Vega's Romance is gloriously rich, and sounds magnificent in the fulsome acoustic of the abbey of Fontfroide, one of several grand venues used for the recordings. The Catalan Hymn (CD 1, track 10) is magisterial in its scale and power, and Rosenmüller's motet is appropriately celebratory for the end of the Thirty Years' War. It is performed with plenty of flexibility and swagger, and most alluring.

Track 15 presents a very interesting and unusual English battaglia, and helps to document the rising prevalence of the violin family and their replacement of the viola da gamba as the seventeenth century progressed. Tracks 16 and 17, on the other hand are a fantastic exemplification of the pinnacle of French Baroque. Then John Blow's Praise the Lord (track 21) gets a beautifully lithe, transparent performance - sung with impeccable English diction, as is the later Handel.

The second disc opens with a light-on-its-feet performance of the famous opening to Charpentier's Te Deum that grows in stature as it progresses and culminates in a wonderfully bellicose Pleni sunt caeli. The Catalan traditional song (track 7) is strangely beautiful, and Caldara's marriage music is brilliantly upbeat, with magnificent trumpets and beautiful singing. Biber's funeral music sounds amazing in the acoustic, with a wonderfully resonant space around the sound that brings it to life in a way that is fully in keeping with Biber's polychoral world. Track 12 is a fantastically ebullient celebration of the Coronation of Emperor Charles in 1710.

Titov's motet (track 15) sounds remarkable: it's unmistakably Russian, but refracted through the sound world of the Baroque it sounds a little peculiar; still beautifully done, though. The lament for Catalonia's loss of independence (track 19) is actually rather moving, primarily due to the delicately scored accompaniment and plangent line on the solo viol; credit to Savall, as it's his arrangement.

Handel's large-scale English language Jubilate Deo makes a fitting conclusion as it was written for the end of the war of Spanish succession, and it is given a clean, rhythmically lithe performance. Through both discs, though, the Turkish music is played with particularly brilliant swagger and feel for the orientalism of it all, reminding us that Savall is one of the greatest World Musicians working in classical music.

All told, then, this is an incredibly impressive achievement, both as a curated festival of culture — music, art, literature and philosophy — and as a humanitarian exploration. This isn't just an impressive musical release: it's a whole cultural festival within two covers. Both for its ambitions and for its artistic standards, it deserves to do well.

Simon Thompson

Track-List

CD 1 [75:54]
INTRODUCTION

1. Pavane pour la petite « guaire » (guerre), fait pour les Cornetz en 1601
Recueil de Philidor
1613 L'Empire ottoman attaque la Hongrie
Makam « Muhayyer pesrev » – Marche Guerrière Ottomane. Anonyme (instr.)
2. Taksim
3. Marche Turque

Du début de la Guerre de Trente Ans au Traité de Nimègue
1614 - 1689
1614 Massacre des juifs à Francfort
4. Ha lahma 'anya – Plainte en Araméen
1618 Prague, début de la Guerre de Trente Ans
5. Galliard Battaglia à 5 Voci. Cantus XXI
Samuel Scheidt (1587-1654)
1624/25 Breda est assiégée par les troupes espagnoles
6. Romance : Ya es tiempo de recoger
Lope de Vega / Anonyme
1635 La Paix de Prague
7. Zion spricht : Der Herr hat mich verlassen
Johann Hermann Schein (1586-1630)
1636 Richelieu déclare la guerre à l'Espagne
Anonyme (Mss. Philidor)
8. Charivaris pour les hautbois
9. Gavotte en suitte
1640 Guerra dels Segadors « El Corpus de Sang »
1641 Janvier. Pau Claris exprime sa volonté de constituer une République Catalane
10. Catalunya comptat gran (Traditionnel / Jordi Savall)
11. Hymne de la Catalogne (Traditionnel / Jordi Savall)
La Catalogne accepte la souveraineté de Louis XIII
12. Intrada-Geschwindt-Langsamer-Sarabande
Suites d'Orchestre – Guillaume Dumanoir (1615-1697)
1645 Guerre de l'Empire Ottoman contre Venise
13. Taksim & Makam « Uzzäl uşūleş Darb-I feth »
Dervis Mehmed (Mss. Dimitrie Cantemir N.209)
1648 Paix de Westphalie. Fin de la Guerre de 30 ans
14. Siehe an die Werke Gottes
Johann Rosenmüller (1617-1684)
1649 Guerre civil en Angleterre
15. The Newark Siege
John Jenkins (1592-1678)
1652 Les Institutions catalanes reconnaissent Philippe IV d'Espagne comme souverain de Catalogne
16. Philippus Rex Hispaniæ (Fanfare instrumental et vocal)
Jordi Savall d'après Ambrosio Cotes (1550?-1603)
1659 La Paix des Pyrénées
17. Jubilate Deo « Le Motet de la Paix » (LWV 77/16)
Célébration de l'entrée royale à Paris, en 1660
Jean-Baptiste Lully (1632-1687)
1669 Les Vénitiens sont expulsés de Crête par les Ottomans
18. Der makām-ı Räst « Murass'a » uşūleş Düyek
1678 Célébration du Traité de Nimègue
Alceste – Jean-Baptiste Lully
19. Marche des Combattants
20. Menuet (LWV 50)
1689 Guillaume III est couronné Roi d'Angleterre
21. Praise the Lord, O my soul
John Blow (1649-1708)

CD 2 [77:49]
Du Traité de Turin à la fin de la Guerre de succession d'Espagne
1696 - 1714

1696 Célébration du Traité de Turin
Te Deum – Marc Antoine Charpentier (1643-1704)
1. Prélude
2. Te Deum Laudamus
3. Te aeternum patrem
4. Pleni sunt caeli
1701/02 Commencement de la Guerre de Succession d'Espagne
Battalia a 10 – Heinrich Ignaz Franz von Biber (1644-1704)
5. Sonata
6. Die Schlacht
1705 Pacte de Gênes. L'archiduc Charles arrive à Barcelone
7. Cant dels Aucells quant arribaren los Vaixells
Anonyme traditionnel / Jordi Savall
1708 Mariage à Barcelone de l'archiduc Charles
Il più bel nome – Antonio Caldara (1670 - 1736)
8. Sinfonia
9. Coro di Seguaci della virtù
10. Aria : Cari Elisi (Marianne Beata Kielland)
1710 Mort de l'Empereur Joseph I
11. Marcia Funebre
Jordi Savall d'après le Requiem de Heinrich Ignaz Franz von Biber
L'archiduc Charles est couronné Empereur
12. Kyrie
Missa Bruxellensis – Heinrich Ignaz Franz von Biber
Célébration du Couronnement
13. Florilegium II, Chaconne de la Suite IV « Impatientia »
Georg Muffat (1653-1704)
1711 L'Empire Ottoman attaque la Russie
14. Der makām-ı Uzzäl Sakîl « Turna » Semâ'î – Mss. D. Cantemir (324)
15. Beznevéstnaya Dévo (O Virgo)
Vasily Titov (ca.1650-ca.1715)


1714 Siège de Barcelone
16. Batalla Imperial
Joan Cabanilles – Johann Caspar Kerll (1627-1693)


1714 11 septembre. La capitulation de Barcelone
17. Lamento der Verwundten Musquetirer
Battalia a 10 – Heirich Ignaz Franz von Biber
1714 11 septembre. Prière pour les victimes du Siège de Barcelone
18. Missa Pro Defunctis - Hei mihi
Joan Cererols (1644-1712)
Plainte populaire catalane
19. Catalunya en altre temps
Texte ancien / Musique : Jordi Savall sur une mélodie traditionnelle

CONCLUSION
Célébration de la fin de la Guerre de succession d'Espagne
20-26. Jubilate Deo / O be joyful (HWV 279)
Georg Friedrich Händel (1685-1759)
Composé pour la célébration du Traité de Utrecht (11 d'avril 1713), ou la France signait
l'accord de Paix avec les Pays Bas, la Grande Bretagne, la Savoie et l'Autriche.

---
| | |
| --- | --- |
| | |
Donate and keep us afloat
New Releases


<!- cpo end March 2023 --> all cpo reviews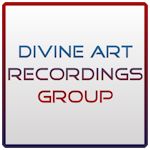 Click to see New Releases
Get 10% off using code musicweb10
All Divine Art reviews
<! apr 12 months Nov 22 - Oct 23 -->