paid for
advertisements

---
TROUBADISC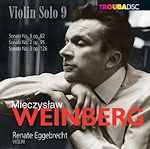 100th birthday of Mieczyslaw Weinberg on December 8, 2019.
Renate Eggbrecht has recorded all 3 violin Sonatas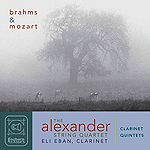 Mozart Brahms
Clarinet Quintets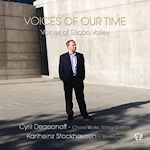 Deaconoff; Stockhausen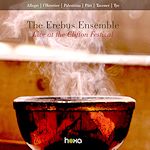 Live at the Clifton Festival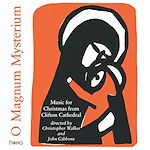 Choir at Clifton Cathedral
New Releases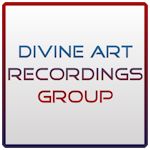 Click to see New Releases
Get 10% off using code musicweb10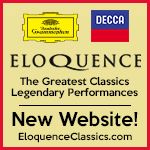 Special offer 50% off
15CDs £83 incl. postage


Follow us on Twitter
Editorial Board
MusicWeb International
Founding Editor
Rob Barnett
Editor in Chief
John Quinn
Seen & Heard
Editor Emeritus
Bill Kenny
MusicWeb Webmaster
David Barker
Postmaster
Jonathan Woolf
MusicWeb Founder
Len Mullenger
---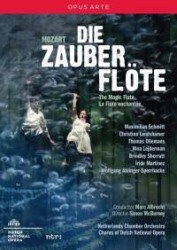 Support us financially by purchasing this from
Wolfgang Amadeus MOZART (1756-1791)
Die Zauberflöte K620 (1791)
Performance details below review
OPUS ARTE DVD OA1122D [163:00 + bonus: 20:00]

With the death of the relatively enlightened Emperor Joseph II, who had commissioned Cosi fan tutte and may perhaps have suggested its plot to Mozart, the composer's source of operatic patronage appeared to have dried up. Given his parlous financial state he welcomed the impresario Emanuel Schikaneder's suggestion that he compose a magic opera for his Theater auf der Wieden. The two had resumed friendship when Schikaneder returned to Vienna in 1789 and they shared the fellowship of the same Masonic lodge. Theater auf der Wieden was a popular theatre holding around one thousand. It mounted productions featuring elaborate machinery, live animals, spectacular lighting and scenic effects. In the singspiel tradition the musical items and songs to suit an unsophisticated audience were interspersed with topical jokes in the local patois.

Various sources have been suggested for the basis of Schikaneder's libretto. There has been much discussion as to the relationship of the trials undergone by Tamino and Pamina and the triumph of good over evil; not to mention the Masonic background of composer and librettist. The Masonic influence is also claimed on the basis of the frequency that the number three occurs. It is said that this number is significant in Freemasonry. Certainly the number occurs with the Three Ladies, and Boys as well as in the musical structure. What really undermines the argument for the work being a Masonic allegory is that there are only two trials: of fire and of water. If there were any Masonic allusions it would surely be to the three steps and trials that an initiate has to undergo.

As I noted in my review of this opera from the Bregenz Festival, Die Zauberflöte was not only in the tradition of the Theater auf der Wieden as a popular entertainment but was to include as much spectacle as possible. In the operatic world of today, magnificent Roman amphitheatres not excepted, there are few if any other venues for spectacle that matches that offered by the Bregenz Festival. Every standard theatre and the big boys of La Scala, New York's Met and Covent Garden, all try to meet that specification in their productions. In this second collaboration with English National Opera, De Nederlandse Opera tried again. The previous collaboration, in this same opera produced by Nicholas Hytner, had many years of success in London but went down like a lead balloon in Amsterdam having only one run. Such are the differences of taste, it would appear, between Europe and Britain in respect of opera productions.

Well, for this second collaboration on Die Zauberflöte between the two theatres, the well-known theatre Director, unknown in the opera world, Simon McBurney and his designer Michael Levine were allocated the task. Watching the bonus, featuring the former running around, his hair all over the place, I better understood why his ideas were similarly blessed. Occasionally he put a cap on and organised the mess, so it is with the production. Ideas and gimmicks abound, some amusing, some quite banal. The usable stage is quite small, square and hung by steel hawsers at each corner. Sometimes it is in a flat plane at different heights; at others it is tilted. This allows for the different heights to represent the different worlds of the characters. These are quite strange too. The three ladies first appear in casual army fatigues. The Queen of the Night is an old bent crippled crone, either in a wheelchair or assisted in her bent crippled walking by a sturdy stick. The three boys are portrayed as old men-cum-cadavers with wispy hair and their ribs evident. Monostatos is gross of belly and certainly all white. As to the rest, modern dress is de rigueur for Sarastro and his colleagues of the temple. He, bespectacled, looks more like a school headmaster than anything else. Inspiration and spectacle come in the grand manner with the trials of fire and water. If we should miss the venue, words - in German - scrawled on a board are projected on the back of the stage. I will not spoil it too much, but it is the best trials spectacle I have ever seen on a stage in this opera and I have seen a fair few live and an even greater number on video recordings.

The orchestra, on a level with the stage allowed for what I believe happened in Vienna at the Theater auf der Wieden. Papageno passing his flute, as and when required, to the leader of the woodwind section and easy for either to pass from stage to pit or vice versa. The conducting of Marc Albrecht did Mozart's elegant music few favours.

A lot can be forgiven in idiosyncratic productions if the solo singing is good or better. Regrettably, this is not the case here. Perhaps the biggest disappointment is that by the scruffily attired Papageno of Thomas Oliemans. He is accompanied by a mass of people fluttering pieces of paper to represent birds. It works after a fashion, but his characterless singing and bodily portrayal did nothing for me. As Sarastro, Brindley Sherratt lacked vocal depth and sonority. I have heard him live with much more to add than good pitch and legato. As singers, the two lovers, Christina Landshamer as Pamina and Maximilian Schmitt as Tamino, carried the day with elegant nuanced Mozart singing that is ideal for the roles. She looked the part; he didn't look the romantic hero at all. Good costuming rather than wardrobe left-overs might have helped them and others in the cast. Somehow or other, Íride Martínez got through her role as Queen of the Night whilst Nina Lejderman was an appealing Papagena.

When the production reached London, sung in English at English National Opera, reports were luke-warm. I am certain it will not last as long as its predecessor. A short life is likely to be true for many recent productions at that address directed, as many have been, by the Kings of European egoism or no operatic experience. Seemingly this has contributed to acres of empty seats ensuring an increasing fiscal deficit to add to the loss of Arts Council grant support.

Robert J Farr

Performance details
Pamina - Christina Landshamer (soprano); Tamino - Maximilian Schmitt (tenor); Papageno - Thomas Oliemans (baritone); Sarastro - Brindley Sherratt (bass); Queen of the Night - Íride Martínez (soprano); Papagena - Nina Lejderman (soprano); Speaker - Maarten Koningsberger (bass); Monostatos - Wolfgang Ablinger-Sperrhacke (tenor); Three ladies - Anna Maria Labin, Silvia De La Muela, Julia Faylenbogen
Chorus of Dutch National Opera; Netherlands Chamber Orchestra/Marc Albrecht
Stage Director: Simon McBurney; Set Designer: Michael Levine; Costumes Designer: Nikki Gillibrand; Lighting Director: Jean Kalman; Video Director: Finn Ross
rec. live, December 2012
Filmed in High Definition 1080p. Format: 16:9; Sound formats: PCM Stereo, DTSHD-HD 5.0
Subtitles: German (original language), English, French, Dutch, Korean, Chinese.
---
| | |
| --- | --- |
| | |
Donate and keep us afloat
Recordings of the Month
December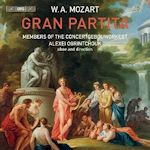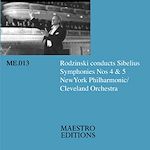 Rodzinski Sibelius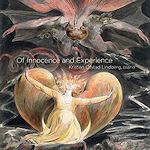 Of Innocence and Experience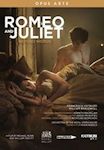 November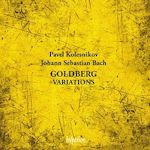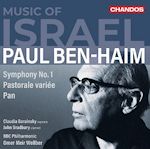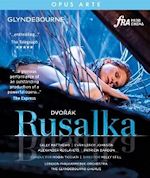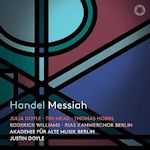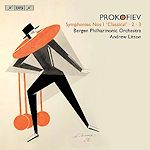 Symphonies 1, 2, 3
October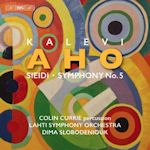 Aho Symphony 5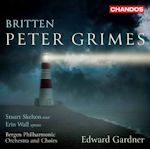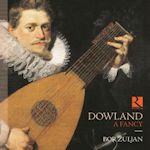 Dowland - A Fancy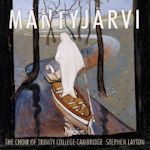 MÄNTYJÄRVI - Choral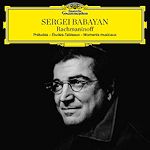 Rachmaninov_ Babayan