paid for
advertisements

<!- Forgotten to FEb 2023-->
FOGHORN Classics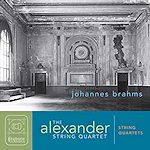 Brahms String Quartets

All Foghorn Reviews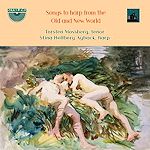 Songs to Harp from
the Old and New World

all Nimbus reviews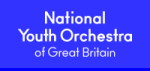 Follow us on Twitter
Editorial Board
MusicWeb International
Founding Editor
Rob Barnett
Editor in Chief
John Quinn
Contributing Editor
Ralph Moore
Webmaster
David Barker
Postmaster
Jonathan Woolf
MusicWeb Founder
Len Mullenger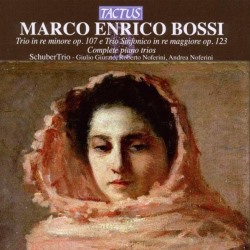 Support us financially by purchasing this from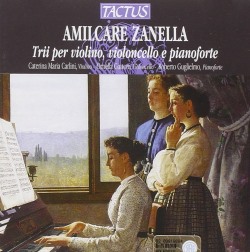 Support us financially by purchasing this from
Marco Enrico BOSSI (1861-1925)
Piano Trio in d minor, op. 107 (1896) [25:46]
Trio sinfonico in D major, op. 123 (1901) [36:19]
SchuberTrio (Giulio Giurato (piano), Roberto Noferini (violin), Andrea Noferini (cello))
rec. 2007, Biblioteca Storica di San Francesco, Bologna, Italy.
Reviewed as 320k mp3 download.
TACTUS TC862704 [62:08]

Amilcare ZANELLA (1873-1949)
Piano Trio in e minor, op. 23 [32:34]
Piano Trio in g minor [32:37]
Roberto Guglielmo (piano), Caterina Maria Carlini (violin), Ornella Gattoni (cello)
rec. 2002, Sala Grande, Conservatorio "G. Nicolini", Piacenza, Italy.
Reviewed as 320k mp3 download.
TACTUS TC872501 [65:07]

Bossi and Zanella are two Italian Romantic composers whose names were unknown to me, and I suspect, to many of you. Bossi turns out to be a relatively well-known composer for the organ, so I will have to justify my ignorance by my very limited interest in that genre. I don't need to plead my case for Zanella: he is definitely little represented in the catalogue. They represent that little known area of Italian music of the period: the non-opera composer.

Bossi has been well served by the Italian label Tactus, with at least fifteen recordings of his works. His trios are very Brahmsian, at least in the soundworld, though certainly not in quality. My pick would be the earlier D minor work. While it doesn't reach any great heights, there are some good moments, especially a quite lovely larghetto. The scherzo is very weak, substituting activity for wit. The grandly named Trio Sinfonico, presumably for its length, could have been well served by some judicious pruning, even if that meant dropping the Sinfonico from the title. Again the scherzo – titled Noveletta – isn't memorable, and Bossi seems to run out of inspiration in the last movement.

Unfortunately, the sound quality is not ideal, being rather boxy. The piano sounds like it is in another room, and the violin has a wiry tone that is frankly ugly and tiring in the louder sections. The booklet notes say very little about the composer, and I'm going to be generous and suggest that the very florid commentary on the works themselves – for example, "As if we were looking through a foggy window made translucent by the raindrops" – is a consequence of the translation. There is a Hungaroton recording (HCD32293) with these two works. I listened to some of it via the Naxos Music Library, and while Hungaroton isn't renowned for its audio quality, it was definitely better than the Tactus.

The Zanella trios are more delicate; indeed, I'd say the majority of listeners would pick them as French. They receive a much better recording and performance than do the Bossi works, and whether it is because of these advantages or simply that they are better works, but I certainly much prefer them.

The booklet supplied with the download belongs mostly to a different recording – Zanella's piano works (Tactus TC872504) (see footnote). The first and last pages – undoubtedly the front and back CD insert – are the correct ones. It took me quite a while to realise that the booklet wasn't right. Almost all of the text is devoted to a political-philosophical discussion of Zanella's lack of acceptance by the Italian musical establishment. Only in the last paragraph or two is the music mentioned, and even then, quite circuitously.

If, like me, you are a collector of the piano trio repertoire, then both of these will be of interest. If you are just interested in good music, then the Zanella wins out in all respects.

David Barker


Footnote
I advised Classicsonline about the problem with the Zanella booklet, and they said that they would contact the label. Download booklets are a continuing theme here, but normally it is the lack of them. In this instance, I suspect even if the correct booklet appears, it may not be particularly illuminating.

---
| | |
| --- | --- |
| | |
Donate and keep us afloat
New Releases


<!- cpo end March 2023 --> all cpo reviews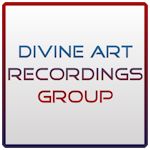 Click to see New Releases
Get 10% off using code musicweb10
All Divine Art reviews
<! apr 12 months Nov 22 - Oct 23 -->